Editorial departments from three BL magazines talk about the future of BL - Forbidden love is outdated!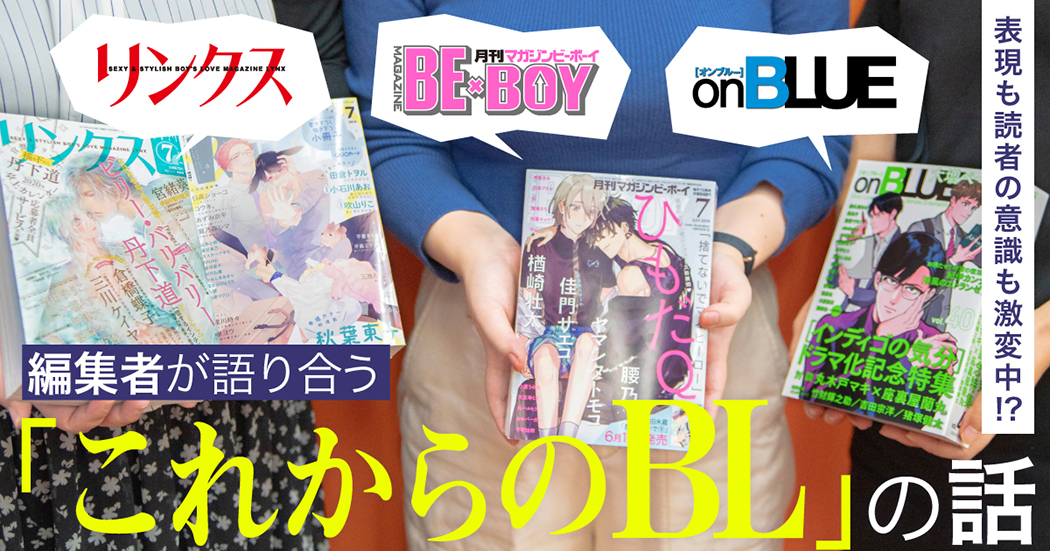 Article by: Ichibo Harada@HEW
Nowadays, the BL (Boys Love) genre no longer has the image of something that "needs to be kept hidden" as opposed to several decades ago. In this day and age, where TV drama series with the theme of gay couples have become smash hits and everyone has come to know the word LGBTQ, the image of BL that people are seeking must have changed quite a lot compared to a few decades ago.
How have BL works changed throughout the Heisei period and into the Reiwa period?
We asked three editorial staff from major BL magazines, namely 
LYNX
(Gentosha Comics),
Magazine BExBOY
(Libre), and
on BLUE
(Shodensha), about the BL industry so far as well as its future.
These BL editorial staff chose smash hit works that represent the Heisei era!
── First of all, please tell us how long you have known BL and been working as editors.
Masuda: I'm Masuda and I'm in charge of Lynx. I have been an editor for 10 years and I have known BL for 20 years. I didn't know anything about the BL genre until junior high school when a friend of mine recommended Gravitation, a work that is sort of BL but not BL.
Ezaki: I'm Ezaki and I'm in charge of Magazine BExBOY. I have about 6 or 7 years of editing experience and I have known BL for about 18 years. It all started when I picked the book Mirage of Blaze in the library. From then on, I became an avid fan of BL novels, such as the novels written by Narise Konohara and Noel Ioka.
Kajikawa: I'm Kajikawa and I'm in charge of on BLUE. I think I have about 12 years of editing experience. I read a lot of shojo manga magazines and my BL experience started when I came across BRONZE by Minami Ozaki in Margaret when I was in fifth grade. I also encountered "Mirage of Blaze" at the same time, and here I am now.
── Is there any pattern of the works featured in the magazines you're in charge of?
Masuda:
LYNX is a magazine that includes many artists who draw exclusively for LYNX. In that sense, I think LYNX is
some sort of a Galapagos Island
. That's why I think many readers become enthusiastic about the magazine once they read it. I want to expand the frontage of the magazine with a wide variety of BL genres.
Ezaki: It makes me happy if readers of Magazine BExBOY consider the magazine a box of various types of BL. The magazine includes works that introduce people to BL as well as works that core users can enjoy. Although the magazine's weakness may lie in the lack of a definite word to describe it, the magazine's stance remains that it welcomes works that can make a woman's heart melt.

Kajikawa: on BLUE includes not only works that are jolly but also those with more difficult themes. The magazine focuses on narrative and so it has many works that feature significant ups and downs throughout the stories. The magazine emphasizes on delivering stories that are worth reading, so meetings often involve detailed discussions (laughs).

── If you were to name hit works from your company, what would they be?
Masuda:
Definitely the 
Okane ga Nai
 (No Money) series (art by Tohru Kousaka, story by Hitoyo Shinozaki) which has been serialized from the start of the magazine. Back when BL wasn't as popular as today, this work was already adapted into anime, drama CDs, and other types of media. I think this series can even be considered a work that built the foundation of BL. The story involves a rich and perfect top with a very pure but oblivious bottom. The premise might come across as a little too much, but it's a classic series that everyone wants to read and every generation will accept!
Koisuru Intelligence by Michi Tange is especially popular lately. It's not just about a couple of top and bottom... The story takes place in K-gaseki, N country, and features many charming characters. I think nowadays readers like the fun of choosing their favorite characters.
Ezaki: I think one can't talk about Libre without mentioning the Finder series by Ayano Yamane and the Dakaretai Otoko Ichii ni Odosarete Imasu. (I'm Being Menaced by the #1 Sexiest Man) series by Hashigo Sakurabi. Ryuichi Asami from Finder is a character with such a strong impact that his name might as well be a synonym for the noun "super top". For girls who enjoy pairing themselves with their favorite characters, Asami is an unavoidable existence that will make them willing to forgive him for everything.
Dakaretai Otoko Ichii ni Odosarete Imasu. is a work that is bright at the core and this brightness enables everyone to read it without fear. The dialogs are also thrilling because they amplify each character. The way it portrays the story so that the readers understand the characters' charm is simply overwhelming.
Something that can be said about both works is that every volume includes at least one action or dialog that the readers have been subconsciously wishing for, delivered in a satisfying emotional roller coaster sort of way. Readers will experience a catharsis while reading these works.
Kajikawa: The Étranger series by Kanna Kii is often referred to as an introduction to BL manga. There is little sexual depiction and it has a refreshing style, so the base of readers is wide, including male readers. And then, Momo to Manji by Sawa Sakura has managed to garner attention thanks to the realistic Edo sentiment based on a thorough knowledge of the Edo period and the depiction of the couple who fall in love as if they really existed in that period, and become the first BL work to receive the Excellent Award at the 22nd Japan Media Arts Festival.
Maki Marukido's Pornographer was adapted into a drama series. It was available on FOD, a Fuji TV's streaming service, and was also broadcast on terrestrial TV. I have confidence that the work has reached a completely different audience group than usual. The drama series also managed to create enthusiastic Pornographer fans.
── Back when Fumi Yoshinaga's Antique Bakery was adapted into a drama series, the fact that one of the characters is gay was completely removed. I think things have changed a lot compared to that time.
Kajikawa: Times have indeed changed. Ossans Love and What Did You Eat Yesterday? have broadcast on terrestrial TV channels and if another work becomes a hit, I expect a bigger flow of actors to star in live-action adaptations of BL works (laughs). Perhaps now is an important time in the BL industry.

"Liking the same sex" has ceased to be a hurdle in a story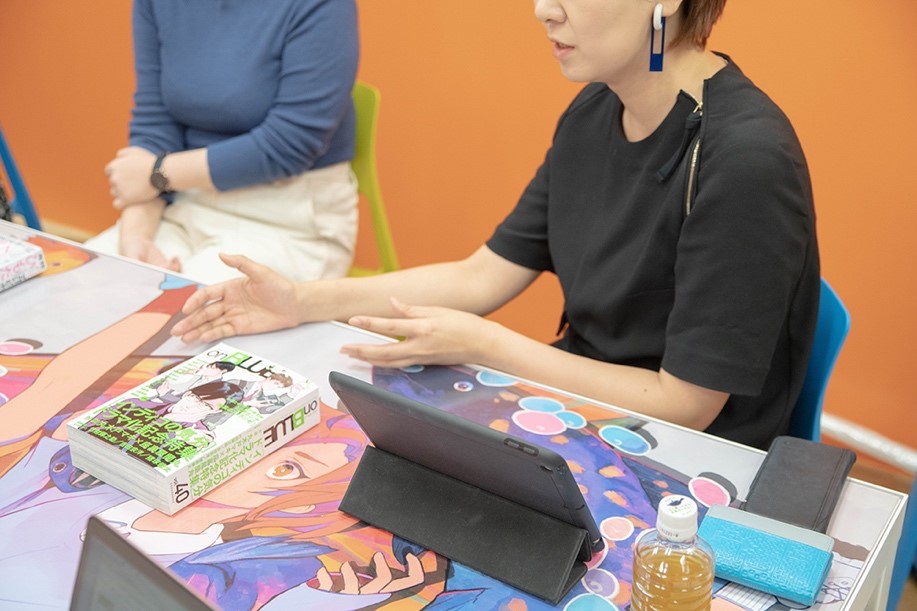 ── Do you feel any change in society's tendency toward the works that they prefer? Omegaverse is extremely popular these days and I like it too, but honestly, there is also a part of me that is impressed that a system with such crazy settings can be popular...
── Why do you think Omegaverse is so popular?
Ezaki: Most shonen manga involve classes and I suppose all otaku just love class and grouping. Heat and pregnancy are also big factors behind Omegaverse's popularity, but I think people admire the fact that Omegaverse has the class system, namely Alpha, Beta, and Omega, and that the upper tier can get together with the lower tier.
Masuda: You can see human relations amidst these classes. Because the characters can't exist independently, you can feel the depth of the worldview.
── I've always been a fan of the "juniors dominating seniors" trope, so I can relate to the theory that Omegaverse is popular because of the class system! I also love Alpha bottoming...
Ezaki: Omegaverse originated abroad, but according to one theory, the setting was made so that the top and bottom can never be reversed...
All: Really!?
Ezaki: The top and bottom pairing culture of the English-speaking world is much more lenient compared to Japan, but foreign fujoshi (girls who enjoy contents that feature romantic relationships between men) who wanted to destroy reversible pairings came up with the Omegaverse setting to fix the Alpha/Omega pairing in place. But since Japanese people like re-designing stuff, they added more elements to the Omegaverse... I'm not sure, though (laughs).
── Now I feel bad for saying that I love Alpha bottoming... Are there any other areas where you feel any change or trend?
Masuda: The theory that "certain things must be done a certain way" has become less restricting and I feel that the readers' tolerance has deepened. Up until a while ago, office workers or students were popular characters with less than 10% of other types of characters. But now, LYNX is also accepting a wide variety of characters such as gods, beasts, and others. The idea that fantasy isn't for manga was once a long-standing idea, but now beasts (therianthropes) and other characters of the fantasy genre are popular.
Kajikawa: Because the fantasy genre is based on a standard that is different from reality, it gives room for dynamic stories. One can move the genre in a way that is different from the code of conduct that aligns with the modern sense.
Ezaki: Also, although therianthropes tend to have their instincts outweigh their reason, they are often pure and loyal at heart. That's why readers don't have to feel the stress of not wanting to hand the bottom over to a therianthropic top.
── Is the flow that surrounds the LGBTQ reflected in the BL industry?
Kajikawa: I have the impression that the portrayal of a gay man coming out has changed. The scene where the man's surroundings react negatively toward his coming out might be frowned upon by the readers, depending on how the scene is drawn. I think if the scene involves a plain depiction of the obvious chance that the man's coming out will be rejected, the scene will leave a slightly outdated impression.
── In the past, many stories featured "forbidden love" in which the men felt troubled because they were in love with men. But lately, I have the impression that liking men is no longer such a worrying issue for the characters.
Ezaki:
Maybe it's precisely because "liking the same sex" has become a weak hurdle to overcome in a story that Omegaverse and therianthropic characters are now the hurdles that enliven a story.
Masuda: But I have the impression that the essential line of the drama hasn't changed much today compared to the past. That's because readers in all periods are reading while cheering for the couple and wishing that they be happy. The editorial department does, in principle, ask an artist to make the readers happy in the end. Of course, the request is made with respect toward the artist's individuality. Compared to the past, I think now it's easier for stories that let their readers read in peace to gain popularity. I suppose people are looking for works that they can enjoy in peace because we live in an unstable period right now. Contents, which aren't limited only to BL, do reflect the sign of the times.
Ezaki: Many of the readers are working. I think it's only natural for them to feel exhausted when reading a manga of flying fists after a tiring day at work.
Kajikawa: Does that mean a spoiling perfect top is a popular character during hard times? (laughs)
Will the way "BL editors" are change?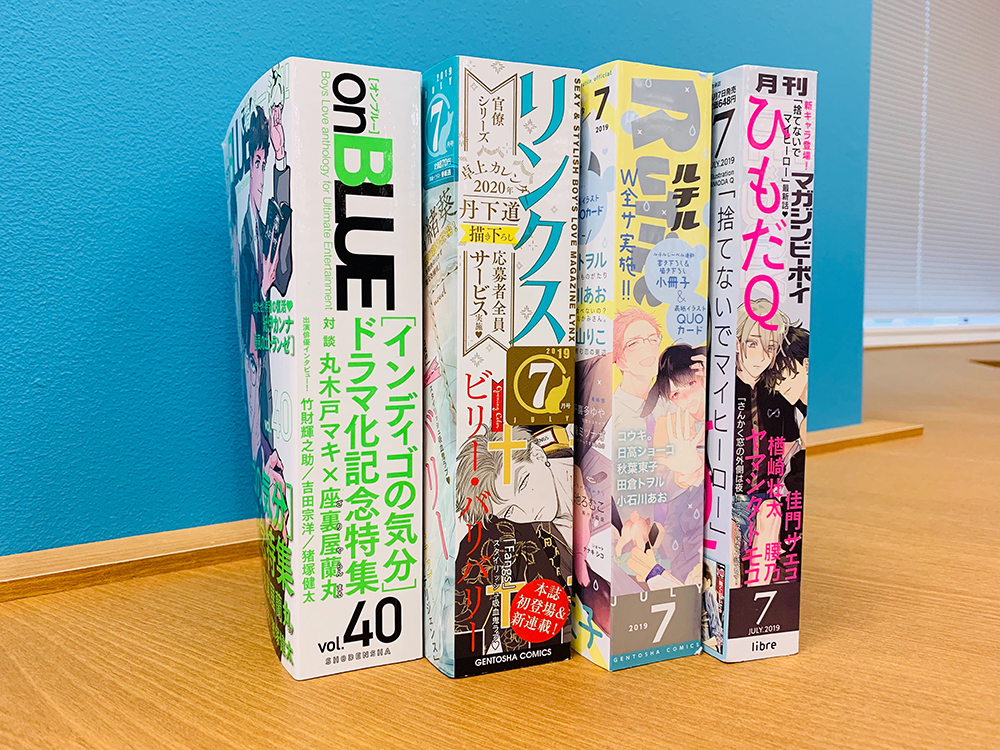 ── What do you think will happen to the BL industry in the future?
Ezaki: 
The age group will surely expand. Because BL is a genre with a small number of "ex-fans", I think the scopes of both readers and artists will grow.
Kajikawa: More and more BL works for all ages are being distributed for free on various apps and websites including pixiv Comic, so I think the BL industry is going to keep reaching a younger audience.
Ezaki: I think the nationality of artists is also getting more diverse. The number of artists in Korea and Taiwan is rapidly increasing and these artists have a solid platform in their country and it's growing! These authors are advancing and the Japanese BL industry is likely to expand even further.
── Is there a movement to scout foreign artists?
Masuda: They love Japanese manga and sometimes they do speak Japanese. So we need to be the ones learning instead (laughs). But yes, I do communicate with foreign authors.

Kajikawa: I'm currently in the preparation phase with a Korean author and we're both exerting our best with a translator in between.
Ezaki: I have made deals with about 3 foreign authors and they're really good at Japanese.

── Do foreign authors like a different type of story?
Kajikawa: In Korea, blighted love is a totally common trope in movies and other media. The author and I would bounce ideas about this issue at first, but it doesn't take long for us to reach an agreement because the author has read a lot of Japanese BL works.
── The number of Japanese BL works that are translated and published overseas has also been increasing.
Kajikawa: The tendency of works that are well-accepted is the same in Korea. In Taiwan, art with clean lines and vivid colors is popular. In Europe, artistic works that are strongly imbued with the author's individuality are popular. I have also heard that people in Europe avoid rape-like depictions.
Ezaki: There are also countries that refuse works with therianthropic characters because the relationships are considered "bestiality".
Masuda: Local publishers are willing to translate and publish the works. But right at the offer phase, they would warn us that while they do want to publish our works, there are certain conditions they can't compromise.
Ezaki: For instance, they ask us to remove all declarations that a character is a "student". Japanese publishers are getting stricter about sexual depictions that involve minors too.
Kajikawa: Since nowadays works are often adapted into various types of media, I think the possibility will naturally arise for an anime series or a live-action drama series that depicts BL to be distributed worldwide. In that case, the creators need to update the morals in the stories and I think this can be said for all genres and not just BL. Because spreading depictions that make the readers think it's okay to mock a classmate for being gay is wrong.
Masuda: The things that we have to be careful about will increase, but we need to think of "being careful" as the natural thing to do. Compared to 10 years ago, the degree of recognition of the BL genre has changed considerably, and the environment surrounding BL will change even further in the next 10 years. It's not weird at all if a major magazine for a general audience serializes a BL manga so long as it is a work without any love scene. Fumi Yoshinaga's "What Did You Eat Yesterday?" for instance, was serialized in a magazine for young men and I think a similar flow will definitely emerge in the future. In that case, us "BL editors" might be expected to have a different form compared to today.
Kajikawa: Still, we hope that we can always be professionals with regard to BL!

■ Try reading various BL works on pixiv Comic!