A popular mangaka introduces their dream job! - Working 3 Hours Per Day!?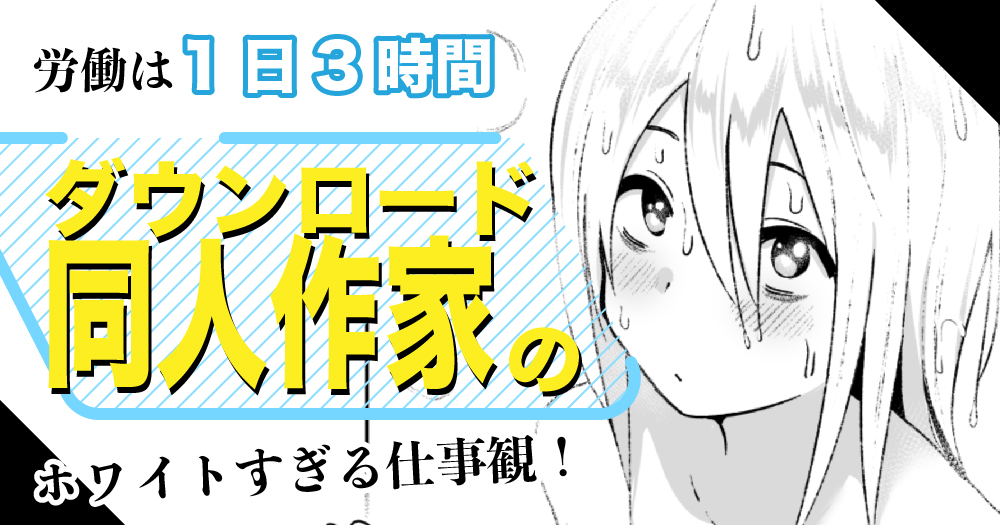 Following the previous article where we sat with Nakani and Pui, we will get into a deeper talk with Nakani, the mangaka selling millions of yen worth of content. We will ask them about how they work and about their technique.
Reducing illustration costs and focusing on scenarios
── We are still amazed at how you could get such good results three years after quitting your job as a system engineer. How did you train your drawing skills? By looking at your work, you seem like a really skilled mangaka.
Nakani: I bought a lot of still life books. But even so, I can't say I studied as much as I wish I could... I used to trace a lot of manga. I don't like drawing exercises, I don't think I ever stuck to it for more than 30 minutes. So I kept drawing and posting what I did. I am very grateful for those people who were commenting on my posts, they kept me going. I am not training much lately, I guess I should.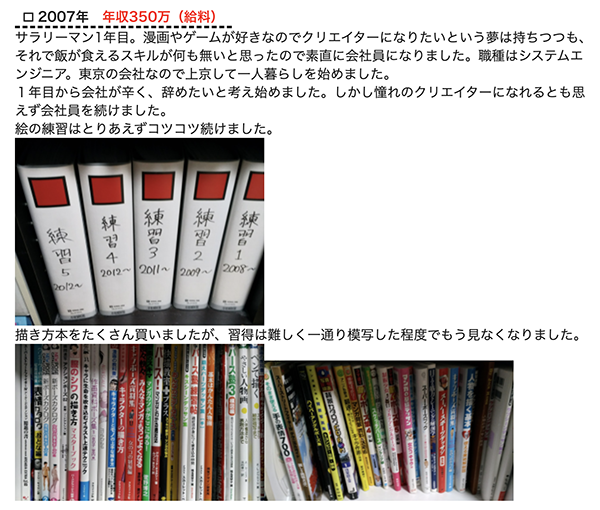 Nakani: If I had to talk about the story, I think that the novel games I used to work on have been helping a lot. I used to think I wanted to create such content from high school. I have written stories that sum up to 300 thousand characters while I was in university, and I am very fond of that. That experience is still being useful nowadays when I have to come up with dialogues and such. That is why I think people should pursue their dreams and keep doing what they feel they are good at.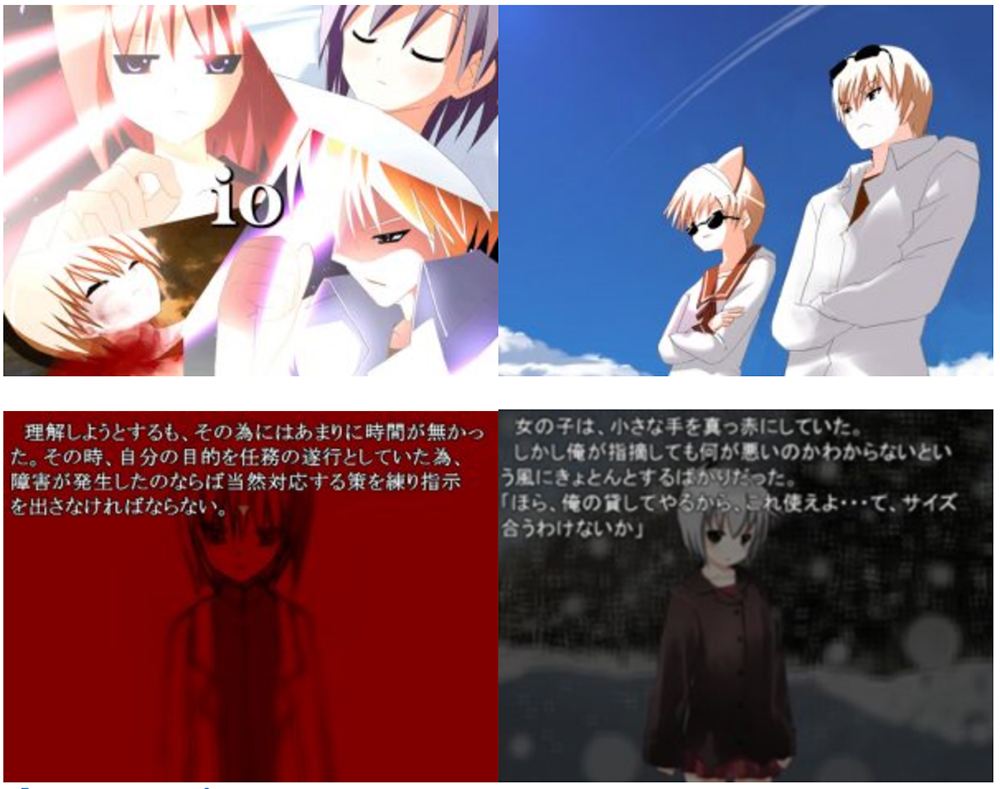 Nakani: Also, getting a rough understanding of how to lay the name out is important. I am a fan of Yoshihiro Togashi's work, so I used to trace pages from Hunter x Hunter or YuYu Hakusho while trying to create something new. Still, sometimes I would come up with a page filled with 18 panels, I wonder what I was thinking... (laughs)
Pui: On a single page?? (laughs)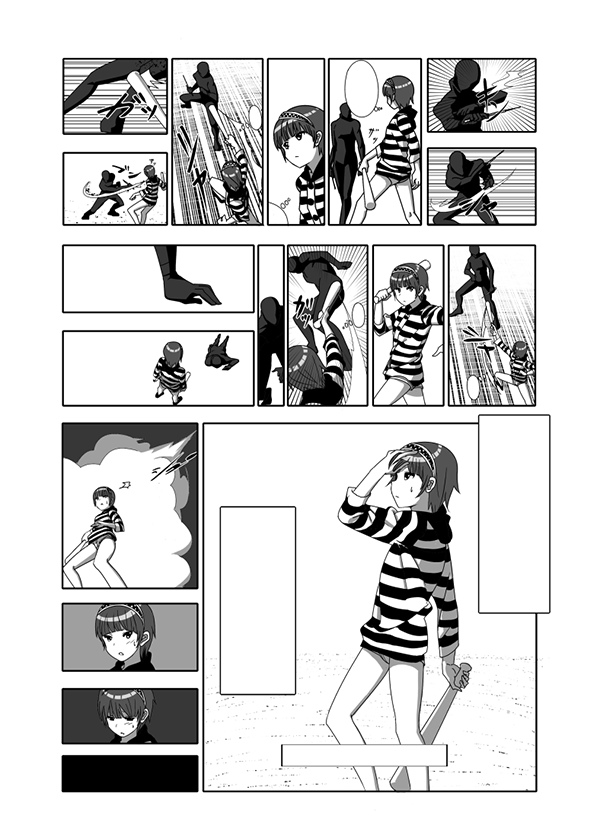 ── As an editor, how do you give advice when you find something that needs fixing? I want to know if there is anything one could do to improve their drawing skills and story writing.
Pui: Drawing skills are really the core of a manga's success, but unfortunately that is not something that gets better right away with an editor's advice. On the other side, it is quite easy to give advice about the layout of a page, the structure and photography of a drawing, or about the distribution of content throughout the pages in adult manga. Another important thing is to help the authors get a clearer idea of what they want for their title because sometimes they have many ideas but none of them is really strong.
── Thank you. You put more effort into the story more than in the drawings, right Nakani?
Nakani: Well, drawings are important of course. Sometimes you have draw scenes that are really challenging, and I find myself troubled many times for not being able to draw as I wish. I also know that I tend to draw some positions and situations more, so I can not keep looking at my previous works when I need to do new scenes. I will admit that I do not enjoy having to try things out of my comfort zone, but I always hope that it will lead to personal improvement. That said, spending too much time drawing is not good either, so I try to measure the time I spend thinking about the story, creating the name and drawing.
── Have you ever tried to spend less time drawing? Ever came up with some good idea?
Nakani: Yes, I save a lot of time with the bakgrounds. I use a software called "3D My Home Designer (PRO9EX)". I change the colours and retouch a little here and there, but there is not much to be done, and the level is really high.
Pui: Amazing, it's all 3D! I would have never thought.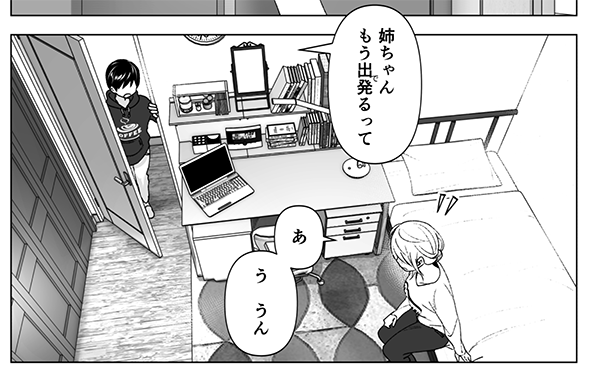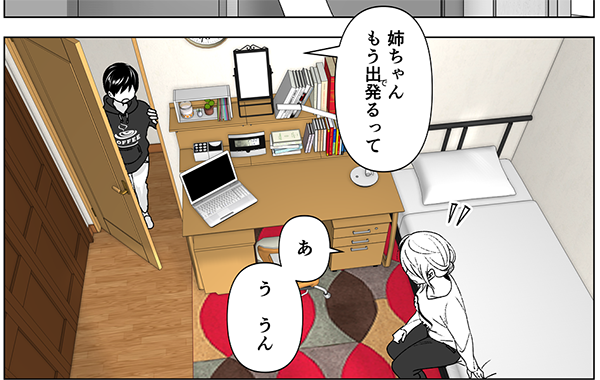 Nakani: I don't want to spend time drawing the background, so I was once searching for good ideas on Twitter and found that another mangaka was using this. It was more than I could have ever wished for, I bought it right away. (laughs)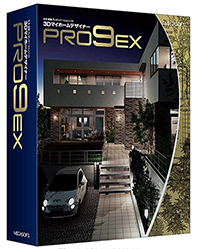 ── Research is really important.
Nakani: I also use CLIP STUDIO, purchasable on BOOTH. Backgrounds are really a part of the picture that gives me a lot to think about. I could use low-quality material I can draw by myself, but I prefer using time and energy for things I am good at.
Finally grasping what it means to be a creator
── I like to think that you were able to turn the situation on your side thanks to technical decisions thanks to your past a system engineer. What were you studying at university?
Nakani: I majored in the scientific field. If I think about it now, it had nothing to do with my current job. I always liked the idea of becoming a creator of some sort, and that even lead me to create games, but to be making a living out of it as a professional? I would have never dreamed of that. Times change and I was blessed with opportunities I would have never had in a time with fewer digital tools.
── So you wanted to create content from a long time ago.
Nakani: I started reading manga from junior high, thanks to my parents' passion for it. At the time, the internet started to become a reality and reach our households, which made me even more interested in the figure of the creator, as a person who could have their own website and express their ideas on such a platform. Then the novel games boom came, and I remember being amazed by that sort of content. It was my first time seeing something like that.
Pui: I think you are very close to what you always dreamed of being now.
Nakani: Thank you very much. If I can be honest, I wish I would have taken the plunge at an earlier age and started earning money with this job years ago... I am very envious of those people starting their career in their early 20s, while I used 5 years of my life working as an employee.
Pui: That is, like you said, because of how times have changed. The downloadable doujinshi market has grown exponentially and is given many more chances to whoever has new content that can be published.
Shifting from erotic to normal content, their income decreased from 8 million to 500,000 JPY
── From August 2017 you switched from erotic manga to the fantasy genre, drawing Watashi wa Sono Jinsei wo Hokorirashii to Omou Darou for a long time. This title was never for sale, is that because you wanted to challenge yourself no matter the income?
Nakani: In that period, the quality in my works dropped because of many things, but I always tend to blame the deadlines... I thought that with that level, my works would never sell and that I needed to rethink my work ethics. I used to get many offers from normal magazines and thought I needed to exercise laying out of the name, so I looked at my bank account and thought that I didn't have the urge to earn any money for the time being, that's why I took 2017 easy.
── Even from someone we know to have quit their job, that is still a bold move...
Nakani: This is when I was testing myself, see how much I could do with that kind of content and working environment. In the end, I didn't make it, but I got a lot of feedback from the users and what I experienced back then is still of vital importance right now. I tried to draw some names to present to different companies later, but never really got to do it.
── It is amazing though that you could bring yourself to pick up such a challenge, while being already steady in the adult market... Your titles as of now have up to 200 pages, so you could already make a whole volume out of that alone.
Pui: Were you particularly motivated to become a mangaka in that field, at the time?
Nakani: It's an idea I always had, and it comes and goes depending on the things I am writing about at the moment, but even as of now, I think I would like to try that if I was given the opportunity. It's a market way bigger than the doujin one, and if your title becomes a hit, you hit the jackpot.
── I believe that you spent a year training, what kind of results did that bring around?
Nakani: I surely got a better understanding of what I can and what I can not do. I know how much effort is needed in order to achieve certain goals now.
Pui: Have you ever felt like you lack something in order to be even more successful as an adult content creator?
Nakani: Not that I can think of. I think I grasped the link between the workload and the quality of a title, and ever since that I am constantly trying my best without making any compromise.
Pui: Mukashi wa Kawaikatta, your hit, was released in 2018, right? I followed you from before that, but I firmly believe that your skills in both writing the dialogues and drawing really improved with that title.
Nakani: Thank you very much! I had to walk a long way to get there, but I too believe that what I have done before led to improved quality in that title.
── So what are the major improvements from the adult titles you released before that?
Nakani: I was never good with hand-written text and kept avoiding it. One day, though, I came across a certain title that helped me understand its importance. I was able to grasp not only the technique when writing them, but also why they are important and what value they do add to a title. Ever since then, I started studying their usage in different works and tried using them in mine.
Pui: Hand-written text is often used in big panels in order to give the readers direction about the flow they should follow when looking at the picture
, it's something not many adult manga authors are able to do, and you can say Nakani has really been working on it with their own way of expression, and even though they share their know-how on their blog, one could not simply read it and suddenly be at their level.
The uniqueness of Nakani
── It is common knowledge that downloadable adult manga have quite the strong taste when it comes to tropes, is that so?
Pui: The common idea is that there is a good share of genres like "netorare" and "cheating". But don't think that's all, because many big companies prefer a corresponded love to be the theme of their adult manga.
Nakani: I don't think I am good in those tropes, for example. But when you analyze the popular titles, many of them actually do have a strong sense of uniqueness in the themes they cover. Anyways, it is also true that in the last years the combination of high-quality titles and a witted author always led to good-selling performances.
── I think many creators choose certain themes to raise more attention via internet ads.
Pui: If I can speak my mind, as an editor I always thought Nakani's titles were a bit... "weird"...
Nakani: Really?
Pui: Now that I met you, you seem very sociable, and I always thought that your blog is well written and interesting. I felt a huge gap between you in person and what I read in your titles...
For example from the beginning to the middle of each story, the characters seem to be "acting", it's almost some sort of a gag, if you allow me. You go from a totally normal, peaceful scene to a tension peak all of a sudden. The way you make the characters talk, act and react to what is happening is very unique, I think.
Nakani: Those are the situations I like most!
Pui: In the latest publications, those expressions have really improved! And yet, they're still preserving the unique taste that the fans got to love from the first titles. Even the main characters, who are siblings, used to be portrayed very simply and with almost no surroundings as if there were only them in the world. Recently though, some family members and a doctor as well have made an appearance, bringing some fresh air and renewed interest to the series. Illustrations got better as well, it is really an interesting title to read.
Nakani: I spent quite some time and energy coming up with new ideas and ways to portray my characters, so hearing these words from an affirmed editor makes me really happy.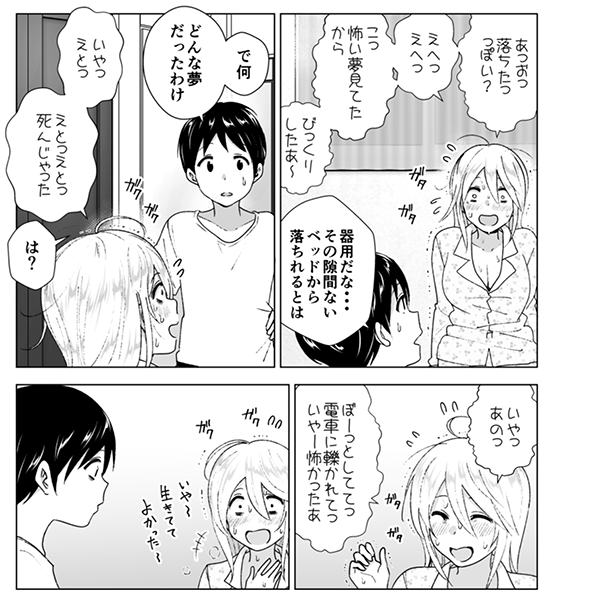 Free, as in "freelancer", without working too much
── You must have really poured yourself into studying all that. How many hours do you spend every day between working and exercising?
Nakani: Mmm, I don't really draw when I don't feel like it. When I have a title to develop, I don't work on it for more than 3 hours per day.
Nakani: Inspiration comes and goes, so when I don't feel like drawing or going on with my work, I play videogames or watch YouTube, maybe read manga. If I work only when I feel like it, I can publish maybe one volume every 4 months. A page per day, that's roughly it... Oh, by the way, I have played Splatoon 1 and 2 for over 2,000 hours. (laughs)
Nakani: Well, I wanted to become a freelancer to escape from a job that was taking all of my time and slowly killing me, so I can at least say I did that. I know there are people working more than me out there, but the thing is that was not made for overworking...
── Isn't that the best though? Doing what you like as a job, and still having spare time.
Nakani: This year I was particularly lucky selling a lot of doujinshi, so I am taking some time off to study management and how to deal with my profits. I have to save up some money...
When is the right moment to quit a job at a company?
── I bet some people reading this article thought that they want to quit their day jobs too and start working with their passion. As someone who has done that, what advice can you give to those readers?
Nakani: Speaking out of my experience, they should save up some money to be able to live for a few years with no income. Of course, quitting your job and starting off as a mangaka right away would be the best option, but there is always going to be the problem of how much money you can be working for. Having some savings on the side helps you decide that, for sure. Also, being in good terms with your family can definitely help you in times of need. Another good thing would be to publish at least one doujinshi while you are still working because it lets you get a better understanding of the sales and of your own strength.
A creation from back when working a day job at the company
── Improving one's self after having calculated all the risks, that's very likely of you. Twitter is also a good platform to get noticed and receive some feedback about one's skills, right?
Nakani: Exactly. You can definitely say that if one is popular on the internet, his road to becoming a mangaka won't be that difficult. What one would need is only the vision of how to increase their own sales. On the contrary, starting the freelancer life without knowing your own strength and possibilities feels risky to me.
── We are all lucky to be living in a time when one can measure their own skills while still working.
Pui: Like Nakani said, I would not recommend rushing into this world with no savings or any preparation. Always have a plan B ready in case things don't go well and keep your mind open to new, different possibilities.
Nakani: I would close saying that motivation to "create" something new is, of course, the most important thing. I wanted to be a mangaka, but if your desire to create something is strong, be sure that it can lead you to make some money as well. Be always aware of your position and how many people are surrounding you. If being aware of the competition and of what you want to do, you still want to try taking this step, then you definitely have a chance!
Before beginning this interview with Nakani, I felt a little nervous, knowing their unique work, but they were very kind in answering all my questions and open about their job and creations. Being self-aware of their position as they are, in the environment they were able to create for themselves (still envious about their working hours), is definitely the key to their success.
In such an era, in which one can be their own author, editor and publisher, being a freelancer doesn't seem as hard as it felt before. We can surely raise our expectations to see many more interesting titles in the future.
If you liked this article, please check out more about Nakani and Pui!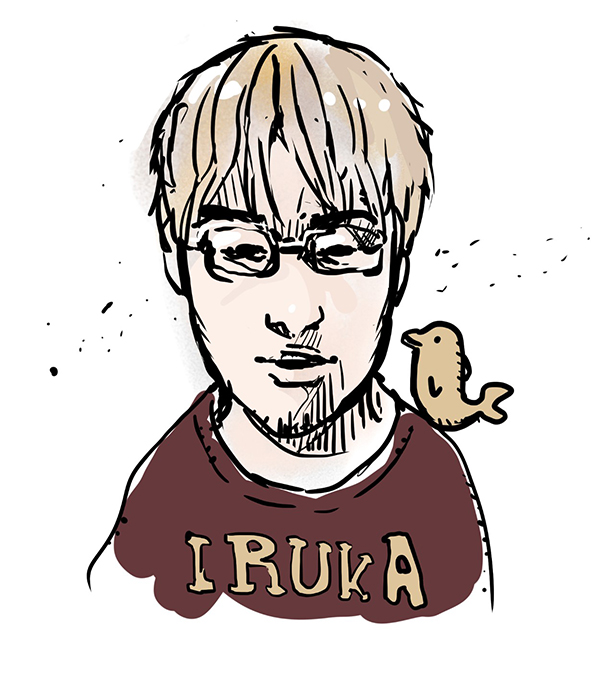 Pui
Editor. Has been working for a big company dealing with adult content for more than 10 years, now specializes in comics on the web. Published a study on adult manga in 2019, Ero Manga Henshugi.