Looking Back Over the Past Year Through Trending Works - This is how 2020 looked like on pixiv!
Article by: Ichibo Harada@HEW
2020 saw the rise of many popular works and characters, but what was it that caught people's attention the most?
We invited Tada, who studies pixiv data to analyze users and trends, and Kuro from the Novels team to look back on this past year from pixiv's perspective.
The spread of COVID-19
── If we're talking about 2020, we have to bring up the topic of COVID. What kind of impact did it have on pixiv?
Kuro: The overall number of pixiv posts has increased.
Tada: The number of active users (in other words, users who have used the service at least once in a specific timeframe) also spiked.
Kuro: Things have been calming down since around October, when everyone started to go out again.
── I guess world events do affect pixiv... 
Tada: Let's take a look at active users by language.
You see, in Japan (left image), the number of active users rose dramatically from the beginning of March to Golden Week, then settled down a bit in June, and rose again during the summer vacation season. On the other hand, the number of Simplified Chinese users (right image, red) started to rise in mid-January and settled around the end of April. Since COVID became an issue earlier than in Japan, user activity on pixiv gives forewarning of the Japanese trend. On the other hand, the English-speaking world (right image, green) is a little behind Japan.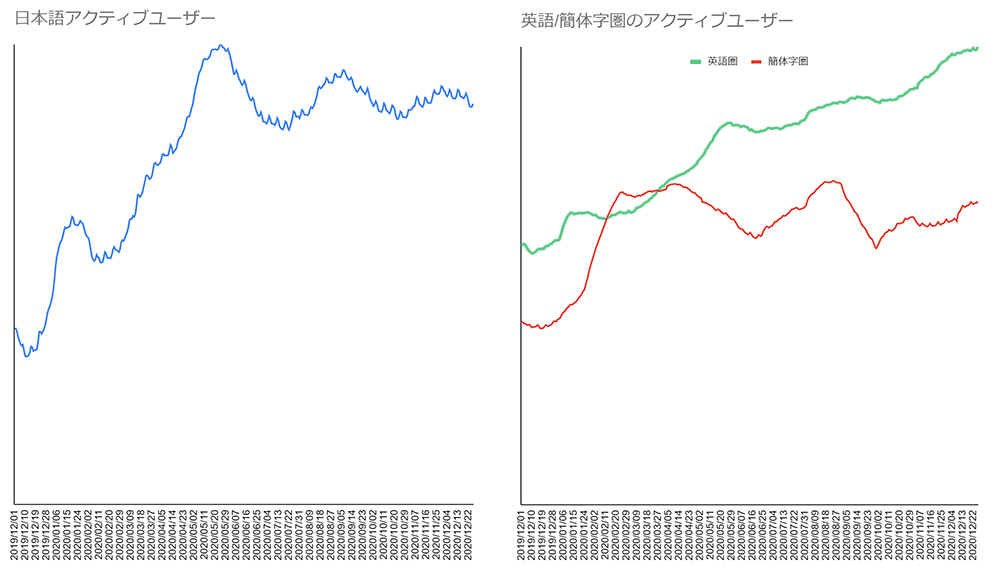 January: The number of yuri novels increases x1.5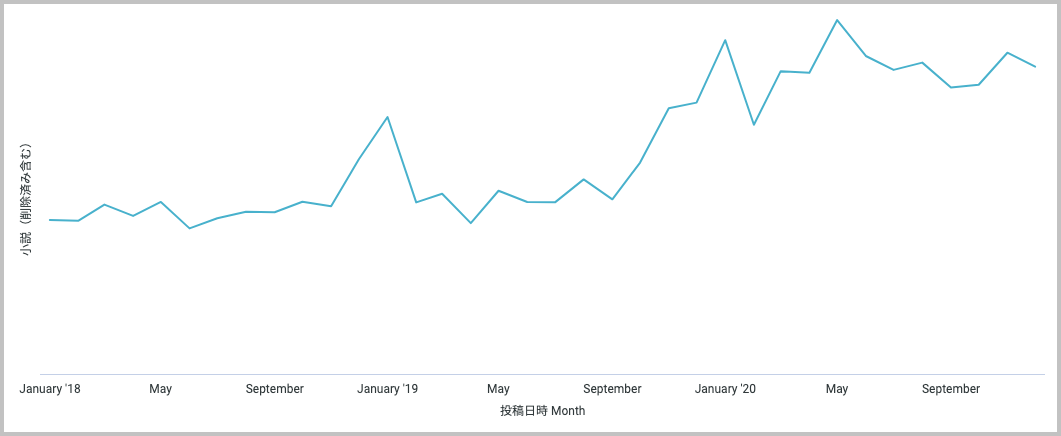 ── 1.5 times more yuri novels! What happened there?
Kuro: This is clearly the effect of the 2nd Yuri Literary Fiction Contest (第2回百合文芸小説コンテスト, Dai Ni Kai Yuri Bungei Shousetsu Kontesuto), which ran from November 1st, 2019 to January 9th, 2020, hosted by pixiv in coordination with Comic Yuri Hime, SF Magazine, Gagaga Bunko, and Shosen Yuri-Bu. The contest called for novels about love or companionship between women and ended up gathering more than 2,200 entries. In January, the number of posts tagged #yuri was 1.5 times higher than usual. For this second contest, we were able to announce the event at the beginning of October, so we managed to gather more entries than the first time around because the prep time was longer.
Tada: Still, that's quite an amazing growth rate, isn't it?
Kuro: Yeah, it's almost doubled. There was a time when people used to say that yuri novels were a tough commercial challenge, and I'm pretty sure that until now there was no established place on the internet to post yuri novels. Then, the Yuri Literary Fiction Contest was created, and I believe that's when all the yuri enthusiasts started to post their works on pixiv.
── The 3rd Yuri Literary Fiction Contest is underway right now. How are things looking?
Kuro: About the same as the second contest. This time, however, the contest is divided into a Short Story category and a Medium/Long Story category, so I expect that the number of medium/long story entries will increase rapidly as the deadline of January 31st, 2021 approaches. If that happens, we may get even better results compared to last year. In novel contests (not just the yuri ones), the number of entries suddenly increases just before the deadline. Every year around January, when I see a sudden spike in the number of novel posts, I know it's because the deadline for the Yuri Literary Fiction Contest is getting closer. (laughs)
The first half of the year saw increasing posts and views for "Toilet-Bound Hanako-kun", "Healin' Good Pretty Cure" and "Kaguya-sama: Love Is War"
── I believe the first half of 2020 was especially influenced by anime. I remember Toilet-Bound Hanako-kun got quite a lot of attention while the anime was airing.
Tada: That's right. I have the impression that the number of posts increased after the third episode of the anime, when it became widely known to the public.
── On the other hand, Healin' Good Pretty Cure and Kaguya-sama: Love Is War were already well liked. It's like fans posted their works as a celebration for the start of the anime.
Tada: For Pretty Cure, in particular, the main visuals first appear in anime magazines before the anime airs on TV. That's where the die-hard fans learn about the next Pretty Cure and get excited about it, while the second wave comes in when the show starts.
── What about Re: Zero − Starting Life in Another World? The second season of one of the most popular titles of the 2010s started in July.
Tada: Re: Zero is already well established, so it's always had a steady number of submissions. That's why, even when the second season took off, there was no noticeable spike in the number of posts about the series. Oh, but the start of the second season led to a surge of works featuring the witch Echidna. A series' following grows even more when new characters are introduced, even with the start of a second season.
Mid-February: The number of "Pokémon" novels increases along with views
Tada: Since the release of Pokémon Sword & Shield in November 2019, Pokémon has been going strong, also thanks to the TV anime airing.
── Still, in mid-February the games had already been out for three months. What happened there?
Kuro: There was a bit of a time lag between the release of the games and the female fanbase exploding.
Tada: Right after the release, it was mainly male users who drew illustrations of Pokémon and female Trainers. Eventually, female players realized that male Trainers are also pretty cool. I think that's when the number of female users gradually increased, and the anime became a tailwind for even more female fans. For novels, the surge came a little later.

── And it was in February when novels started increasing.
Tada: It's hard to write a novel unless you're familiar with the characters' personalities, way of speaking, and relationships between each other, so it's only natural that the novel boom came after the illustration boom. And it goes without saying, but since Pokémon is a game, people have to play it first.
Mid-February: The number of posts about the last chapter of "The Quintessential Quintuplets" increases along with views
Tada: The author Negi Haruba has a pixiv account and posted every day as a countdown to the final chapter of his work. This contributed to an upward trend in the number of posts and views related to the entire The Quintessential Quintuplets series.
── 2020 also marks the end of many works published in Weekly Shōnen Jump, from Haikyuu!! to The Promised Neverland and Chainsaw Man.
Tada: Haikyuu!! was especially popular on pixiv in late July. I think the structure of this title, with its large number of characters and the fact that they are divided into different communities, like schools, creates the perfect soil for the proliferation of fan art. On the contrary, even the most popular work can have a hard time gathering a following of fan artists if it comes with a limited number of characters and communities. Also, I got the impression that the fans who used to read Haikyuu!! back in the day came back for the last hurrah. 
── Like an alumni reunion?
Tada: Exactly. Rather than the number of posts, it was the number of views that increased most notably. Around the time of the last episode, terms related to Haikyuu!! made it onto pixiv's Search rankings nearly every day.
The number of posts and views related to "Demon Slayer: Kimetsu no Yaiba" increases after the final installment of the original manga series in late May, the release of the movie in mid-October, and the release of the final volume of the manga in early December
── Speaking about endings, a special mention goes to Demon Slayer: Kimetsu no Yaiba!
Kuro: Demon Slayer posts also gained traction with the series' last episode, but since the release of the movie, works tagged #Rengoku or similar have been spiking.
── Rengoku's popularity has been only increasing since the movie came out. Many fans have chosen to post illustrations of the Flame Pillar to commemorate watching Demon Slayer in theaters.
Tada: The end of the manga series in May also contributed to the increase in the number of illustration submissions, but the biggest spike happened in November.
Kuro: The number of novel posts peaked at the beginning of November 2019, right after the TV anime finished broadcasting, and it peaked again last November with the release of the movie.
── Who posts more Demon Slayer? Men or women?
Kuro: For novels, it's mostly women.
Tada: For illustrations, artists are 25% male and 75% female, which means that there are quite a few boys in there. Female characters, like Shinobu Kocho, were also popular among male users.
Late March: "Disney: Twisted-Wonderland" goes viral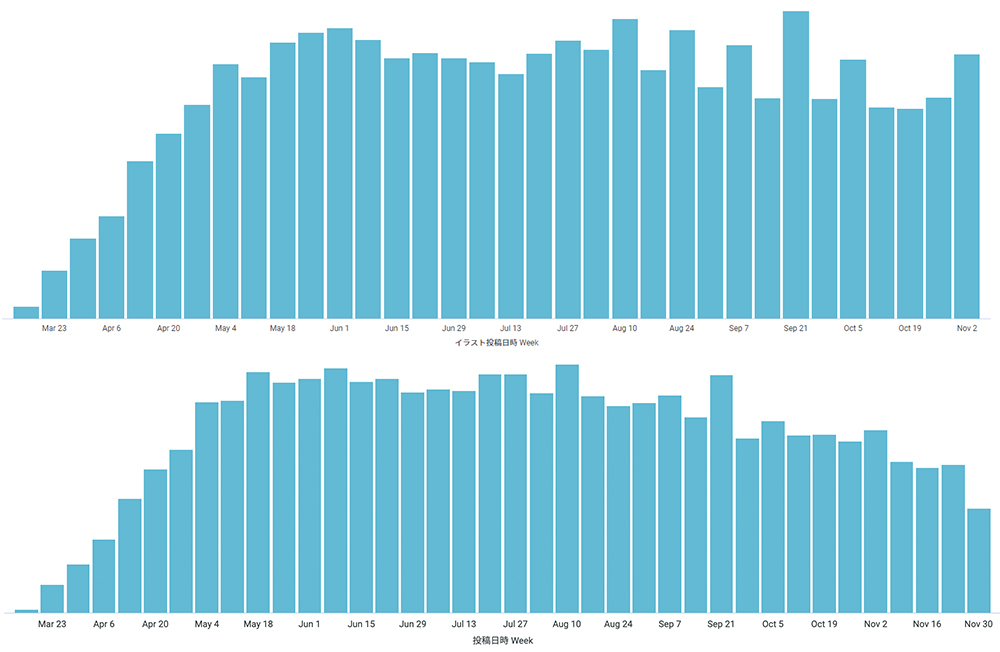 Tada:
Twisted-Wonderland
was incredible.
Kuro: Amazing, wasn't it? It was released in late March, a month before both COVID and Golden Week hit, which led many to take refuge in Twisted-Wonderland.
Tada: Term Conversion was introduced to pixiv novels as a beta feature at the beginning of April. I wonder if that had anything to do with the rise in popularity of novels around the same time...?
Kuro: I haven't been able to get any figures on that, but one thing is certain: novels about Twisted-Wonderland really gained momentum. At some point, 98 works related to Twisted-Wonderland were ranked in the Novels Monthly Ranking. I've never seen such a monopoly before.
Tada: In terms of illustrations, there were more than 10,000 people posting works about Twisted-Wonderland in a single month. And they are almost all female users.
── It seems like a higher ratio of female pixiv users also play Twisted-Wonderland.
Tada: That's correct!
Moreover, users tend to post an average of 1.5 works per month, but the average in the Twisted fandom is up to 2: that's how enthusiastic these people are
. In other words, a simple calculation shows that about 20,000
Twisted-Wonderland
illustrations were posted in a single month.
Kuro: I have a feeling that people have a sweet spot for the prefect side of the game.

── Being a prefect is something one can't really experience outside Twisted-Wonderland. That was long overdue.
Tada:  In Touken Ranbu, you could be a Saniwa and in Fate/Grand Order you could be a master. The concept of being in a unique position seems to be quite stimulating for the imagination of fans.
Mid-May: #sailormoonredraw; late May to June: posts about the Polish puzzle game "Helltaker" increase along with views
Tada: This is when our international users showed us what they've got.
── During that time, I used to see #sailormoonredraw illustrations every day. It was a trend that had you drawing Sailor Moon in your favorite style. 
Tada: About 60% of posts tagged #sailormoonredraw came from international users, and more than half of them were from the English-speaking demographic. It really shows how popular Sailor Moon is in the English-speaking world. I feel that pixiv as a whole has been affected by the increase in the number of English-speaking users over the last year or so.
── Why do you think the number of English-speaking users is on the rise?
Tada: I think it's thanks to the measures we've been taking since last year.
Google used to recognize pixiv as a Japanese website, but in order to expand it to English speakers, we took measures to have Google recognize pixiv as an English website as well. We also introduced a system that allows users to translate tags. We want people who speak languages other than Japanese to be able to browse works easily. It would be nice to see even more international user-led trends in the future.
── Is there a trend that was received very differently among international users and Japanese users?
Tada: At the peak of Helltaker's popularity, most views were actually from the Korean-speaking demographic.
── Unexpected! Next time I meet a Korean otaku, I'll be sure to talk about Helltaker. (laughs)
Early September: "Hololive English" debuts as an international branch of the VTuber talent agency Hololive
── The increase in the number of English-speaking users could also have been influenced by the Hololive English debut, right?
Tada: While the number of Japanese users hasn't changed, the number of English-speaking visitors coming from Hololive English has increased tremendously! One of the top VTubers is Gawr Gura, a.k.a. "Same-chan", designed after a shark. Everyone loves sharks! (laughs)
Kuro: Gawr Gura frequently retweets fan art on Twitter, so that may also have an impact. I feel that whether or not the VTuber themself responds to the fan art has a lot to do with how much fan art the artists produce. For novels, lately, VTubers themselves have been encouraging their fans to post their novels on pixiv.
Kuro: On pixiv, there is an open call for scenarios to be performed by VTubers belonging to Nijisanji under the tag #Nijisanjikoegekidōkōkai (#にじさんじ声劇同好会, Nijisanji Voice Theater Club). Novels are mostly posted by female users, but VTuber-related tags attract a lot of submissions by male users as well.
The official logo for the Expo 2025 Osaka, Kansai "Inochi no Kagayaki" trends in late August; in early October, the tag #aijibarannsubu (leg hold pose) is all the rage
── I totally forgot about these trends!
Tada: In terms of numbers, it was just a momentary surge...
── I did a quick search for "Amabie" and found that Amabie is still being posted consistently.
Kuro: The number of searches increased dramatically in March and has been declining since about May. Nonetheless, people are still posting, aren't they?
── There may be more posts of Amabie than posts about my favorite genres...
End of September: Release of the open-world RPG "Genshin Impact"
── This game is by the Shanghai-based company miHoYo, so I suppose that this trend started from Simplified Chinese-speaking users?
Tada: No, I have the impression that after the official release on September 28, there was a huge influx of Japanese users, and things took off. English speakers joined the fun once the
Genshin Impact
 trend had started spreading. Most users are from English-speaking regions, followed by Japan, while Simplified Chinese users are only half of that. English-speaking users were very active in 2020 in terms of posting.
Kuro: In the ranking of words searched on pixiv in 2020, Genshin Impact is by far the most popular query. It's more than twice as popular as the other popular tags. What's even more amazing is that the names of the characters Paimon and Keqing also come up in the rankings.

── Wait a second. I feel like we're skipping on a couple of trends from around October, although they were not as big as Genshin Impact.
Kuro: You're talking about the I-Shaped Balance meme, right? (laughs)
── Yes, the #aijibarannsubu (standing splits). That was amazing!
End of September: The number of "Ascendance of a Bookworm" novels increases
── Ascendance of a Bookworm is a novel by Miya Kazuki that used to be serialized on the novel publishing website Shōsetsuka ni Narō. The second season of the anime aired from April to June, and it grew so popular that a third season is already in the makings. Even so, it was somewhat surprising to see the fanwork trending.
Kuro: These fan artists are mostly women. As for the age range, I've never seen anything similar before! The largest number of users are in their early 30s, followed by those in their late 30s. Next is the early 40s, late 40s, late 20s, and early 20s. Seems like this work is particularly appreciated by the older age group.
── I hear that isekai reincarnation stories are pretty popular among mature fans.
Tada: It's true that isekai readers on pixivCOMIC are a little bit older, but it's quite rare to see such a high concentration of mature readers on pixiv due to its nature as a social media.
Kuro: These creators are probably basing their fan art on the original novel, and not on the anime adaptation.
Tada: The Shōsetsuka ni Narō website doesn't allow posting fan fiction, right?
── In other words, fans are reading the original work on Shōsetsuka ni Narō and moving on to pixiv to post their fan fiction.
Kuro: I don't think there are any other novels on Shōsetsuka that generated so much fan fiction.
Tada: It's unusual for fan work based on an original novel to become so popular in Japan. Or so I thought until I remembered Sorcerous Stabber Orphen and Slayers. Those have been there forever.
── Could it be that the people of that generation are flowing into Ascendance of a Bookworm?
Early October: Jujutsu Kaisen is a smash hit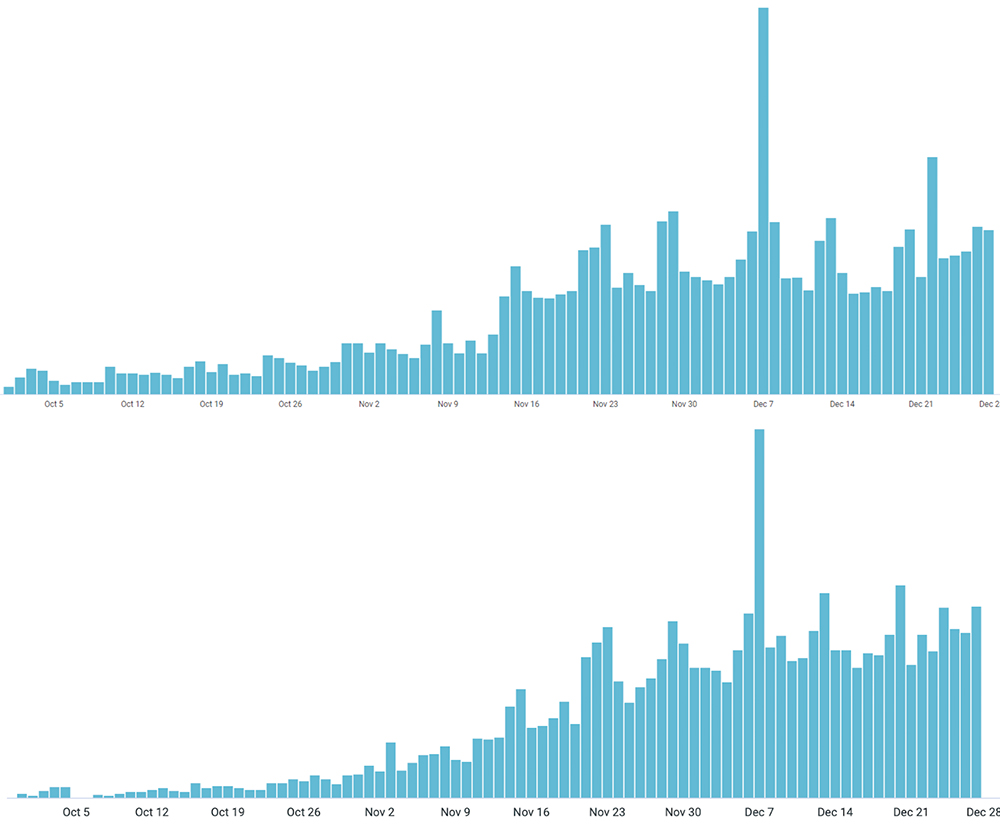 ── Since the anime started in October, Jujutsu Kaisen had a surge in popularity.
Kuro: Look at those numbers! Huh? What's up with December 7th?
Tada: Isn't that the date of the episode where Satoru Gojo showed his face?
── That happened in episode 7 of the anime, so during the night on November 13th.
Tada: True. There was a sharp growth around there, too. So what happened on December 7th?
── I'll look it up. December 7th is... Satoru Gojo's birthday.
Everybody: That's it!
Tada: This means that Gojo drove the surge all by himself. That's incredible. During events like this, the popularity of the characters is what leads the way tags to grow.
Kuro: The growth is especially noticeable for illustrations. For novels, there's often just the smallest little jumps.
── The thing is, you can always draw an illustration to celebrate, but I don't know of many that would say "I'll write a 4000-word novel to celebrate!" Do you think that the momentum of Jujutsu Kaisen will keep going?
Tada: The anime hasn't reached its peak, and the upperclassmen haven't made their full appearance yet. The numbers will keep growing...!
What can we expect from 2021?
── Are there any works or characters that you think will trend in 2021?
Tada: I have a good feeling about TIGER & BUNNY.
Kuro: Same. I imagine it'll affect Novels as well.
── The first new series in 11 years is scheduled to air in 2022.
Tada: There's a lot of new info coming up, so
TIGER & BUNNY
 is going to explode at some point. If we talk about genres, I think that works like
Genshin Impact
 will triumph.
Kuro: The Novels team is also looking forward to the Genshin Impact trend. Until now, the only novel genre with a strong male user base was OreGairu (My Youth Romantic Comedy Is Wrong, As I Expected). OreGairu is already quite popular and has been read and written about by a certain number of male users for a long time now, establishing a genre of its own. As the Novels team, we'd like to see more genres that male users can get excited about.

Tada: Then there's Detective Conan, whose latest movie will finally be released in April 2021 after being postponed in 2020 due to COVID. Recently, I've been checking the Conan trends in the past two years, and I found that every year from the end of March to May, during the movie season, searches and bookmarks tend to peak.
Kuro: If you see an unusual increase in the number of novels, it's probably due to the Conan season.
Tada: Also, if the Tokyo Olympics were to be held next year, it would surely have an impact on the figures.
Tada: The Olympics have always had a strong influence, after all. When the games were held a few years ago, users would post innumerable illustrations related to the event. This time, since the Olympics will be held in our own country, we don't know know what kind of attention they will get. I guess the impact of the next Olympics is still unknown.
── It goes without saying that creative work is often born from real-life events. What does 2021 have in store for pixiv? What kind of trends will arise? Thank you for your time today! Happ New Year!