How does it Translate into Taiwanese? "Jujutsu Kaisen" Translator Tells All About the Fun of Crossing Cultural Boundaries
We often hear that a certain manga has grown to become a worldwide hit, but have you ever stopped to think about how it's been translated into different languages?
Japanese manga and anime are popular in many different regions. It's thanks to the hard work of translators in each language that people in different regions can enjoy talking about the same works and have fun exchanging opinions. Translators could as well be regarded as the behind-the-scenes force who makes the industry thrive.
How do translators manage to deliver these works to people living in areas where the language and culture are so different from the original? We asked translator Shaoren Zhang, who works for Tong Li Publishing (the publisher behind the Taiwanese adaptations of popular Weekly Shonen Jump titles such as Jujutsu Kaisen and Demon Slayer: Kimetsu no Yaiba) to tell us about their job.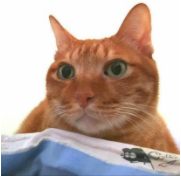 Shaoren Zhang
Started their translation career as a freelancer in 2010, and has been translating mainly manga and light novels for Tong Li Publishing since 2013. Their translation works include Jujutsu Kaisen, Cells at Work!, and Naruto - Kakashi Hiden: Lightning in the Icy Sky.
Article by: Ichibo Harada@HEW
A translator's challenge: from Japanese pro wrestlers, to the Yamanote Line game, to Okinawan fishermen
── Why did you decide to pursue a career as a translator?
Zhang: I have been a fan of Japanese manga since I was in junior high school, and during my university days, I started to reach out to Japanese anime and mystery novels. Nowadays, there are many works that are distributed simultaneously all over the world, but that wasn't the case back then. Most content used to be published more than a year after their Japanese counterparts, and anyway, not many titles got a Taiwanese adaptation in the first place. My university major didn't have much to do with Japanese; I started studying the language because I wanted to read more manga. After entering graduate school, I started working as a freelance manga translator and later joined Tong Li Publishing. Including my time as a freelancer, I have been working as a translator for about 10 years.
── Right now, you're working on the translation of the incredibly popular Jujutsu Kaisen.
Zhang: That's correct. Even in Taiwan, Jujutsu Kaisen is well-liked among people of all ages.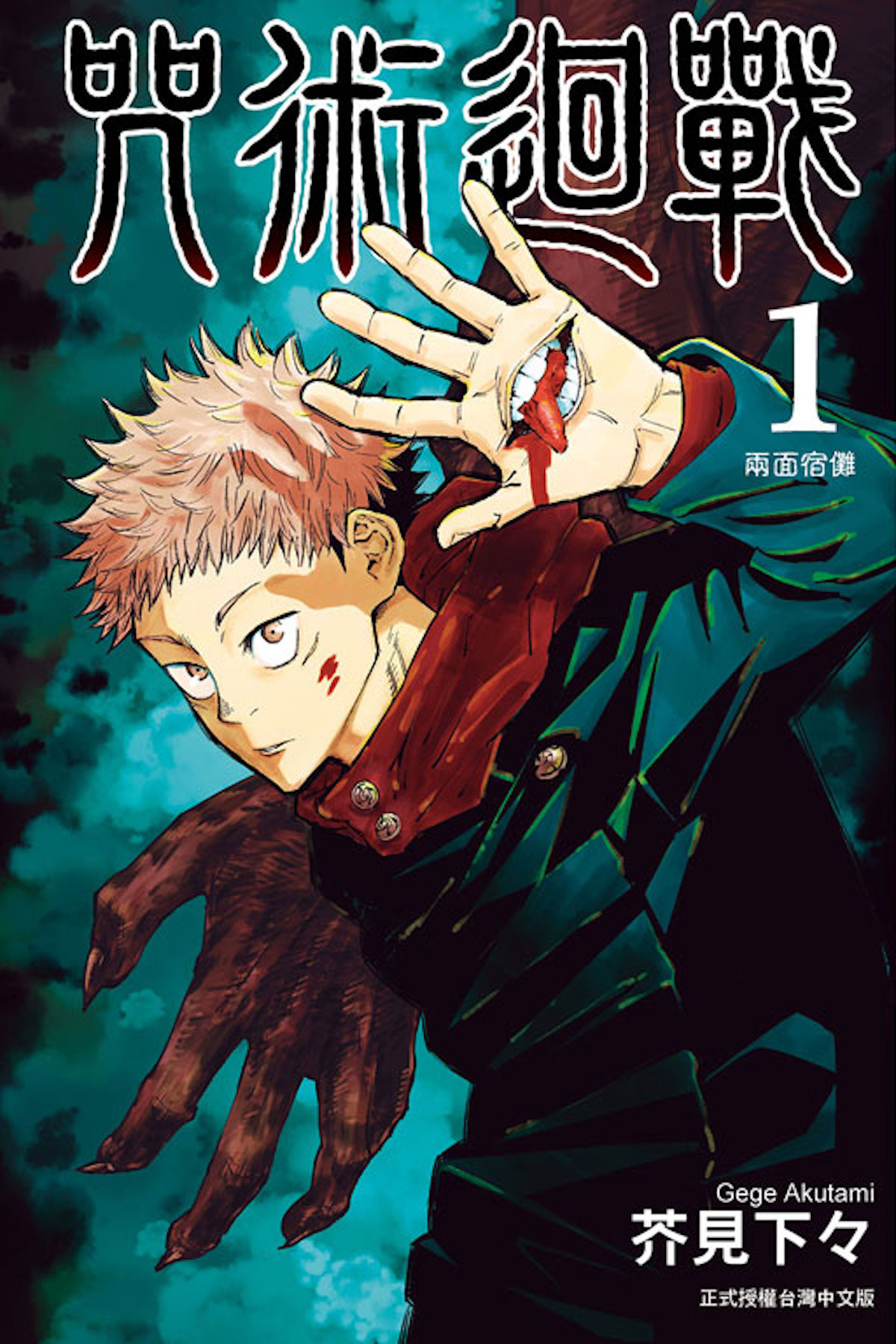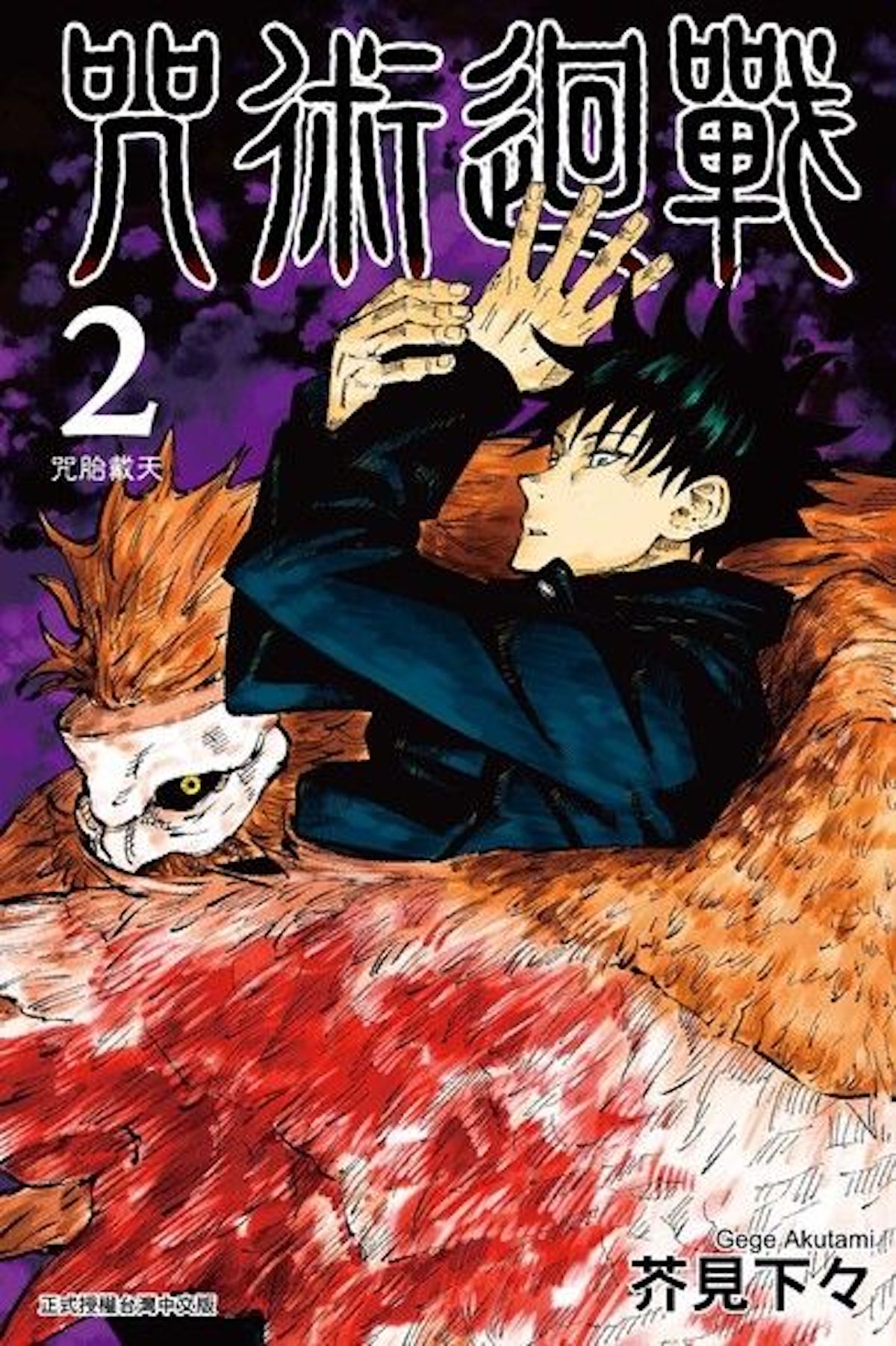 ── Jujutsu Kaisen revolves around the theme of curses. Culturally speaking, are curses a thing in Taiwan?
Zhang: Since Japan and Taiwan are both located in the same Asian region, there is not that much of a difference in the culture surrounding curses. However, while the word curse in Jujutsu Kaisen is used as a noun, curse in Taiwan is mostly used as a verb. Although there is a difference between the two, I decided to leave it as a noun, believing that Japanese manga fans would understand it.
── For example, do Taiwanese fans understand that Nobara Kugisaki's straw dolls are used to cast a curse?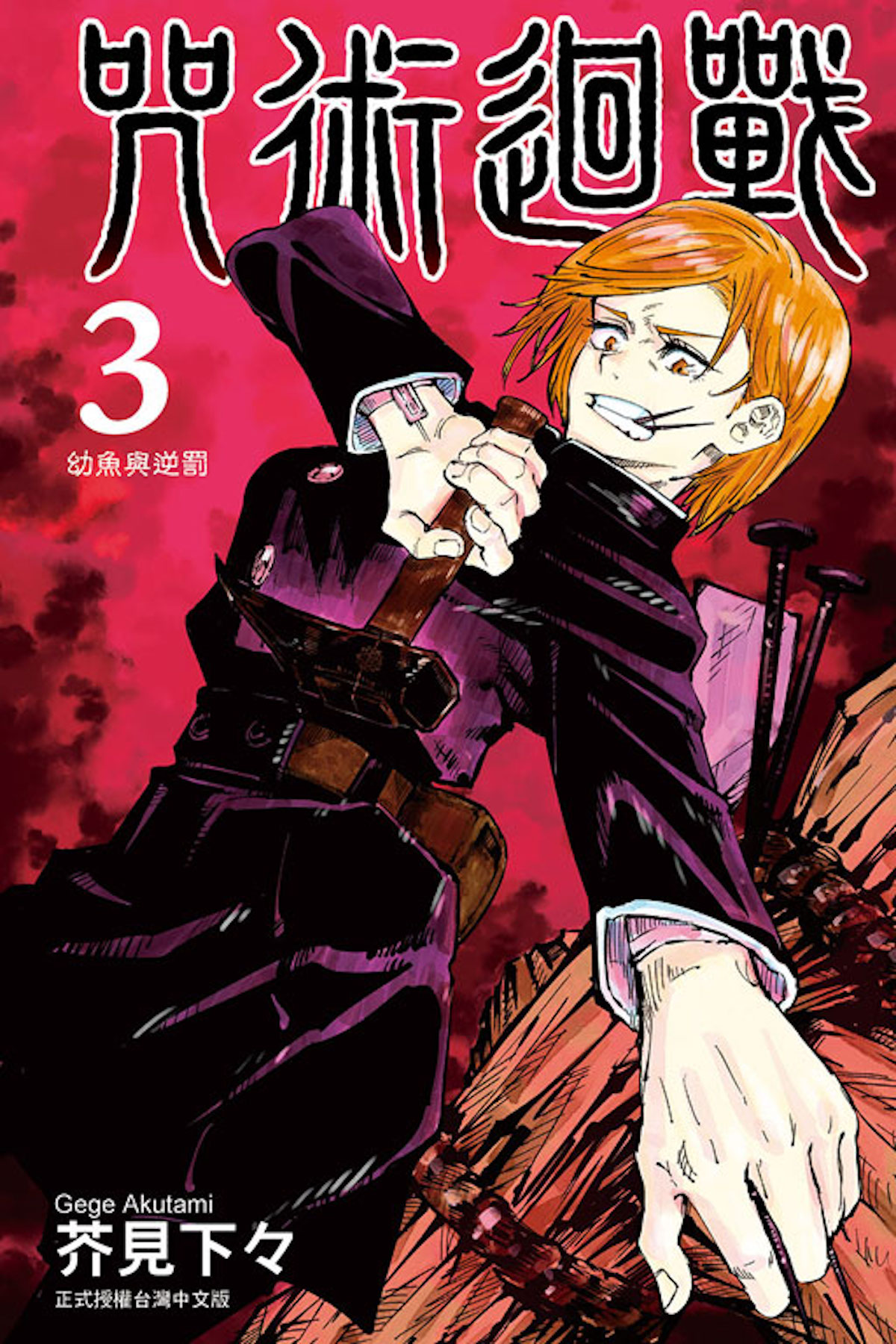 Zhang: Fans of Japanese manga and anime are probably familiar with them as something you often see in other manga titles. When translating Jujutsu Kaisen, I had more trouble with the pages where the author explains Satoru Gojo's powers than with the parts about curses. There's a lot of mathematics lingo. The author must've had quite a hard time explaining those concepts, so it goes without saying that the translator is bound to have it even rougher! (laughs) Easter eggs were also a head-scratcher.
── What sort of Easter eggs do you mean?
Zhang: Whenever I find phrases that are unique to the Japanese language, Easter eggs related to current events, or references about celebrities that aren't that well-known in Taiwan, I use translator's notes. For example, in episode 12, Satoru Gojo says something like, "Who are you, Onita?" I looked up who this Onita was and found out that it refers to the professional wrestler Atsushi Onita. Most Taiwanese readers would have no idea, so I decided to add a translator's note.
── I see! To the eye of many Japanese readers, these small details may go unnoticed.
Zhang: 
I try to stick to the original version as much as possible, but I have no choice but add extra context to the parts that are just too obscure. 
The Yamanote Line game in episode 32 and the Mushiken (old-fashioned rock-paper-scissors) in episode 118 are not familiar concepts to Taiwanese readers, so I added notes. Also, while 憲倫 and 憲紀 are both read as Noritoshi in Japanese, making for an interesting play on words, the same wordplay is inevitably lost in the Taiwanese version since Taiwanese reads differently from Japanese. So I added a note there as well.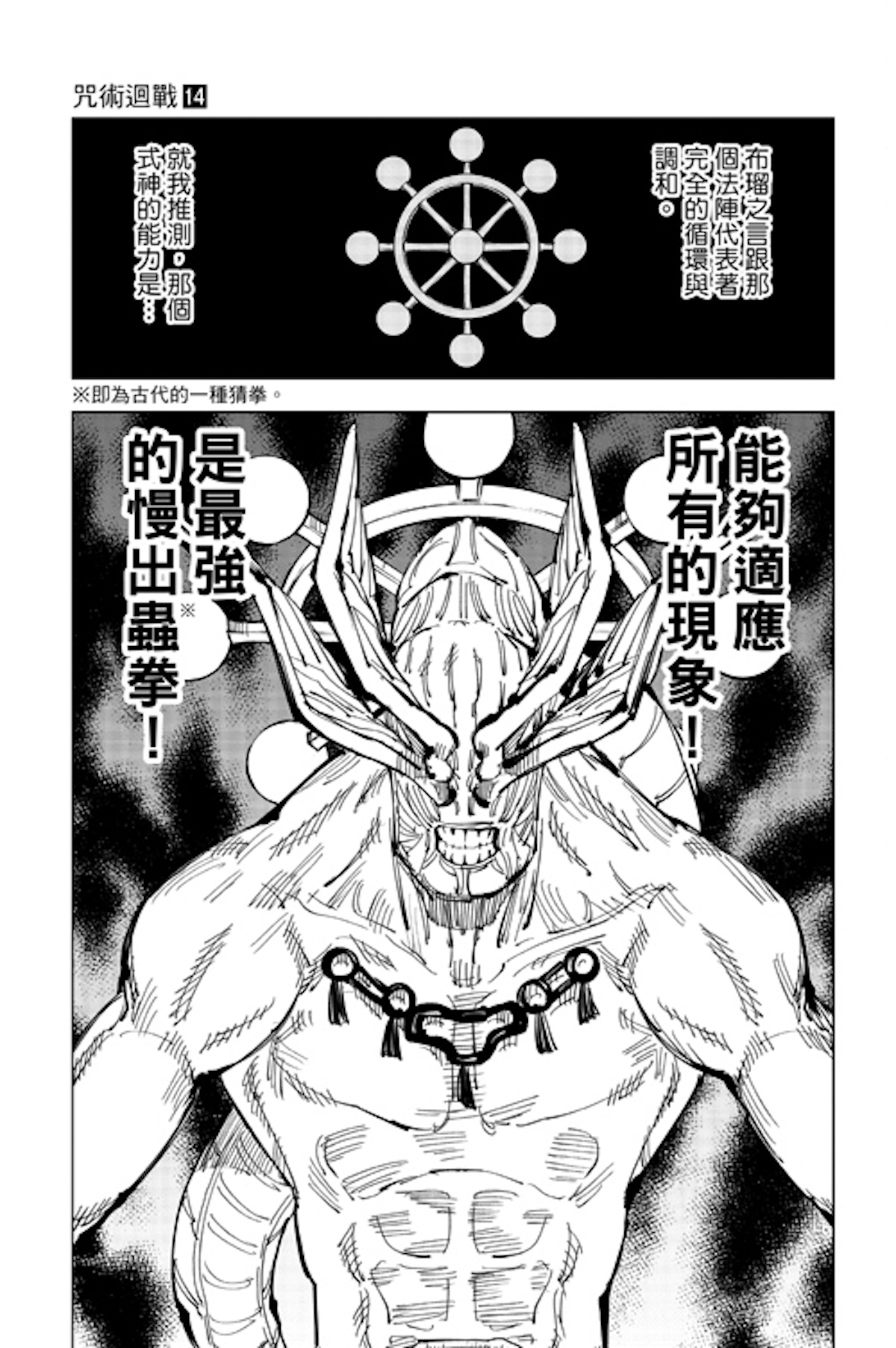 Zhang: In episode 66, there was a line where Suguru Geto warns Gojo to stop using the first-person pronoun ore (俺), and start using watashi (私), or at least boku (僕). In Chinese, all three pronouns are translated as wǒ (我), so I added an explanation.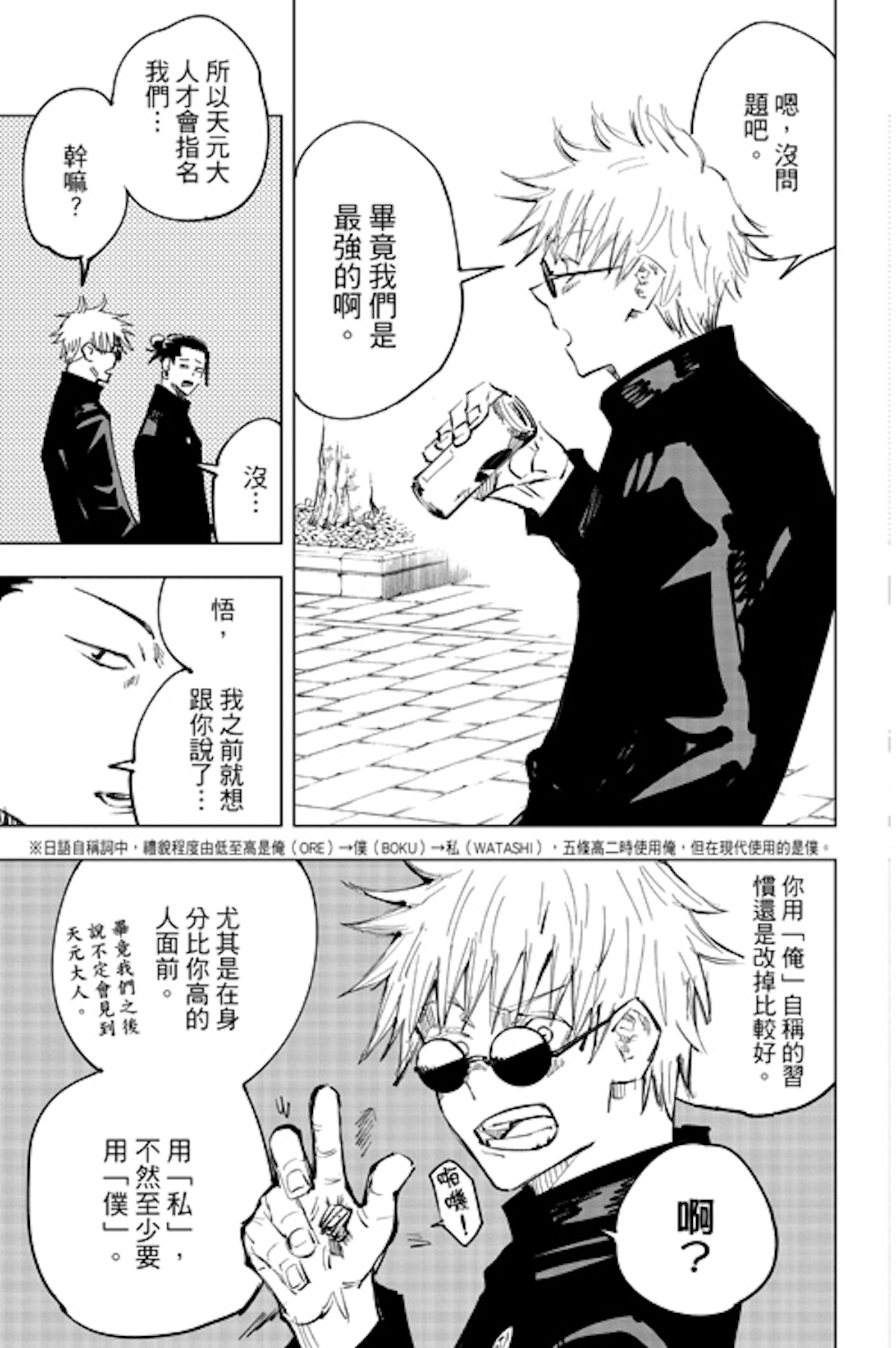 Zhang: In episode 70, Gojo says, "The number of jusonchu (呪詛人) is smaller in Okinawa than in Tokyo." This is a pun on the words juson (呪詛, another way to say "curse") and uminchu (海人, the Okinawan word for "fishermen")," but it's quite confusing for Taiwanese readers. If they don't understand this line, they won't be able to understand the meaning of Suguru's reproach, "Try to be a bit more serious!," so I added a detailed explanation.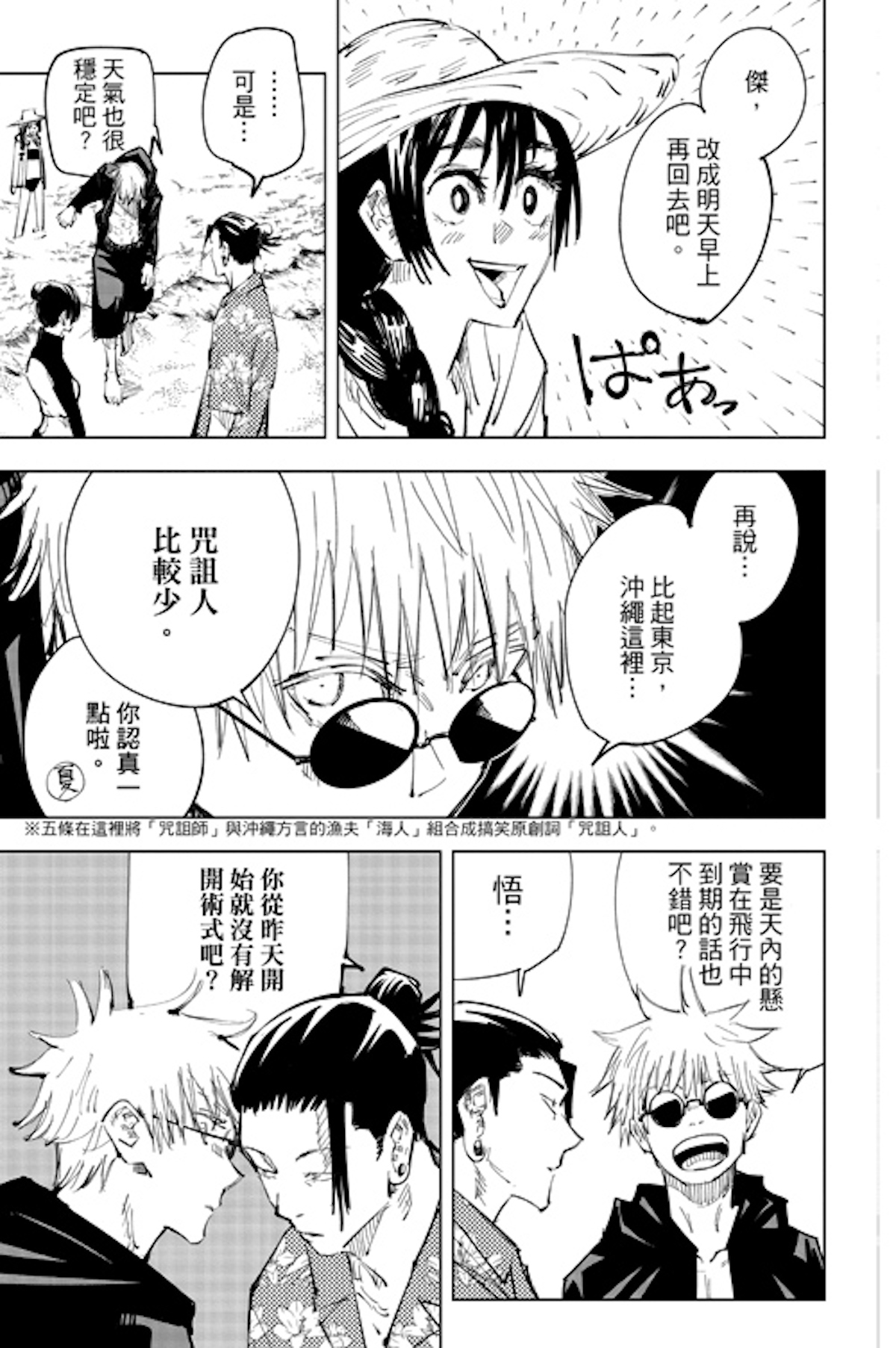 ── So there are going to be quite a lot of translator's notes, right? Do you ever replace puns or wordplay with something equivalent in Taiwanese to make things easier for the readers?
Zhang: Thirty years ago, translators would change the names of the characters to something more Chinese-sounding, but now that's basically been lost. Nowadays, many people can read Japanese, and there seems to be a greater need to enjoy the content in its original form as much as possible. If someone dares to change the content of a work into something more Taiwan-friendly, the readers will get upset. 
── Which scenes were particularly tricky when translating Jujutsu Kaisen?
Zhang: There are times, not only in Jujutsu Kaisen, when the author doesn't provide a clear speaker, a clear listener, clear subjects or objects, only to reveal the truth later in the story. Although this is done to stir up excitement in the reader, it can be quite a challenge for the translator. I can't really contact the author to ask them about it... so in such cases, I translate while sweating from stress. (laughs) Jujutsu Kaisen has a lot of foreshadowing, so it has proven especially complicated.
Zhang: Another example: in Jujutsu Kaisen, the blood relationship between characters can be pretty convoluted. However, in Chinese, the word "cousin" alone can be translated in eight different ways: depending on whether they're older, younger, maternal, paternal, male, female. When I'm not 100% sure, I go with just "relative."
── How long does it take to translate each episode?
Zhang: It depends on the title, but for Jujutsu Kaisen, I would say about two hours per episode.
── Only two hours!? That must take some pro skills...
In Taiwan, "To Love-Ru" is rated R18
── There must be a lot of hard work that goes into the translation process.
Zhang: Definitely. Recently, Cells at Work! gave me a pretty hard time. There are a lot of medical terms in it, so I had to look around for materials. Also, Japanese has katakana, while Taiwanese doesn't. I translated the words written in katakana in the original manga into English first, and then into traditional Chinese characters. This job made me surprisingly knowledgeable about this very specific genre. (laughs)
── Are there any expressions that are actually difficult for Taiwanese people to grasp the meaning of because of cultural differences with Japan?
Zhang: Today, also thanks to the Internet, many people have gained a certain level of knowledge about Japanese culture through manga and anime... So my answer would be not really. However, I feel that Taiwanese readers find certain aspects of Japanese school life, such as cultural festivals and sports festivals, a bit peculiar. Also, kendo clubs are often mentioned in Japanese manga. Kendo is a minor sport in Taiwan, but people can still get a taste of the heated atmosphere of a work even without being familiar with the sport it's about. The emotions of the boys and girls depicted in school-life manga are universal, so people from around the world can still enjoy these titles while accepting Japanese school life as a kind of fantasy.
── Let's talk about kanji. Does it ever happen that the same word written in kanji has a totally different meaning in Japanese and Taiwanese? Do you ever change these words a little in your translations?
Zhang: In Ayakashi Triangle, there is a monster called 人妖 (Jinyo). In the original work, it's a scary creature and powerful enemy, but in Taiwanese... 人妖 (rén yāo) is actually a word for "ladyboy"! So I rearranged it a bit and changed it to 人的妖(rén de yāo), which takes the meaning of "human demon."
── In Japan, shonen manga often feature gore scenes. How are such depictions perceived in Taiwan?
Zhang: Violence is regulated in the same way as in Japan, but when it comes to sexual content, rules are much stricter. For example, To Love-Ru was edited for publication when it was serialized in a magazine, and the tankobon volumes, which are identical to the original, are rated R18. In Japan, you can buy To Love-Ru at any age, but the same doesn't hold true for Taiwan.
── When translating Japanese manga into English, sentences almost always get longer, which makes it hard to adjust them to the page layout. Do you encounter the same issue when translating manga into traditional Chinese?
Zhang: I'd say it's the other way around. In Japanese, the expressionどうもありがとうございます(doumo arigatou gozaimasu, "thank you") takes 13 characters, but in Chinese, 謝謝 (xie xie, "thank you") only takes two. Therefore, I try to choose phrases that can fill in the blank space in the speech balloon, such as 非常感謝 (fēi cháng gǎn xiè, "thank you very much").
── Of all the projects that you've been in charge of, what is something that you're particularly proud of?
Zhang: In the last episode of Naruto, Naruto's son, Boruto, made his appearance. The name Boruto is a reference to his Uncle Neji Hyuga*, but that relationship would end up lost in translation if I ended up transliterating his name as it is. That's why I decided to write Boruto as 慕留人 which can be interpreted as "yearning for a person who has died and thus stays in the past." I think I succeeded in expressing the relationship depicted in the original story.

* In Japanese, "Neji" can be translated to mean "screw" and "Boruto" can be roughly translated to mean "bolt."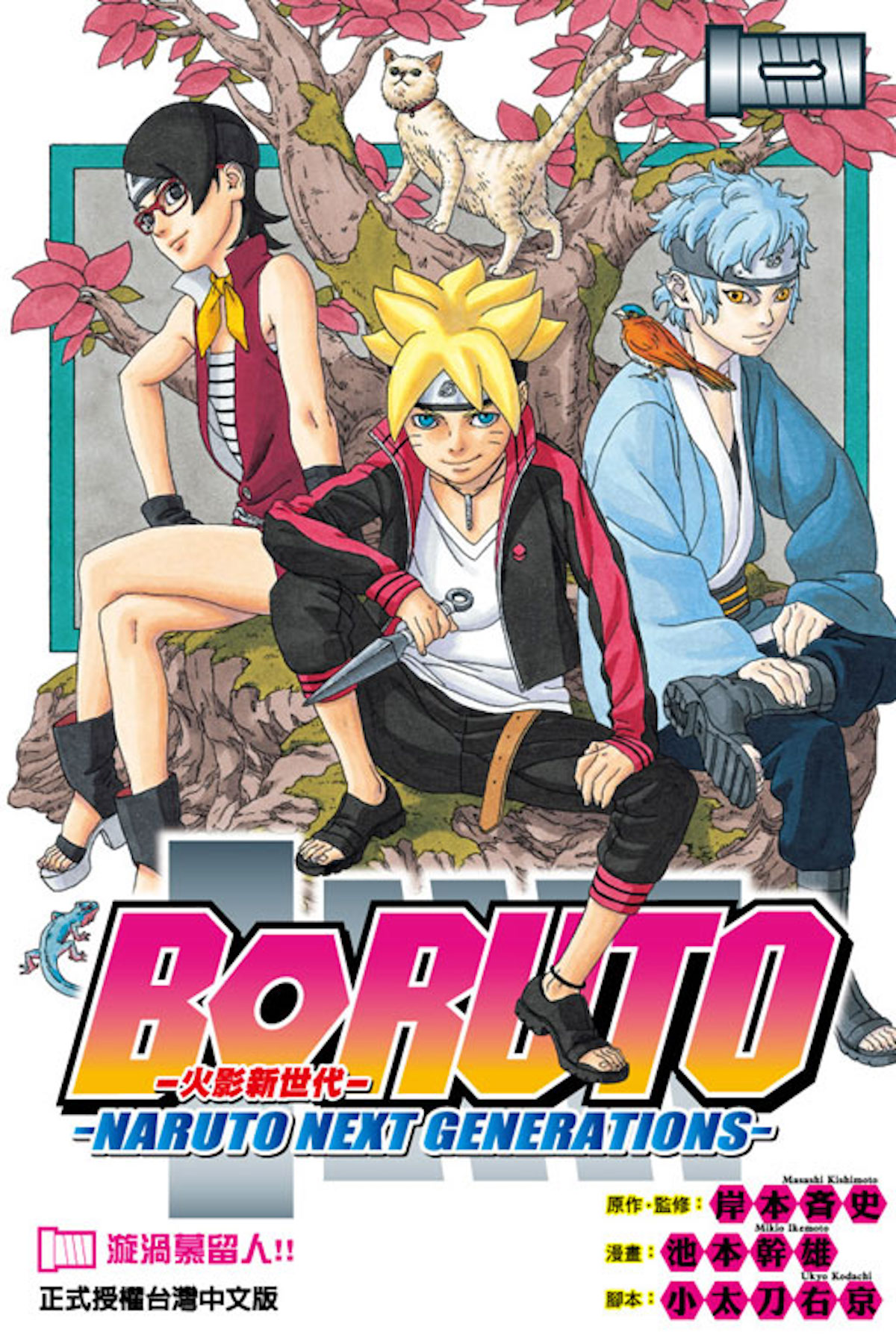 You just need to understand 80% of a manga to enjoy it
── The company you work for, Tong Li publishing, publishes many works from the Weekly Shonen Jump. Are these works published simultaneously in Japanese and Taiwanese magazines?
Zhang: No, there are only six or seven titles that are published at the same time in both regions, including One Piece and Jujutsu Kaisen.

── How are these titles decided? Does Shueisha recommend these works to you?
Zhang: Sometimes. Other times, Taiwanese publishers tell Shueisha which titles they think are going to be a hit in Taiwan. Once they've been given permission, they published these titles together with their Japanese counterpart. For the sake of Taiwan's manga lovers, publishers have the great responsibility of checking the original works thoroughly.
── Are there any works that have been welcomed differently in Taiwan in comparison to Japan?
Zhang: Definitely Chūka Ichiban! Of course, it's much appreciated in Japan as well, but I would say that it enjoys greater popularity in Taiwan, partly because of the many times it has been broadcast as an anime. Chibi Maruko-chan is also well-liked, and there are many collaborations with major companies and many goods available.
── Chibi Maruko-chan depicts Japan's customs and household scenes dating back to the Showa era, so I have a feeling it might be a bit difficult for Taiwanese readers to identify with.
Zhang: It's true that Chibi Maruko-chan features many aspects that are unfamiliar to Taiwanese people, but I think it has a charm that crosses cultural boundaries. Understanding 80% of a manga is more than enough to fall in love with it, without necessarily making it to 100%.
I wish there were more works distributed simultaneously worldwide!
── What are the most interesting parts of working as a translator, and what are the hardest?
Zhang: Through my job, I am able to come into contact with many manga, and the fun and excitement I get when I encounter a good work is just something else. It also feels really good when I'm able to breeze through a translation and make good progress. The hardest side of working as a translator is being at my desk all day, so my shoulders and back get very stiff. (laughs) Having to stare at tiny monitors and tiny tankobon volumes throughout the day is also not great for my eyesight.
── Are there any unique sides of translating a work into traditional Chinese that aren't found in Western language translations?
Zhang: Compared to Western languages, traditional Chinese has many things in common with Japanese. For example, it would be difficult for an English-speaking reader to figure out what Jujutsu Kaisen is about just by looking at the title, while Taiwanese readers can tell from the kanji of the traditional Chinese title (咒術迴戰): it's a story about magic (咒術) and some sort of battle (戰). I think the fact that Japanese and Chinese share kanji is a challenging and interesting aspect of translating into traditional Chinese.
── What do you think is needed to make Japanese manga more accessible to readers around the world?
Zhang: I think it's important that more works get distributed simultaneously worldwide, for example by taking advantage of e-books, so that Japanese and international readers can enjoy them in the same period. Currently, not all works are published in Taiwan at the same time as in Japan; for some of them, we have to wait up to one or two years! If more works are available simultaneously with their Japanese counterparts, I expect that Japanese manga will become even more popular in Taiwan.
── There are many manga artists in Taiwan. What is special about Japanese manga?
Zhang: There may be many Taiwanese manga artists, but the number doesn't compare to that of Japanese authors. Because the denominator is so large, the most popular works are naturally of remarkable quality. I think that is why Japanese manga are loved all around the world. I'm looking forward to working on even more translations that can connect different cultures.