Binding Covers and Book Designs You Should Use For Your Doujinshis - 10 years ago, holographic covers used to be the thing!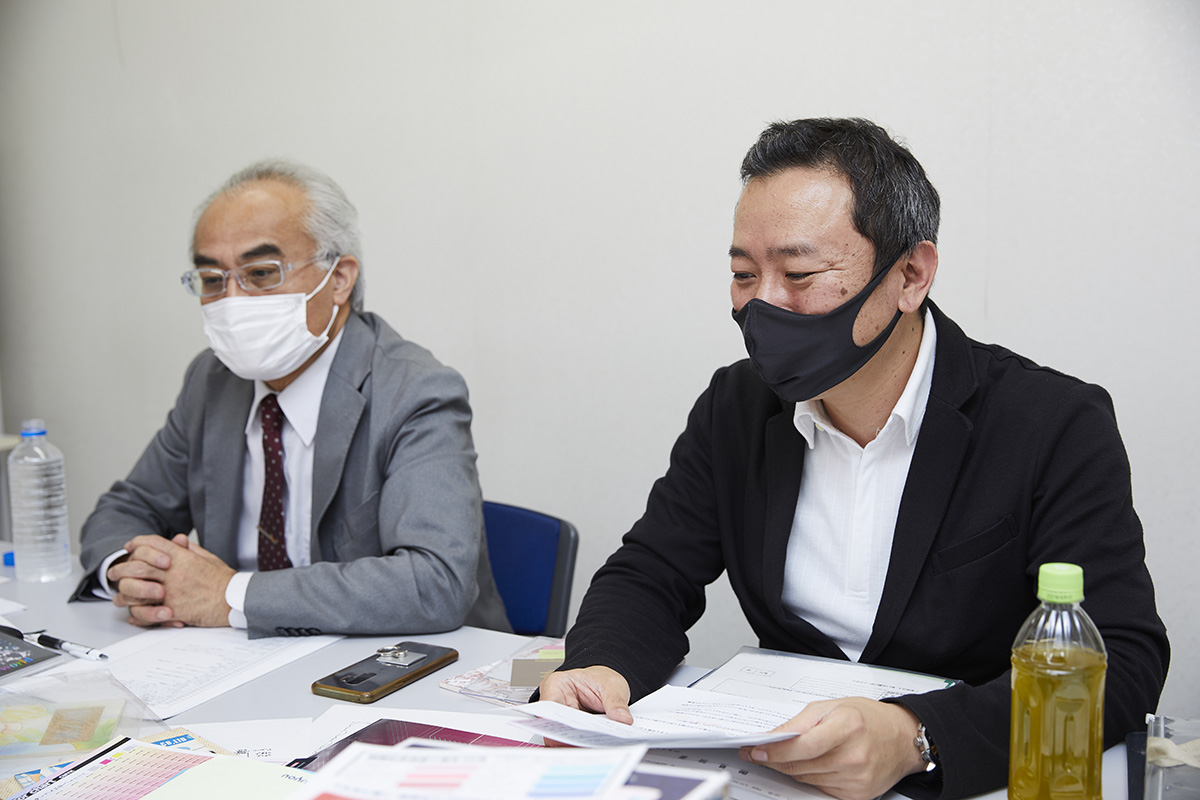 Printing company Ryokuyou Inc. was founded in 1981, and their history goes hand-in-hand with modern doujinshi! Their innovative way of collaborating with many doujin artists involves bringing together their original ideas to print into one book and has encouraged the growth of the doujin industry.
The company's motto is: "The printing business is an industry that requires expression." In this interview, CEO Masaru Takekawa and Sales Department Head Katsuhiro Jinbo express their thoughts on the doujin industry as well as teach us how to create a presentable doujinshi. 
Why did you take the stance of never rejecting an idea?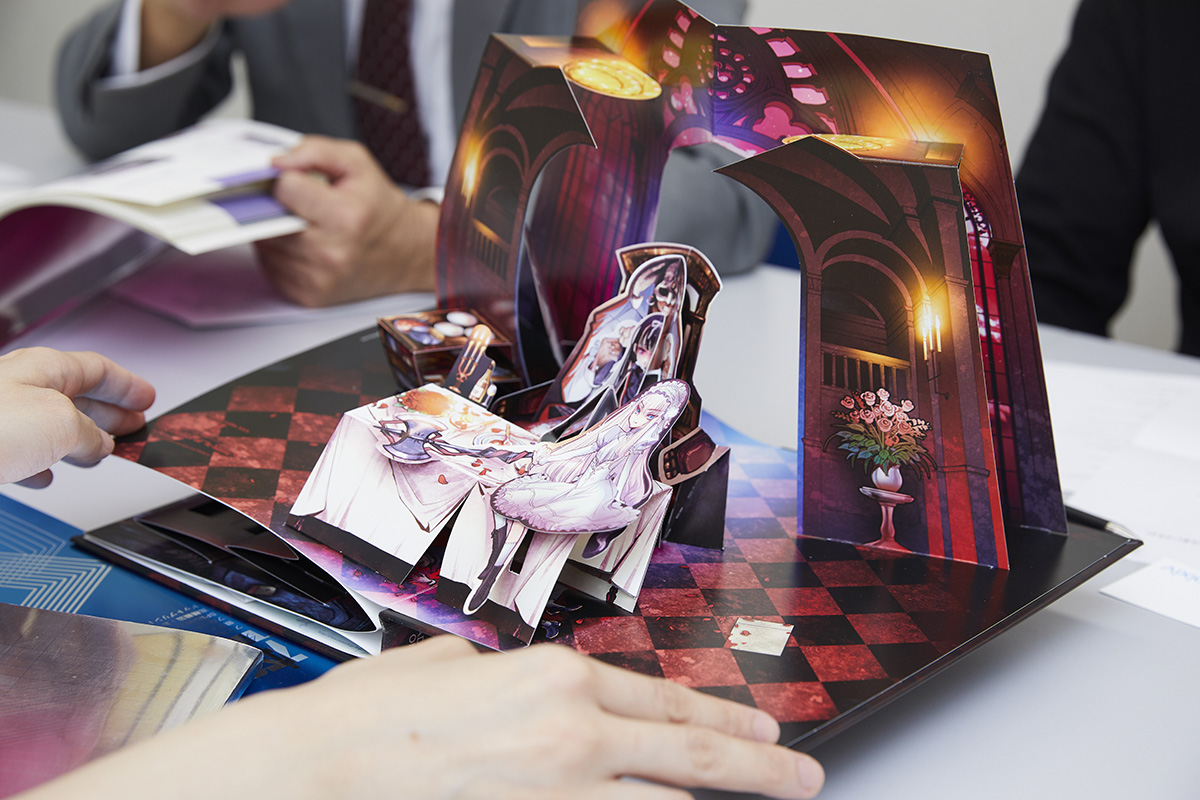 Takekawa: We prepared some doujinshis that we worked on in the past for the interview today. Here! This one is a pop-up doujinshi!
── Wow! I didn't know you make doujinshis with such elaborate designs!
Takekawa: The author wanted a pop-up mechanism for their work. But hand-crafting a pop-up device for every book with glue wasn't really feasible, so we needed something more efficient. We enlisted the help of a specialist to find a way we could reduce the number of craft materials by two-thirds while still maintaining the same effect as the original.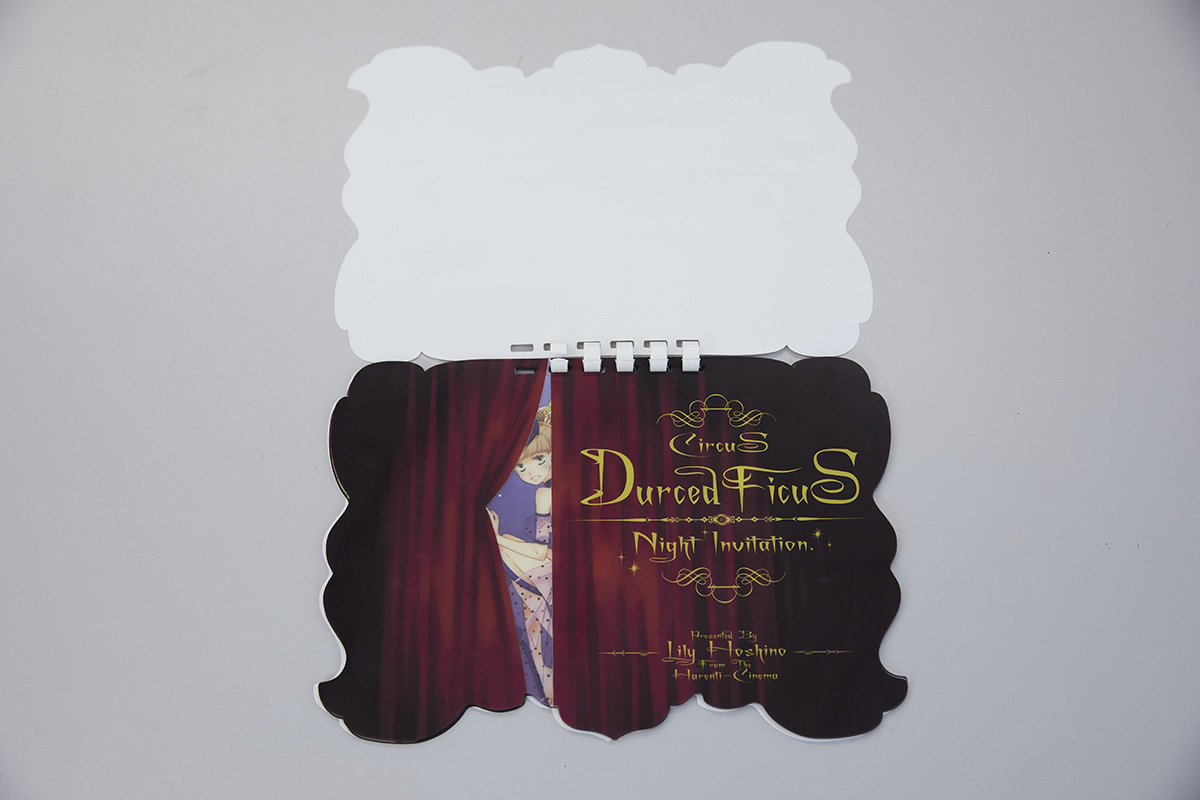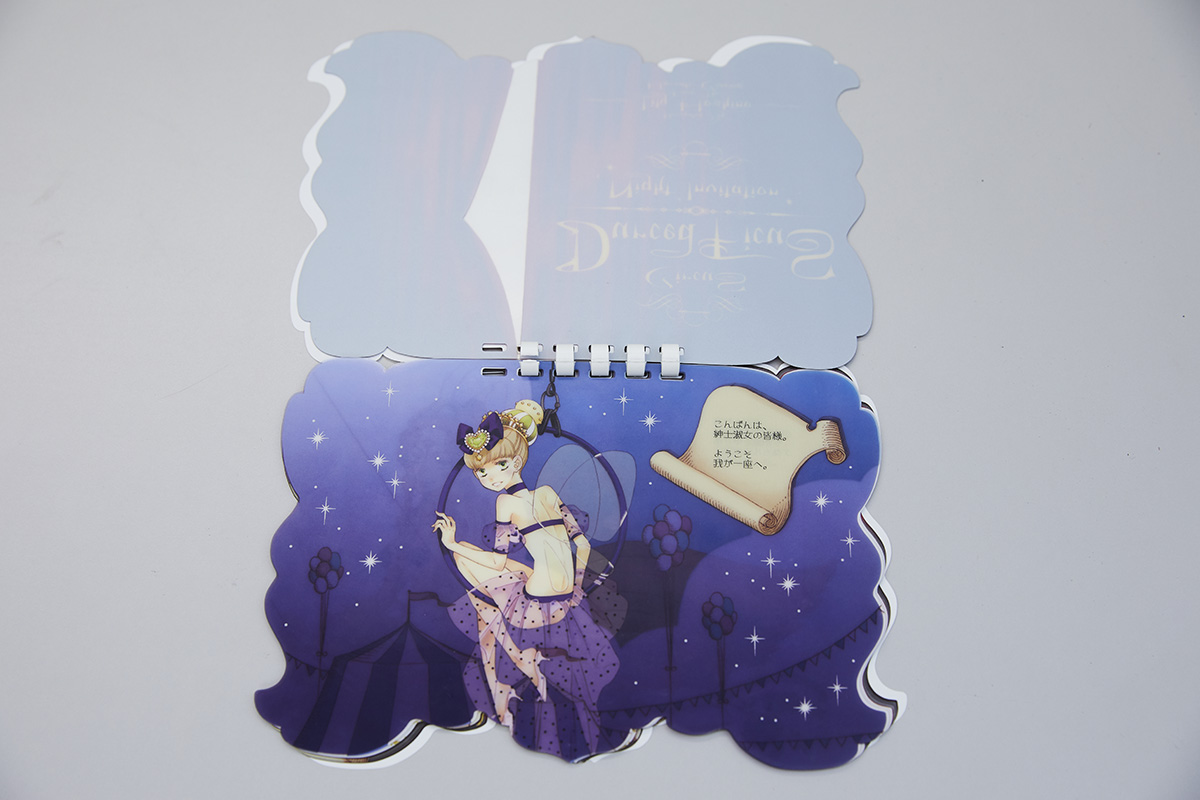 Jinbo: This book was published by Lily Hoshino. She had the idea of using transparent film instead of paper. In order to make this possible, we had to consider everything from scratch, even down to the binding. We had no idea what the actual copy of the work would look like when printed on transparent film either, so we had to use photoshop and other various methods to experiment with the layering.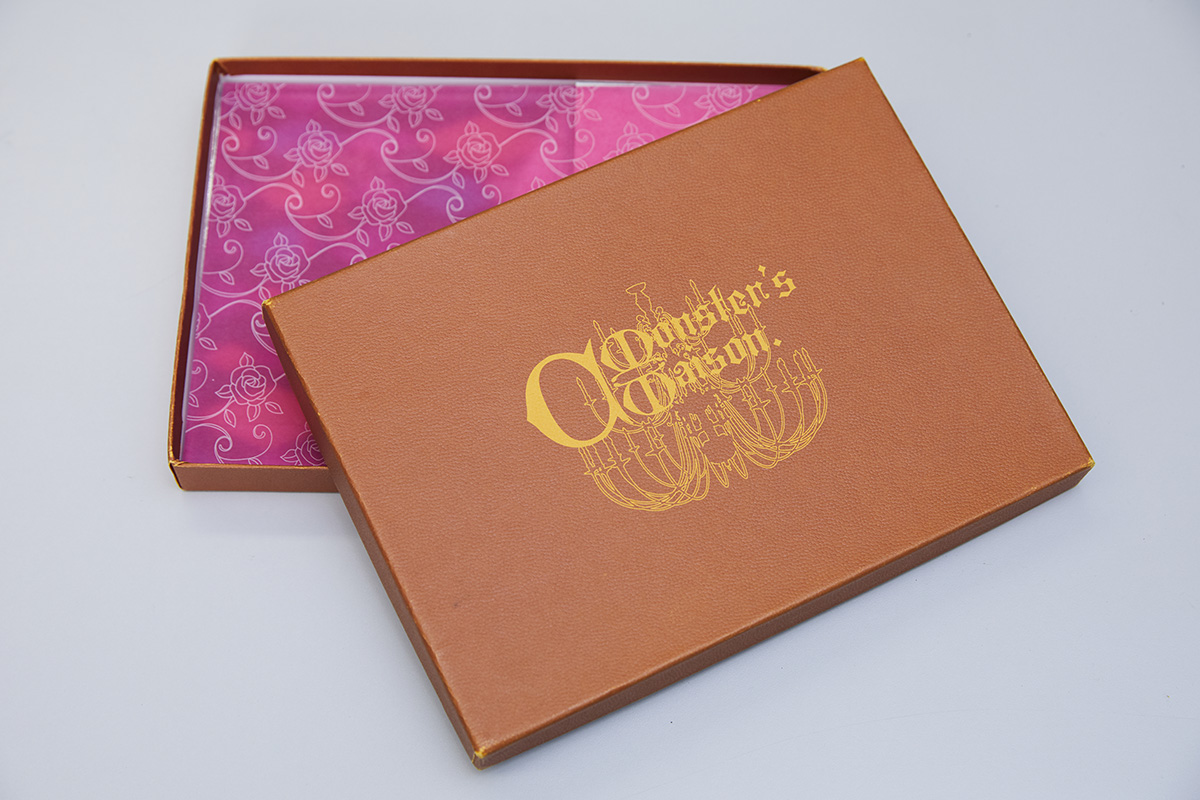 Jinbo: This is another book by Hoshino. She brought in a box of chocolate and asked us to create something similar. So we started by designing the box. If I recall it correctly, it took roughly two months to complete the project after initially receiving the request. We had trouble finding the paper to match her vision. We ended up using an existing paper design with some embossed roses to create something reasonably close to what she wanted.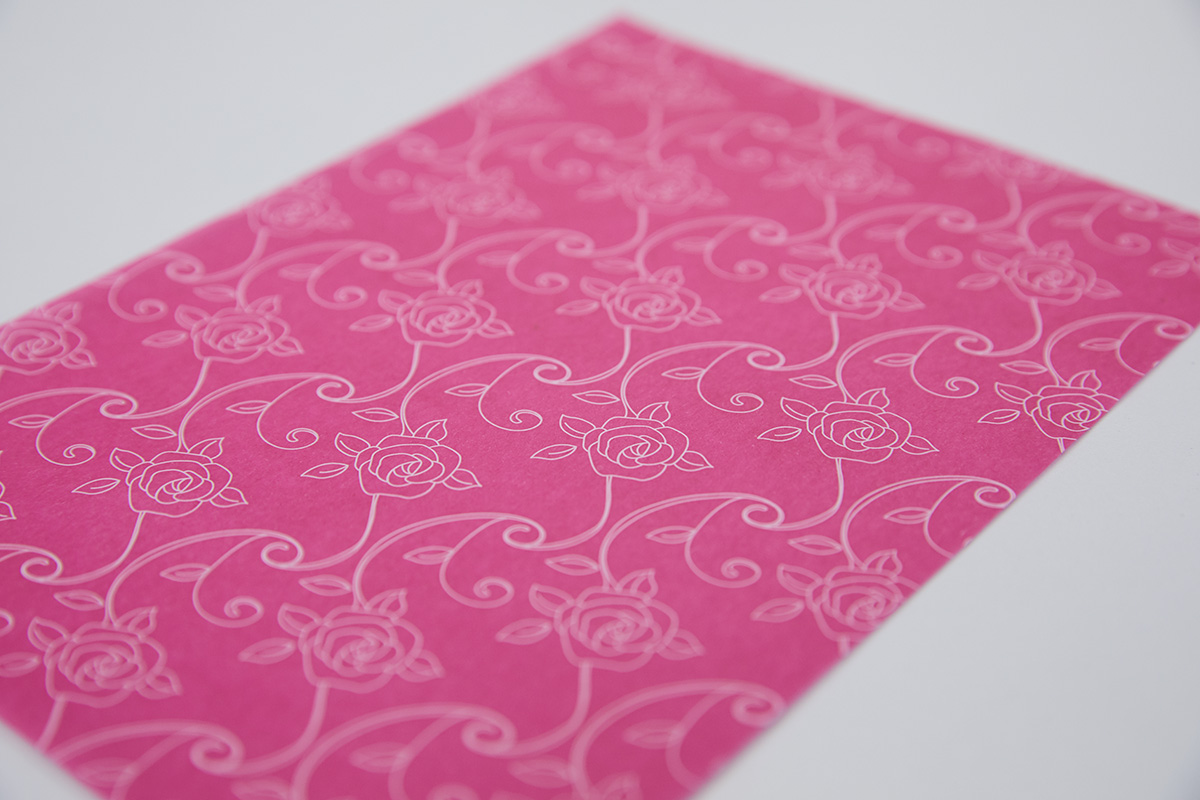 ── It seems like every time you work on one doujinshi, you have to start a new project. Have you ever turned down an order because it would be too difficult? 
Jinbo: Of course we definitely have the option to say no from a business perspective, but at our company, we typically don't turn anything down. (laughs)
── Wow, just what keeps you so motivated?!
Jinbo: That would be the positive reactions we get from the artists who work with us. All the struggling becomes worth it when we see their smiling faces upon receiving a final product that meets their expectations.
── What made you adopt your no-refusal approach?
Takekawa: 
The turning point was in 1986, when we switched all of our printers to five-color (CMYK + Fluro pink).
At that time, there were many printing companies that were trying to appeal to customers with low prices, but we did the exact opposite. It was definitely a rough time when some companies were charging 10,000 JPY* for printing 100 color covers, while we were charging 50,000 or 60,000 JPY for the same amount. On the other hand, we also had people asking us for to print in seven-color. These requests are what shaped the values we hold today.
(* Translator's Note: 10,000 JPY was roughly 66 USD in 1986.)
── Many artists have said that their ideas were rejected by every printing company they pitched to, and only Ryokuyou Inc. accepted their request.
Takekawa: Ever since our starting days, we've always been willing to give it a try. When we were once asked to color print on fabric to use as a cover, we had to hand-press the edges of each book cover with an electric branding iron to prevent fraying. The smell of burnt polyester fabric is terrible, by the way! (laughs) People might say we're foolish for spending 30,000 to 50,000 JPY just on processing fees, but we stand where we are now because we were persistent and unafraid of some trial and error. I am proud to say we face these challenges head-on.
Looking back on the Doujin Bubble, when we'd bring in 27 tons for just one circle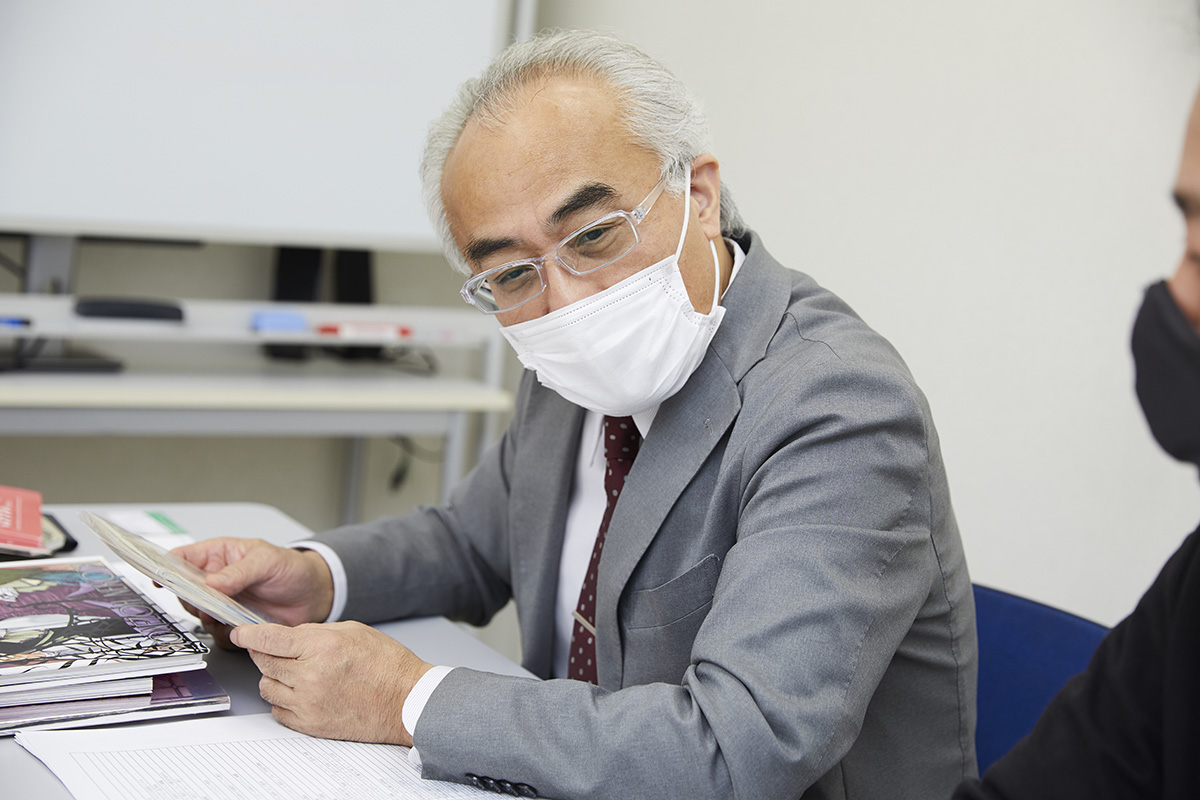 ──  Today we just submit manuscripts digitally. You must find things much easier now compared to how everything was done manually back in the day.
Takekawa: The manual way of doing things may have actually been easier for manuscript checks. With data files, it's difficult to check how the colors will actually come out because of screen displays. And when the artist checks the colors on their own device's display, they may appear rather different than how it displays on our devices. In this respect, when doing things analog, we can both be confident we're looking at the same thing.
── In those analog days, the last minute rush before an approaching deadline must not even compare to how it is today, right?
Jinbo: Motorcyle couriers were constantly driving by our company. (laughs) The lines of people waiting at the manuscript reception desk is something I think of fondly. Some were adding tone and some finishing touches right up to the last second of the reception hours.
── It's just like the crunch before a stage performance. Only happening much more often. That sounds tough, but fun at the same time! 
Jinbo: Precisely!
Takekawa: The doujin industry was on fire back in the 80s and 90s. For instance, there was a group that decided to make a doujin anthology on anime films. And remember, social media didn't exist back then. So, they would literally go out with a ton of fliers announcing their project and recruiting people for it. They would then combine original manuscripts they received from about 100 artists and compile them into one anthology with over 640 pages. It's crazy when you think about it now!
── So Ryokuyou Inc. went through the Doujin Bubble. Do you have any memorable episodes from those days?
Takekawa: When Comiket was still held at Makuhari Messe, there were many circles that published up to 10,000 copies of their
doujin
. In one instance,
we had to bring in 27 tons worth of doujinshi books for just one circle
. Of course, there wasn't enough space for all of those, so we had to pile them up high against the wall. It is quite the scene of seeing the seller climb up a mountain of boxes.
(laughs)
Also, back in those days, preparing four to five books for one Comiket was the norm, and each book was at least 200 pages thick.
For those books, artists would usually ask 10 guest artists to help them reach their page target, and in return, they would have to help the other artists with their 200-page books. So the number of pages these artists had to draw back in those days was insane.
Even if you can't draw well, your work can still be made presentable through the binding and cover design.
── What trends have there been with binding covers over the years?
Jinbo: About five or six years ago, French covers (also known as French flaps, when the cover is quite long and folded into the cover itself) became the new thing and are now a commonly used design. But about 10 years ago, holographic covers used to be the popular choice.
── True! I remember seeing all those shiny doujinshi!
Takekawa: Actually, before holographic covers came along, foil stamping was all the rage. In 1995, we distributed a flyer promoting holographic foil stamping. This is the one. It may be just a flier, but the production cost was very high because we used foil stamping. (laughs) People are able to get a stylish design for an affordable price, which is why it has remained consistently popular over the years. At one point, hardcovers were also popular for doujinshi.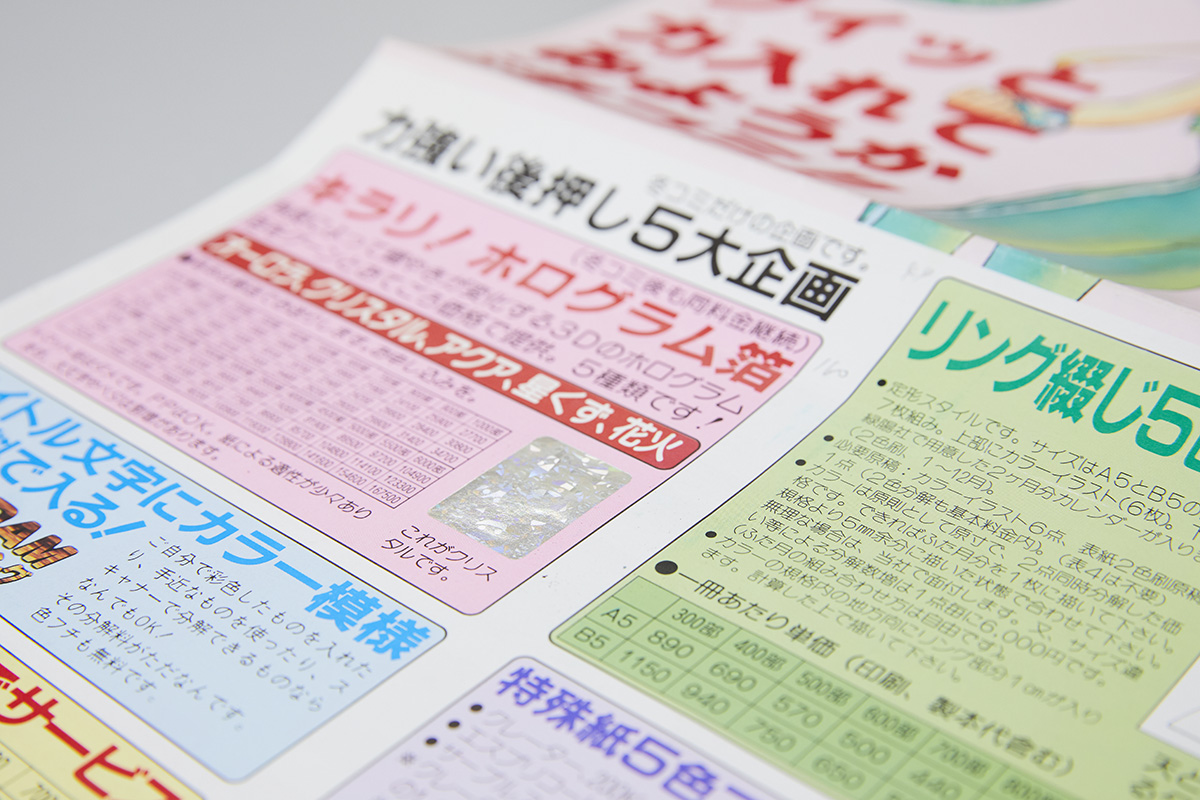 Jinbo: Hardcover books are popular among novel, illustration, and manga circles.
Takekawa: It's my impression that there are many circles that publish their compilation books as hardcovers. It makes them seem more presentable, like what you'd see in a bookstore. Obviously, it's not just for looks but also as a way for the circle to celebrate for themselves.
── Any other bindings or designs that you would recommend?
Jinbo: PUR bindings go really well with compilation books, due to the greater flexibility and better adhesion compared to other traditional glue bindings. PUR bindings allow the book to open up widely without having to push down the spine regardless of how thick the book is. This means that you will get the full view of an illustration.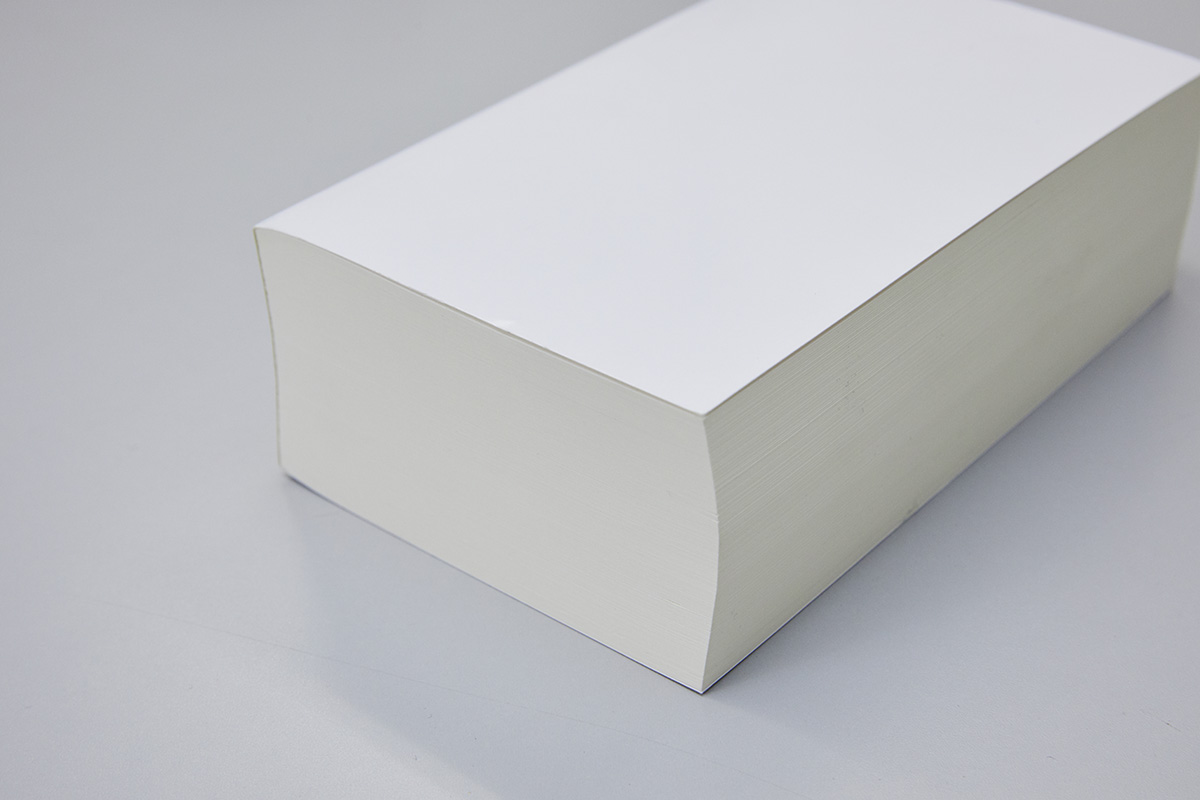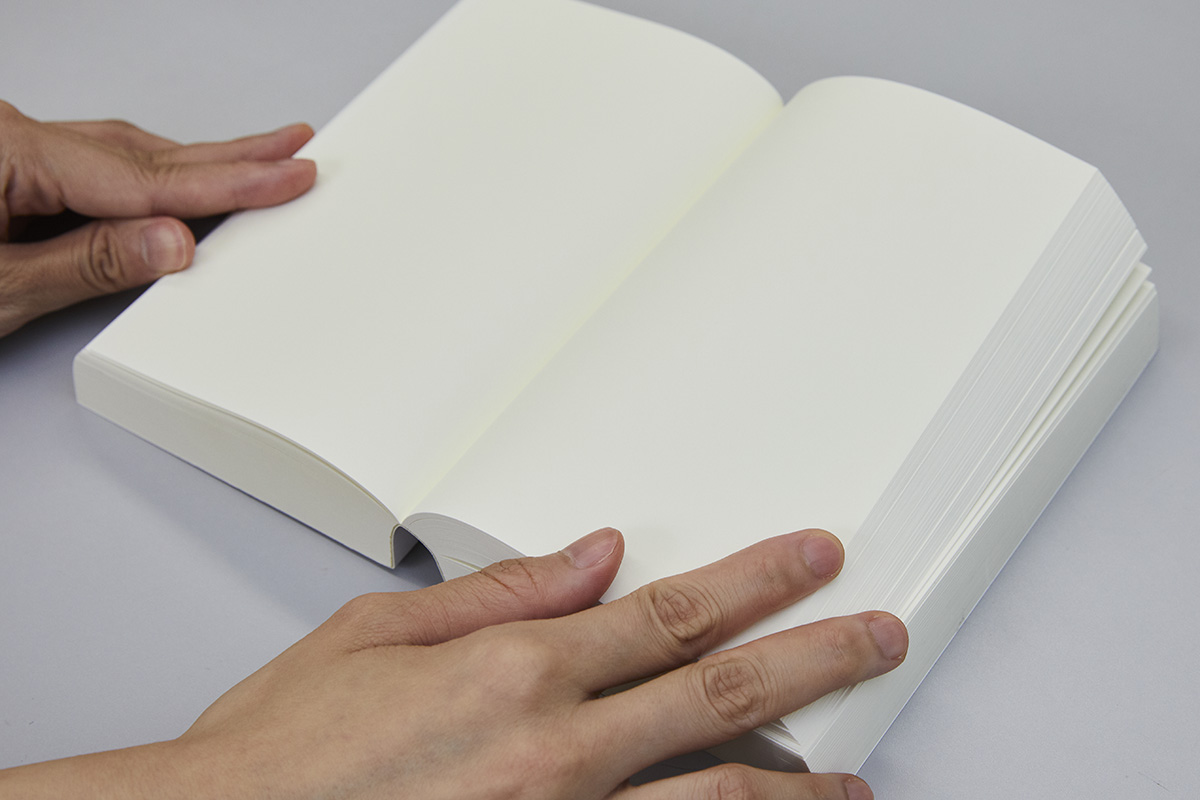 Takekawa: I would recommend applying a thick gloss for the cover. It gives an interesting three-dimensional effect, it's simple to make, and an easy choice for beginners.
── Many novel circles find themselves with plain and boring book covers, because they're not good at drawing pictures. What kind of bindings and designs should they go with?
Takekawa: In that case, you can try using different types of paper! At our company, we take paper-making very seriously and make different kinds, including original flyleaf paper.
Embossing (a stamping-like process that creates height and depth) is another thing you can do, or you can get creative by putting a hole in the cover to show something underneath.
Jinbo: Instead of just using those hardcovers you see at bookstores, adding in a bookmark is also popular. Also, if you make the cover metallic, all you need to do is slap some words on it, and it'll still look fantastic!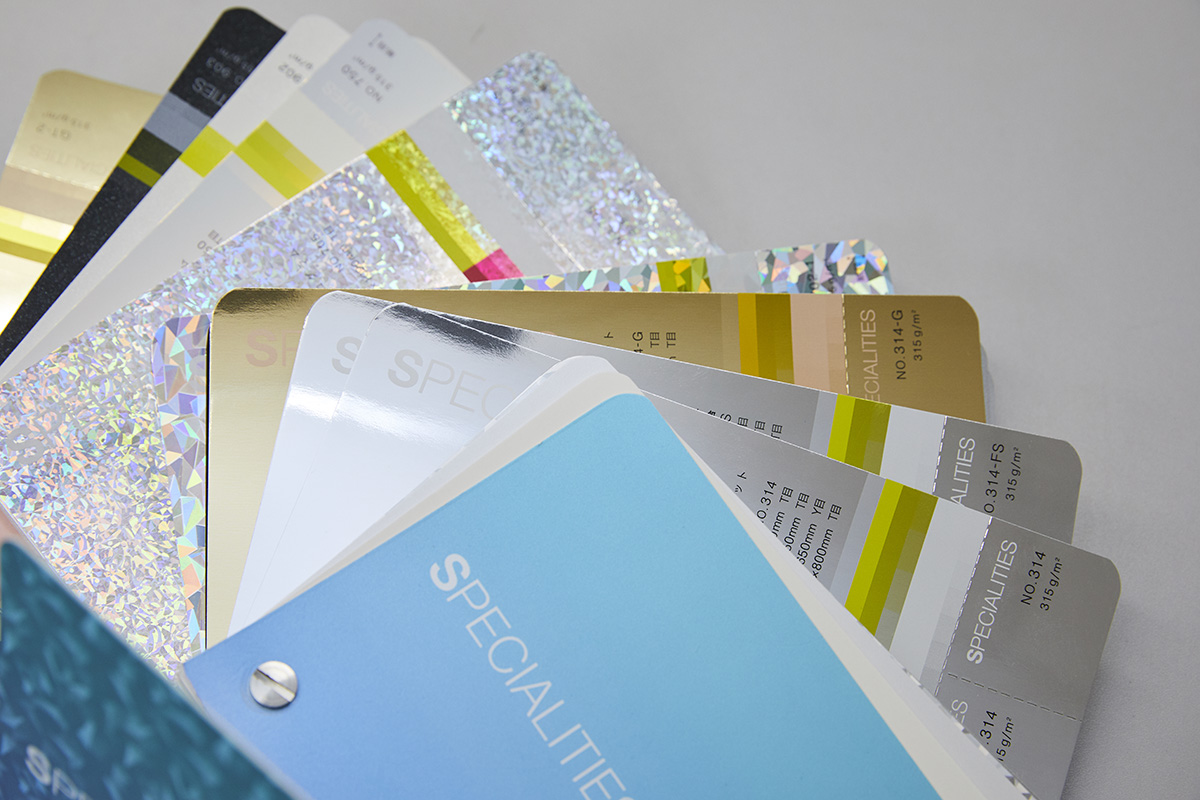 ── What if you get vague inquiries like, "I can't draw nice pictures but I still want the binding covers and design to look good". Do you still respond?
Takekawa & Jinbo: Of course!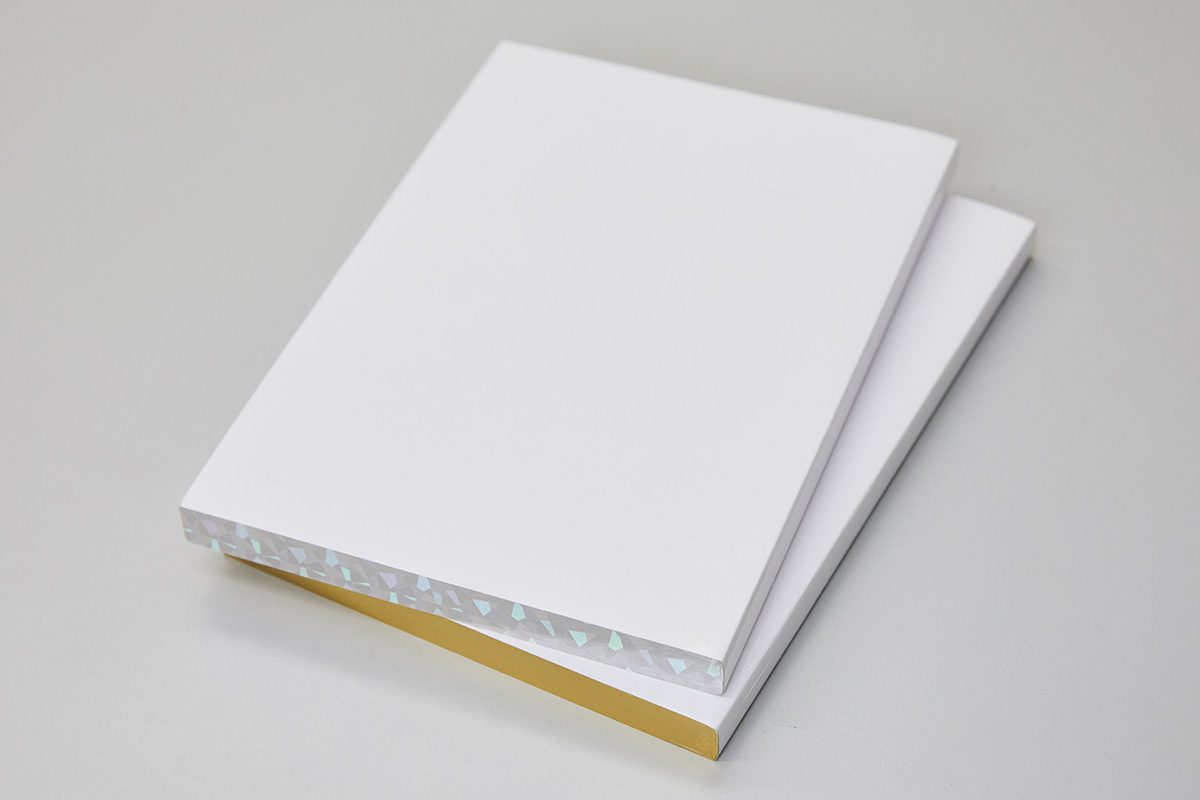 ── We heard you hold online consultations for beginners?
Takekawa:The initiative came during COVID-19. With many people staying at home, we wanted to try going online. It was safe to say we achieved a good amount of success, and now that I think about it, we should have started this service much earlier!
Jinbo: Back in the days when everything was still done manually, we would have the chance to speak to circle newbies and answer any questions they may have. As we talked about earlier, it's normal now for people to submit their manuscript files digitally, and everything is now done online. In that sense, it's really great that we are able to communicate with people much easier now.  
── We know you also focus on producing all kinds of goods ranging from note pads, shopping bags, masks, soap, and a bunch of other original goods.
Jinbo: "Wouldn't it be nice if we could make something like this"? This is the mentality we have, and now we have already over 500 kinds of goods. Just in the blink of an eye! (laughs) We're currently selling acrylic keychains, because they go really well with single illustrations. Not to mention they are currently very popular between both men and women.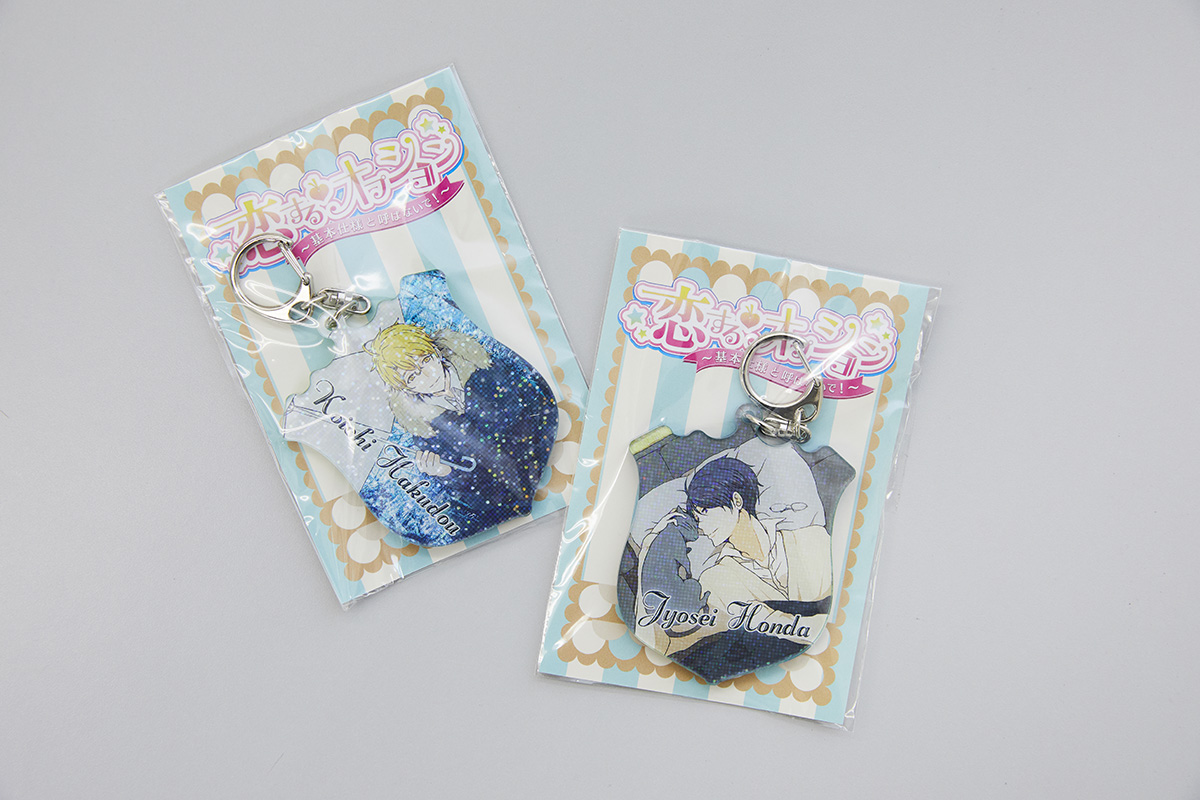 Takekawa: In terms of getting a lot of hits on social media, our fundoshi (ふんどし, lit. loincloth undergarment) goods became quite the hot topic. They even trended on Twitter! (laughs) Lily Hoshino's works also had some great engagement.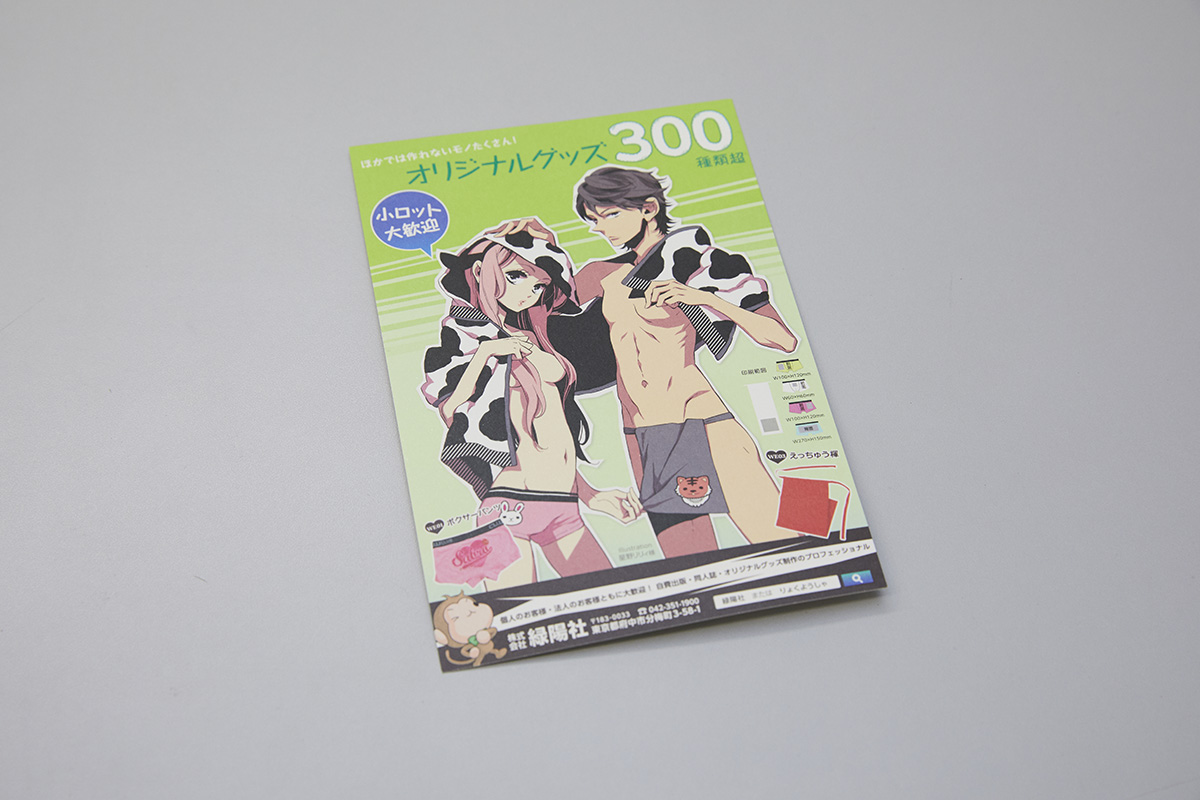 The power of doujinshi and how they can move industries
── Mr. Takekawa, it seems you have also taken part in events as a member of a circle called "Book Fetish Club"?
Takekawa: I've been to Comiket 12 or 13 times without fail. I also distribute my own original novels. One thing I'd like to try in my own circle is the deckled edges. The paper is bound with rough edges, and I don't think any doujin circle or other business has tried this method.
The process itself is still expensive, but if a specific machine for it gets made, it might become a more common process. Doujin are actually an industry that is closely related to the development of new technologies. 
── It seems you have boldly taken on difficult tasks that would have been rejected by major printing companies.
Takekawa: Exactly! I don't want to brag or anything, but Ryokuyou Inc. was the first doujin printing company that started paper-making. In 1993, we developed comic paper in the colors: soft blue and soft pink (renamed Comic Rumba in 1997). Soon after we became a holding company for a paper-making group after receiving requests from other printing companies that they would like to use our paper. As a result, we were able to increase the number of paper colors we could use. I think it is a notable achievement for a doujin company like us to be able to involve other paper-making companies and other industries to be a part of our production. Our products, like the holographic covers, can be made specifically for doujinshi. That's the kind of technology we offer. The doujinshi industry may not be that big, especially from a commercial point of view, but you can't ignore the fact we are able to consistently combine paper, printing, manufacturing, and other industries to work on the same platform.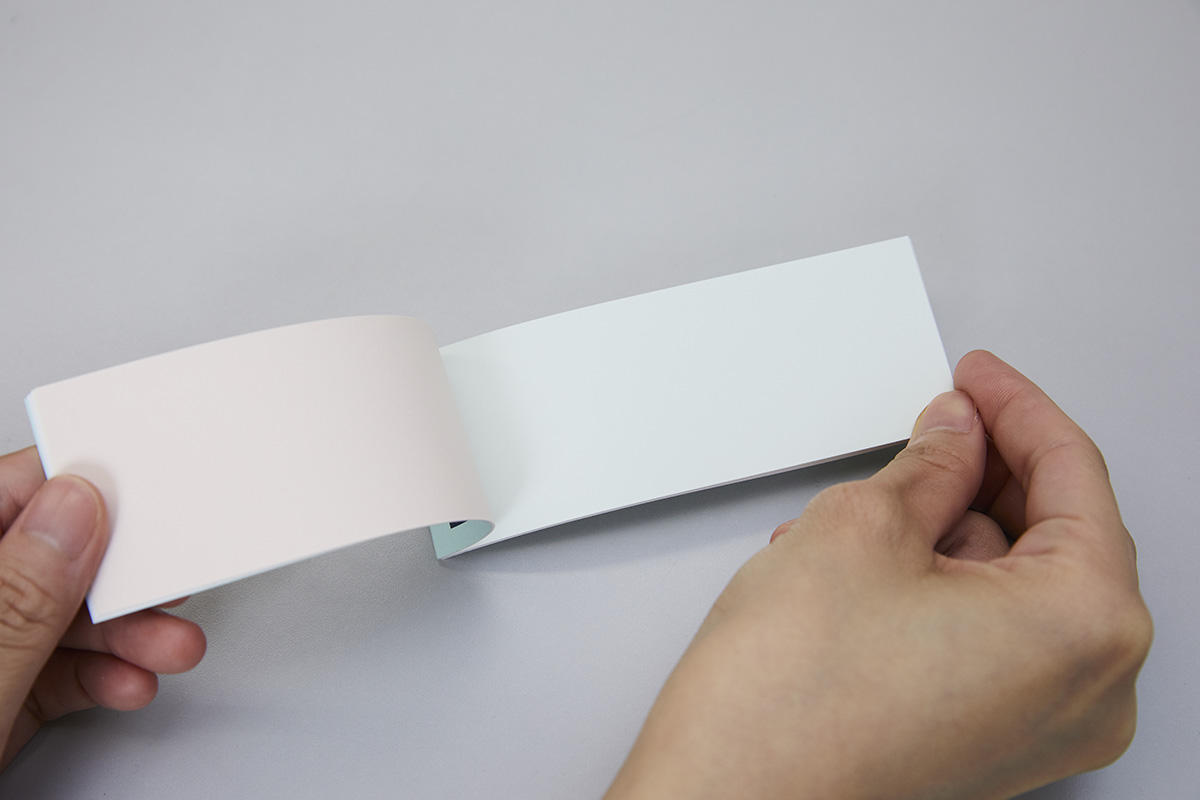 ── You have on your website: "Printing is an industry that requires expression." What does this mean?
Takekawa: As a printing business, we want to find the best way we can get our precious customers' works of art and self-expression out into the world. That is our role. Unfortunately, we feel like the printing industry might be stalling in trying to spread the fun and beauty of producing books...
── What do you mean by "stalling"?
Takekawa: It is something that applies to our company as well, but the industry is floundering. To be honest, when I look at ads from printing companies nowadays, I barely feel anything. In the past, for instance, a company would announce some kind of new technology, but that would soon be followed by another company announcing something even more exciting in their advertisement. It's this kind of competition that led to new doors opening and made it easier for circles to express themselves. The whole industry was on fire. 
I wonder if it's because we used up most of our ideas. But I don't think that is the only reason. I'm sure that as long as we don't lose our craving for innovation, we can continue to inspire and surprise artists with ways of expression that they have never seen before. We have to start focusing more on outputting new ideas out there!  
── I see that printing companies play a huge role in keeping the doujin industry hyped. One final question, do you have anything you'd like to say to the people who are interested in publishing a doujinshi?
Jinbo: Don't think too hard about it. You can ask for anything! Whether it be a tracing paper in the form of a flyleaf or a frontispiece illustration, we have many options available for you in our lineup. You definitely will be able to create something appealing through our designs. Just give us a rough idea or image, and in return, we will give you a detailed proposal. 
Takekawa: We have many samples prepared so once you take a look at some of them, we're sure you'll be able to grasp an idea on what you want to make. Feel free to hit us up with an inquiry!