Where do editors do their scouting? Do I have to be already famous? The GanGan pixiv editorial team tell us everything about debuting as a manga artist in the age of social media!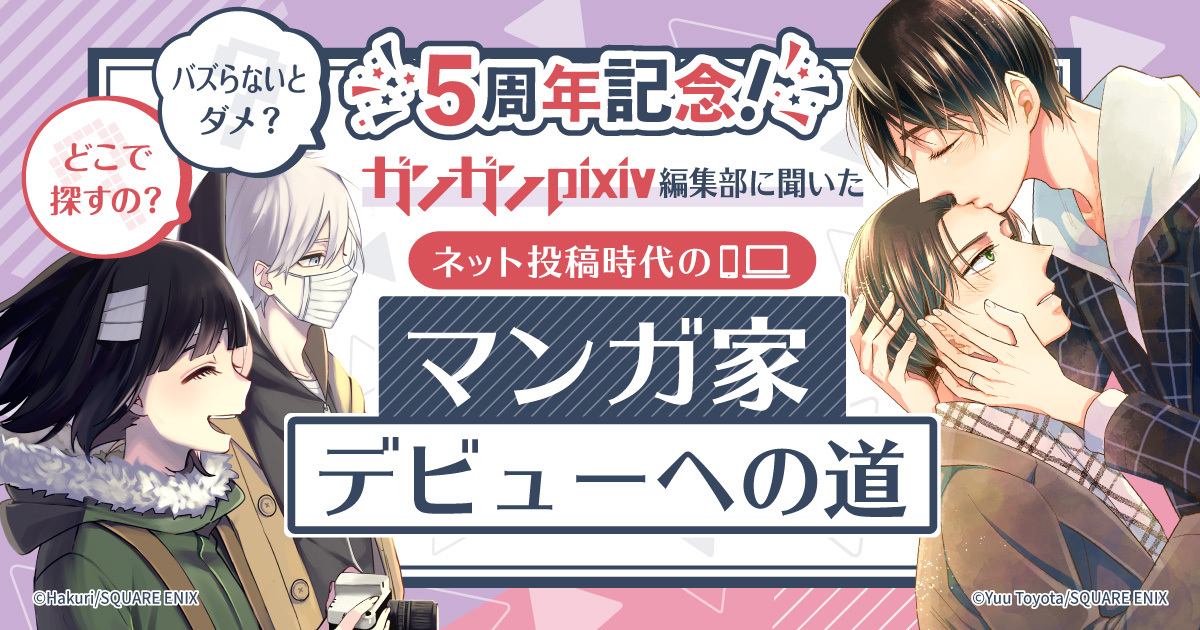 Article by Ichibo Harada @HEW
GanGan pixiv, a web manga magazine by Square Enix and pixiv, has welcomed its 5th anniversary on February 22nd. Over the years, the magazine has published many works originally born on the internet, including Sachiiro no One Room, A Man and His Cat, and Cherry Magic! Thirty Years of Virginity Can Make You a Wizard?!
How much has the world of webcomics changed in the past five years? And what should an aspiring artist keep in mind when using social media to prime the way for their commercial debut? We interviewed GanGan pixiv's editor-in-chief Nakagawa, assistant editor-in-chief Ito, and editorial team member Fukumoto to find out.
On social media, good artists tend to follow other good artists
── First of all, tell us about GanGan pixiv.
Ito: GanGan pixiv started on February 22, 2017, with four manga: Sachiiro no One Room, My Husband is a Housewife, Fukanzen na Hito no Tame ni, and Yankee Shota to Otaku Onee-san. It is a web manga magazine that operates under a fluid system that allows the staff from various editorial teams within Square Enix to participate whenever they come across a work that they'd like to share with the world.
── GanGan pixiv has been focusing on manga posted on social media ever since an era when posting manga on social media wasn't that common, right?
Ito: That's right. Back in 2016, when Sachiiro no One Room was first posted, the number of manga posted on Twitter was still small. I think it suddenly increased around the following year, 2017.
── A manga artist once told me a funny story dating back to the same era: they were contacted by someone claiming to be an editor, but pegged the message as a fake and ignored it. Back in the day, weren't the authors surprised to hear from you when you reached out to them?
Fukumoto: Once upon a time, we got a phone call from one of the artists. It went something like, "I got a message from someone who claims to be an editor at Square Enix, is this the real deal?" (laughs)
Ito: It's true, in the early days when the number of manga posts on Twitter had just started to increase we would get a lot of inquiries like that. (laughs) But that's not the case anymore.
── How do you scout new manga on the internet?
Nakagawa: Now that I am the editor-in-chief, I'm no longer involved in the search for authors, so I'll let you two answer.
Fukumoto: I think each editor has their way, but I'm a fan of the tried-and-true "following promising accounts on Twitter." On social media, good artists often follow other good artists, so I start from there and check out many different profiles. When I find someone who feels just right, I send them a DM. I also look through the pixiv rankings (daily, weekly, and monthly) up to about 50th place.
Ito: I'm pretty much the same as Fukumoto. Also, pixivision sometimes posts features like "This Week's Top 8 Manga." I check those works out too, and I contacted more than one artist from those lists.
More and more commercial artists post their works on Twitter.
── How do you feel the situation surrounding webcomics has changed in the past five years?
Ito: Compared to around 2017, when GanGan pixiv was born, not only has the number of works posted increased, but it has also become common for front-line commercial artists to post their works on Twitter.
Fukumoto: Publishing companies have now become accustomed to checking social media, and the competition to reach out to authors has become fierce. That's why we have to move quicker than ever, and at the same time, find people who have yet to go viral, but also have a high potential. At least that's what I focus on when I'm scouting.
── Do editors get to contact the authors at their own discretion? Or do they have to talk to the editorial team first?
Nakagawa: Once we get to the talks about publication or serialization, we hold a meeting with the editorial team, but each editor is free to contact authors as they see fit.
── I see. So you don't waste a minute before contacting popular authors. Have there been any other changes in the past five years?
Nakagawa: Honestly speaking, works that go viral are not necessarily bound to sell anymore. In the past, Twitter was a place for newcomers to post their work, but now, even experienced commercial authors often post the first episodes of their latest series on Twitter. This means that, even if a manga gets a lot of buzz, if it's from a newbie who's still a bit rough around the edges, people may decide to read it on Twitter and call it a day. Things are quite challenging right now.
Ito: In the past, most manga posted on Twitter were compact four-page stories, but now it's common to post longer stories that span multiple tweets. In that sense, I feel that we are living in an age that caters to a wider array of tastes.
Fukumoto: Nowadays, even longer stories can take off as long as they're interesting enough. I think the idea of "the appropriate manga format for Twitter" has faded, and it's now purely a matter of quality. Also, five years ago, many authors would upload their drafts, but now the trend is to post works as well-done as commercial manuscripts.
Do I still have a chance if I'm no good at drawing?
── You can't be contacting every single popular creator out there. What are your criteria for reaching out to an author?
Fukumoto: One-shot stories have fewer chances to be expanded into a series, or multiple volumes. I also take note of the author's basic drawing skills.
── So people who can't draw don't stand a chance!?
Nakagawa: That's not necessarily true. Even if you're not that good at drawing, a great story can be enough to make your work sell well. In genres such as comedy, you don't actually need excellent drawing skills. As an editor, I don't look at drawing ability alone, but rather the balance between drawing ability and other factors.
Ito: So even if you suck at drawing, there's still hope!
── That's good to know! Ito, Nakagawa, what are the criteria that make you decide whether to reach out to an artist or not?
Ito: The story must have the potential to unfold into multiple stories, just like in TV shows. Stand-alone movies are also great, of course, but just a single element can make the difference between a one-shot and something stretching out to episode 2, episode 3, and so on. But in the end, I guess we reach out to whoever we think deserves it. Instead of looking at a single work, editors tend to look at the entirety of an artist's production to check their capability to create a smash-hit. If we find an artist with that capability, we'll take their work (even if it's just a single illustration) and turn it into a manga.
Nakagawa: Another important criterion that plays a role in the serialization of a work is whether the editor in charge can actually put its final idea into words.
── What counts as the final idea?
Nakagawa: For example, what the manga selling points are going to be upon release.
Ito: A work with a compelling story doesn't necessarily sell. The editor in charge must have a clear grasp of the key features of the manga ー the ones that will be printed on the tankobon's wraparound band.
── Can you give us an example using one of the works published in GanGan pixiv?
Ito: Take Sachiiro no One Room, which has been serialized in GanGan pixiv since the first issue. It can be described in one sentence: "It's a story about a sad girl who doesn't belong anywhere, but when she gets kidnapped she finds a place where she belongs and is finally happy."
It's a straightforward Cinderella story, where the unfortunate girl eventually welcomes a happy ending, but the way she comes across her happy ending is quite unusual and lures you in. Also, A Man and His Cat can be summed up as "a story where an adult, unwanted cat is taken in by an old man and finds happiness." The plot is somewhat relatable, but at the same time, the unconventional setting is quite appealing to most people. Toorigakari ni One Point Advice Shiteiku Type no Yankee, which Fukumoto is in charge of, offers a new perspective of the scary-looking delinquent youth with a story about a kind and knowledgeable "bad boy."
── I see. In other words, the work must have a clear selling point, and the editor must be well aware of it.
A few sketches and fan art can say a lot about an author's interests
── How much do you check the author's past posts on social media? A person's tweets can say a lot about their personality.
Fukumoto: I check past works quite a bit, but I don't really care about tweets about the author's private life.
Ito: Someone's posts on social media can't tell you everything about them. An author's Twitter history rarely makes us change our minds about reaching out.
── As an editor, do you also look at sketches? Or only finished works?
Ito: I look at whatever is available. A few sketches and even fan art can say a lot about an author's tastes. Those same tastes can work as a weapon in our favor, so it's in the editor's interest to get to know them.
── Some artists are ashamed of their old works and end up deleting them. Do you think they shouldn't?
Ito: Definitely. Work history can tell us how much an artist has improved in the span of, for example, a couple of years, and let us appreciate their effort. Leaving your old posts on your profile is never a bad thing.
── What could an author do to gain a better standing in the eye of an editor?
Ito: Browsing through artwork on Twitter is kind of hard because we have to skim through dozens of daily updates. When an artist has dedicated space to show all their artworks, like a pixiv profile, our job is way easier.
Fukumoto: When a Twitter profile doesn't include a link to the artist's pixiv profile, I usually try to search for their name directly, but sometimes people use different names on different social media... Editors would appreciate it if you could create a clear connection between Twitter and pixiv.
Ito: Oh, and contact information. It takes some guts to put your email address online, and I understand everybody has their own problems, but sometimes we can't find a single way to contact the artist. Tweet replies end up buried, so... Please allow direct messages from everyone on Twitter!
An environment where writers and editors can work together through trial and error
── A simple question: do authors ever reject the editors? For example, if they got a better offer from a different company.
Ito: It happens a lot. (laughs) In many cases, we don't even get a response. Many people aren't interested in commercial work, or used to be before finding out they're not suited to it and deciding to stay in the doujin world.
Fukumoto: For every 10 people we contact, we hardly ever get a single manga published. First of all, very few get back to us, and even fewer are actually interested in making their debut as commercial artists. But well, it's the hardships that make this job interesting.
── I see! What do you discuss during your first meeting with the author?
Ito: First, we tell them why we reached out to them and ask them what they have in mind for their work, and then we compare ideas. We know it's a nerve-wracking situation for the artist, but rest assured that the same goes for us editors! (laughs)
Fukumoto: In the first meeting, we talk about each other's tastes and the result is closer to a self-introduction or a meet-and-greet rather than a business discussion. When we contact an author, it's because we think their work is great ー remember, we're 100% on your side. It's not a job interview, so there's no need to be anxious.
── You mentioned that the competition among publishing companies to get authors is becoming more and more fierce. What do you think GanGan pixiv has to offer amid this competition?
Fukumoto: Well, we scouted works like Sachiiro no One Room, which got a TV drama adaptation, and other hits like Cherry Magic! and A Man and His Cat.
Nakagawa: Frankly, when we reach out to you, we can't promise that your manga will be printed in a million copies. What we can do is offer to work hand-in-hand with you to produce the fruit of your hard labor.
Ito: I think our company's strength resides in the fact that editors work together with authors through trial and error, rather than just publishing whatever webcomic that's buzzing at the moment. I think the artists who accept our offer are those who can see the potential of this media working in their favor.
── Last but not least, do you have a message for those who are interested in making their commercial debut?
Fukumoto: Manga editors today, not just those at our company, check Twitter and pixiv thoroughly, so posting your work on social media gives you a good chance of getting a job. Don't underestimate social media as a place for both practicing and looking for work!
Ito: Whether or not your work will become popular depends on many factors, including luck. So even if it doesn't take off, don't give up. Keep on drawing. Many artists had no luck until their work suddenly boomed. It must be hard to keep your head in the game without getting the response you're hoping for, but rest assured that continuing to draw will take you places eventually. And you can always bring your work to Square Enix and help us explore your potential!
Nakagawa: Many people think of GanGan pixiv as a magazine featuring only popular webcomics. The truth is, we are also reaching out to artists who haven't been noticed yet. Sometimes we contact people who haven't yet published their first original work if we think that they'd be the best choice to work on a certain setting, and ask them for a manga adaptation of a story that we came up with. Being seen helps you grow, so don't be afraid to post your work on social media. Square Enix is not a very large publishing company, but we promise that each member of the editorial team takes manga creation seriously. We encourage our passionate editors to work together with authors to improve their works, so I hope you'll bring us your work to check out!
Don't miss pixiv Comic's promotional campaign!
pixiv Comic is currently running a promotional campaign to celebrate GanGan pixiv's 5th anniversary!
Don't miss your chance to win autographed artworks of 15 popular titles among those published on GanGan pixiv!
Read the interviews with the authors published in GanGan pixiv!