Looking at anime from a new perspective? The Principles of Videography - Revised Edition, Let's Learn from the Books of Legends
"Scene composition relative to the position of the heart;" applicable to fields outside of videography
Moving onto another principle listed in the book, we will discuss next "scene composition relative to the position of the heart."

In discussing videographical principles, though they apply to to film and pictures, they may not hold true 1:1 for illustration and acting; this heart-position relative principle, however, likely does apply to them as well as other fields.
Does the position of our hearts really have an effect on how we perceive things? It does have a superstitious feel to it.

Such an explanation certainly has more weight to it.
Personally, I first learned of this principle in primary school and wondered, "is that true?", and watched Mobile Suit Gundam to see for myself. It turned out to be represented exactly like this for many scenes.

For example, in almost all the battle scenes:
1. The Gundam overwhelms the enemy from the right side
2. Char and other powerful rivals come at the Gundam from the right side, and corner it toward the left
3. The Gundam ultimately retakes the right side and defeats the enemy from the right, or upper-right

Furthermore, this might ring a bell for anyone who has seen Gundam: when Ramba Ral's Gouf was defeated, or when the Black Tri-Stars' Jet Stream Attack was successfully countered, the Gundam attacked the enemy from the right of the screen.

Applying this theory to illustrations, the drawing of the character facing left (and thus standing on the right) tends to give off a more natural feel, as well as one of stability and strength, more so than that of one facing the opposite way.

You could also point out that it is simply easier for the more numerous right-handed artists to draw this way, but regardless, there are surely many people who focus harder on the character facing left.

Just like this, the book's principles are applicable not only to animators and filmmakers but to many other creative fields, and is recommended to them all the same.
A note of caution when purchasing Eizou no Gensoku - Revised Edition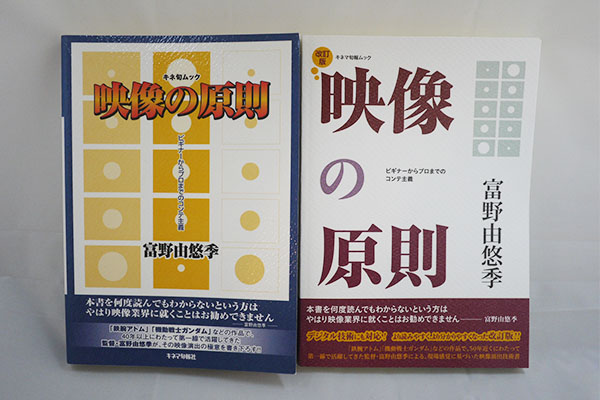 The book contains many principles such as the imaginary line rule, the relative heart position-composition rule, and many others. If you are an aspiring animator, why not give it a read rather than a boring textbook?

As well, in reading it, you will get a deeper appreciation for anime and filmmaking, as well as have access to insider principles and production knowledge. It is a book viewers--with no production experience--can also enjoy.

Published by Kinema-Junpo, the book is available at bookstores nationwide (also available on Amazon). Further, the original (pre-revised edition) Eizou no Gensoku (2002) is 10 years older than the revised edition and contains few references to digital media and fields, so it is recommended to get the latest version, if buying now.
Buy here! (Amazon link)
The more fun the more you learn!
Skilled creators, in fields other than just anime, create with visions of what they want in their minds. However, not all creators express that vision in words. Many simply let it end as a particular "way they did things" in their own minds.

Then we have today's Eizou no Gensoku, where Tomino thoroughly laid out the entire process for us to read all about it. We hope that in digesting it, you, the reader, will be able to gain more knowledge, and achieve a higher level of understanding and appreciation for watching and even making your own creations.

(c)2007,2008,2009谷川 流・いとうのいぢ/SOS団 (c)創通・サンライズ
<Let's Learn from the Books of Legends> Series Index