Interview with Popular Twin Dancing Video Sensation "RikaRiko" - Breaking past 100,000 followers!
Similar taste in boys, but no romance as of yet
- MixChannel also has quite a few couple videos. Are there any from kids you know at school?
Rika & Riko: Not among our friends.
Rika: Maybe on Twitter. There aren't any on MixChannel.
▲Dancing in the office too!
- Would you want to make one if you got boyfriends?
Rika & Riko: Ehh-. No way.
- You don't get excited talking about romance gossip with your friends?
Riko: It's all girls in our class, so we don't have many chances to talk to boys.
Rika: Yeah, not a single boy in our class. There are some on our floor, just in different courses.
Riko: Some girls will gather when a cool upperclassman passes by and scream and stuff. Seeing stuff like that is fun.
- But you're saying it's not for you. The lyrics of your original song "First Summer Love" talks about a twins' romance, doesn't it?
Rika: We've never really had much experience with it. But our taste in boys is similar.
- What about celebrities?
Rika: I like EXILE. Specifically, I like TAKAHIRO.
Riko: It's ATSUSHI for me. I like the wild types like AKIRA.
- Those are a little different. Still, EXILE is pretty popular.
Rika: A lot of girls like LDH in our class. We do dances so we're also influenced by them.
- Are the dances in your videos influenced by them too?
Rika: We do for E-girls. Since imitating music video styles are also popular right now on MixChannel.
- You're wearing matching outfits today; where do you normally do your shopping?
Riko: Since we're there often with FLASH OSAKA, we do it in Osaka. There are zero stores back home. (lol)
- So do you buy matching outfits often?
Riko: We're always matching wherever we go. Sometimes we wear different colors, but we still co-ordinate for the most part.
- Do you have to plan how you're going to match beforehand?
▲Today's matching outfits were bought from WEGO. Pictured: working on their own decorative plaque.
Riko: We do, but we like the same things anyway.
- So you can just decide, "Today, it'll be this."?
Rika: Yes. So when we go clothes shopping, we think the same things are cute, so it's really easy to pick.
- But you might argue over colors.
Riko: That happens sometimes. Then we settle it with rock-paper-scissors.
Look forward to more "RikaRiko on MixChannel"!
- Finally, tell us about what you've got in store for the future!
Rika: First, we'd like to release a second line of stickers.
▲An original "RikaRiko" pose in front of their commemorative plaque for their pixiv vist!
- A second line of native dialect stickers! Do you already have an idea what they'll look like?
Rika: Not yet, but I'm working on it (during class). I can't concentrate when I'm at home, but it's nice and quiet in class.
- Well, that's probably because it's a class. (lol) A lot of girls stop doing MixChannel after they graduate. Do you two plan to keep doing it?
Riko: "RikaRiko on MixChannel" is still a thing for a lot of people, so we plan on keeping it going!
Rika: When we grow up, we plan on becoming modelling twins, and working on things only twins could do.
Riko: We want to be like Mariya Nishiuchi, who models, sings and does so many things.
- Thank you for everything today! We'll be looking forward to your next works!
With that finished, we're proud to present-filmed as part of this interview, and edited over Goldenweek-"First Summer Love," pixiv version!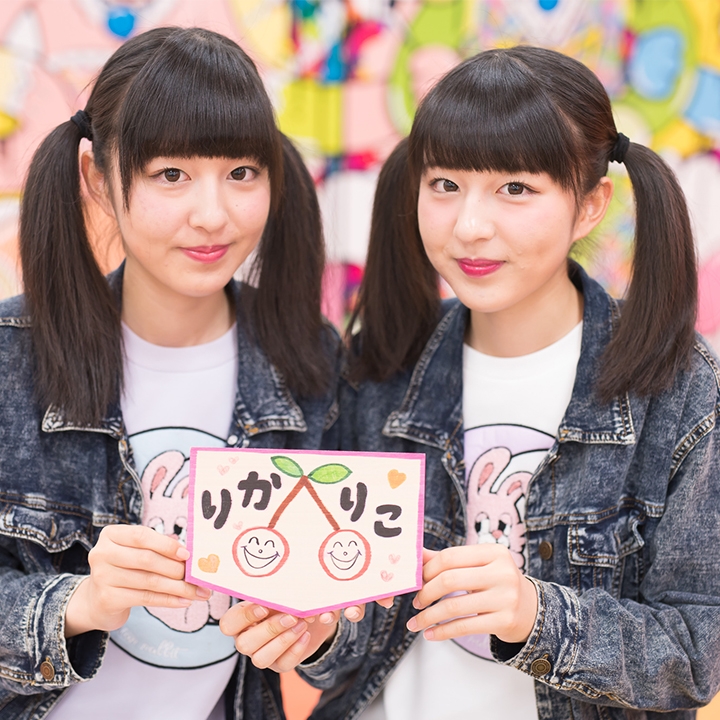 RikaRiko
<ul>
<li>dential twin sisters Rika and Riko Ichino, based in Mie Prefecture. First year in high school. Aiming to be top twin models.</li>
<li></li>
<li>Placed in the Top 8 out of 12,500 submissions in 2014's "LINE Audition."</li>
<li>Amassed a large number of followers on video-sharing app "MixChannel" with their popular style of synchronized twin dancing.</li>
<li>Official models on picture print-app "PiCTLINK," and fashion site "MANT."</li>
<li>Widely active in various works, such as fashion group "FLASH OSAKA," and appeared in commercial "Okurou. #LiptonLetter," released this past April.</li></ul>