A making-of & interview with Kitsune: painting fantastic worlds with Adobe Photoshop CC
Landscapes are not enough. How to get people's attention
- Your illustrations are extremely detailed. Where do you find your inspiration?
Basically
I really like Japanese traditional motifs
, so many times I add them to my illustrations in form of general themes or small objects. For example, I was thinking about drawing a rabbit; I looked up information about rabbits in Japanese tales and folklore and
I was able to bring my own story into my work
.
Recently I've also been drawing landscapes appearing in my dreams. I don't know why, but there were some pretty awesome ones, and I was thinking about making it a series for a long time. 
However, it seems like people are not interested in landscape illustration. The key is to use a single character and a title to give the series consistency. For the series about my dreams, I used a girl with ram horns. Maybe a tad too easy? (laughs)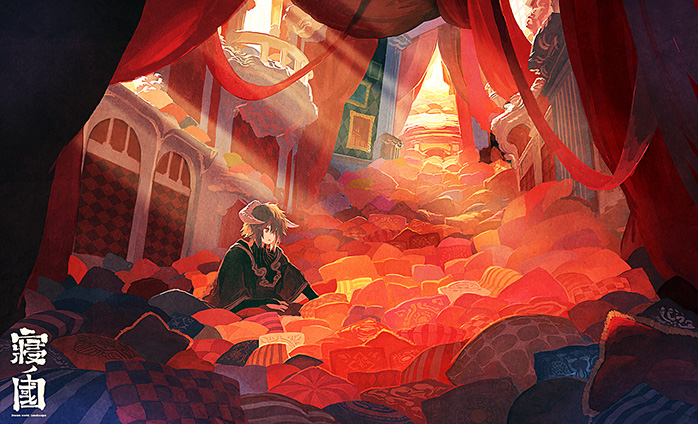 - What kind of illustrations would you like to draw from now on?
It's not actually illustration;
I'd like to try out video production once more
.
The other day I saw "Your Name" by Makoto Shinkai, and after a while I was moved by his incredible talent. To be honest,
I was moved and frustrated at the same time
. I've always admired his work, and when I found out he produced "Voices of a Distant Star" when he was only 29 I was shocked, to say the least. I'm 26 right now, and if I think I've only have three years left until I turn 29...
Actually, there are many things I could do in three years. That's one of my goals, and the reason why I'm mainly doing concept art right now.
I'd love to be able to have something to be proud of, three years from now.
From amateur to pro! Introducing Adobe Photoshop CC
Through Adobe Photoshop CC, Kitsune could overcome the limits she found with other softwares.
She makes great use of the "Brush Tool" and "Blur Gallery" functions
, but pros like her are not the only ones that can take advantage from them;
even beginners will find them useful
!
Just for now, pixiv Premium members can enjoy a 20% off promotion! You can get "Creative Cloud Photo Plan" (including Adobe Photoshop CC and Adobe Lightroom) for only ¥784/month for the first year!
Don't miss this unique chance.