The most well-received section on pixiv are the Characters?! Kazuo Koike no Character - Shinron ~Learning from the Legends~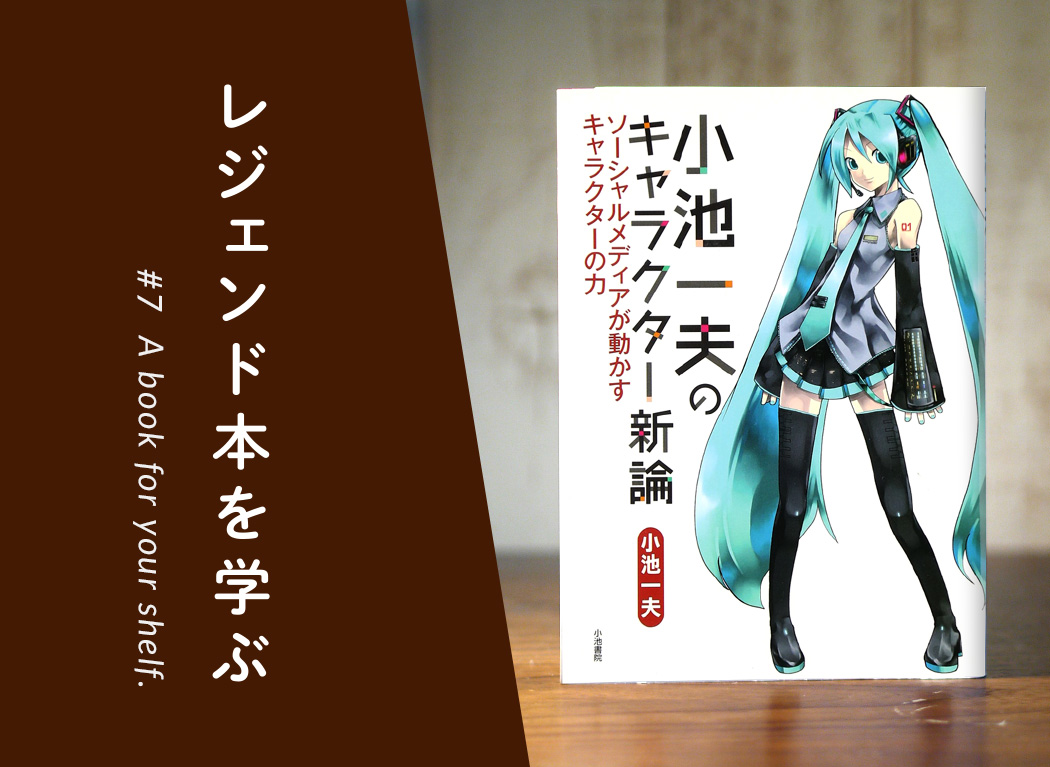 Learning from the Legends is a corner where we learn from legendary creators in various fields such as illustration, anime, manga and videos, and further enjoy the creation process.


So what kind of person is Kazuo Koike?
The author of this book, Kazuo Koike is a huge benefactor to the entertainment industry of Japan, such as the manga and theater industry.
Authoring books like Lone Wolf and Cub, Mad★Bull 34 and Auction House, he has also written the lyrics of songs from series like Mazinger Z and Super Sentai.
He has also recently been known for his Twitter account, exceeding 400,000 followers!

Twitter
This time, we'll be analyzing his book, Character Shinron (literally New debate of Characters). It may come with hints for users aiming to top the rankings on pixiv, so do check it out!
Characters are the heart of entertainment!
Koike believes characters to be the key to a big hit (p.17), and that characters = manga, and vice versa (pg.19). Furthermore,
In our day and age, it's no longer about manga revolving around the charactersm but the fact that entertainment = characters itself

Kazuo Koike - Kazuo Koike's Character Shinron (Koike Shoin, 2011) p.9
He emphasizes time and time again about the importance of characters.
But isn't it too far of a stretch to say that characters are especially important, even compared to the plot, background, and illustrations?
Koike doesn't think so. He insists that entertainment = characters! When Koike himself was pondering over what makes a big hit, he came up with the following ideas.
The most popular work all have one thing in common - a protagonist and antagonist the draws the readers in. There are even series with repetitive stories or even some with barely any plot. It made me realize that this wasn't wrong.

Kazuo Koike - Kazuo Koike's Character Shinron (Koike Shoin, 2011) p.20
When I first went freelance, I was too caught up with coming up with excellent plots, but no matter how much effort I put into a short story, they ended quickly. I didn't receive much for the manuscript fee due to its length, couldn't publish them in volumes, and it was impossible for me to survive on it.

Kazuo Koike - Kazuo Koike's Character Shinron (Koike Shoin, 2011) p.21
It's true that it's becoming harder and harder to come up with stories that don't exist already. It must be nearly impossible to come up with something like that every single time. It's the same with other things like the background and theme of the story. However, what about characters?
The readers want to meet your characters. They want to have fun and feel the feelings of your characters. They want to meet your characters like meeting a lover or a friend.

(...) They don't want to go separate ways with their lovers or friends. They want to be together forever. That's why series with attractive characters can go on forever.

Kazuo Koike - Kazuo Koike's Character Shinron (Koike Shoin, 2011) p.20
Once you've taken a liking to someone, it doesn't matter how many people you meet after that.
Similarly, attractive characters will never get boring, and you'll feel like meeting them again, and purchasing their goods.
Out of the many factors that make up entertainment, characters are the key things that make you hope for the series to never end.
Of course, there are novels that can succeed without putting extra emphasis on the characters. (...) There're many famous novels that people cannot really remember the names of the protagonists in them. However, this will never be the case for mangas. Hyuma Hoshi from Star of the Giants. Joe Yabuki from Ashita no Joe. There you go.

Kazuo Koike - Kazuo Koike's Character Shinron (Koike Shoin, 2011) p.21
Platforms like mangas, anime and games are called "character contents", where it's easy for you to remember the names of the characters.
There are also many instances of people that have yet to enjoy the work itself but know the character names. Characters are really important in these areas.
How to create attractive characters for pixiv
So how exactly should we go about designing charming characters? Let's talk about character designing techniques on Consumer Generated Media like pixiv.
1. Use character templates
According to Koike, you should try using template settings like mikos (shrine maidens), maids, vampires etc.
At first glance, it may feel like you'll end up with an ordinary, cliche character. However, that's not the case at all. In fact, many of the most popular characters fall under generally recognized categories and belong to a certain typical, existing group. In general, readers should be able to tell what kind of character your character is by looking at his/her physical appearance. If not, it's hard for your character to be well-loved.

Kazuo Koike - Kazuo Koike's Character Shinron (Koike Shoin, 2011) p.147
2. Add one point that stands out to your characters
However, Koike never said that your job was done with simply dropping a character into an existing role. You need to make your character stand out.
In order to do so, your character must have that one point, be it physical or personality wise, that stands out from the crowd.
Do take note that he is only suggesting one point. Having too many quirks will make your character messy, and in turn backfire by making your character unmemorable.
Koike raises the example of Reimu Hakurei from Touhou Project.
Reimu Hakurei from Touhou is dressed in a miko outfit but has off-shoulders sleeves. It makes you want to pass a snarky comment at its irony. (...) This would be the one point that made this character stand out.

Kazuo Koike - Kazuo Koike's Character Shinron (Koike Shoin, 2011) p.150, 151
3. The character's details
After fitting your character into an existing template and giving it a special characteristic, all that's left is the fine details.
Readers can feel the author's passion for the characters through the details in the work, and feel like the author truly understands them. The passion put into the details can even evoke some emotional feelings.

Kazuo Koike - Kazuo Koike's Character <g id="3" data-gr-id="3">Shinron</g> (Koike Shoin, 2011) p.151
Works full of details, for example, comprehensive backgrounds and small props in illustrations, and situations that fit well and some that shock people, tend to be well-received.
Let's create a character for pixiv!
Why don't you try refining the characters you have in mind with Koike's advice.
By keeping these tips in mind, you'll be able to create characters with depth that people want to see more of and get closer to.
Do try out these pointers if you're looking at promoting your work to more people!
"Learning from the Books of Legends" INDEX