So much more than a voice actress! Interviewing Akane Fujita, "Eromanga Sensei" Sagiri Izumi Voice Actress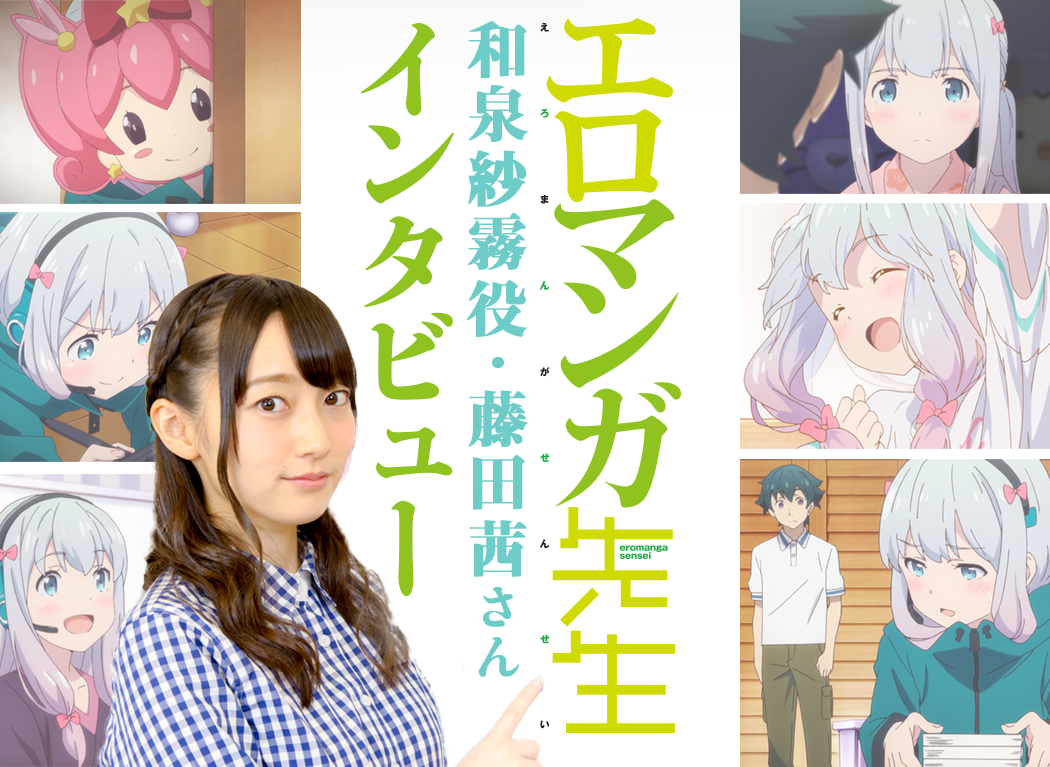 Interview, article by Kazuki Miura
Editing by Hitomi Sakuma
It wouldn't be an overstatement to say that Eromanga Sensei was the most popular anime of Spring 2017 season. One of the reasons behind its incredible popularity is the cuteness of the protagonists! 

In particular, the cuteness of the middle schooler heroine Sagiri Izumi has caused quite a stir, and the secret lies in the fact that, apparently,  there's a special "Sagiri exclusive animator" who deals with Sagiri's animation throughout the anime. You can learn more about this in our past feature, Interview With "Eromanga Sensei" Director Ryohei Takashita and Animator Keisuke Kobayashi.

But we are positive that Sagiri's popularity is also due to her voice actress, Akane Fujita. We were lucky enough to interview her about her role, and about her thoughts on the anime.
"Kawaiiness" lies in the hands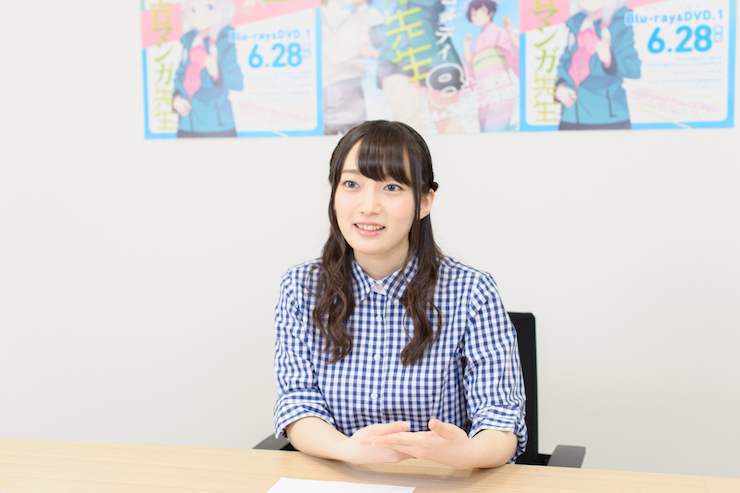 -- What do you think about Eromanga Sensei?
I think that the title of the anime has an amazing impact! (laughs) But it's not only that. The girls who appear in it are also very cute and attractive. Sagiri's older brother Masamune is also a statesmanship light novel protagonist, as he has a warm heart and he's very kind to his sister. He's a very nice character. 
-- And what do you think about the animation in Eromanga Sensei?
I especially like Sagiri cuts※! They're animated beautifully, and of course, they're also very cute. I love how Sagiri's hair sway during the opening credits. But the cutest has to be when Sagiri looks at Megumi's panties (laughs) 
※ Scenes drawn and animated by Sagiri's exclusive animator Kobayashi.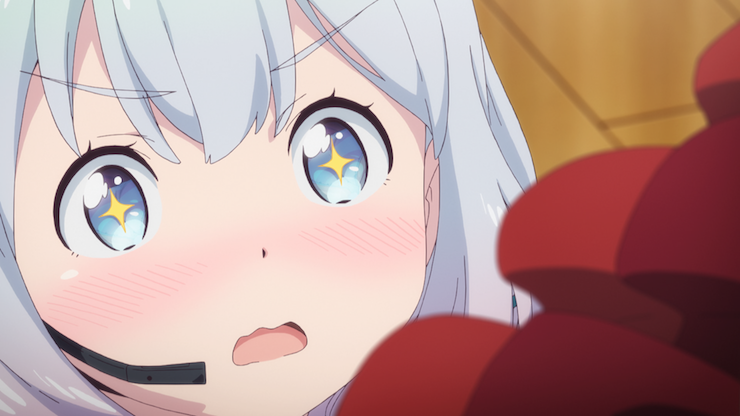 Also, I really love hands in two-dimensional characters! The way of expressing hands where it seems like the middle finger and the ring finger are stuck together... Do you know what I mean? Just as one look can mean more than a thousand words, in the same way, I think hands can be very expressive as well. Kawaiiness lies in hands! When I look at illustrations portraying girls, hands are the first things I look at.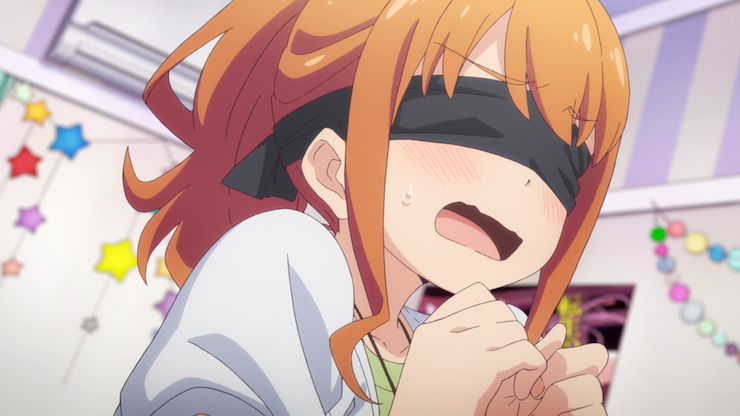 Even while she's in that awkward "Eromanga Sensei mode", she still looks cute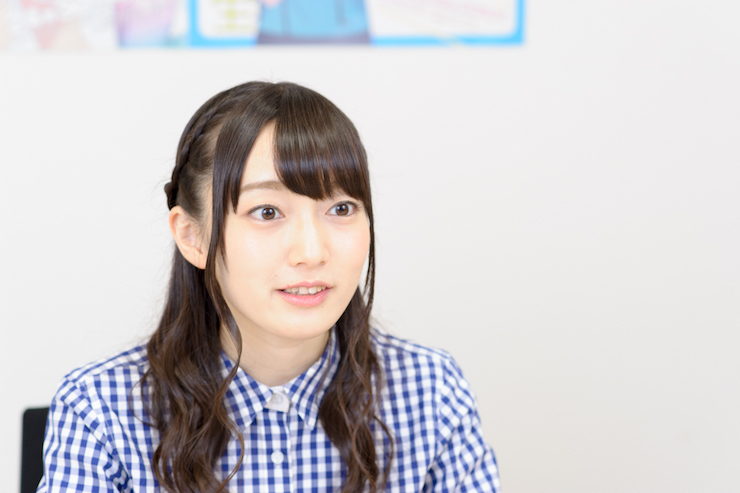 -- What did you feel when they decided you would be Sagiri's voice actress?
When I passed the audition, I was so surprised! At the time I was watching Tsukasa Fushimi's Oreimo, so the prospect of taking part in the "sequel" left me completely dumbfounded! I love cute girls, so I was very happy to be able to perform Sagiri's role.

Before the audition, my manager told me that although the title Eromanga Sensei could suggest some naughty contents, the anime was in fact very tame... So I wasn't worried about the story!
-- What are you focused on when you perform as Sagiri?
When Sagiri draws illustrations, she enters "Eromanga Sensei Mode", meaning that she focuses so much on illustrations that she gets kind of creepy. Sagiri has her own policy, according to which she only draws what she sees with her own eyes, so when she has girls posing for her she sometimes draws them from a very low angle, laughing creepily. Even during such scenes, I'm careful to make her sound cute. Even the line "What panties are you wearing?" must sound cute (laughs)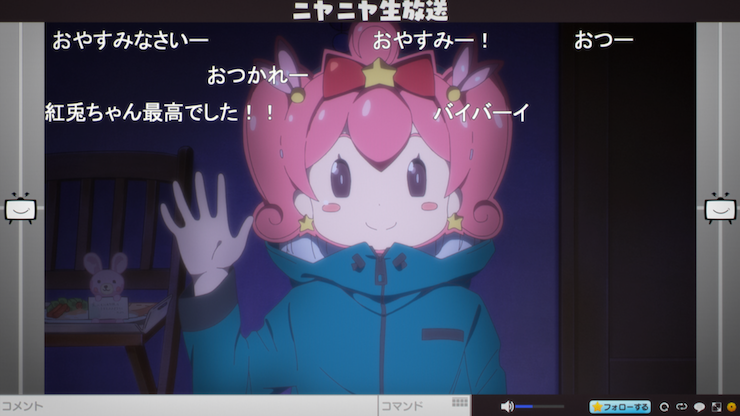 -- What about when you perform the regular Sagiri?
The regular Sagiri is also cute! And I always try to perform her like that. At first, Sagiri gives out the impression of being a child without too many emotions. However, by interacting with her brother, her emotions become louder and bigger, and when she gets angry... Well, she gets really angry. When she's jealous or when she's acting cold, I was told to do "more", and so I did... To the point of wondering if it was really okay for me to perform like that.

Sagiri withdraws in her room, and doesn't keep in touch with people - that's why she's kind of childish. This is also a component that tends to lead her to huge emotional momentums.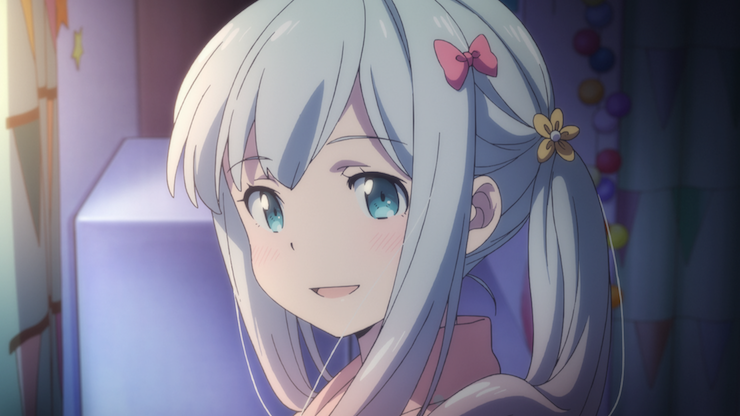 -- What do you like the most about Sagiri?
Honestly, her cute looks (laughs). I think those are very important. She's cute, and amazing at drawing. Also, when her brother has some money troubles and she tells him something like "I will feed you!"... I love when she's gallant like that - I think it's lovely.
I also like the fact that, by interacting with her brother, with Elf and Muramasa, she gradually finds the courage to get out of her room little by little, to make a change.
Masamune understands Sagiri's feelings
-- You said that Sagiri changes greatly even thanks to her brother Masamune. What do you think of him?
He's trying his best to make his sister get out of her room, but he's not forcing her to go to school or anything like that. He understands Sagiri's feelings, and won't ask her the impossible. He's a gentle brother.
Also, the fact that he can talk with Sagiri while she lies under him on the floor makes me understand that he has great conversation skills (laughs). He can cook, and also leaves messages in Sagiri's meals... Where do you find such a kind brother!?
-- Elf Yamada competes against Masamune in order to become a light novelist. She's very different from Sagiri, but still very kawaii, don't you think?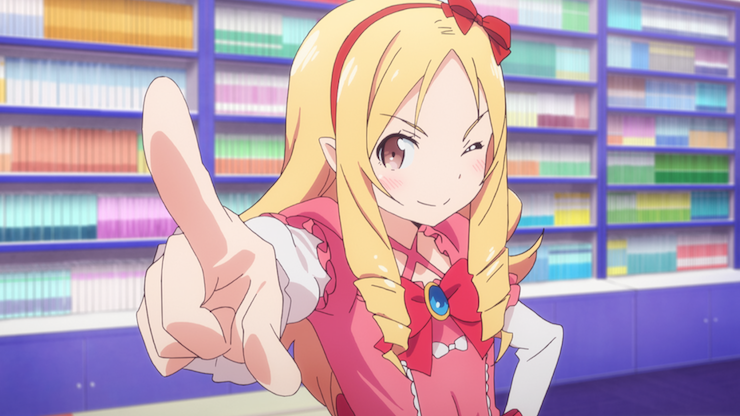 She's very self-assertive, but also quite good at cooking. At some point, she tells Masamune that thanks to him she can now understand what it means to cook food for people you love. Elf can be quite bold, but I doubt Masamune realizes what she really feels for him (laughs).
-- I guess this can be defined a peculiar sensitivity, typical of light novel writers. Way to go, Masamune!
Both Sagiri and I are quite the indoorsy type.
-- Do you feel that you and Sagiri are similar in some ways?
I'm not a hikikomori, but I have to admit I'm quite indoorsy. I like staying in my room! Also, we're both quite stubborn and selfish - or so my parents say.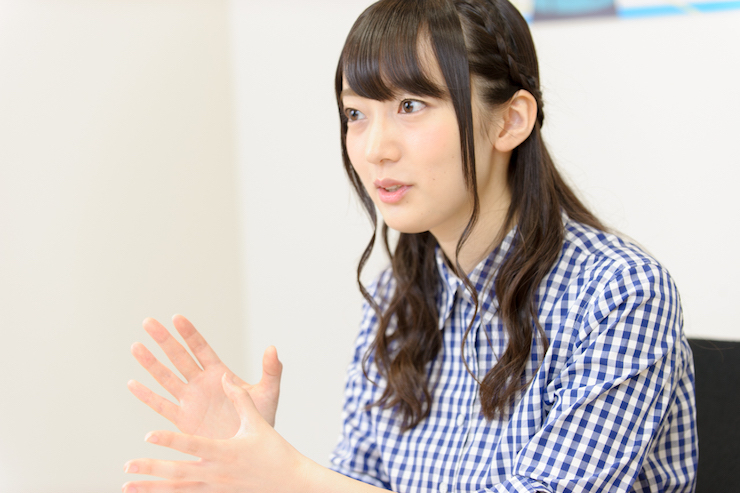 -- On the contrary, what makes you different?
Hmmm, our appearance? (laughs) Also, I feel sometimes Sagiri and Masamune have trouble communicating. There are a few misunderstandings between the two, and I think this might be the reason. Something that makes us different is that I tend to be very eloquent when it comes to solving problems.
-- In other words, you're not afraid to speak up?
If I'm talking with someone and they don't make sense, I will let them know.
-- You wouldn't strike me as someone with a sharp tongue! Do you find it easy to perform as Sagiri?
From the performance point of you, I was recommended to put more emphasis into my role. I can rest on Masamune's foolish part, so I feel my role is quite easy to pull off! 
The voice I use for Sagiri is a little bit higher than my natural voice. It's not very hard, but it makes me a little bit conscious not to use my everyday voice!
-- Episode after episode, I got the feeling that Sagiri becomes more and more honest when talking to her brother. She also starts interacting with her friends and other characters, and the fact that there is a "Eromanga Sensei Mode" makes this role very wide!
Her tone changes quite a lot; if she's nervous, if she's talking with people apart from her brother...
For example, in Episode 7, Sagiri goes down the stairs and, afraid that her brother might be taken away from her, she screams "He's mine!!". This scene portrays the trouble she has getting out of her room, the difficulty of dealing with people apart from her brother, and the fear she has to lose him. Many emotions and situations come together, and her character ends up being quite different compared to the usual.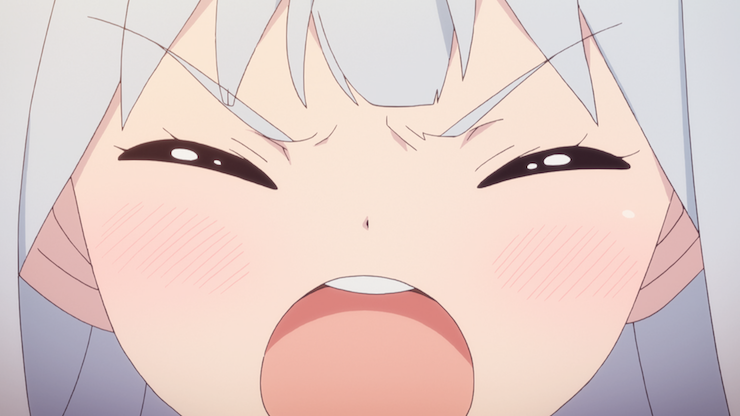 After all this time, I feel part of the staff
-- You've been working for Eromanga Sensei for quite a long time, right?
In November 2015, we used NicoNico Video to broadcast a majority voting drama called Oreimo featuring Eromanga Sensei, where the audience could decide the story. I took part in that, so it's been two and a half years. I'm a voice actress, but being involved with the title for so long made me feel like I'm part of the staff.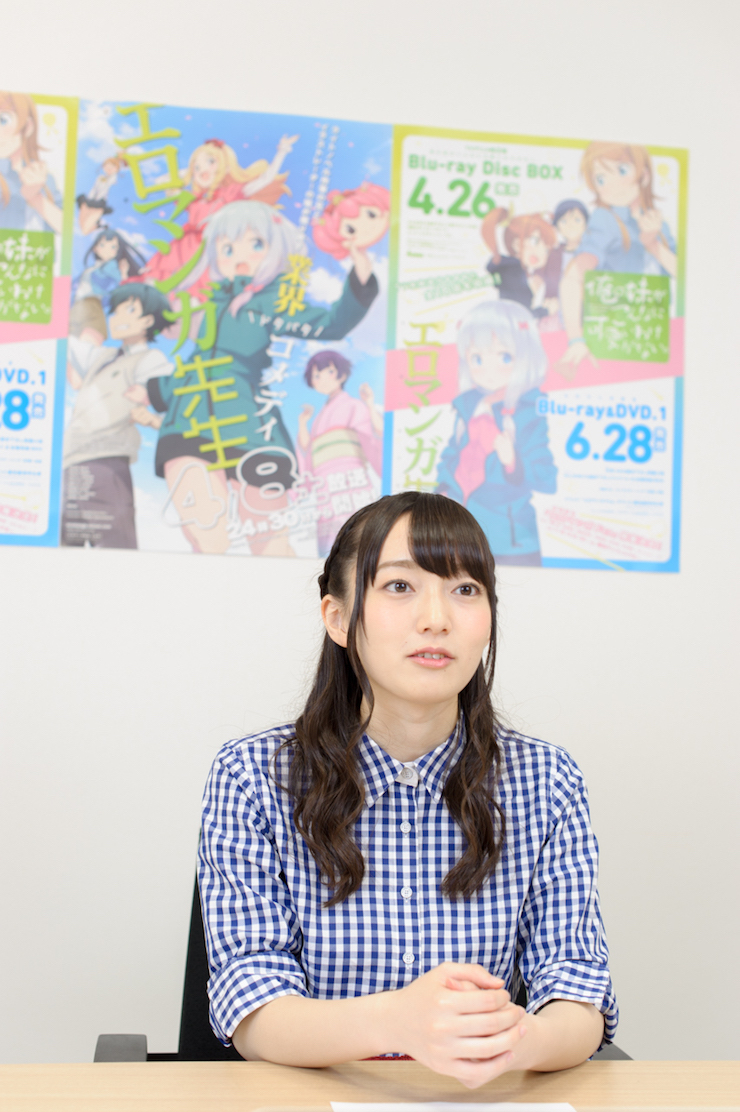 -- You're much more than a voice actress! I heard you often go to the animation site, write reports, and you also drew some scenes for Episode 4!
I'm taking part in many different projects (laughs). Until some years ago, I would never have thought that I would have a role like this. It's a lot of fun!
-- You've also been to "Akane Fujita's prophetic Eromanga Sensei journey", an anime screening + talk session even held in animate all over Japan. What do you think of this event?
I like taking public transportation, and enjoying the local food from rural areas is so much fun. People react in real time on Nico Video, but you can't see their faces.
In this "prophetic journey", we have screenings accompanied by commentaries, and attendees can also have their voices heard. It's beautiful to be able to see the viewers' faces as they give their opinions! We also play the opening and ending credits songs, and I usually cosplay as Sagiri and dance (laughs).
-- Would you like to leave a message to all those who are watching Eromanga Sensei?
I think everyone who's watching Eromanga Sensei could notice that the characters, starting from Sagiri, have grown up quite a lot. With that in mind, just know that relationships between Sagiri and other characters such as Muramasa, Masamune, Elf and Chie will develop with time, so please look forward to it!