We visited Studio Trigger, the anime creators studio behind "Little Witch Academia" and "Kill La Kill"! #Attack!!CompanyVisit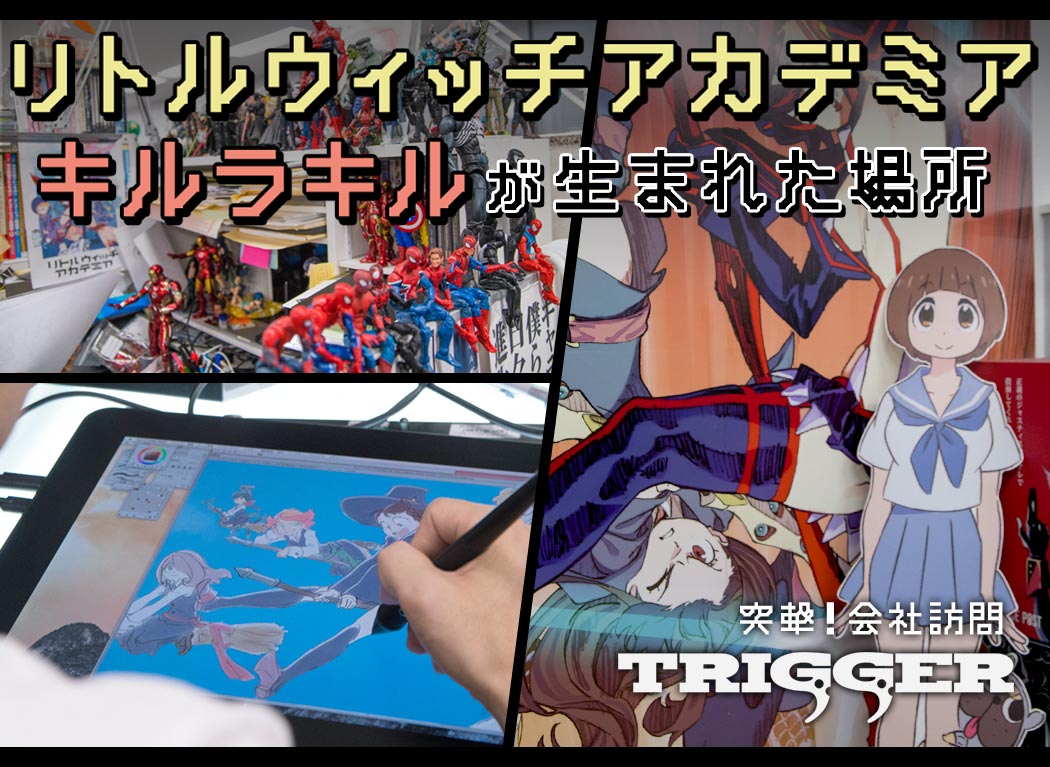 #Attack!CompanyVisit is a new series that will lead you through the most famous anime, manga and design companies, and let you take a peek into the lives of people working there.
This time we came across a young animation studio, Trigger Inc., formed by an elite creative group that already drew the industry attention. In the past 5 years, Studio Trigger produced a number of topical works such as TV anime Little Witch Academia and Kill La Kill.
Studio Trigger treasures the old while pursuing the new. Starting from a new way of expression that uses huge telop letters, all the way to bold cuts reminiscent of those used in the anime works of the cell painting era, the inquisitive minds of these creators are only one of the elements that contribute making this studio one of the greatest.
Studio Trigger works with several different media, including the 82p. magazine "MdN". What might a studio producing such wonderful anime look like from the inside? Abeshi of the pixivision editorial department infiltrated the production studio in Ogikubo!
What is waiting for us at the entrance...?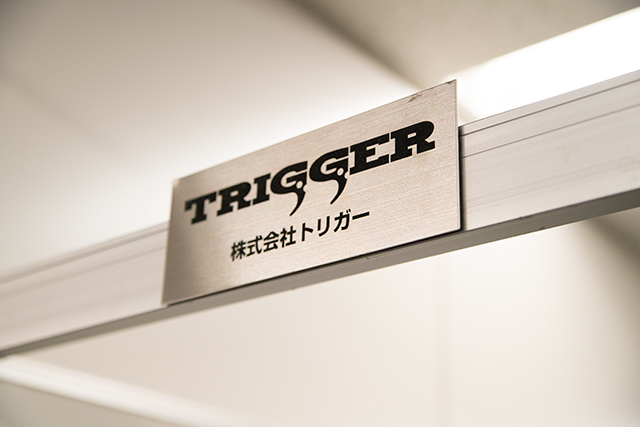 ▲I headed to the entrance of Trigger Tokyo branch. The studio takes up half of the floors in the titanic building where it's located. If I think about the fact that all those huge anime was produced here, my heart starts racing...
Studio Trigger director and anime producer Matsumoto was kind enough to show me around the company. As I set foot inside the office, I was welcomed by a huge Kill La Kill panel!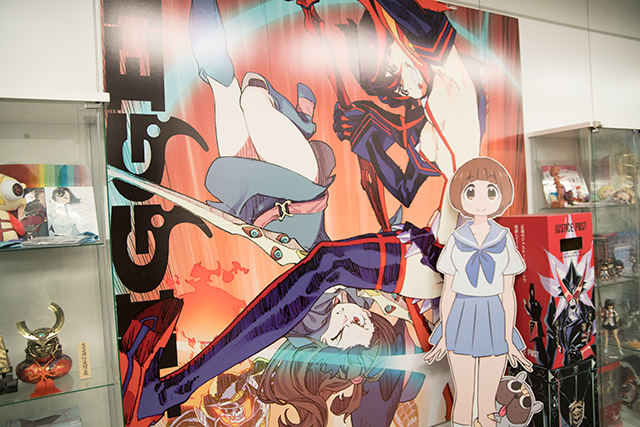 And as I proceed deeper inside the office...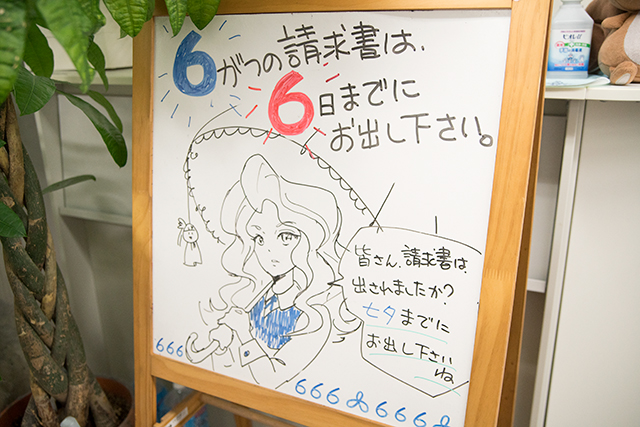 I spot an illustration of Diana, from
Little Witch Academia
!
She's so cute... And the drawing looks amazing. I thought it was one of the animators to make it, but it turns out it was one of the admin assistants! It made me understand how everyone in the office shares the love for characters made in Studio Trigger.
Revealing the items that real animators use!
I was shown around the office during the evening, when many animators were still working at their desks (I'm really sorry about it, I didn't mean to get in the way!).
The office is cramped with desks, where animators religiously do their job. I spot many art books and resources piled up on the desks, along with a few action figures. It feels like a truly personal space!
As I walk further into the office, I can't help but notice a huge pile of colorful paper taking up the whole wall.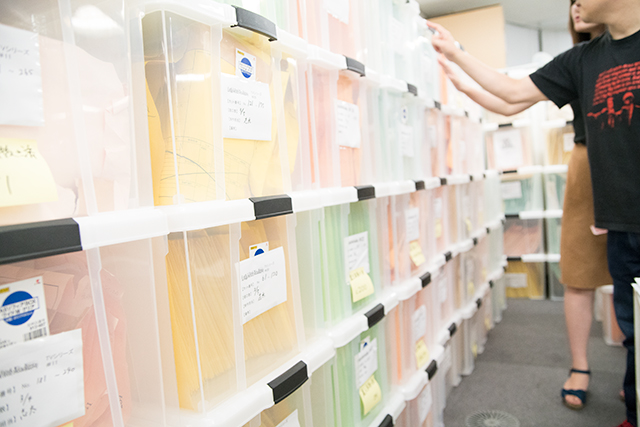 Abeshi:
What is this mountain of paper?
Matsumoto: We use this space to store the papers with the original pictures that we used in each of our anime's episode. There are about three boxes per episode! And if a particular episode has a lot of action, that number increases to 6. They're also quite heavy, so I wouldn't advise you to carry them.
Abeshi: They look heavy! So this is what 1/3 of an anime episode feels like, weight-wise. It's amazing how many pieces of papers are needed to create a single episode!
In the inner part of the studio, I found many items and materials that are often used by the animators themselves.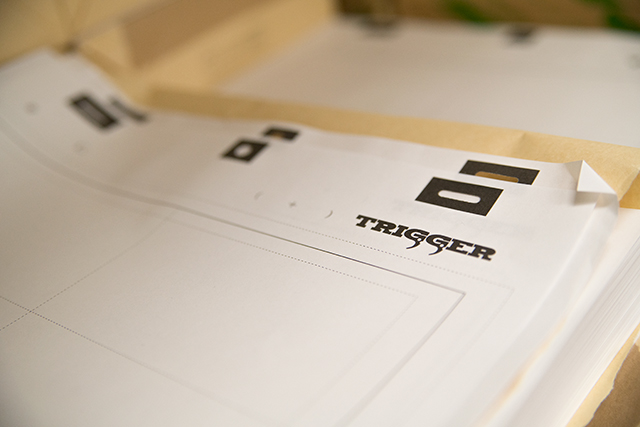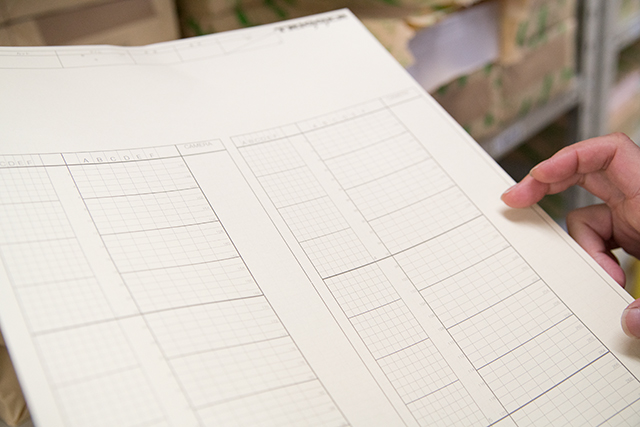 ▲(Top) Layout paper used to produce anime cuts. (Bottom) Time sheets used to set the timing for pictures, cuts and dialogues. Many kinds of paper are needed when it comes to anime production!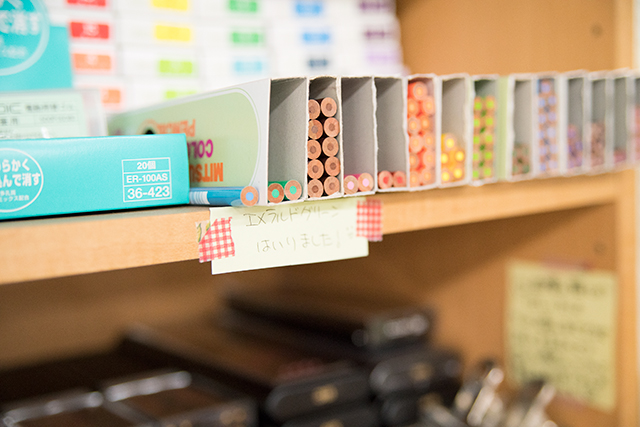 ▲ Colored pencils, indispensable for this kind of work. Even though there's such a huge amount of them, they need to be replaced quite often. This too is one of the jobs of the people in the office.
I can't draw, but I want to do anime. Be a production assistant!
Studio Trigger director and anime producer Matsumoto's book
Anime wo Shigoto ni! Trigger-ryuu Anime Seisaku Shinkou Dokuhon
(
Make anime into a job! Being an anime production assistant, Trigger style)
talks about how anime are produced, from the point of view of an animation producer. This book became basically a bible for students enrolled in anime vocational schools.
Today I asked Matsumoto about his work and about being an assistant producer or manager. If you'd like to work in the anime world but drawing is not your strong suit, definitely check out this interview!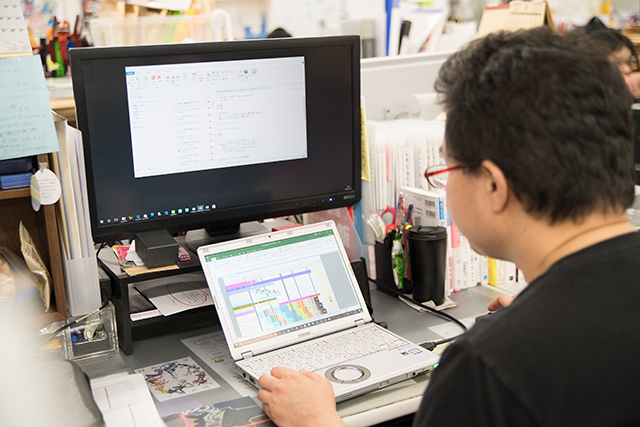 Abeshi: Mr. Matsumoto, what type of experience has led you to become an anime producer?
Matsumoto: I've been working in the Anime Industry since 2000, so around 17 years.
I was once a production assistant and I later found myself on the production desk, then I became a line producer and right now today I am a producer.
I really liked anime for a long time, so after I graduated from my university, I went straight to Yoyogi Animation school. I really wanted to work with anime, but unfortunately, I wasn't very good at drawing... So I took on the role as a production assistant.
A: As a "Production Assistant" what type of specific roles were you tasked with?
M: If someone speaks about "making anime", most people tend to think about voice acting and animating scenes. However, what a Production Assistant's does is to provide management control for the company. For example, when holding meetings with anime schedule management staff and employees, working on things like managing the production costs and creating a favorable environment for everybody.
In order to create a favorable environment, there are all sorts of things that you have to do: from making sure that the office is always stocked up, to taking care of the employees' well-being.
A: So proceeding after the Production Assistant is the Production Desk. What are the differences between these roles?
M: The Production Assistant has at least one person in charge of one episode, but the Production Desk has to bring all of the episodes together. It's like being an editor-in-chief of a magazine.
Now for the "Line Producer", their role is basically to construct an anime manufacturing line. They make requests to many other companies with focuses such as those in charge of background design or sound. This exchange creates a smooth progression, and in other words: a manufacturing line.
A: It sounds like many non-artist people are working on the production of an anime!
M: That's right! If we take all people working on a certain title, the drawing staff only makes up 20-30% of the total.
A: Ehhh? I didn't expect that number to be this small! If so, then there are really a lot of people involved with just one anime. Then let's move on to the Producer's role. What makes them different from Line Producers?
M: Producers are divided into two roles: 
I'm a Creative Producer, a Producer in charge of internal design. 
A: And what do Business Producers do?
M: Business Producers make anime into money. Anime is some sort of investment, after all. It's necessary for an anime to bring us money even after its broadcast. Basically, we have to sell merchandise, CDs, and Blu-Rays. Recently we put a lot of budget on collaboration cafes.
A: So it was a Business Producer that managed the pixiv Zingaro exhibition with Little Witch Academia and the collaboration with a stationery cafe!  What will you work on, now that the anime you were working on has finished broadcasting?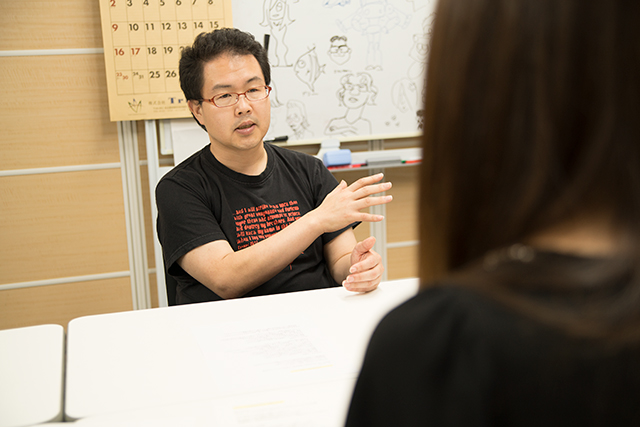 M: Right now, I am taking part in the production of Gridman and PROMARE.
A: The two titles have just been announced! The first episode wasn't broadcasted yet; what things are there to do during this pre-release phase?
M: Pre-production.
A: Pre-production...?
M: Once an anime is in the middle of its production phase and episodes come out one after another, it's nearly impossible to back-track. That's why it is important to decide on the basis of the story in advance. This is what pre-production is about.
Basically, we have to decide the world within the anime, its culture, ethics, and character design. The Director has to decide on what needs to be done for the story and work with their peers without distorting its original meaning. The initial script is written based on all that.
A: So you decide on theoretical aspects of the anime that won't be seen on screen! Shifting between two works side-by-side must be tiring for your head...
How long does it take from when you start planning an anime until you publicly air it?
M: At Studio Trigger, it takes about 3 years from the first public meeting until the anime airing.  It's the same this time as well.
A: Three years! I finally understand how much work is behind the anime that I usually watch... For someone like you, who has been working in the anime world for so long, did some turning point occur at any time?
M: Hmm... well,
- At the age of fourteen, I watched the movie Nadia: The Secret of Blue Water
- When I was a university freshman, I watched the TV anime Neon Genesis Evangelion
- When I joined Studio Gainax, I was put in-charge of the anime Gurren Lagann.
These were my main turning points.
A: How did working on Gurren Lagann influence you?
M: Since I was originally a subcontractor under a subcontract for a company's animation production, instead of working on one title, I worked on various animes and dealt with any leftover work. My prime contractor who was heavily involved in a big anime project became part of Gainax, so at our own convenience, we started making anime for others.
During the period as a subcontractor under a subcontract, I used to tell people that I worked for a company for a client. However, in Gainax, you could really tell that we made products for our viewers. That was my work's turning point.
A: What do you feel is the greatest inconvenience of your current job?
M: The fact that we have no concept of vacations. (immediate reply)
I never felt an urge to take a break. In the industry, my work is my hobby and identity, not a job. It is fun and since the standards focused on anime, it made life fun (laughs).
A: You were influenced by anime every day and thought about the enjoyment in your hobbies! Now for the last question: please tell me in which direction Studio Trigger will develop from now on.
M: As long as the company remains intact, we will keep making anime. We also want to increase our audience.
A: What are you currently doing in order to increase your overseas audience?
M: We participate in about 7 overseas events every year. In events such as Anime Expo, we showed our new works and made Director's comments for the enjoyment of our fans. Directly speaking, we provided a lot of fanservice.
We greatly value our fan's responses, so we specifically went to these events and I think we satisfied our viewers who held expectations for us.
A: Thank you very much!
High school graduation → Steeplejack → Animator without experience! "I really wanted to work with pictures"
Next, I interviewed the young animator Shuhei Handa, who's also the character design behind the TV series
Little Witch Academia
.
Most animators attended a vocational school or art college before entering the industry. However, his story is a bit different...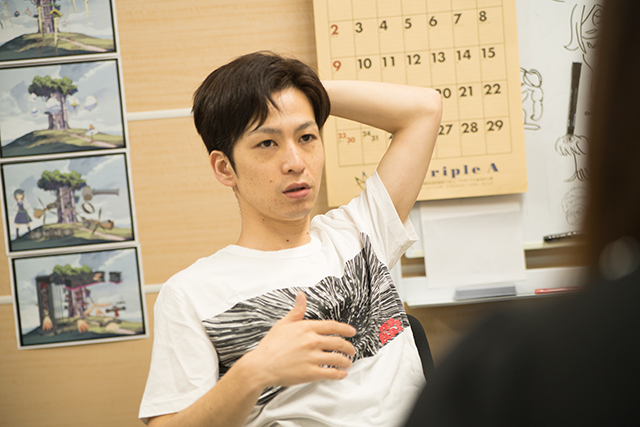 Abeshi: I heard that you previously worked in a job that had no relation to anime. I would like to know the details on how you acquired your current job.
Handa: After I graduated from high school, I was working and saving money for vocational school. However, strange things happened. I didn't save up enough money (laughs), so I went straight to Gainax after some consideration. I thought I would fail my interview, but I passed.
A: You had little to no experience yet you became an animator for Gainax!? That's really amazing... Are you familiar with the percentage ratio of people who never went to vocational or art schools yet worked as inexperienced animators?
H: Maybe around 10%? (laughs) That 10% contains famous superstars like Hayao Miyazaki's teacher Yasuo Otsuka. Surprisingly, he was a narcotics agent employed by the government, so it was shocking to see him become an animator. You wouldn't expect an animator to have a former job like that.
A: Mr. Handa, what did you do in your previous occupation?
H: I took up various jobs such as being a construction worker, a house painter, and a car parts assembler.
A: Quite different from your current job! During that time, did you have any time to draw?
H: Hmm. I would usually go to work, draw pictures and go to sleep.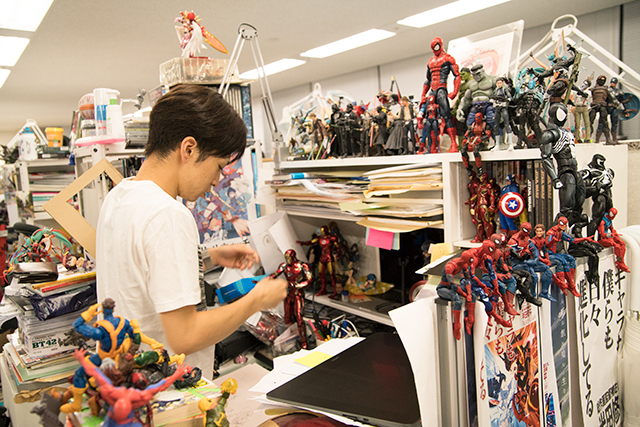 A: The TV anime Little Witch Academia, which you took part in as a character designer, just welcomed its last episode. What are you doing for your current job?
H: I'm drawing the copyright illustrations for Little Witch Academia. For example, the DVD cover, the game package, and I'm working for mook publications.
A: I see. So this is one part of Mr. Matsumoto's "turning anime into money" speech.
Character design sounds like a hard job. Could you share your daily schedule with us?
H: My daily schedule, right? For example, if a day is 24 hours...
A: Are there days that are not 24 hours? Like extra-inning games?
H: (laughs) My busiest time was working on the final episode of Little Witch Academia. I stayed in the office for five days and went home only once.
A: Gya-! That sounds exhausting... I expected an answer like: I wake up in the morning, brew myself some coffee... You know.
H: Hmm, I apologize. I live a life that people would not want to hear about (laughs). I really work flexible hours, so I cannot really tell you a precise schedule...
A: If worst comes to worst, you'll only need your work within the deadlines! What scene took the most time to make in Little Witch Academia?
H: The first episode took around six months. Some time ago, you could produce an entire season in six months. Sometimes the first episode can even take over a year to make.
Little Witch Academia took around one and a half month per episode to finish. The thing that I put the most attention in was the Shiny Rod. I was like the Shiny Rod police! No one else had to touch it. (laughs).
(2話冒頭のシャイニィロッドのキャプチャが欲しいです)

H: Animators have their own preferences: there was someone obsessed with Amanda, and we called him Amanda Police. I also really like the lantern that Lotte carries. In my mind, that lantern is one of my characters. In Neon Genesis Evangelion, the telephone poles weren't drawn in the background, but were accurately drawn one by one via cel-shading. Director Anno also spoke about these poles as his characters.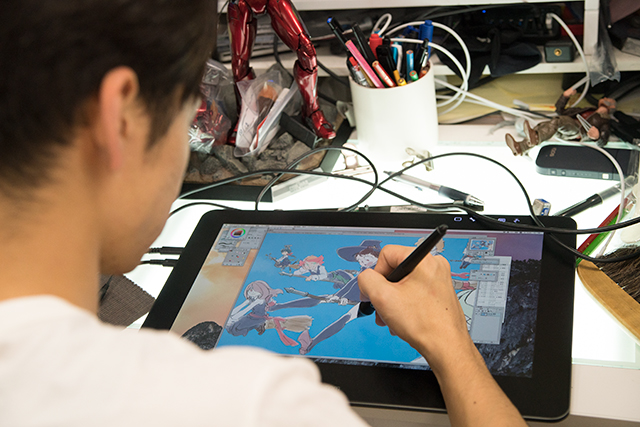 A: Has your personal life changed ever since you entered the industry?
H: My hobbies are gone! That's because drawing was my hobby, but now it's my job. When I'm watching movies, I started to observe the quality of the animation rather than enjoying the story itself. When I looked at the storyboard for an episode, I always end up thinking "I could use a scene like that one in that movie!".
A: Once Little Witch Academia has settled down, I think you will want to proceed to the next step. Can you tell me what your future plans will be?
H: I want to try drawing robots and mechas. Also, working for Little Witch Academia got me interested in direction, so I'd like to try that as well.
A: Thank you very much!
An office that screams: "These anime are made for our viewers!"
I couldn't take any pictures, but the common space of the studio was
decorated with fan letters from students
. Apparently, they collect all fan letters, community notes collected at collaboration cafes and so on, and make them accessible to all members of the studio to see. The studio itself reflects Matsumoto's words:
"We make anime for the sake of the public"
.
It might sound like a commonplace, but visiting Studio Trigger made me like their works even more. I can't wait to see what they have in store for us next!
In this series, we visit creative companies and talk to people who work there. Please look forward to the second installment!