Kodansha's Romance Manga Recipe - What do authors with smash hit works have in common?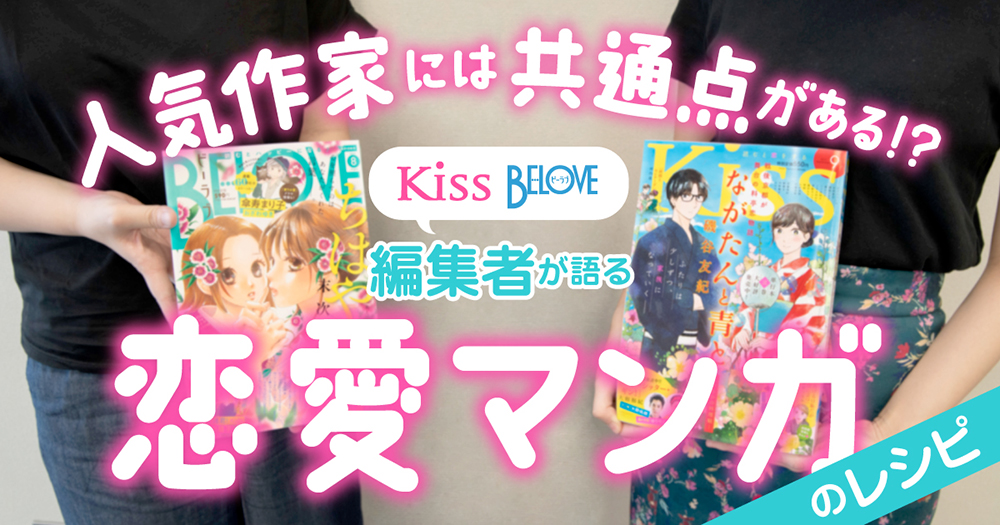 Palcy is a manga app for women planned, managed, and developed together by Kodansha and pixiv.
In order to commemorate the app's first anniversary, we had an interview about the recipe of romance manga with Sukemune, the chief editor of Palcy, and Yano and Ueda, editors from the manga magazines Kiss and BE・LOVE which feature manga for women, such as The Full-Time Wife Escapist and Chihayafuru.
This article includes tips to draw smash hit works and the things that are important when it comes to drawing romance manga. If you are an aspiring manga artist, this article is a must-read!
■ An additional something to manga skills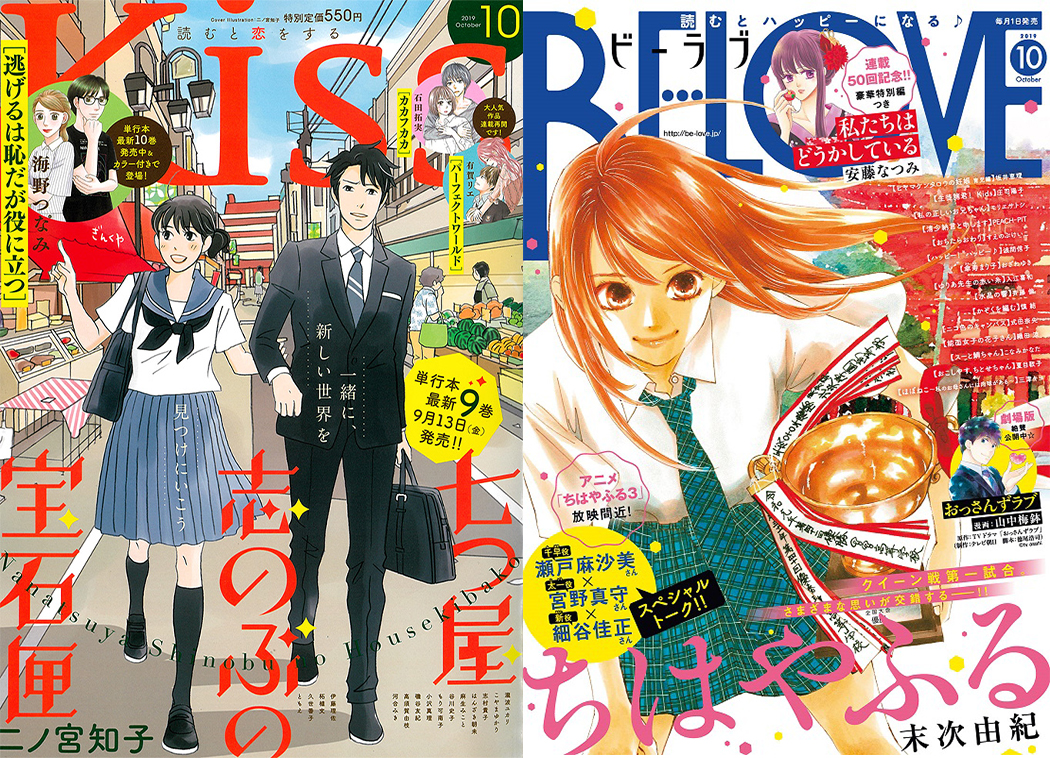 ── Tell us about the concept of each magazine.
Yano: The concept of Kiss is "read and fall in love". Many of the romance manga featured in the magazine are meant to make the readers experience just that.
Ueda: The concept of BE・LOVE's concept is "read and be happy". So many of the works featured in magazine depict how women live. BE・LOVE asks the authors to create works that can influence the readers emotionally. The magazine wants its readers to experience different emotions, to make them feel happy, excited, to despair and feel moved at the same time.
Yano: There are romance manga that feature an extremely handsome princelike guy and offer the readers a lot of dreams. But there are also romance manga that are so realistic and they make the readers wonder how the couple will overcome their problems despite the ugly sides of humans. I feel like many authors that create the works for Kiss are able to put the emotions we're all familiar with but can't name into words accurately. Many of the manga in Kiss are relatable and I think that's what's really great about the magazine.
── Are there any conditions that a work needs to fulfill in order to become a smash hit?
Ueda: Natsumi Ando is the author of Watashi-tachi wa Douka Shiteiru (We Are Not Ourselves Today) and I think her work is a combination of elements that girls are passionate about, such as the place Kanazawa, Japanese sweets, the infatuation with Japanese clothing, and a tactical romantic story. The work is now a popular series that the magazine is known for.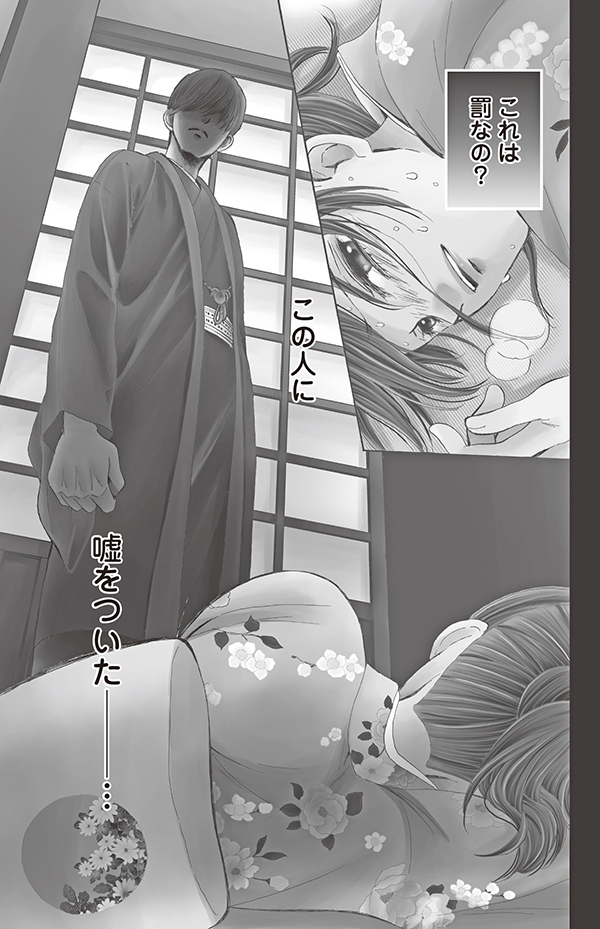 ── But Kanazawa isn't the author's hometown, is it?
Sukemune:
If I remember correctly, Yuki Suetsugu, the author of Chihayafuru, is also not a Karuta card player but someone from the manga's editorial department is.
Ueda: It's just like the case with Ryo Oda, the author of Noumen Joshi no Hanako-san (Noh-masked High School Girl Hanako). She used to frequent a cultural center to find manga ideas and she got the inspiration to create Hanako, the high school girl character wearing a Noh mask, because there was a Noh class in the cultural center. Oda herself was initially not a huge fan of Noh.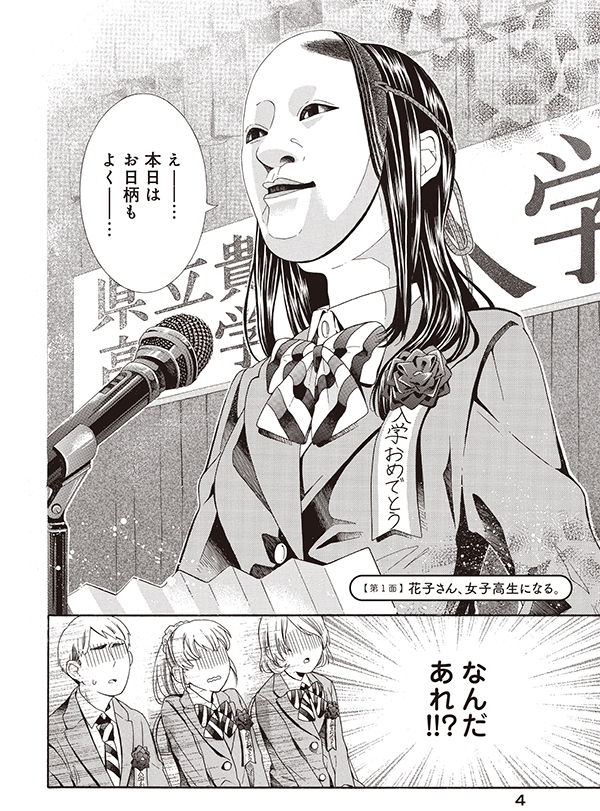 Sukemune: Smash hit manga are often works that are created with not only the author's manga skills but also their ability to study something and challenge themselves
. And yet many aspiring manga artists prefer to use their forte as their sole weapon without trying to draw the things that they don't know. I think one of the characteristics of popular authors is their willingness, and ability, to add something else to the skills they already have.
Yano: I feel that authors who are working on smash hit works direct their curiosity toward the things that lie outside themselves. I think it's going to be difficult if someone wants to continue working as a manga artist for years but they only have their personal experience to draw manga from. So if you encounter something that you find interesting, regardless of whether or not you've tried it before, ask people about it. Have the power to absorb the good and ugly things about humans and incorporate them into your characters. Keep your mind open and you'll be able to discover your next manga theme after you've concluded a manga.
── So aspiring authors need to be brimming with curiosity?
Yano: The phrase "strong curiosity" makes it sound like an author needs to be proactive in searching for materials for their manga. But it's not quite like that. For example, there's a type of curiosity that encourages an author to simply absorb the interesting things they discover about the people that they've met in their life and apply these things in their manga.
■ What is the cause? Partnership or the work itself?
──  Smash hit works mean there are works that aren't quite as lucky. What could be the cause?
Ueda:
Works that don't contain what the authors want to convey the most. Works that make you feel as if the authors are walking on eggshells while
gauging the readers' reaction
. Since authors do their best to make works that people will like, these works are by no means below the standard. But among these works, there are those that just don't reach the heart of the readers. I have had those instances where I wanted the authors to be more upfront with what they wanted to draw and convey.
Yano: I think a work that isn't popular is a work that doesn't leave you with much of an impression once you're done reading it. There are manga with characters and scenes that leave very little impression on you that you just can't seem to remember what you just read. On the other hand, an interesting manga is a manga that you will remember, be it for a character or a scene. You'll find at least one chapter memorable. If I come across a non-memorable scene in an author's work, I will advise them to ruminate over the scene a bit more.
Sukemune: We analyze manga through the storyboard. And when it comes to an interesting manga, you'll still be able to comprehend the story even though the storyboard only features stick figures of the characters.
Yano: A good storyboard is like that, yes. I agree.
Ueda: A good storyboard doesn't necessarily have to be drawn in details.
── So when an author's manuscripts keep getting rejected or when their series isn't doing well, what could be done to save the author?
Ueda: I think it will be a good idea to change the drawing environment (publisher), magazine, and editor.
Sukemune: An author's partnership plays an important role. Who the author works with is a significant factor.
Ueda: I think it's not healthy for an author to work with someone they don't like and continue drawing with that negative feeling in their mind. I often hear comments from young authors that their editor is hard to get in contact with. So when an author has done their part to contact their editor through phone calls and e-mails but their editor is still unresponsive, the author should partner up with a different editor as soon as possible. Without a smooth communication between an author and their editor, creating a work will be a challenging feat.
Sukemune: Authors should work with editors who are willing to nurture and raise a work together. For instance, an editor who will encourage and guide the author about what to do next based on the challenges they faced when the editor rejected the author's manuscript.
On the contrary, I think authors shouldn't work with editors who shoot down their works and call them "boring". Any editor who doesn't make an author feel encouraged and confident to advance isn't a good editor, in my opinion.
Yano: When an author isn't compatible with their editor, causing their manga to have little progress, I think it will be a waste if the author continues to exert their best all on their own.
Sukemune: What's important is for an author to understand why their manuscript got rejected.
Ueda: An author needs to ask for an explanation for their manuscript's rejection from their editor.
Sukemune: If an author believes that their manuscript is good and feels that their editor's rejection isn't justified, they will grow to resent the editor. They will blame their editor for not sharing the same vision and for rejecting the manuscript.
But if an author gets to have a proper conversation with their editor about what can be improved and fixed, and starts over together from scratch, the author will be able to set their next goal. The author will be motivated to think that they can't just stay stagnant here--that they have to start again, properly. Authors who are caught up in their stagnation probably don't have a clear idea about what's wrong with their manuscript.

Yano: Being able to analyze what went wrong is a valuable ability.
Sukemune: I think an author who's been able to create popular works regardless of who they worked with will be able to draw interesting manga from now on too, regardless of who they get partnered up with. A good author knows what to absorb from the people they work with. They know how to change the way they handle their partnerships and take up the good things of their partners. They also absorb the opinions of young people through newbie editors. This is how a top-notch author works.

■ Don't seek the codes in romance manga for help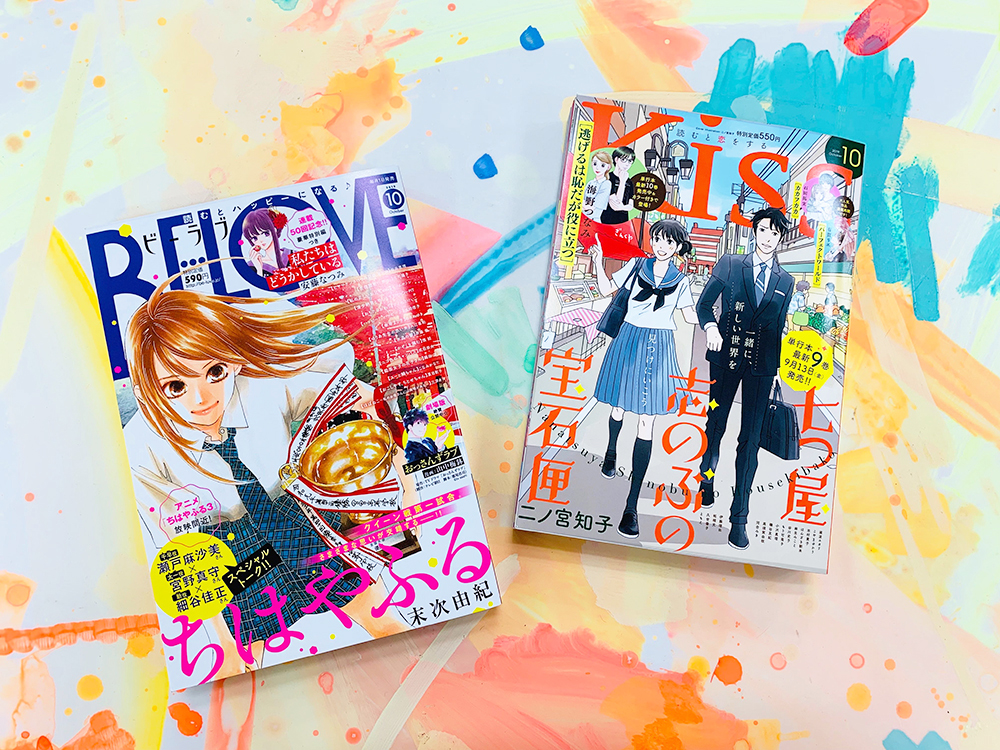 ── Is there any trend in romance manga nowadays?
Ueda: Works that feature rapid development of the couple's relationship are increasing.
Sukemune: For instance, works that start with the couple being spouses or lovers.
Yano: Yes, sometimes the couple decides to start dating within a chapter.
Ueda: I think more works today depict the story that happens after "the happily ever after". Readers who have had their fair share of excitement following what a couple usually goes through until they start dating want to know what happens after that. I think many readers want to continue to find hope, yearning, and a touch of reality in the story that takes place after a happy ending. They're curious about those things.

── As a reader gets older, I figure they tend to think that there's more than a happy ending.
Sukemune: These readers know that even when two people date, have sex, or are given the cold shoulder by each other, their life doesn't end there. Not even when they have children. In the end, the final ending is when the characters pass away.
── Death is the final ending... That's true. Does an author need to have a romantic experience to draw a romance manga?
Ueda: I think it depends on the author's characteristic.
For example, if an author has a glasses fetish toward bespectacled men who adore glasses, the author might create a romance manga with a strong fetishism tone. When it comes to fetishes, I suppose an author doesn't really need to have a romantic experience.
On the other hand, you might have encountered works that feature brilliant depictions of relationships. For instance, I was so into the Karuizawa arc of Terrace House last year...
Sukemune: It's nice to be passionate about various things.
Ueda: And I thought the encounter between Shion and Tsubasa was simply wonderful. I watched the show in the middle of the night and I was so excited I wanted to scream. I think at that time, I found their relationship to be very endearing. So I believe each author has their own answer for things that make their heart flutter.
Yano: Some romance manga are like textbooks, they feature the manners and patterns about love and depict specific things that should make your heart flutter. The kabedon trope was viral for a while some time ago and it's like there is a code stating that kabedon equals a moment that makes your heart flutter. I feel that if an author relies on a code to make their story progress, their manga will turn into some kind of textbook. I suppose an author needs to consider, with simple honesty, about a relationship between two characters that can make people happy when they get together.
──  I've heard that men can't draw romance manga for women. But do your magazines welcome male authors?
Ueda:
We've had male authors serialized their short manga in our magazine, so we do work with male authors. Also, BE・LOVE used to have a magazine called ITAN, so it does accept elements that you would normally see in a magazine for young men. So we don't reject male authors at all. I think the boundaries between genders are going to disappear in the future. Women, men, gays--I hope the sexuality of an author will cease to be linked with the target audience of their manga.
Yano: Many of our manga that are targeted at men depict tremendous details of the inner workings of the mind whenever romance is involved. So I really don't think that men can't draw the inner workings of a woman's mind. But I do feel there is an invisible barrier that makes men think male authors won't ever be allowed to work for manga magazines for women.

Sukemune: I think what matters is what the readers think of the manga--whether they find it worth reading or not. I don't think it matters if the author is a man, a woman, or has specific sexuality.

■ The trends in Kiss and BE・LOVE
── I have the image that maintaining a balance between reality and fantasy is a tricky task when drawing a romance manga.
Yano: I agree. It is a difficult task. Too much reality will drain the readers mentally.
Sukemune: Some days we go to a cafe to chat with our friend and joke about how old we are and that we should get married soon, but we just haven't met anyone good. Other days we go to a Japanese pub, crying while listening to our senior talk our ears off. Life is filled with different moments.
So when a manga outright asks you if you're truly fine with where you are in life right now, I think it will hurt.
── Yes. It will hurt (laughs).
Sukemune:
So on a day when you want a manga that you can relate to just a little bit without it hitting too close to home, you might want to check out a work that features hot guys to soothe your mind--a work that fits your mood for the day.
Yano: Yes. Readers who just want to read something soothing before they go to bed are in need of manga that are packed with dreams and beautiful depictions of only the good things in life. This is where it's important for the aim of the manga's creator to be crystal clear to understand.
── So an author should consider about their readers' needs and adjust the balance.
Sukemune: On the contrary, there are also demands for works like Tokyo Tarareba Girls (Tokyo Daydreamer Girl) or Nigehaji (The Full-Time Wife Escapist) that are realistic and pose problems for the readers.
Yano: But when a manga is too realistic, there might be days when it doesn't fit the reader's mood for the day.
Sukemune: Yes. Which is why the line The Full-Time Wife Escapist is walking is a very delicate one. It's a work that alludes to the marriage system directly, but the author also questions and takes a commanding view of the lives of women. I personally think that by doing so, the manga has faced head-on the dwarfing society and the world of manga, which is starting to be categorized as something that belongs in the realm of hobbies.
Yano: The work is standing on the front line.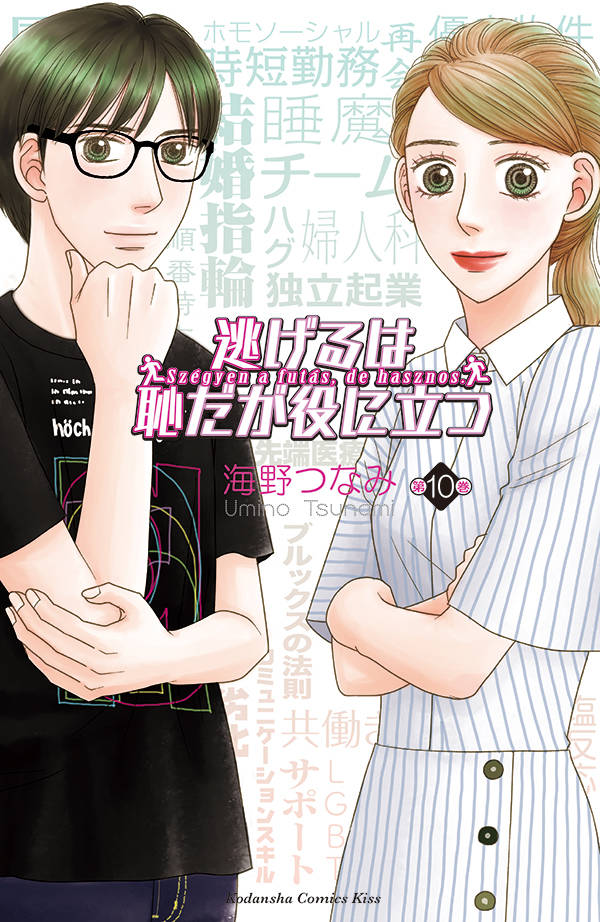 Sukemune: I think the manga is taking on an incredibly tough challenge. I hope more authors with the same drive will appear. And I hope I can be an editor that can support them.
Ueda: On the other hand, BE・LOVE might have put its wrath toward a specific part of the society behind it. I don't think it's angry at the society anymore. I think many of the works in BE・LOVE right now aren't exactly looking to send a strong message to the society, but to make the readers feel optimistic as they read.
── Is there a minimum age for someone to become an author?
Ueda: We've had a 17-year-old author published a one-shot recently. So I don't think age is a factor aspiring authors need to worry about.
Yano: Some one-shot stories in Kiss too are by authors in their early 20s. Most series are by authors in their 30s, but I want aspiring authors not to be deterred by age and just try to apply.
Sukemune: I can see that the age range of contributing authors is wide.
Ueda: BE・LOVE is searching for manga about love, be it romantic or platonic between parent and child or animals, so if you are an aspiring author who has a message to tell through manga, please submit your work to us. We're looking forward to it!
■ Read the manga in Kiss and BE・LOVE on Palcy
You can read recent famous works in Kiss and BE・LOVE, including Hotaru no Hikari, Tokyo Tarareba Girls, Peach Girl, and more, on Palcy.

Starting from September 5, you will also be able to read the following titles on Palcy:
Ouji-sama ni wa Doku ga Aru.
Sakura to Sensei
Aka-chan no Dorei.
Land
There are exclusive contents on Palcy too, so check it out!