We Asked Three Essay Manga Editors About the Secrets of Slice-of-Life Comics - How to avoid being too self-referential?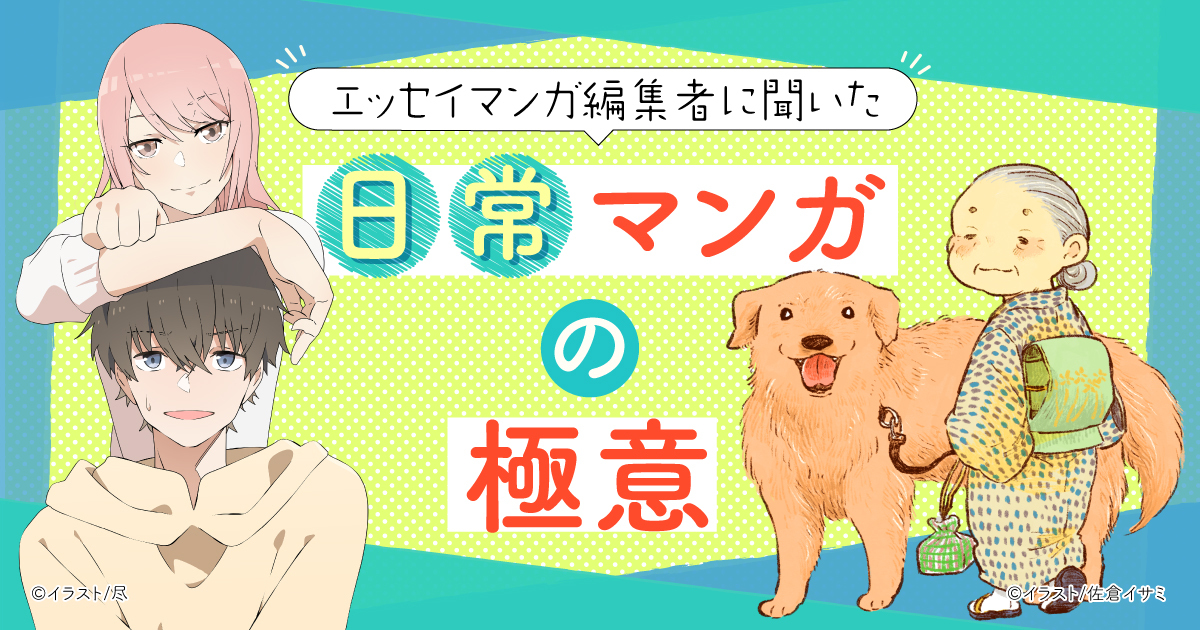 Article by: Ichibo Harada@HEW
pixiv Essay's contest "To Aru Nichijō Manga Shō" is accepting submissions until May 10th, 11:59 pm JST. What's special about this contest is that as long as the subject matter is "everyday life", you can enter with both fiction and non-fiction comics! The contest accepts a wide range of genres, from candid essays based on the author's own experiences to heartwarming stories about animals and pets and even fantasy stories set in a parallel world.
However, the concept of anything goes may give some creators a hard time and maybe you too haven't made up your mind yet about what kind of work you should draw. If that's the case, perhaps you should use this article for inspiration! We interviewed Saisu, Sato, and Matsumoto, the essay manga editors of Kadokawa who are screening the entries for the To Aru Nichijō Manga Shō contest, about the theme of everyday life.
I would like to see something that moves me emotionally, whether it's joy, anger, sadness, or something else.
── This is the second round of the To Aru Nichijō Manga Shō contest. How many works were submitted last time? And what was the ratio of fiction to non-fiction?
Matsumoto: There were 296 entries in the first contest, with a slight tilt toward fictional works. The contest was held to expand the scope of works we deal with beyond essays, and it worked out really well. Our editorial department has been publishing more and more non-essay manga, and we wanted to work with more fiction as well. However, publishing something completely different from essays, like a battle manga, would have seemed rather sudden, right? (laughs) We thought that the theme of "everyday life" would be more acceptable.
── Saisu, you're the vice editor-in-chief. What do you expect from the To Aru Nichijō Manga Shō contest?
Saisu: There are a certain number of people, both creators and readers, who have a preference for the essay manga genre. By holding a contest around "daily life", a theme which has something in common with essay comics but is also open to a wider range of works, we hope to broaden the horizons of both artists and readers by encouraging them to try drawing (and reading) works other than essay comics.
── Sato, you were in charge of the previous first prize winner, Hime Baachan to Naito. What do you think is the appeal of this work?
Sato: The author, Isami Sakura, has been working as a professional writer for a long time, and they have put a lot of techniques into this short story. Even though there are no unconventional twists or turns, each character is charming, and the scenes of ordinary daily life are nothing but heartwarming. In fact, I believe the artist themself used to be very close to their grandma, who owned a Shiba Inu. I could feel her wish for a world where the elderly would not be lonely, based on the author's own experience, and I could naturally relate to the work's message.
Matsumoto: Being able to empathize with the story and characters is vital. I would like to see something that moves me emotionally, whether it's joy, anger, sorrow, or something else.
Saisu: Works that are somehow relatable make us want to keep reading more. A key point in the selection process is whether an entry makes you want to see where the story goes.
── The first prize winner, Hime Baachan to Naito, as well as the honorable mentions 1DK Maid and Mamechishiki de Seishinteki ni Maunto Totte Kuru Kanojo all have some kind of appeal that makes the reader want to see more of the characters' daily lives.
Saisu: In addition to the 100,000 JPY (approx. 1000 USD) prize, the first prize winner will be serialized on pixiv Essay and published in tankōbon form. We, the editorial department, also check the works with an eye to publishing them on paper. Therefore, when selecting the winning works, we must ask ourselves whether the settings and the characters can be expanded further in a full-length tankōbon book.
If you have some unique experiences on your shoulders, then good for you. But...
── The concept of anything goes as long as it's about everyday life is interesting because it allows some freedom, but for the very same reason it's also hard to tackle. For example, if I were to draw what I ate yesterday at lunch, the outcome would be plain boring and self-serving...
Matsumoto: Some things may be ordinary to you, but outstanding to others. We are the ones to judge whether something is interesting or not, so I would like everyone to apply without overthinking it too much. We do check all the submissions!
Saisu: And even if you actually draw what you ate yesterday at lunch, it all comes down to the delivery.
Sato: In fact, your work doesn't have to feature any sort of unique experience at all. In manga about everyday life, I think it's important to present something that everyone is potentially affected by and make them sympathize with it.
── Continuing with our example, when writing about my lunch, it would be tempting to come up with something unusual, a rare meal... But that's not the point, is it?
Sato: It wouldn't have to be a special meal. I'm sure there are many readers out there who can relate to the idea of setting up a simple table. Maybe you could focus on how much of a sloppy eater you are when dining alone. The key is to delve into the parts of yourself that are a little embarrassing or unpleasant, without trying to be pretentious. If you dare to share these parts of yourself with the readers, you may be surprised to find that many of them will empathize with you because you share the same experiences.
── Especially in the field of comic essays, many people seem to think that they can't draw because they don't have a huge wealth of experience.
Sato: I don't think that's how it works. What do you say, Matsumoto?
Matsumoto: You can use your wealth of experience as a weapon, but being inexperienced is not necessarily a bad thing. If you have some unique experiences on your shoulders, then good for you. But first and foremost, are the characters and story appealing, do they inspire sympathy, do they move emotions within the reader? If you keep these points in mind, yours can become an exceptional piece of work even if it belongs to the realm of the ordinary. The most important factor is empathy. Not only in essays, but also in other forms of writing. If you make sure that the readers can empathize with your creation, you will be able to stand out.
Saisu: For example, in the Fujoshi no Tsuzui-san series, which depicts the otaku daily life of the author, Tsuzui, nothing special happens, but seeing her love for her favorite characters is nothing short of interesting. For example, she tapes her wall to mark the height of her favorite 2D character to get a real sense of their height difference. That is something every otaku would understand. It's the "relatable factor" that turned the manga into a hit, I think.
How to avoid being too self-referential?
── How do you make your work interesting for others to read, rather than just a story about yourself?
Saisu: Difficult question. I think it's essential for writers to be able to look at their work objectively and say, "I find it interesting, but will others feel the same?"
Matsumoto: There are a lot of people who draw comic essays about family, but there are only a few that have appeal beyond the scope of a personal baby journal. A story stops being too self-referential when there are elements that the readers can empathize with and that create a sense of wonder in them.
Sato: The reader should be able to share the emotions felt by the characters. I think that's the key to preventing a story from becoming just self-talk. I recently came across a comic essay that addresses social issues, and I felt it was a bit of a wasted effort because it merely explained the issues in a way that only people who were originally interested in those issues would be moved by it. If the author had expressed the sorrow and anger provoked by those same issues instead, many readers would have sympathized with them and been drawn in.
Saisu: When it comes to comic essays, it's hard for readers to get into the story unless they have a clear view of the characters' emotions and personalities. If the manga fails to express how the author feels and what they think, then it will be just a commentary. I think it's important to be open and honest about your feelings.
── I see, empathy is key. However, some authors end up firmly believing that everyone will find their self-referential work appealing. How does one look at their own work objectively?
Matsumoto: If that's the case, the best thing to do is to have someone else, such as a family member or friend, read your work. It may be embarrassing to show your work around, but remember that it's okay to shamelessly ask people for their opinion. Just ask the question: "Does this manga just sound like I'm talking about myself?" and I promise it will make all the difference in the world.
Sato: You can also post your work on social media. The number of retweets you get will be a guideline for the future, and I think it's worth a try.
Saisu: On social media, you can check the real numbers. There is still a risk that those numbers will influence you to the point of developing a style that is tailored to that social media outlet... Nevertheless, it is crucial to put your work out there.
Be creative with your thumbnails to grab people's attention at first sight!
── What is a technique one can use to catch the interest of the editors who are screening their work?
Matsumoto: We read through all the entries, of course, but in a sea of thumbnails only featuring the title of the manga in plain text, a colorful frontispiece really catches the eye. Also, if you include a page that sums up your manga and what you want to convey in a few lines, the editors will have the opportunity to keep that info in mind as they go through your work. Many authors out there can't wait for people to start reading their work, and that's why adding a little something that considers the reader's needs will make your comic stand out from the rest.
Sato: Thumbnails matter, don't they? Instead of just writing the title on the first page of your work, you can feature a striking panel or a close-up of the characters to make the reader eager to click on it.
Saisu: The title is also critical. If the title of your manga is just Everyday Life or Everyday Life of the XYZ Family, it's hard to imagine what the comic is going to be about. In that sense, the award-winning work 1DK Maid does an excellent job. The reader wants to learn what a maid is doing in a tiny 1DK apartment and is immediately gripped by the story.
* A 1DK apartment is a one-bedroom apartment with a kitchen and dining space that is separated from the bedroom. They are typically under 30 square meters (320 sq ft). In the abbreviation 1DK, D stands for "dining" and K stands for "kitchen". Note that there is no L for "living space".
Matsumoto: Kabi Nagata's My Lesbian Experience with Loneliness, which was a big hit in the comic essay genre, has an excellent title. I never discard an entry based on its title alone, but some titles are so impactful that they make you want to read the comic right away.
Sato: When we come up with a title in the editorial department, we put together as many adjectives and keywords as we can think of, and we also consult a thesaurus to find catchy words. We also keep an eye on the word number, because we don't want it to be too long. Manga like these often undergo title changes before they're actually published, but I think the writer should try to come up with the best title they can think of before they submit their work to the contest. After all, an interesting title may steer the attitude of the readers in a positive way.
Human life and emotions never go out of style.
── At first glance, the subject of everyday life may seem unremarkable. Where do you think the fun lies in everyday life?
Matsumoto: This may sound like a cliché, but I think that everyday life has infinite possibilities. Even if you gather a group of people of your same age and gender, each of those individuals will have lived a different life, and even if they have had similar experiences, the way they perceive those experiences is totally unique. Each person has their own story, and the more you dig into it and the more you look at it, the more diverse each life becomes. Thinking about these kinds of things, I can help but wonder: is everyday life really so unremarkable?
Saisu: It's all about finding the extraordinary in the ordinary. This can be said for creative work in general, but I think great works are born from successfully delving into the discomfort of everyday life.
Sato: Settings and plots may go out of style, but human life and emotions never do. The reason Demon Slayer: Kimetsu no Yaiba was such a big hit was partly because of a setting that caught people's attention, but also because the human emotions depicted were relatable to people.
Matsumoto: Sometimes, fans try to motivate themselves with some of the character's quotes, such as Tanjiro's "I was able to withstand it because I'm the eldest son, but I couldn't have if I were the second". It means that they find them relatable.
── If emotions are what move the reader's feelings, then comics about everyday life are all but unremarkable.
Matsumoto: Nobody has ever slain a demon (laughs) but everybody has their own daily life. In fact, comics about everyday life may even have greater potential in terms of being relatable, depending on how you draw them.
── Listening to your words, it has become clear that the To Aru Nichijō Manga Shō contest places importance on "how to draw" rather than "what to draw".
(The three editors nod in unison)
── Last but not least, do you have a message for all authors who are planning to enter the To Aru Nichijō Manga Shō contest?
Saisu: Of course, it doesn't hurt to have good drawing skills, but we welcome both fiction and non-fiction works as long as they present a new perspective. I'm looking forward to seeing works that pick up on something that we all latently feel in our daily lives.
Sato: Even if you don't have any remarkable experiences, by taking a closer look at your daily life you may find something interesting. Don't be afraid to apply!
Matsumoto: We can't give you a prize unless you enter, you know. 
(laughs) 
Actually, Yachinatsu's 
20 Ji Sugi No Hokoku Kai
 didn't win a prize in the past edition of the contest, but nevertheless, it caught the attention of an editor and was published. Even if you don't win an award, you may still leave an impression on an editor (e.g. "This author is really good at drawing animals, although the story is not so good!") and you may be contacted for a new project (e.g. about animals). Winning a prize is not everything, and it would be a shame not to submit your work if you actually would like to. We will read all entries, we promise!
The 2nd round of pixiv Essay's "To Aru Nichijō Manga Shō" contest is underway!
The 2nd To Aru Nichijō Manga Shō contest calls for manga works about everyday life!
The grand prize is 100,000 JPY (approx. 1000 USD), and the winning work will be serialized on pixiv Essay and published as a tankōbon book!
In the first contest held in March of 2020, two of the three winning works were serialized on pixiv Comic, and one is scheduled to be serialized in the future.
As long as the subject matter is "everyday life," the contest accepts a wide range of genres, from candid essays to romance, to stories about animals and pets, and even fantasy tales.
We are looking forward to seeing your original daily life stories!