A Special Talk With Masters of Horror, Junji Ito and Akiko Hatsu! The Secrets Of Manga As Told By The Judges Of The Asahi Horror Comic Awards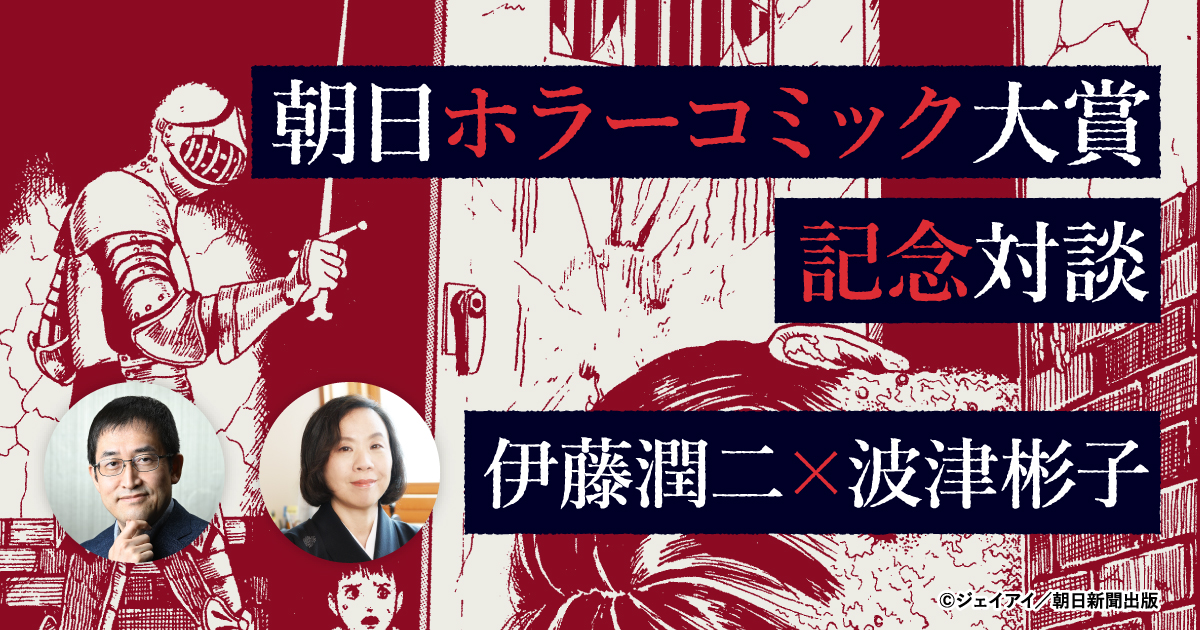 Interview and article by Unga Asamiya
Starting this year, pixiv is hosting the 
Asahi Horror Comic Awards
(朝日ホラーコミック大賞), a horror manga contest sponsored by Asahi Shimbun Publishing. The first prize winner will have the chance to debut and see their work published in the comic magazines
HONKOWA
and
Nemuki+
.
This year's Asahi Horror Comic Awards judges are Junji Ito, whose works such as Tomie and Uzumaki are very well-known even outside Japan, and Akiko Hatsu, recognized for her aesthetic, bizarre works such as the Uryūdō Dream Tales and the Tojin Yashiki series.
What goes on inside these two amazing creators' minds when they give birth to their horrific, supernatural works? In this interview, they shared the secrets of creating fascinating horror stories. May their words serve as an encouragement to all the contest participants!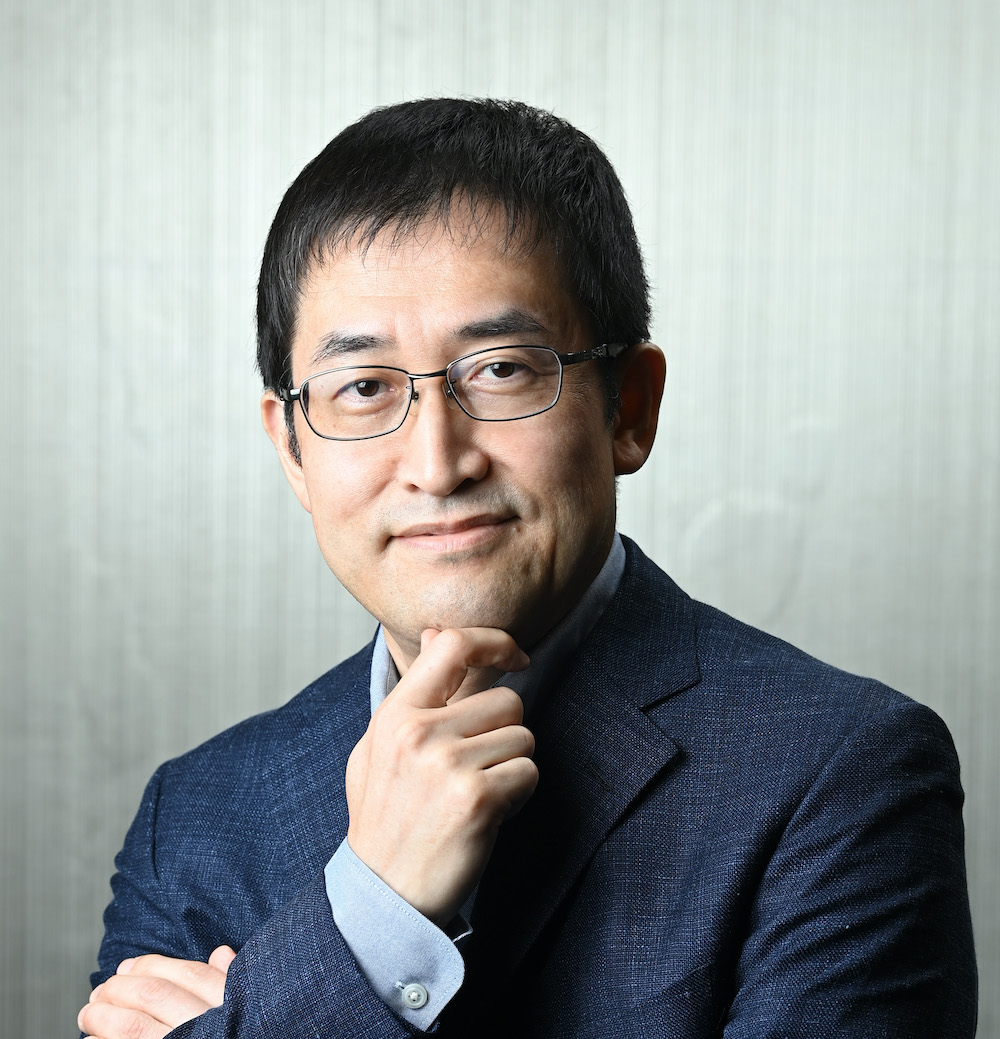 Junji Ito

In 1987, his work Tomie won an honorable mention in the Kazuo Umezu Prize of the horror manga magazine Gekkan Halloween and marked his debut. His other notable works include Uzumaki and Gyo. At the 2021 Eisner Comic Industry Awards, held in the U.S., he won two awards: Best U.S. Edition of International Material—Asia for Remina, and Best Writer/Artist for Remina and Venus in the Blind Spot.
Akiko Hatsu

She made her debut in 1981 in the magazine ALLAN with the work Elegy of the Waves. Her other notable works include Uryūdō Dream Tales, Tojin Yashiki, Gensouki-cho, and Ojousama no Okiniiri. Her work Furuginuya Monyouchou is currently being serialized in Monthly Flowers.
Giving works power through pictures
── Today, I'd like to ask these two authors, who have both been at the forefront of the horror manga world for many years, for some behind-the-scenes information about their creative process and advice for all the participants to the Asahi Horror Comic Awards.
Hatsu: What I draw is not so much horror as it is fantastic and bizarre. Ghosts often appear in my stories, so I guess that gives them a somewhat mysterious aura, too. Ito, your debut was with your masterpiece Tomie, wasn't it?
Ito: Yes. It received an honorable mention in the Kazuo Umezu Prize, which was run by a magazine called Gekkan Halloween (lit. "Halloween Monthly"). At the time, I was working as a dental technician while hoping to make it as a manga artist, so even after my debut with Tomie, I wore two hats for a while.
Hatsu: Did you always like horror stories?
Ito: I've always loved them. At first, what influenced me were the horror manga of Kazuo Umezu, Shinichi Koga, and Hideshi Hino. Later on, I got an interest in science fiction and fantasy, but my roots lay in horror. How about you?
Hatsu: As a reader, I enjoy ghost stories and the supernatural, and I've drawn a few short stories of the latter kind myself, but I didn't start drawing seriously until 1991 with Uryūdō Dream Tales. Speaking of Tomie, that was one devastating horror manga. Is there any truth to the rumor that it was the first manga you ever inked?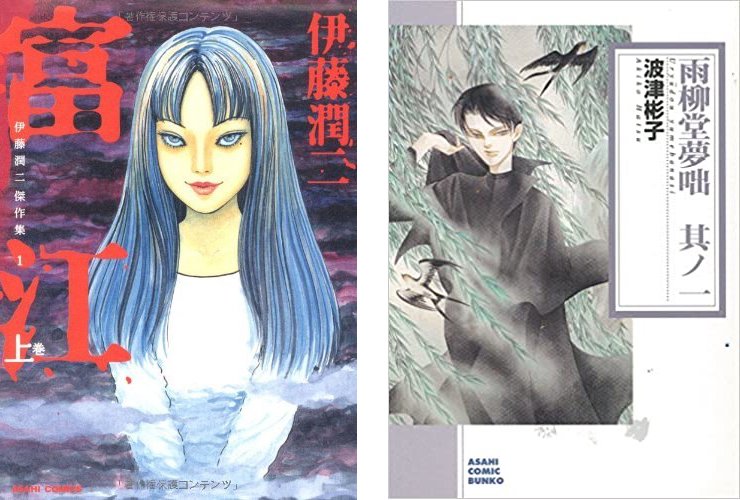 Ito: I was in high school when I first learned that there is such thing as inking. (laughs) I started by trying to copy other artists, but it was such a hassle... I used to ink my works until I was halfway through, and then give up. Tomie was the first one I managed to finish. I lived in the countryside, so I didn't have much knowledge about drawing manga, and I made my debut with a work drawn on cheap drawing paper from a local store.
Hatsu: My older sister was a manga artist (note: Yukiko Kai), so I was quick to learn the techniques. I was lucky enough to be exposed to all the amazing art of Showa era shojo manga, but on the downside, I've found myself unable to move on from traditional drawing. Do you do all your drawings digitally now?
Ito: I switched to digital a while ago. I really prefer to draw traditionally, but my hand got injured, so I had no choice.
Hatsu: By looking at your works, I couldn't really tell when the switch happened. I didn't notice any difference compared to your traditional work.
Ito: I use a program called CLIP STUDIO PAINT, which lets you adjust how your lines look. I try to get as close to traditional lines as possible by setting them to look rough, not super clean.
Hatsu: Traditional or digital, your art is so amazingly detailed. As a reader myself, I can say it makes your style instantly recognizable, but isn't it a lot of work?
Ito: When I leave too much white space in my artboards, it always feels like I'm slacking off. (laughs) When I was working on Tomie, though, my style was much simpler. I think I was trying to create a design effect using negative space. It's hard to express fear that way, but I guess it'd be nice to try and do the same now.
Hatsu: When it comes to horror, adding a certain amount of detail helps give the story its grotesque powers. In the case of Japanese-style supernatural stories like Uryūdō Dream Tales Part 1, I dare to leave some blank space here and there.
Ito: The atmosphere you manage to create in your fantastic stories is just wonderful, thanks to your use of gradation from white to black and your use of kakeami(*). Speaking of which, the store (Uryūdō) in Uryūdō Dream Tales has such an elaborate design that I guess it never fails to give you a hard time.
Hatsu: I didn't intend to make it a series, so I just created my ideal store based on the ideas I had in my mind... but when it came to drawing it, it was quite the pain in the neck. I should have kept the exterior simpler. (laughs)


(* Translator's Note: kakeami is a crosshatching technique that is relatively unique to manga. The lines in this style do not usually span the entire length of the space being shaded.)
Ito: I believe that the appearance of the store contributes to the overall atmosphere of the work. Simply placing a single striking panel can give the entire work a completely different feel.
Hatsu: The appeal of pictures is vital, isn't it? Your manga, from Uzumaki to The Hanging Balloons, are all built on incredible ideas, but the key is that you're able to express those same concepts though pictures. By doing so, even the most outlandish ideas gain power.
Ito: When I was working on Uzumaki, I put a lot of effort into my art. I can't draw such labor-intensive pictures now... I don't know how I did it. Taking an idea and giving it a concrete shape is definitely hard, isn't it? I'm not sure if I've ever been able to do it myself, but once I start overthinking there's no end to it. So I just try to be happy with doing the best I can.
Hatsu: That's what it's like to put your work out into the world, isn't it? It's important to make compromises in a positive way.
What matters is not realism, but authenticity
── Many people out there are probably wondering how to develop a unique style of drawing like yours.
Ito: Hatsu's, your drawings are very unique. It's hard to tell at a glance where you get your influence from.
Hatsu: I'm not very confident about my illustrations, so I'm flattered. But when it comes to manga, being good at drawing is not enough; being able to make an impression on the reader is what matters most. However, sometimes I worry that an art style that is too unique can be hard to get into.
Ito: Your characters also have a one-of-a-kind presence. You do an excellent job of portraying their sorrowful, thoughtful expressions.
Hatsu: In terms of page layout, I've incorporated the approaches that I've taken in while working as an assistant for various manga artists. As for characters, I draw them without really knowing what I'm doing. (laughs) I know getting the proportions right is important, but I can't work with characters whose appearance and personality I don't love. So my advice would be to give priority to characters you have a strong desire to draw.
Ito: Manga is not fine art, after all. I think that's what Osamu Tezuka meant when he said that manga is a symbol. Drawing realistically is not enough; the special trait of manga is that they convey things in a straightforward manner.
Hatsu: What matters in manga is not realism, but authenticityーand it all comes down to how you express that authenticity. For example, how do you create the atmosphere of a castle shrouded in the morning mist or a school building lit up by the setting sun? This is something that cannot be expressed by simply tracing a photograph.
── I guess that's especially meaningful in horror, as it deals with things that are out of this world.
Hatsu: Your manga often feature monsters beyond all imagination. How do you come up with them?
Ito: You can't just draw a monster out of the blue. You have to have an idea and a story, and only then can you see what the monster looks like. For example, in the short story Honored Ancestors, the idea of all the ancestors' heads being connected came to me from a totem pole.
Hatsu: The monster in Honored Ancestors is pretty extreme, isn't it? So the starting point for everything is an idea?
Ito: That's right. If you don't come up with the right idea, you'll end up with a dull-looking monster. I used to be able to come up with plenty of ideas because my brain was so flexible. I could make up several in a day even when I was working as a dental technologist. Now I can't think of any good stuff anymore, so I just stare at my old notebooks to squeeze whatever's left in them.
Hatsu: Even the ideas you write down are often useless as they are, aren't they? But sometimes the ideas you've jotted down from watching movies and reading books suddenly come together, like Newton's apple. Now that feels like having a good idea.
Ito: Yeah, I agree. When I'm having trouble coming up with ideas, I often take a shower for a change of pace and get a flash of inspiration. A shower or a walk seems to be good for thinking. Do you ever stay up all night?
Hatsu: No, I don't. I'd rather go to bed and start over the next day than stay up all night because I'd lose efficiency. Some shojo manga artists in the 70s and 80s would lead some crazy lives, but that kind of lifestyle does no good to your body.
Ito: I only pull all-nighters the day before a deadline. Lack of sleep puts a lot of pressure on you.
Hatsu: If you don't have a good routine, your physical and mental condition will deteriorate, and you'll become less and less efficient. My advice to aspiring manga artists is that if you want to continue working for a long time, you have to have your life together.
Enter the contest if you want to start a revolution
── The Asahi Horror Comic Awards are already underway. What kind of horror would you like to read?
Ito: I'm quite fond of Western Gothic novels. For example, the series Great Tales of Horror and the Supernatural (怪奇小説傑作集, published by Sogen Suiri Bunko) is a treasure trove of ideas and atmosphere. I think the atmosphere is very important in horror, so I would be happy to see some works with a unique mood.
Hatsu: I'm interested in well-written short stories that have a cathartic effect at the end, like... "So that's what was going on!". I feel that short stories are more suited to horror and the supernatural than long ones. Recently, when I read manga audition submissions and newcomers' works, I often feel that the pace would be better and the story more interesting if it was cut a bit shorter. Composition skills are essential for a manga artist. Instead of drawing a long meandering story, try to fit everything into a set number of pages.
Ito: You should keep in mind that as a professional, you'll get an overwhelming number of requests to stick to a certain number of pages.
── Finally, please leave a message to those who're looking to participate in the Asahi Horror Comic Awards!
Hatsu: First of all, please do your best to finish up your work. No matter how good your ideas and drawings are, you don't get to the starting line until your work is actually ready to go. As an amateur, it's crucial to complete your manga without giving up.
Ito: When I was in high school, I would read the works of Katsuhiro Otomo and think his manga were revolutionary. When I later decided to become a manga artist, I was determined I'd start a revolution too. In retrospect, revolution was a far-fetched dream, but I drew Tomie and other works with that in mind. I hope that those of you who're planning to participate will also approach the contest with the same mindset: that the single piece of work you're posting can change the entire manga world.
Hatsu: Among the judges, I have a feeling Ito will take care of the horror category while I'll look through the supernatural/bizarre entries. (laughs) This contest calls for a wide range of manga, so please submit your best work.
Ito: I'm looking forward to seeing what kind of horror I'll get to read.
The Asahi Horror Comic Awards are underway!
The Asahi Horror Comic Awards (朝日ホラーコミック大賞) are a new horror manga contest sponsored by Asahi Shimbun Publishing in collaboration with pixiv. 
We are looking for realistic horror comics based on true experiences, as well as horror stories based on fictional premises. At the same time, we are also looking for novels and original manga.
The winner will receive a cash prize and have the chance to see the winning work published in the comic magazines HONKOWA and Nemuki+. In addition, an editor will be assigned to the winner to support their professional debut by considering serialization in both magazines.
The application period will end on October 31, 2021 (Sun). To participate, all you have to do is post your work on pixiv and add the contest tags! We look forward to seeing your entries!!
Click here for more details!
>> Asahi Horror Comic Awards (Manga) (in Japanese) <<

>> Asahi Horror Comic Awards (Novels) (in Japanese) <<