Curry Zawa Kaoru's Creative Counseling - Afraid of Flame Wars? Being Aware of Cancel Culture is Actually a Talent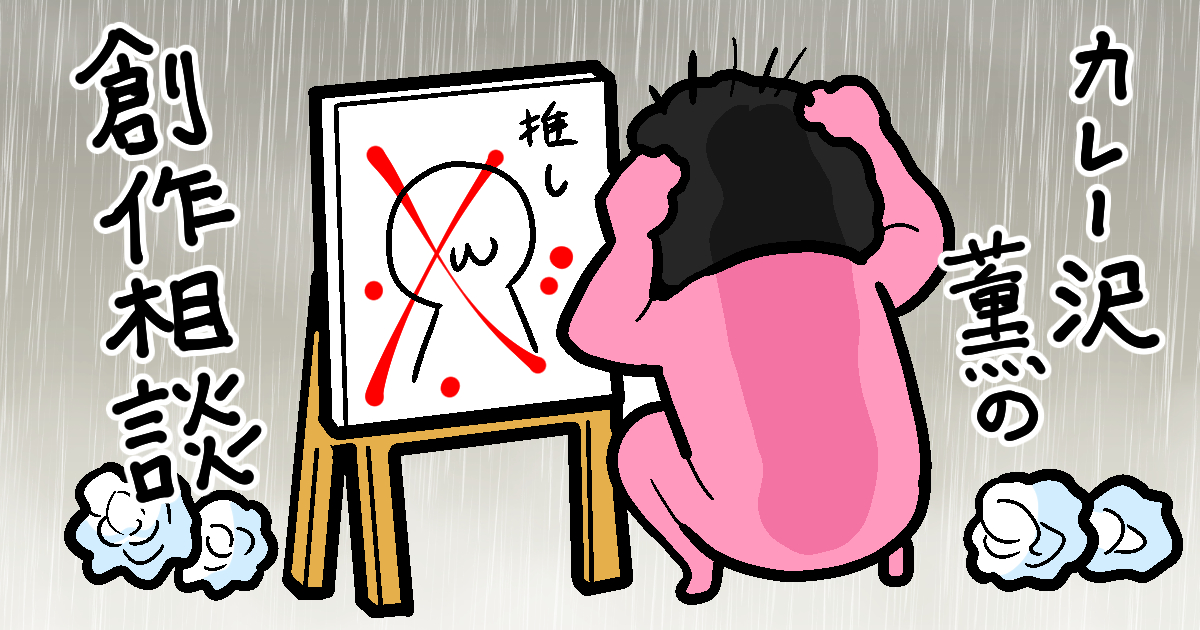 I'm so afraid of flame wars that I stopped posting
I've always been cr◎zy for Tokimeki Memorial - Girl's Side. I've been playing this otome game for two decades, and the latest installment is coming up soon. Every time I come across these high school-based otome games, I ask myself how long before we stop falling in love with a high school teacher, albeit in a video game.
Meanwhile, in the real world, there was a huge scandal the other day about a teacher being in a relationship with a student, going as far as to even kiss. In this day and age, a teacher having a relationship with a student is outrageous ー like a greengrocer gobbling up his own cucumbers or shoving said cucumbers into his customers' (omitted).
Tokimeki may be just a game, but no matter if the mishap happens after the graduation ceremony (so it doesn't count) or if it's the student coming onto the teacher starting from the third installment onwards, these kinds of situations are becoming a no-no. If anything, the third game highlights how degenerate the teachers were in the first two.

Oh, and by the way, there's a reason why I spelled "cr◎zy" like that: it's a word you can no longer use in some media.
You don't realize how useful a word is until you can't use it anymore, and I went absolutely nuts searching for alternatives, to the point of singing CRAZY GONNA CRAZY (from King of Prism) ad nauseam at the karaoke.
However, fiction exists for all those DIO-sama moves that are impossible to pull off in real life. Some could even say that fiction makes reality safer by allowing all that's forbidden in the real world.

The controversy about the influence of fiction on reality has been a fierce and inconclusive battle, which spared no victims — not even the Takenoko and Kinoko (Japanese sweets shaped like bamboo shoots and mushrooms covered in chocolate) that flew too close to the sun and ended up a melted mess.

And although said battle never seems to end, it's clear that the prevailing thought now is that we should stop representing anything that goes against the ethics of reality, even in fiction.

The excuse "it's just fiction" is no longer acceptable. People who say: "Come on, it's just a manga. Let there be some murder." are promptly crucified because "Murder is never okay! Not even in manga!"

The future of the politically correct is uncertain
Once upon a time, the only way to complain about inappropriate depictions in works was privately, through an editorial department. Recently, posting our thoughts on social media has become the norm and many authors use social media themselves.
This has encouraged the tendency to equate the author with the work.
In other words, if the author makes a faux pas in one of their publications, the fire will spread in seconds and even develop into a personal attack against the author as a person.
And like you said in your message, things that were okay once may become inappropriate over time.

In the near future, there is a good chance that the song CRAZY GONNA CRAZY will cause a flame war; the word cr◎zy, twice? And gonna, even!?
Trying to make excuses will only add fuel to the fire. "Young people used to say cr◎zy all the time!", some could argue, but people won't listen — they'll say they don't get the joke.
You may be careful all you want, but you can't predict the future. Seeing how some things recently exploded, there's nothing odd about being afraid to publish anything, not just creative works.
The best prescription against flame wars is...
The best prescription against flame wars is not posting anything at all.
The reason I only go outside about once every 10 days is that I have realized that all the worst accidents happen outside. You just have to tackle the problem at its root.

In the same way, if you don't publish anything that may cause a stir, you won't have to deal with any flames except those that may or may not end up burning down your real-life house one day.
If you say that you don't publish your creations because you don't want to get burned, you might be called self-conscious, opportunistic, a weenie, and the list goes on. On the other hand, anyone can easily publish their works and say share their thoughts with the whole world through social media like YouTube, pixiv, etc., so I feel that the pressure to publish something and show your creations to everyone has become too strong.
You have the ability to write and your environment lets you express yourself, so you have the freedom to publish your work, but also the freedom not to.

If your fear of flame wars outweighs the joy of publishing your creations, then not posting anything is the most effective and correct decision you can make to avoid criticism.

And if you want to continue publishing your work, you can choose to only post your creations without letting any of your personality show.
Some very clever writers don't want to be identified with their works, so they don't use social networking sites or appear in the media.
When you read the work of these authors and find something you don't like, the author's image is so vague that targeting them would feel like targeting an after-image.
On the contrary, if it's the work of an author who often tweets about personal matters that gets targeted, all the people who always had some reservations about that author's words and actions will rise up at once, fueling a real flame war.

To avoid a situation similar to Oda Nobunaga's forced seppuku at the Honnō-ji temple, I recommend staying on the sidelines, like the nameless carpenters who built Honnō-ji.
This means you should only have a pixiv account and no Twitter, keep your profile short so that people can't figure out what kind of person you are, clearly state from the beginning that you won't reply to any comments, and use social media only to post your works without any unnecessary interaction.
Your profile should be concise, but try to stick to a short description of your work, trigger warnings, and other details that can be used as an excuse in case of an emergency. Avoid things like "My hobby is people-watching, I do it every day!" because that could give away more of your personality than you're hoping for.
You may fear that this will prevent you from getting enthusiastic feedback or interacting with your mates, but just as leaving your house can lead to disaster, all problems on earth are born from human interaction. So if you want to avoid flame wars, I commend the very Gandhian attitude of "stay indoors, avoid human contact."
As the Japanese proverb goes, a nail that stands out will be hammered down. In the same way, people on the front line are the first to burn.
If you don't want to be associated with your work on the day it becomes controversial, then you should be stoic and careful not to show too much of yourself, even when everything's okay and your work gets popular.
Getting controversial requires some talent
You may be looking at today's society and fear that anything could suddenly become controversial at the slightest hint, but
the truth is far different. 
It looks like everything's a flame war, but underneath it all, there are a billion cigarette butts.
I've been a writer for 10 years, and there have been times when my editors and I have braced ourselves for the possibility of people raging against my latest publication, but most of the time I would just wait with my arms folded in front of a phone that wouldn't ring — all quiet as always.
The world of flame wars is not so simple that anything can just become a target. Even for that, a certain talent is needed.
Anyone who fears that their work could become controversial doesn't have what it takes to really cause a stir.
Most conflicts in the history of the world are caused by people who don't have the slightest clue of what their actions may lead to.
If they could even remotely imagine that their work could cause controversy, they would not have published it or would have taken preemptive measures to warn people against potentially inappropriate content.
In other words, if you're overthinking the possibility so much, I don't think your work will get controversial any time soon.
You say people don't notice their own smell, but at least you consider the possibility that you might be smelling, and choose not to put your content out there for people to target.

You may lack what it takes to cause a flame war, but you have another talent that is necessary for modern creators: you consider the possibility of a flame war.
Flame wars are also made to hurt others, so if you're considerate enough to worry, I think you'll manage to write great works that won't hurt anyone and will even heal those who are hurt.
It would be a shame not to write out of fear of a danger that's not even there. Also, flames require talent, but also a certain level of popularity.
So I think you can start worrying about becoming controversial only once you've become somewhat famous. As a side note, I haven't achieved a flame-war-worthy reputation yet.