Curry Zawa Kaoru's Creative Counseling - "My works aren't deep enough." But you're still one of the choices.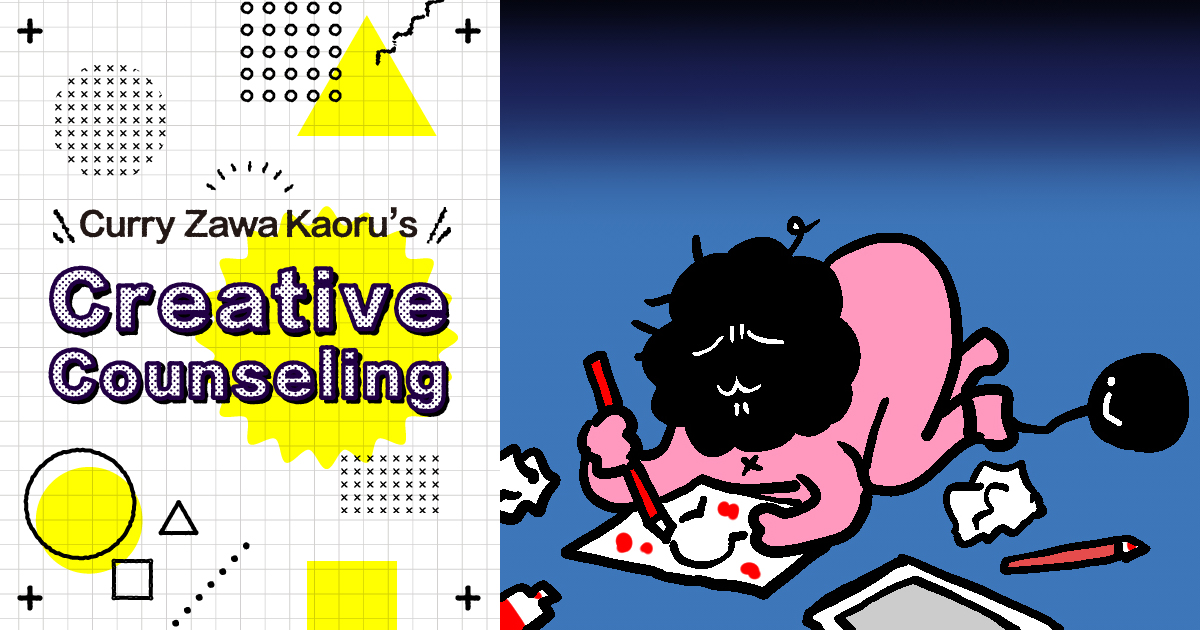 Is it okay if my work isn't incredibly deep?
When we set foot in a new niche, we're rarely the first ones there and even more rarely the last man standing. More often than not, the niche already comes with some resident fans.
Those residents are buddies who love the same things as you, and the more buddies, the richer the supply of both official and fan work — which is a plus.
However, when the population grows a hierarchy system ensues, ranking people according to how long they've been in the fandom, whether they spend money on it, how many acrylic key chains they own, whether they can draw lewd stuff, and so on.
A land whose citizens are fighting each other over matters that have nothing to do with the king (in this case, the king can be your favorite character or the niche itself) has no future.
Ranking fans from top to bottom can lead to disastrous results, but on the contrary, spreading the citizens horizontally and creating breadth by having different people take on different roles often helps the realm to prosper.
Your admiration is what makes the thinkers thrive
Perhaps, the roles most familiar to us are those of the uke and seme, passive and active, which in the worst cases we may come to learn even before those of parent and child.
The seme can work their active role thanks to the existence of the passive, and vice versa.
In a world with no seme, there'd be no pairings ー only neverending, dull conversations on the note of "Oh, you're fun!", "And you're fun yourself!", "No way, you're way more fun!". Cue the realm's destruction.
In other words, no matter how much a character has the attributes of a super seme, he can't be a seme without a uke, and to be real about it, it's the uke that makes a seme into a super seme.
In the same way, a good theory becomes such only when there's someone like you who's utterly, completely stunned by the genius of it.
If the world was only made of deep thinkers, even the greatest fan theory would be met by no more than a chorus of Ackshually. At this point, either someone ends up snapping at the thinker, or they get so jealous of the thinker's fan theory that they retort with something like: "Okay, your theory may be good, but you stink!" It would be a cruel, cruel world.
While a thought battle among great minds may be very stimulating, the most gratifying and motivating thing for both creators and thinkers can be as simple as an innocent and sincere exclamation of admiration: "Whoa!"
And the best Whoas always come from those who genuinely think they could never come up with anything similar.
Often, the thinker who encounters such earnest admiration won't be able to resist the urge to kindle even more heated reactions, which will bring them to come up with even deeper works.
In summary, even if you're not good at analyzing and theorizing, your applauding attitude is what makes the thinkers thrive ー so please, never change and never stop gawking at the original lore of your favorite works.
Your work is among the range of choices
And as for your concern about whether it's okay for a creator not to be formulating any deep analyses or theories, think of it as a uke wondering if it's okay to be a uke all the time, or if they should give that seme thing a chance.
You see, the uke has an important role to play, and so do the lightweight works of an author who floats on the surface of their niche without diving too deep.
It takes extensive knowledge and understanding to fully appreciate a complex work.
Similarly, the reader needs to be very familiar with the original work to fully appreciate fan work based on complex theories. The thing is, not all readers are of the die-hard type, endlessly patrolling pixiv in search for works that challenge their knowledge.
People who just want to see a certain character eating bananas (his favorite fruit, according to the official storyline) are not browsing your works searching for the key as to what the bananas actually symbolize.
Even if your works aren't based on any convoluted theories, I think they still cater to the more easygoing fans, and even to all those people who prefer fan work that is faithful to the original ー after all, you're not making anything up.
There is demand for both works based on obscure fan theories and novel interpretations, as well as works that don't delve too deeply into the original. Both have their pros, and neither is superior to the other.
The reader can pick one according to their taste and mood, and having a choice is never a bad thing.
Can you imagine being in the mood for some smut but only being able to find interpretative works where the banana is a metaphor for male genitalia? Sometimes you just need a proper schlong, you know what I mean?
Your work is part of the readers' range of choices, so I think you should keep doing what you do to preserve the breadth of your niche.
In the world of art, some depict the world as we see it, while others reinterpret it. This is the difference between art movements, and neither is superior to the other.
It is just that the "style" is different, and it is better for the genre if there's some variety.
The existence of different styles is what makes a niche healthy.
From now on, instead of dismissing your own works as shallow, try to define yourself as "a realist who depicts the original work as is," as opposed to "a symbolist who reinterprets the original work by adding new nuances."