Interview With Webtoon Production Studio LOCKER ROOM! "Intro to Webtoons: Part 2" - The future of webtoons resides in added value, brand IP, and niche-ification
Welcome back to our
Intro to Webtoons
article series, where we cover everything you need to know about the increasingly-popular medium known as webtoons. In this second issue, we interviewed a production studio to learn more about the current state of the industry.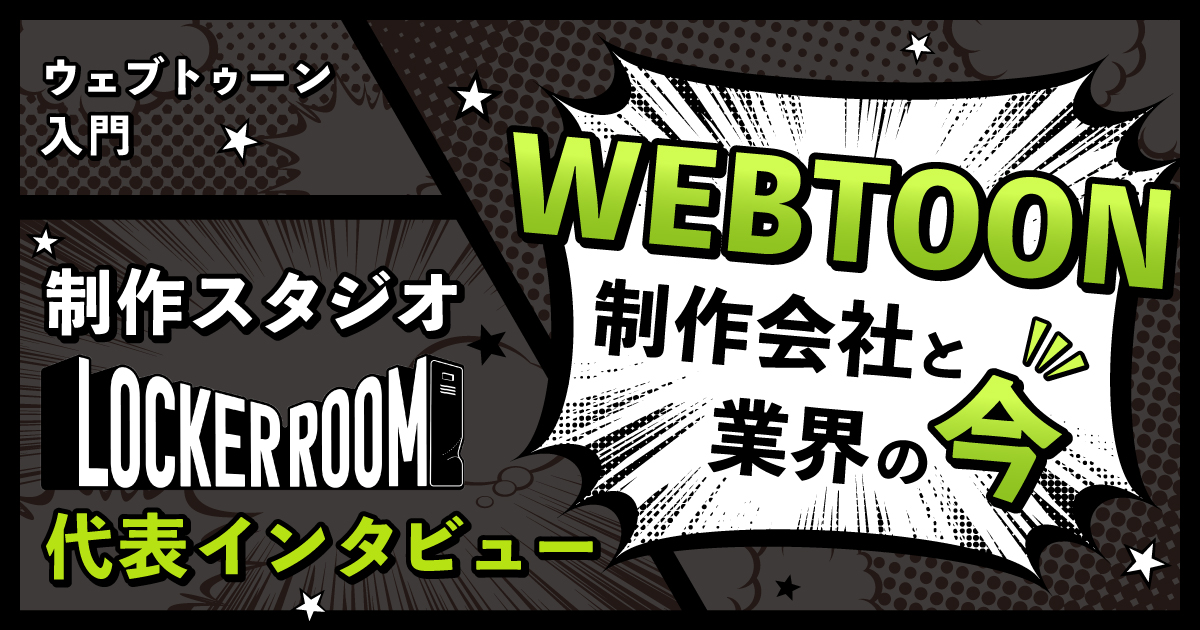 Unlike regular manga, webtoons are comics characterized by their vertical format and can be read by scrolling. With major publishers entering the market and the establishment of new studios, webtoon news reaches us just about every day. This time, we interviewed Yuta Asaoka, CEO of production studio LOCKER ROOM, to find out what the webtoon industry looks like from up close.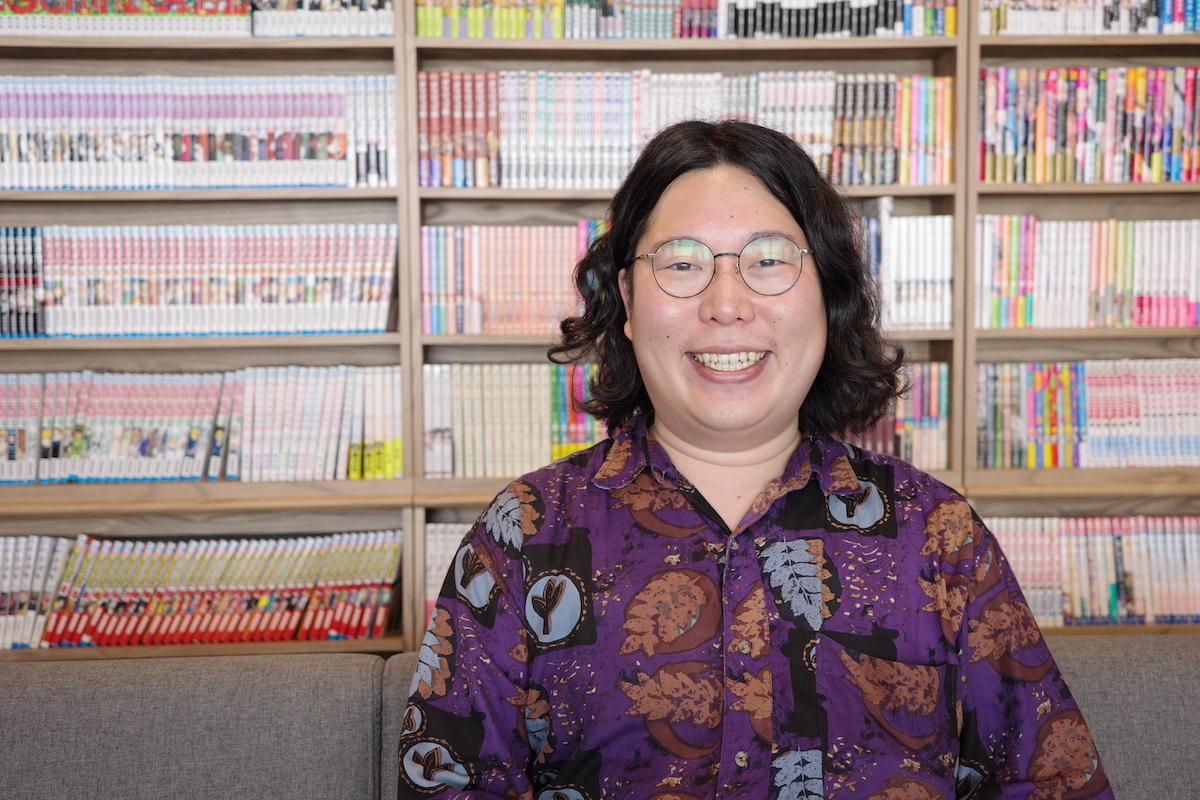 Webtoons give us the room to explore uncharted territories
── Why did LOCKER ROOM decide to go for webtoons instead of traditional manga?
Asaoka: I thought that webtoons being a developing market would allow us to create successful content with just a small team of young and passionate members. In Japan, the manga world already has some major-league players, including their most prominent representative ー the Weekly Shonen Jump. If a tiny company like ours were to enter the market, we'd have a hard time reaching for the stars. However, with webtoons, we still have the potential to go global.
Many works, like Spy × Family, owe their worldwide popularity to their anime adaptation. Webtoons are digital and full-color, just like anime, so I believe they can get quite big overseas.
── What do you like about webtoons as a producer?
Asaoka: The most alluring aspect of webtoons, as a producer, is that there's still so much uncharted territory. The double-page spread is a prerogative of manga, and its origin dates back to the ideas and techniques of Osamu Tezuka and other forerunners.
In vertical webtoons, the distance between panels, which forces readers to scroll further, symbolizes the passing of time. This concept didn't exist in manga's double-page spreads, and I'm looking forward to discovering many more, never-before-seen techniques that are unique to webtoons.
── It must be exciting for a producer to be able to act as a pathfinder.
Asaoka: It is! Maybe a day will come when picture books will also be vertical. I can see a story about an old man with a long chin and even longer earlobes. The combination of vertical scrolling and the digital format can give life to ideas that'd be difficult to bring out on a paper scroll. Once webtoons become widespread, vertical moviemaking could also be a possibility.
── Dreaming big! What is something you'd like to try with webtoons?
Asaoka: I really want to play around with adding in sound and music. When I was in junior high, there was this Flash movie website that used sound. I'd read scary stories and urban legends when the website would make me go back to the previous page, or reproduce a vibrating sound, making me jump. I think these same techniques can easily carry over to webtoons. In a horror comic, it'd be fun if your smartphone rang together with the phone in the scene, if some music started playing, or if the screen started shaking as you read.
Foodie comics don't go well with webtoons?!
── While some themes are a good fit for the vertical scrolling format, others not so much, right?
Asaoka: That's right. Generally speaking, the vertical format isn't good for sports manga, considering how prevalently horizontal the action is in them. In webtoons, you scroll from top to bottom, so if you were reading a comic about soccer you'd see the player's face way before the ball at their feet.
Other than that, comics about food are also said to be at odds with the webtoon format. In these kinds of comics, the focus is supposed to be on the mouth-watering dishes, but as the reader scrolls from top to bottom, they'd see the character's face first, then the steam, and only eventually the food. But you never know ー maybe some future gimmick will give us the chance to make a smash-hit foodie comic.
── What genres are a good match for the webtoons format?
Asaoka: Horror seems to be one of them. Scrolling through the comic not knowing what kind of terrifying turn of events awaits you is similar to walking through a haunted mansion. Fantasy works, too. Magic spells and sword fights work better vertically than horizontally. 
── Many webtoons are in full color, which works really well with fantasy.
Asaoka: Effects such as lightning flashes look way better in color. On the other hand, I've come to think that webtoons also work in black and white. Grayscale has some advantages, but color is undeniably better for fantasy works where visuals are essential. However, black-and-white is more effective in creating a dark and frightening atmosphere, which works especially well for tales of psychological warfare and revenge.The Korean webtoon Hellbound, which inspired the Netflix series by the same name, is in black and white and still got a motion picture adaptation.

Asaoka: Making comics in color is also expensive, which limits the amount of content we can create. Coloring takes about a week. Black-and-white would allow us to publish works at a faster pace and meet the expectations of voracious readers. Today, many webtoons are in full color, but we don't know how things will turn out in the future so I'd like to try out different approaches.
A wish from the industry: a bestseller made in Japan!
── With major publishers entering the market, from an outsider's perspective the webtoon industry seems to be booming. How are things from up close?
Asaoka: Honestly, my impression is that we're standing at the dawn of the webtoon age, with many people entering the market.
In the industry, we're all very close. Companies like Sorajima, taskey, Copin Communications Japan, and Whomor are all made up of people around the same age and we often exchange information, like "What are you making right now? And how?"
── In other words, instead of facing each other like rivals, you're working together to make the industry more prosperous.
Asaoka: We're not exactly friends, but rather we're all waiting to see who's the first to break through. The industry would be much more exciting if we had a bestseller made in Japan, so we're supporting other companies as well. We're walking on a very thin line: if the Japanese companies don't succeed, other companies based in countries like South Korea will probably end up stealing all of our creators.
Manuscript fees, royalties... How money works in the webtoon industry
── Unlike publishing companies, many webtoon companies tend to disclose their manuscript fees.
Asaoka: Webtoon companies like ours don't choose the creators; it's the creators who choose us. That's why we want to be as fair as possible, also by disclosing how much we pay for a manuscript.
── That's very nice. The pay varies from company to company, but yours seems a bit on the high side.
Asaoka: Many companies churn out a large number of works, but we tend to focus on just a few comics that we're passionate about, which is why our manuscript fees are a little higher.
── In traditional manga, the author also receives royalties in addition to manuscript fees when a comic is published. Is that also the case with webtoons?
Asaoka: We keep a record of royalties from the sales of each app platform. However, different companies and platforms have different royalty rates, and some of them don't even pay them, so I can't really make a general statement here. In some cases, we choose to pay a higher manuscript fee instead of royalties.
── Has the industry already taken the first steps towards unification?
Asaoka: No, not yet. A unified standard will likely emerge only once the industry matures.
For example, you know how gacha rates in mobile games are often set at 3000 JPY (approx. 30 USD)? 10 years into the industry, webtoons will probably have the same kind of base too. Maybe there'll be rules about minimum wage, or saying that you must provide a written agreement about royalties. Once a common baseline is established, companies will probably start devising ways to diversify their offers to creators.
── LOCKER ROOM pays royalties, right?
Asaoka: We do. As a company, we want to increase every creator's market value as much as we want them to be successful.
── What else do you do to increase a creator's market value?
Asaoka: I'd like to confidently put their names in the credits. From the company's point of view, having a creator's name in the credits is a sore spot because it means other companies can snatch them, but it's also a good chance to connect creators to their next job. I really want to provide them with a comfortable work environment.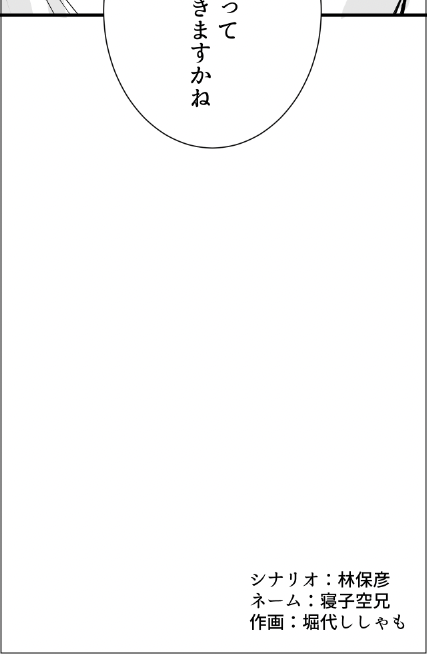 ── It means a lot for creators to have their name out there.
Asaoka: Take video games, for example. Whereas in console games the staff names are featured in the end credits, like in movies, that doesn't happen in mobile games. Sometimes you can't use names for reasons related to rights, but personally, I'd like to mention all of the people involved in our work and for them to add LOCKER ROOM in the career section of their resumes, in the hope that this will pave the way towards their next job.
Of course, there are times when a creator chooses to work for a company different from ours, but that's inevitable ー it may be due to a lack of charm or effort on our part.
Added value, brand IP, niche-ification... Will webtoons follow the same steps as mobile games?
── What do you see in the future of the webtoon industry?
Asaoka: Added value, brand IP, and niche-ification.
I used to work in the game industry, so taking a video game as an example, after Kaitō Royale's huge success many similar games were made. And then came Rage of Bahamut, a game that invested a lot into its beautiful card illustrations ー which made it stand out at the time. This is what I mean by "added value".
On the other hand, some games were similar to existing ones in terms of system, but based on already popular IP such as Gundam or Johnny's. These are examples of brand IP entering the market.
Last but not least, it was time for CYBIRD and Voltage's romance novel games for girls. Niche-ification.
I think webtoons will follow the same three steps: added value, brand IP joining the market, and niche-ification. Adding sound to comics, as I mentioned earlier, would also be considered a form of added value.
── What do you mean by "brand IP joining the market"?
Asaoka: I'm talking about existing content (or "intellectual properties") entering the webtoon industry.
In Korea, they have a webtoon about BTS; I think Japan will also start from celebrities. Also, it'd be nice if some popular works like Dragon Ball got a webtoon adaptation.
I think there'll be a trend where famous Mary-Sue novels will first be adapted into webtoons instead of manga. Webtoon versions of popular video games will also likely become mainstream ー our company's already working on it. The benefits are great: for example, we can market these works via apps in addition to bookstores.
── What do you see in LOCKER ROOM's future?
Asaoka: I'd like to gather a team of enthusiastic young allies to create some niche works that will be insanely attractive to some and become a global hit.
We're not aiming for short-term success in the upcoming two-year period, but rather to keep creating webtoons and focus on a 5 or 10-year time frame.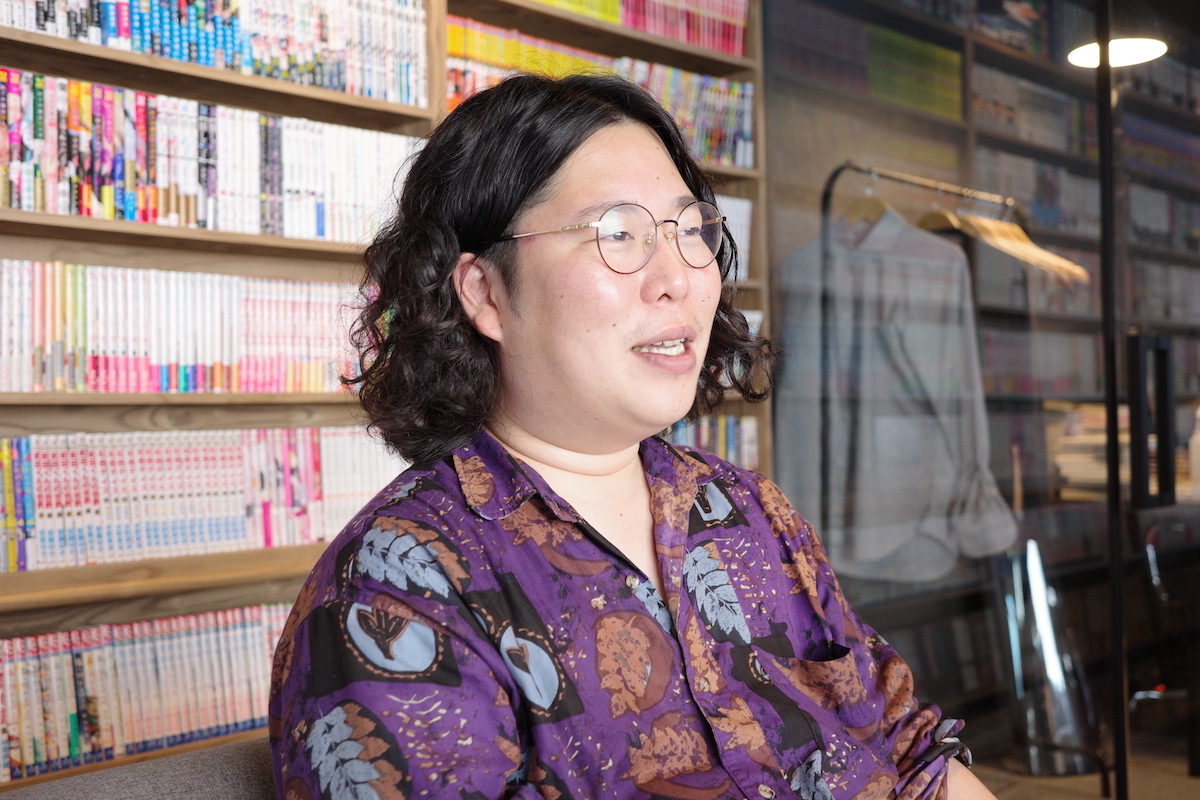 ── Coming up with a smash-hit title in a niche genre sounds like an ambitious venture...
Asaoka: Popular contemporary genres include isekai reincarnation, dungeon/level-up stories, and works about villainesses. In addition to the genre, tropes such as "the rise to power" and "revenge" are also appealing to manga readers.
I believe that as long as we can provide readers with what they're looking for in terms of content, a work doesn't have to belong to one of the standard genres to become a bestseller.
The manga I'm creating about delinquent bad boys could also be considered niche for a webtoon, but Weekly Shonen Champion, which belongs to the same niche, has a circulation of 200,000 copies. I'd like to combine the themes of bad boys and the underworld with the right tropes, and create a hit.
At the moment, we're only doing business in Japan, but in the future, we'd like to expand overseas, mainly in East Asia. First things first, we plan to release our work in China and South Korea next year.
Creators wanted!
LOCKER ROOM is currently looking for creators to add to their webtoon production team.
>>Check out LOCKER ROOM's employment opportunities<<
Available positions:
・Art director
・Illustrator (line art)
・Webtoon designer (storyboard)
・Colorist (coloring)
・Back office (recruiting)
・Internship
The company is especially looking to hire more art directors, illustrators (line art), and colorists (coloring). If you're interested, please visit the company's website.
Want to learn more about LOCKER ROOM?
Works introduced in this article
Past "Intro to Webtoons" articles
What's a webtoon? Can a hit come from Japanese creators? We asked the webtoon experts all about it!
Stay tuned for even more exciting news about the world of webtoons!