Combining Things That Exist with Those That Don't - Background and Scenery Artist Yish Discusses Ways to Illustrate a Fascinating World
Interviewer - Harada Ichibo
Background and scenery artist Yish's solo exhibition
"Into the worlds"
is being held at
pixiv WAEN GALLERY
located in Tokyo's Omotesando until November 23, 2022. The exhibit will feature about 60 original illustrations including new works and past commercial illustrations.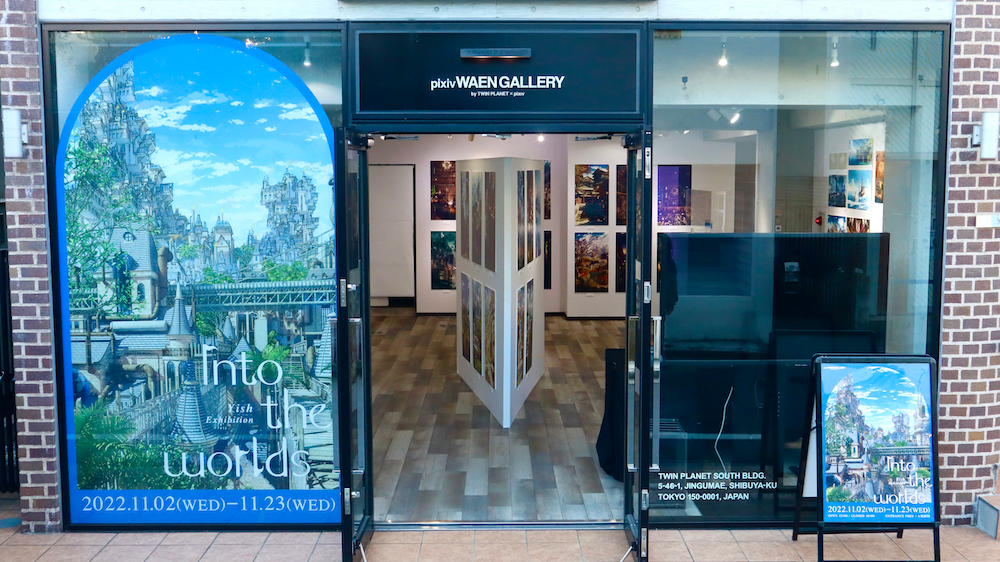 Yish creates illustrations via 3D software. As we're sure there are many out there who, while they enjoy drawing characters, aren't very good at creating backgrounds, we asked Yish for some tips and hints when it comes to doing just that. 

Yish (pronounced 'why-ish')
Background and scenery artist. Environment artist. Graduated from Nagoya University with a master's degree in engineering. They specialized in condensed matter physics and started working as an artist in 2015 after working as a semiconductor engineer as well as a patent engineer. Currently, they mainly create concept art and background art for game development as well as key visuals for light novels, literary magazines, businesses, and municipalities.
Originally, I started as a character illustrator.
── Thank you for letting us interview you today. Have you always had more of a preference for drawing backgrounds over character illustrations?

Actually, I wasn't always a fan of drawing itself, backgrounds or otherwise. I've never been truly absorbed in the worlds of manga or anime. In fact, the world I grew up in had no connection at all to drawing. Even so, I was familiar with some well-known games so when I found one I liked, I'd play around a little, sketching pictures that came from said game. 
──  So, when did you seriously take up drawing?

It was after I started working. I happened to come across light novels for the first time in a bookstore and thought, "Oh wow, these kinds of books exist, too?" From there, I became interested in bishoujo illustrations, which led me to try drawing them myself. 
── Looking at your pixiv account, we can see that you mainly drew female characters. When did you shift to drawing scenery?

As I drew scenery to flesh out my illustrations, I began to realize that doing so suited me better than drawing characters. Thinking about it, even back when I would draw while being really into games like P.T.O and Romance of the Three Kingdoms, I would draw battleships and castles more often than actual characters. 
── From there, how did you establish yourself as a professional?

For a while, I would enter pixiv's illustration contests. As a result, I was able to get a job through connections I made in the community. Someone I met at an event for creators offered me a job as a background artist for a game. 
── You also worked as an illustrator on the side for a while, right?

That's right. When my salary as an illustrator became nearly twice what I was making as a company employee, I took the plunge and made illustration my main career, beginning a job search in the gaming industry. 
First, think of an impactful symbol
── When drawing a background, it seems you first have to think of an impactful symbol. How do you come up with ideas for those?

The idea usually comes to me while I experiment with things in a 3D space.
For example,
placing something stable in an unstable position, or vertically stacking ordinary components on top of one another. 
Take my piece, Goshintaimori no Machi, as an example. I started by drawing out the terrain and as I was doing that, the idea came to me that having a massive tower-like rock rising in the center would give off a mystical feel. Thinking that it was necessary to have something enshrined in that rock, I drew a temple and an entire city around it.

── With the long, narrow islands adjacent to each other, the scenery visible in the very back also has quite a mysterious atmosphere, right?

Terrain similar to this actually exists, like in Miyagi Prefecture's Matsushima. While I don't intentionally go out to scout locations, I enjoy traveling so it becomes a natural source of input for my creative work.
──  Your methodology for creating captivating backgrounds involves combining elements that both exist and don't exist in reality, plus you also seem to keep that world's "culture" and "energy" in mind.

Yes. By being able to effectively add elements that don't exist in reality on a foundation of elements that do, I'm able to present a fantasy world that has a sense of reality. Also, imagining culture and energies can be a good starting point for design when drawing fantastical worlds. One example is to draw a Western-style palace, which exists in our world, but have it floating and from there you'll be able to incorporate it with a city in the sky, which is something that doesn't exist. From there, you ask yourself if the city is running on magic or electricity. How comfortable are the citizens living there? This is how you can assemble your thoughts as you build your image.
── I see. So by using "elements that do and don't exist in reality", "culture" and "energy" as the starting points you can gradually solidify the image you want to create.

Having studied science-related subjects in high school and university, I have a natural habit of thinking about how to apply rationality in my designs. That might work in the right direction in terms of adjusting the balance between the things that exist and don't exist in reality. I also think that the knowledge I've gotten from the games and movies I've been exposed to is the foundation of my thought process. The influence I got from the Final Fantasy series in particular is very significant in my early works. 
Bringing out the "Yish-style" by combining 3D and 2D effects
── Could you please tell us what your workflow is like?

After first deciding on the piece's main symbol, I also analyze what components would make that symbol stand out. Next, I'll take them and use the 3DCG creative software, MODO, to model them.

I'll take the data from the modeling and arrange them in a program called VUE. After I decide on the layout and camera placement, I'll use VUE to render (taking the 3D data and converting it to 2D) and then use Photoshop to retouch.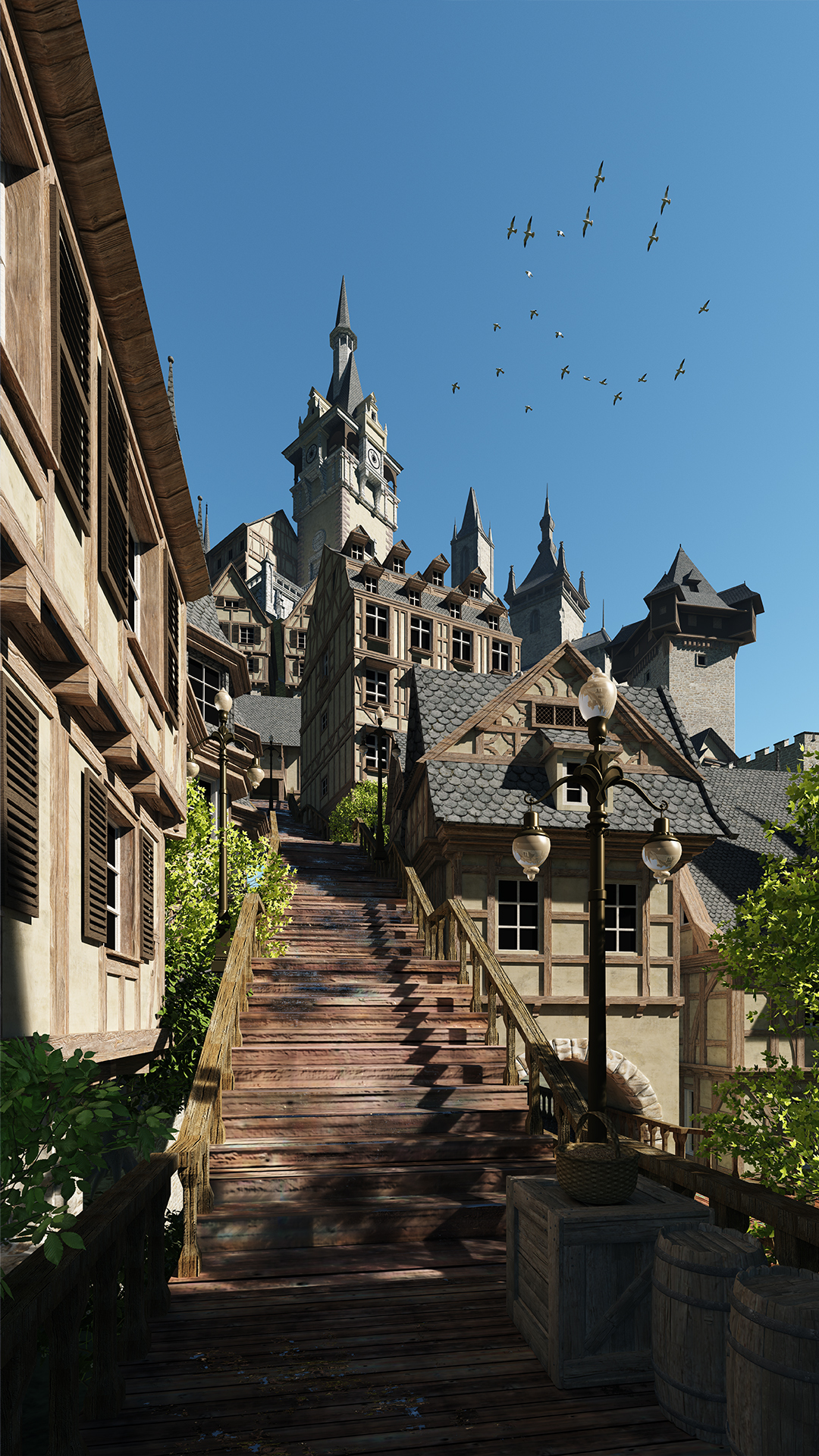 ── Is there anything that you're particular about during this entire process?

I spend a lot of time on lighting effects. For my piece, The Usual Path, I created two different versions of the same scenery. One during the day and one at night. The night version is different from the day version not only in that it's darker. I also changed the reflection on the stairs and I added the glow and shadow from the street lamp. When the temperature drops, the humidity rises which also changes the way things are seen in this image. The general atmosphere changes depending on the position of the sun, so I decide on the lighting taking those consistencies into account. Before I started drawing, photography was my hobby so I think I'm very specific when it comes to lighting and composition. 
── What do you focus on when retouching?

After converting the 3D data into 2D it still leaves a strong impression that it was made in 3D. I work on it, adding my own touches with the sense that I'm incorporating them into "Yish's picture". I think that a style that combines 3D and 2D harmoniously is what makes a piece very "Yish-like". If you read my book, Yish: The Making and Composing of Fantasy and SF Scenery (Genkosha), you can imitate the technique, but each artist's individuality is expressed through what kind of balance is achieved with the mixing of 3D and 2D effects.
── Why did you choose MODO and VUE for your 3DCG software

I chose VUE for a very simple reason: It was the first option to come up when I searched "background 3D" online. (laughs) I chose MODO because it's easy to use with modeling. 3ds Max and Maya are also popular tools, but they have so many functions that I felt like I wouldn't be able to handle them. As a result, looking for software that is uncomplicated and speedy for modeling led me to MODO. 
── You used to make mainly 2D illustrations. What prompted you to switch to 3D?

In my 2D days, I diligently drew perspectives on my own because I'm very detail-oriented, I tend to overthink things, and pressure myself into making things perfect. I'd even create actual formulas for perspectives that were difficult to grasp from intuition alone… But then I thought, "Wouldn't a 3D program do all of this automatically?" And that's how I got here. I'm the type of person who wants to immediately put out the images in my head as soon as possible rather than enjoying the process of drawing itself. So if I find any useful tools, I'll try to make the most use of them.
── Then would you consider using something like image generating AI?

I've seen many opinions online that say, "Why don't you just draw backgrounds using AI?" As a background artist, it's a troubling thing, but I partially use AI, myself. For example, if I were drawing a cafe, I'd use AI for the menu. It's hard to draw detailed text and reading a menu in an illustration isn't necessary.
A part of me wants to use everything effectively, so I partially apply it to the details. 
For commissions, clarify your "musts" and "wants"
── What kind of work does a background artist do?

The general framework of our job doesn't differ much from illustrators who mainly draw characters. We communicate with the client multiple times to bring the piece closer to the image that they're looking for. Some projects are like concept art that I visualize from scratch while other projects are just background work for a project that already has a well-defined setting. The room to express my imagination varies from case to case. 
── What are you careful about when communicating with clients?

After receiving instructions or specifications, I don't proceed according to them right away. Even if it's a word that both I and the client understand, their image and my image of what that word implies might be different. A commission where there's an inconsistency between the client's image and mine won't ever turn out well, so we always have meetings where I go into detail and confirm things, asking "This is what's written here, but this is my understanding of it. Are we on the same page?"
── Do you have any requests for people commissioning illustrations that would make things easier for you?

Clarifying what elements are must-haves for the image and elements that you don't want to be included would be helpful. Also, explaining why you have those specific criteria would make things easier for me. If the request is "Please draw a shoe locker at school." Rather than just leaving it at that, I'd be able to create a better illustration if the client explains, "It's where the male and female lead characters meet." This is another step to ensure that the client and artist are on the same page. 
── That makes sense! That's very helpful for those who want to outsource doujinshi or illustrations. What kind of illustrator is suited to be a background artist?

First, there's the prerequisite that they don't have a hard time drawing backgrounds. I think it's also important to have an "I'm working behind the scene" mindset as well. After all, in the illustration world, the character is always going to be the main focus in most cases and the background is treated as a sub-factor.
── In other words, jumping into the illustration world thinking, "I'm going to be like Yish. A background artist that can get a book published and have their own solo exhibit!" will actually work against you?

I think I'm an example of someone who was lucky. But I didn't enter this field wanting to be famous, at most I'm motivated by how fun it is to produce the image I have in my mind. Rather than putting their name out there for the world to recognize, this job is better suited for those who work more like a craftsperson who takes pride in their work. 
Please enjoy this exhibit as if you're traveling through different worlds.
── Please tell us about the exhibit, Into the worlds. How did the title and main visual for it come to be?

The title is my hope that visitors will immerse themselves in the works as if descending into the worlds of the artworks on display. As for the main visual, I imagined a factory generating unknown energy, with that being surrounded by the town where the workers live. If you stop and think about it, having houses near chimneys that spit fire doesn't seem all that safe. (laughs) But, I decided to boldly create a sense of unreality by putting them together. I also want people to see the clash between the narrow alleys of the industrial area and the intricately assembled towers of the city that can be seen from them.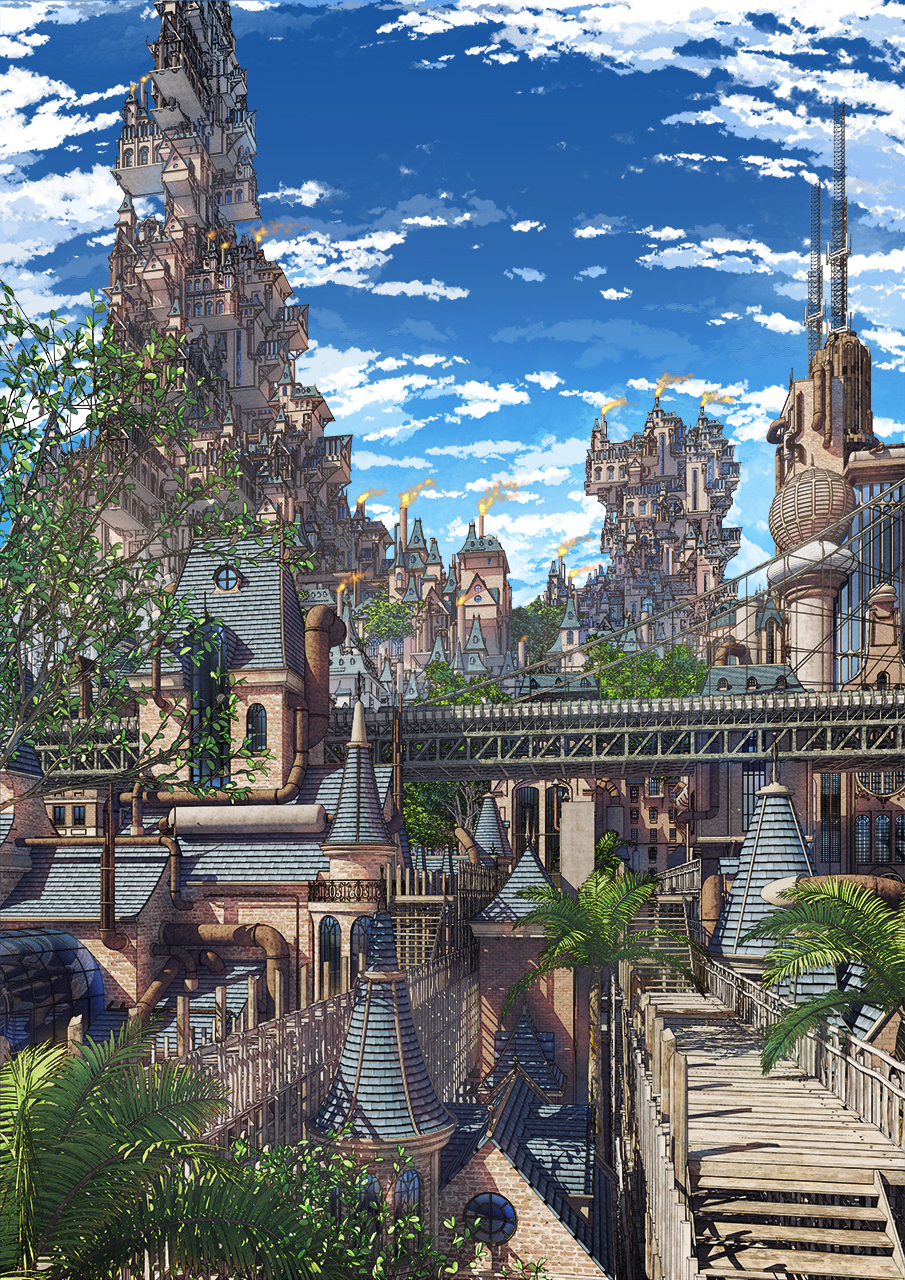 ── It truly is a mix of elements that do and don't exist in reality. A factory that generates a kind of unknown energy is really an imaginative setting.

To me, it's an energy-generating factory, but of course, there will be others who may see it as something else. It's not my intention to draw in a way that says "this is what the image is supposed to be" so please enjoy the art as you like. 
── I heard that Keiji Inai, a well-known composer who wrote music for the anime, Is It Wrong to Try to Pick Up Girls in a Dungeon?, will be providing the music for the exhibit.

I've known Mr. Inai personally since we worked for a record company together for a project and we also run a music circle called "Programmmusik" together. Background music in shows and films and the background illustrations are sort of like the unsung heroes that support a project from behind-the-scenes. From this point of view, Mr. Inai and I feel the same way in terms of production. Mr. Inai's music has that fantasy-like element to it so I think it's highly compatible with my works. At the exhibit, it would be great if visitors would check out the music along with the artwork. 
── This is your first time holding a background and scenery exhibition at the pixiv WAEN GALLERY.

The atmosphere of the exhibit will be a little different compared to character-based ones. You'll be able to feel different world views with each work on display so I hope that you enjoy this exhibit as if you're traveling from world to world. 
── Please tell us your goals or anything you want to try down the road.

In recent years, I've gotten commissioned to illustrate book covers and create image art for companies and municipalities. I want to work in a variety of media that many people don't usually come into contact with like light novels and games. At the same time, I'd like to be in charge of something that will be credited in an animated work. 
Yish's solo exhibition, Into the worlds, will be happening until November 23rd!
About 60 landscape and background illustrations by Yish will be on display. Please enjoy traveling through various worlds alongside specially selected ambiance music.
Dates: November 2nd (Wed) ~ November 23rd (Wed)
Days closed: None
Free Admission
Address: Tokyo, Shibuya City, Jingumae, 5 Chome-46-1 TWIN PLANET South BLDG. 1F
Hours: 12:00 p.m. to 7:00 p.m.

>>pixiv WAEN GALLERY Official Page<<

Merchandise is also available online!