Interview with popular webtoon storyboard artist and mentor Hashimoto Lion - Looking at scripts through a camera lens.
The webtoon industry has recently been buzzing with the entry of major corporations and releases worth hundreds of thousands of dollars in funding. Because of their unique format, webtoons are also known as vertical-scrolling manga. Many artists, seeing the success of this format, are itching to try their hand at the genre.
In the world of webtoons, it's not unusual for companies to have a studio system in place where different specialized staff members handle different stages of manga production. In this article, we'll talk about storyboards, which are like a manga's blueprints.
We spoke with Hashimoto Lion, who not only works as a storyboard artist for popular webtoon series such as Level Drain, The Transmigrated Mage Life in Another World, Becoming the Strongest in the World with the Knowledge of the Original Story (hereinafter referred to as The Transmigrated Mage Life), and Toki Shigure Graffiti, but also actively helps aspiring creators through platforms such as FANBOX and YouTube. Let's take a look behind the scenes of storyboard planning and talk about some common mistakes beginners make.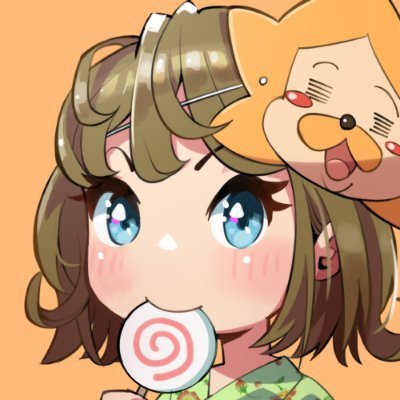 Hashimoto Lion

He started his career as an illustrator and manga artist. Currently, he works as a storyboard artist for popular webtoon series such as Level Drain, The Transmigrated Mage Life in Another World, Becoming the Strongest in the World with the Knowledge of the Original Story, and Toki Shigure Graffiti, while also focusing on training younger generations through FANBOX and YouTube.
The importance of looking at the script through a camera lens
── Could you describe the process of creating webtoon storyboards? What are the specific tasks involved? Where do you begin?
Hashimoto: First of all, we receive the script from the original author. The first step is to read it thoroughly. I try to immerse myself in the work's world, as if I were looking at it through a camera lens.
── Through a camera lens?
Hashimoto: I imagine the situations described in the script inside my head. I focus on the dialogue and delve into what's going on in each scene. There, I consider how to position the camera to get the most interesting shots of the characters.I'm constantly thinking about it while I'm reading.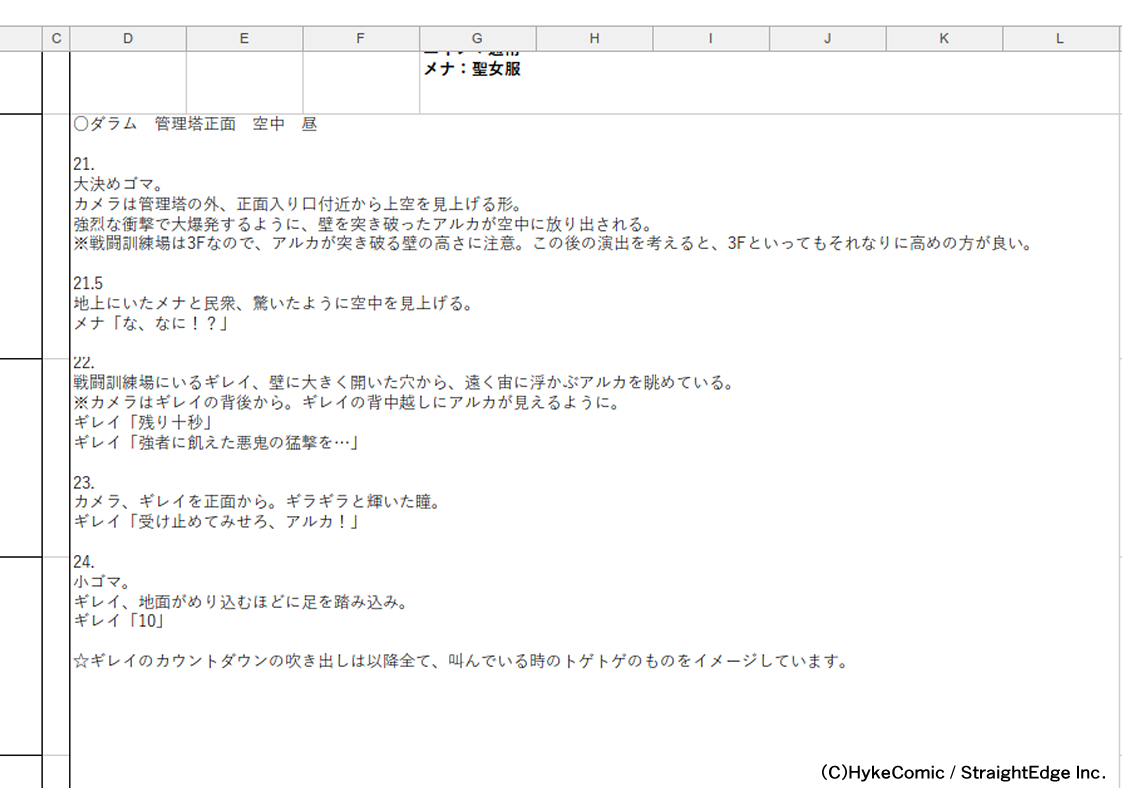 ── So, the moment you press the shutter is when the storyboard comes together. However, the webtoons you're currently working on, such as Level Drain and The Transmigrated Mage Life are fantasy works. It sounds challenging having to imagine an entire world based only on the script.
Hashimoto: I've always been a fan of fantasy games, so I have a mental stock of scenery. They come to me naturally. I take those ideas and concepts and combine them to create a whole new world. If a setting is unfamiliar to me, I use the internet to get a sense of the atmosphere as I continue reading.
── It's like reading a novel, isn't it? What kind of information is included in the script? Dialogue, stage directions?
Hashimoto: In Level Drain, there were a lot of stage directions, sometimes even specifying the camera angle and characters' expressions. On the other hand, the script for The Transmigrated Mage Life doesn't have any stage directions and is mostly dialogue-based. That's how different the scripts can be depending on the original author.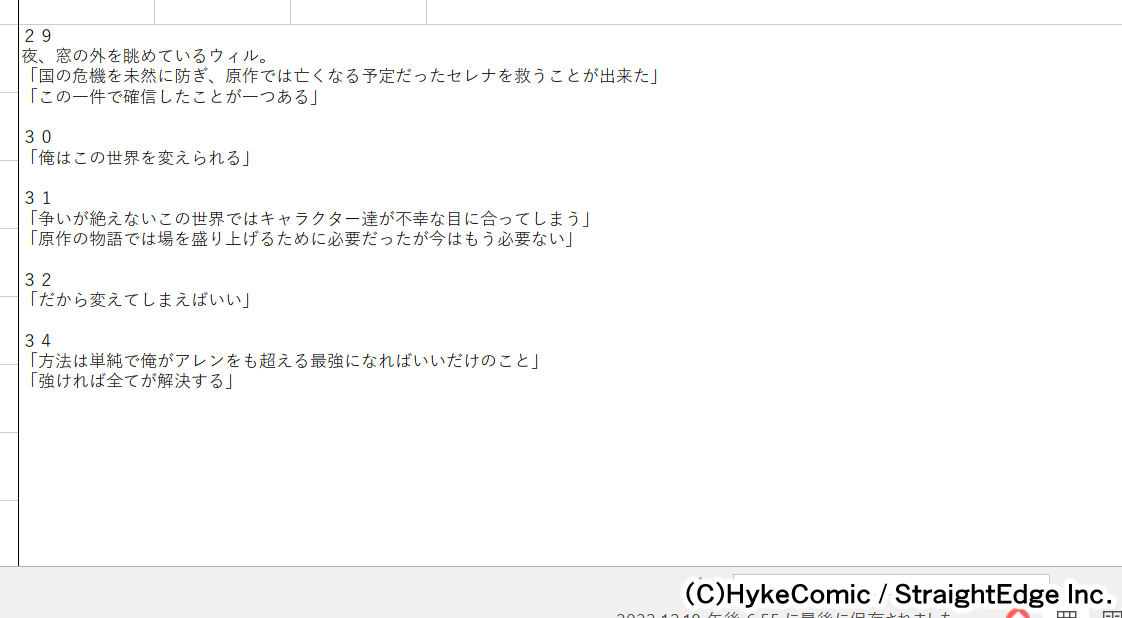 ── Is there a difference between planning a storyboard for scripts with a lot of stage directions versus scripts with fewer stage directions?
Hashimoto: If there are specific stage directions, I pay attention to them and read the script as if I were looking at the scenes through a camera lens. I also look for ways to make the end result even more interesting. If there are no specific instructions, on the other hand, I just draw what comes to mind when I read the dialogue. It's easier to draw with no stage directions, but having specific instructions can result in compositions I wouldn't have thought of on my own, which can enrich the final work. So, I welcome both styles.
Placing dialogue first for the sake of readability
── Once you finish reading the script, I assume you proceed to draw the storyboard. Where do you start?
Hashimoto: Personally, I start with typesetting. I copy the dialogue from the script and place it into the manuscript, along with the speech bubbles. In Clip Studio Paint, I use a feature called Companion Mode, which displays the storyboard in real-time on my smartphone screen while I work. This allows me to see if the placement of speech bubbles looks natural and if the text is easy to peruse from the reader's point of view. Having that visual confirmation while looking at my smartphone is really convenient.
── And then you start drawing.
Hashimoto: Drawing consists of three main elements: characters, backgrounds, and objects. Objects could be sparks flying during a battle or flower petals to add detail to a scene.
Hashimoto: I like to start with the characters. Ultimately, it's important to consider what I want to show the readers. If the background was crucial in a particular scene, then I'd begin with the background. However, generally speaking, the majority of panels are character-focused, so I usually start by drawing the characters and then add the backgrounds afterward.
── What are some things you consider when drawing objects?
Hashimoto: Since webtoons are drawn in full color, I try to incorporate objects that add to the scene somehow. For example, if the scene takes place in a dark room with fluorescent lights, simply drawing a room with the lights on won't create the right atmosphere. So, I turn off the fluorescent lights on purpose and use moonlight to create contrast. I'm always striving to make the end result visually appealing to the readers.
── After the storyboard, different team members handle the line art and coloring processes. Do you jot down any detailed instructions for color or other details when planning the storyboard?
Hashimoto: If I'm feeling particular about a certain scene, then sometimes I'll jot down some notes in red. However, leaving too many instructions may end up restricting the artists who come after me, resulting in stiff-looking illustrations. So, these scenes aside, I leave it to the creativity of each team member, allowing them to bring their own unique touch to the artwork.
Three great things about webtoons, according to a storyboard artist
── As an accomplished storyboard artist, what do you think are the strong suits of the webtoon format?
Hashimoto: Here are three of them: first, the ability to express the passage of time. Thanks to the vertical format, you can use scrolling to show the day turning to night or the seasons changing.

Hashimoto: The second is that the limited amount of horizontal space can be used to your advantage. You can replace frame lines with other elements, allowing for interesting tricks. In Level Drain, for example, there's a scene where a character launches an attack. In this case, we can use the character's punching arm as a frame line to transition to the next scene. In a horizontal reading format, this type of expression is not possible.

── Indeed, that's rarely seen in traditional manga.
Hashimoto: Third is the ability to play around with the panels. For example, in an action scene, scattering objects like bones around the panel can create a sense of depth.

Hashimoto: What's more, we can also draw different panels that match the character's attacks. It's important for webtoons to keep the reader's hand moving. To accomplish this, each panel should be interesting and pleasing to the eye, so that the artwork has a distinct flavor no matter where your gaze stops.

── Based on what you told us, it sounds like traditional manga and webtoons are completely different.
Hashimoto: Well, the most important element to both traditional manga and webtoons is how interesting it is and how well it draws the reader into the story, but each format has a different way of making that happen. Some methods typical of traditional manga, for example, include creating especially impactful panels at a ratio of about 1 in every 5 panels or using techniques like hiki (ヒキ, pulling the reader in) and mekuri (めくり, compelling the reader to flip the page). Due to the format limitations, we can't use the exact same methods in the vertical-scrolling manga. Still, I believe that webtoons have come up with techniques that are just as good as the ones used in traditional manga, and I'm considering articulating and exploring them in the future, maybe through FANBOX. 
From company employee to creator! Hashimoto's breakthrough as a storyboard artist
── Now that we've learned about your storyboard planning process, could you tell us about your background?
Hashimoto: I've always enjoyed drawing and wanted to pursue an artistic career. I studied illustration at a vocational school, but at the time of graduation, my goals did not quite match my skills... As a result, I ended up working as a company employee, doing sales or labor.
── So you went from being a company employee to being a creator.
Hashimoto: Yes, that was about five or six years ago. But I couldn't shake the desire to work in the arts, so I took the plunge and changed careers. I've been a creator for about five years, so my career is still young.
── What kinds of jobs have you taken on since becoming a creator?
Hashimoto: I've worked on a variety of projects, including company mascots, manga for company landing pages, one-shot manga, and short series in the traditional format. My longest project, which lasted about two years, was as an illustrator for YouTube manga videos.
── And how did you get your big break as a storyboard artist?
Hashimoto: The manga for company landing pages and the short series I mentioned earlier were commissioned to me by Whomor, a manga and illustration production company. Around the end of 2021, they expressed their interest in the webtoon business. Personally, I had a strong feeling that webtoons would thrive in the future, and I was very interested in the industry, so I reached out and asked if there was anything I could do to help.That sparked a conversation about me taking on storyboard planning, and thus my career as a webtoon storyboard artist began.
Finding the differences between the storyboard and the finished product: a habit that continues to this day
── What was your first job?
Hashimoto: There was actually a trial period before I was hired as a storyboard artist. They wanted me to create a webtoon storyboard in my own style based on the first three pages of a particular work, which amounted to about 15 panels.
── Although you had experience with traditional manga, this was your first time working on webtoon storyboards, right? 
Hashimoto: That's right. Whomor gave me some guidelines and reference materials, which I used to create my own storyboard. The space between the panels was the hardest part. Since webtoons allow for infinite vertical space, I wasn't sure how much space to leave between each panel. I did my research by reading a few popular works, but when it came time to draw my own, I got stuck. Nowadays, I can handle around 70 panels, or one episode, in about two days. But back then, it took me an entire day to draw just those first 15 panels.
── What are you doing nowadays to hone your skills?
Hashimoto: I've been going over the works in which I was involved. In fact, it's not unusual for the final product to be a little different from the original storyboard. For example, in the final product, speech bubbles with exclamation marks or sound effects to show a character sighing may have been taken out or changed to something else. I always make sure to look for these kinds of changes and try to use them in my next projects.
── So you keep an eye on the final product even after your part of the job is done. You're very dedicated!
Hashimoto: You could say that I'm my own biggest fan. (laughs) I really enjoy looking back at my own works and reading comments from readers. If someone comments, "What's going on here?" I interpret it as a sign that my expressions were not clear enough. Ultimately, it all comes down to my competitive nature; I strive to create works so good that there's nothing more to say about them or criticize. That's my underlying motivation.
Common beginner mistakes: forcing vertical layout and a lack of white space
── You're also critiquing other people's webtoons on your FANBOX. What are some of the most common mistakes that beginners make?
Hashimoto: The most common mistake is being too fixated on the vertical scrolling format. I understand the feeling of wanting to take advantage of a format that is unique to webtoons, but many people end up making a mess. Instead of using the vertical layout just because you can, think about why you're using it.

── How can this particular aspect be improved?
Hashimoto: The most important thing, in my opinion, is to think about what you want to show. Do you want to highlight the artwork, the dialogue, or the background? And how can you showcase that element effectively? If you want to emphasize the dialogue, you should consider its placement as well as the size of the speech bubbles and font. There are numerous ways to emphasize dialogue, even in smaller sizes.
── You mentioned that you had trouble deciding how much white space to leave between panels at first, correct?
Hashimoto: Yes, not leaving enough space between panels is another common beginner mistake. During critiques, I often add white space and move speech bubbles around. In this storyboard, for example, the girl is partially hidden by the speech bubble.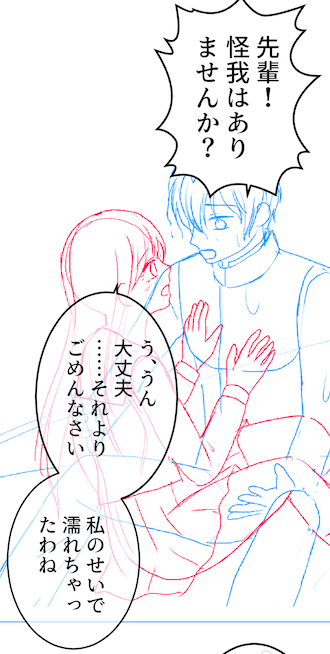 Hashimoto: This illustration of an apple pie is also confined within a very narrow panel, isn't it?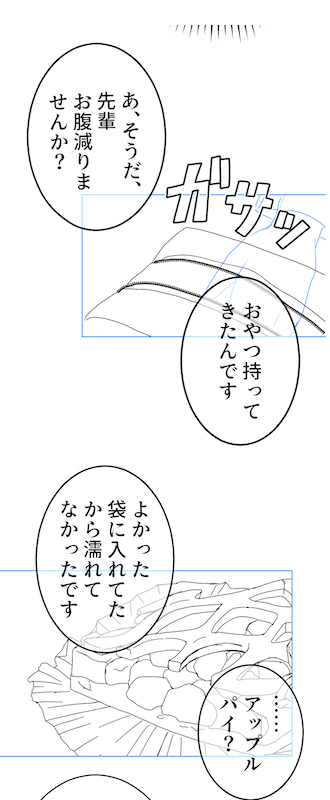 Hashimoto: It's a shame when the lack of white space hides something you really want to show off. When making webtoons, it's important to remember that it's a visual medium and try not to make the artwork feel too cramped.
── How does one grow as a storyboard artist?
Hashimoto: One important thing is to broaden your repertoire. If you keep relying on what you already know, you'll end up falling back on the same tricks over and over and hit a creative wall. As a storyboard artist, you need to constantly come up with fresh and engaging storytelling to keep readers from getting bored. So, I recommend immersing yourself in popular movies, manga, and games as much as possible. Take notes on anything that you find inspiring and think you could use in your work, so you can look back on them later... It's good to make it a habit to add new ideas to your creative arsenal.
── That's advice that applies to all creators.
Hashimoto: Another thing is gaining experience. You can try creating your own stories and drawing the corresponding storyboards. The key is to keep your hands moving and actively engage in the process. When you start drawing, you'll notice what's missing or lacking. For example, if you believe your drawing abilities could be improved, you can practice sketching and figure drawing. It's important to keep going back and forth between input and output to keep getting better.
Money talk: about royalties and compensation
── We've talked about the behind-the-scenes of storyboard planning and some common beginner mistakes, but are there any specific traits that make someone a good webtoon storyboard artist?
Hashimoto: I think this is true for everyone, not just storyboard artists—they must be physically and mentally strong. Webtoons are created with a division of labor and serialized weekly. If you miss the deadline, it will have an impact on those who come after you, so prioritizing your health and completing your work on time every week is critical. Also, because the work is split up, there may be differences between the finished product and your initial vision. Those with a strong creative temperament may find it hard to deal with these differences, so it's important to find a way to accept and make peace with them. It takes a lot of mental strength.
── People who want to be storyboard artists may also be interested in the compensation and employment status. For example, since webtoons are often made in a studio, are artists typically employed by a specific company?
Hashimoto: I work as a freelance contractor, but there are also company-employed storyboard artists. The compensation is usually based on around 70 panels per episode.
── Are there any bonuses or additional rewards if a work ranks first or if the number of views increases significantly?
Hashimoto: There are royalties based on the number of views for each platform where the work is published, but there are no additional bonuses. Also, it can take a while for the creators to get their royalties. This is because the publishing platform sends the royalties to the production company, which then distributes them to the creators. Companies also have accounting closing dates, so it can take more than six months for the royalties to be processed and paid. But the manuscript fee is usually settled at the end of the month and paid the following month, so there isn't a big delay in getting that.
The current state and future prospects of the webtoon industry
── The webtoon industry has garnered a lot of attention due to the entry of major corporations and the raising of hundreds of thousands of dollars in funding. What are your thoughts on this recent boom?
Hashimoto: I think it's a really positive trend. Even though there may be some negative opinions among all the excitement, the fact that the industry is getting so much attention, even from critics, shows that it's moving in a good direction overall.
── Hearing that from you, a storyboard artist who is on the cutting edge of your field, gives us hope.
Hashimoto: In the future, though, I think there will be a significant divide between successful companies and those that withdraw, most likely within a year or so. For example, we often see companies enter the webtoon industry believing that it is extremely profitable, a "blue ocean" in business terms. But the reality is that webtoon production is extremely expensive. Even before a work is published, production costs can run into the tens of thousands of dollars. Of course, if the company succeeds, everything is fine; if it fails, its very existence is in jeopardy.
── So, which companies should creators collaborate with if they want to get into webtoons?
Hashimoto: I think there are several factors to consider, including financial strength. Personally, I wouldn't join companies that are just following the latest trends. For example, companies that aim to mass-produce villainess or reincarnation stories only because they are popular... It's true that they're all the rage right now, but it usually takes about a year from production to actual release.
── Indeed, we don't know if villainess or reincarnation stories will be popular a year from now.
Hashimoto: It's good to keep an eye on trends, but if I were a new author, I'd knock on the doors of companies that are trying something different.
── It's good for creators to also learn to identify the right companies to work for too. Lastly, could you share what you think the future of webtoons will look like?
Hashimoto: I'll respond from two perspectives: the industry as a whole and for myself personally. First, I believe that the webtoon industry will continue to thrive. That is why I am constantly considering what I can do for the industry. As a storyboard artist, I feel like I've reached a certain level of success. Even if it's just a small thing, I'd like to pass on the skills and knowledge I've gained to the next generation and help the industry grow.
── You have already done a lot to help the next generation through FANBOX and YouTube.
Hashimoto: That's right. Critiquing other people's storyboards on FANBOX and making YouTube videos is not only for my own benefit, but also for the benefit of the industry. In terms of personal goals, I'd like to try my hand at inking in the future, even though I'm currently working on storyboards. As I said before, storyboard artists have a difficult time when the final artwork does not match their intended direction. So, by working as both a storyboard artist and an inker, I hope to provide the audience with a complete picture of the world I want to show. It would also make me very happy if something I worked on received a lot of attention and was turned into an anime or video game.
Hashimoto Lion is on FANBOX and YouTube!
Hashimoto Lion's works