Must-know Information for Kiznaiver Fans! Dive into the World of Shirow Miwa, and His Character Designs - First Half
We all can't wait to find out what happens to Katsuhira
- Who is your favorite character?
I like the *muscle-brained characters, so I'd say Tenga (lol). He's also the easiest to animate, and acts exactly as the viewers expect, so you feel a sense of unity with him.

*Muscle-brained: Someone surprisingly rash with a one-track-mind.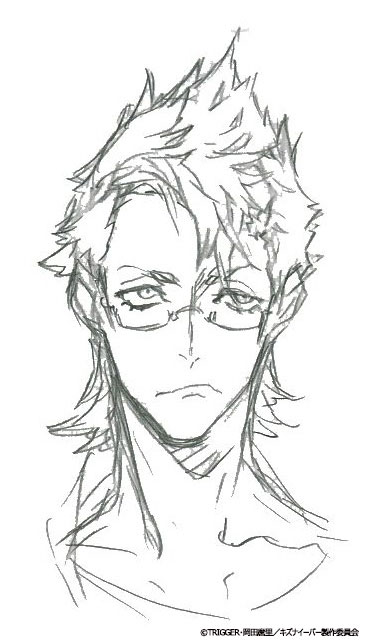 First character draft of Tenga's character. It hasn't seen much changes since then, and was more or less complete right from the start.
I began liking Yuta even more with the start of the anime. Also called "The Cunning Normal", I initially thought that he was more of a submissive, and clingy character, but he was completely different (lol).
Tenga rushes into fights easily, but Yuta sort of acts like a break.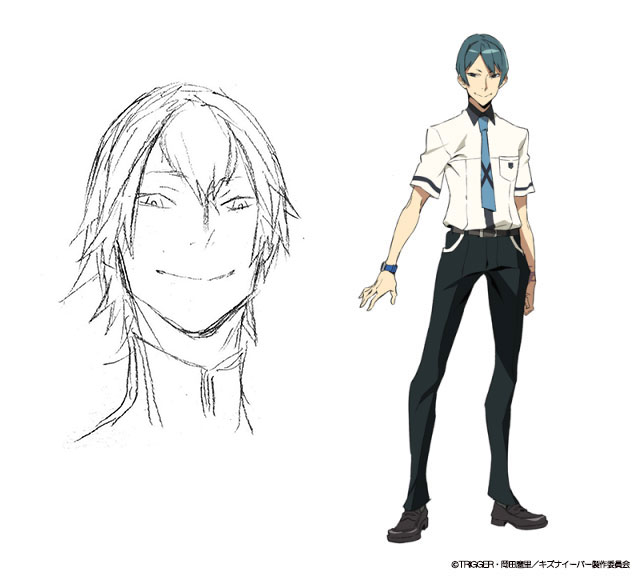 ▲Yuta Tsuguhito's first draft design (left) and final version (right). His hair is slightly neater, but the atmosphere of him being an unlikable guy is still the same. In the anime however……?
Honoka plays a rather important role in the series (as you can see now*), and it is a somewhat odd balance in the sense that not all the characters have a serious past. Adding too much to the backgrounds of the characters might make the plot too heavy, and Honoka's character helps to lighten the weight a little.

*The interview was held right before Episode 6, Nothing Good Comes From Being Around All Of You was aired.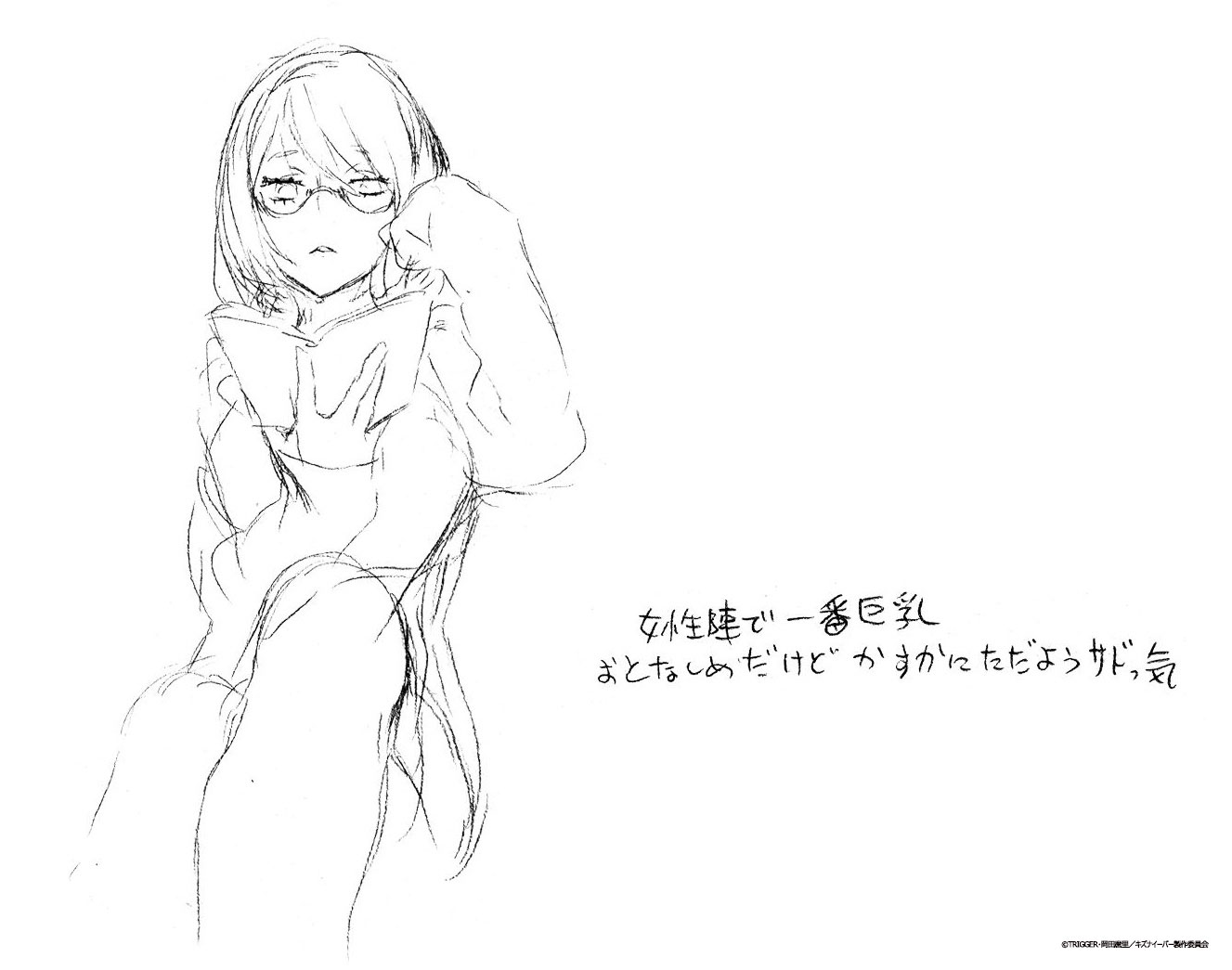 ▲The first character draft of Honoka Maki was instructed to have the largest breasts out of all the female characters. That's important.
- Each one of them gets closer through everything that happens.
Yep. I thought that Hisomu would be a party-pooper at first, but he fit in surprisingly well (lol).

It's interesting to find out how Katsuhira will develop from here on. He lost the sense of pain since he was young, and grew up not knowing how to feel after all.

He matured incredibly fast with the Kizuna Project*, and he slowly gets back the ten years or so he lost, but I wonder if that's really a good thing. The story will probably develop in that direction from now on, so I'm really looking forward to that.

*Kizuna Project: A secret project held in Sugomori Town, the town Katsuhira and company live in. According to Noriko Sonozaki, it is an experiment that will "rid this world of conflict and guide us to peace".
- Are there any other characters that you felt changes in their impression after the production of the anime?
I would say Nico. Her appearance changed quite a lot. She's nicknamed "Eccentric Headcase" but actually isn't that much of a headcase (lol). She's actually a smart and considerate person.
She is the character that gets lonely, and wants friends the most in the series though. She's a rare kind of character, I would say.
- The voice actress of Nico, Misaki Kuno left a strong impression. Were the voice actors and actresses already confirmed when you were designing the drafts?
Not at all, but Misaki Kuno really fits Nico well doesn't she?

I was able to sit in for the recordings, but Kuno was very harsh on herself. She often gave herself constructive criticism, which made me respect her a lot. The gap between her voice and what she's like in real life really surprised me (lol).
- How was the recording like?
Everyone got along together well. It's a story about the conflicting feelings of a group of people sharing their senses, and everyone took part in the recordings together.
The cast watched over Katsuhira as he learnt how to express his emotions. "You're getting the knack of it huh!", things like that (lol).

Speaking of which, Koutaro Nishiyama, the voice actor of Hisomu didn't have any parts in the first couple of scenes, but he turned up for the recordings anyway. I suppose it was to get a feeling of the atmosphere. There were many new and inexperienced voice actors involved, but everyone was very passionate and hungry to learn more.
- Who was the most challenging character?
I would say Katsuhira. The plan was to have him change bit by bit, and the director, Hiroshi Kobayashi asked me to give him slightly curly hair. And also make him slightly emotionless and mechanical.
He was a character that I worked together a lot with the director.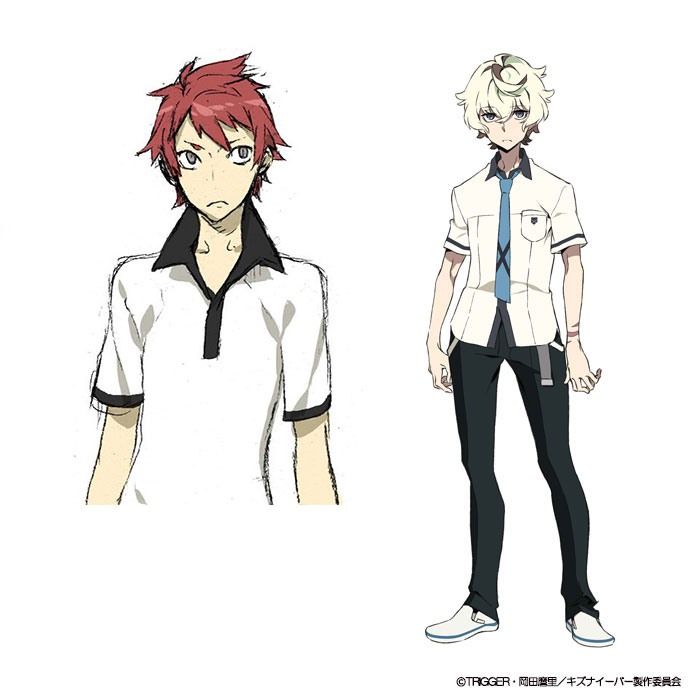 ▲Evolution of the character designs of Katsuhira Agata (Initial draft→final version). Including the color of his hair, his visuals have changed quite a lot.
And we got yet another white-haired protagonist as a result.
There are many white-haired protagonists among the series I've worked with. People might complain and say that I don't have much creativity, but I'll just defend myself and say that it's something that everyone decided on (lol).
- Not at all (lol). The color of a character's hair depends on his personality and role to a certain extent...
Yeah, the hair color of the protagonist often ends up in the typical black, red or brown...

In that sense, Tenga was rather unexpected. With his glasses, he was slightly different from your typical hoodlum.

I didn't touch the animated designs at all this time, and instead left everything in the hands of character designer, Mai Yoneyama. Now, I was just waiting in excitement for the anime to be aired (lol).
Shirow Miwa
Manga Artist cum Illustrator.
Debut work, Ultra Jump in 1999. Following the success of manga, DOGS, his sequel, DONGS/BULLETS&CARNAGE is currently being serialized.
Worked as an illustrator for music group supercell in 2008, and was in charge of the CD jacket covers of their major debut single, Kimi no Shiranai Monogatari. Designed character drafts for animes airing April 2016, Kiznaiver and Joker Game, and has climbed up to become one of the top creators.