Bungou Stray Dogs - Behind the scenes of the character designs! Kafka Asagiri and Harukawa 35 tell us more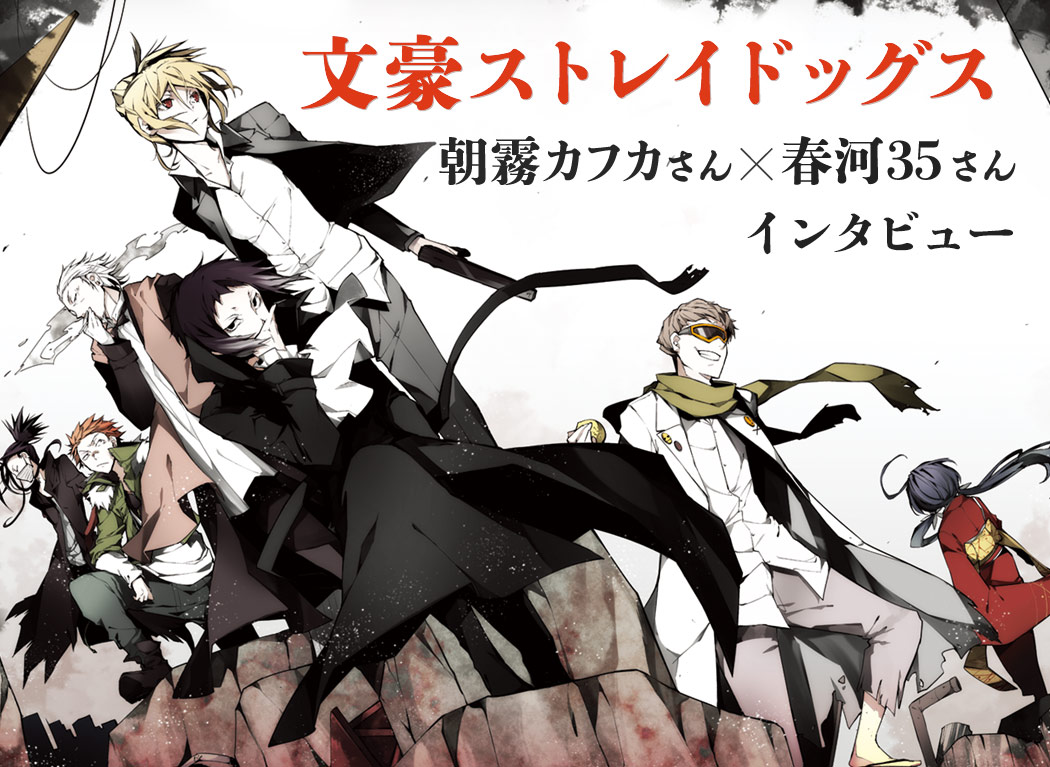 Interview: Hitomi Wada
Editorial/Photography: Takafumi Sekiguchi
Serialized in KADOKAWA's Young Ace, Bungou Stray Dogs hit a total of 4.1 million books sold. The popular anime just released its 7th Blu-ray and DVDs last month as well. You can even read it for free on the comic magazine, pixiv Ace! Apart from scenes from the anime and manga, you'll find a mix of things linked to places connected to Osamu Dazai, collaborations with Aomori, as well as with the Yokohama Education Committee. 
So how did the writer Kafka Asagiri and illustrator Harukawa 35 come up with this intriguing plot? What's behind the birth of these characters and what makes this series so special? Let's find out more!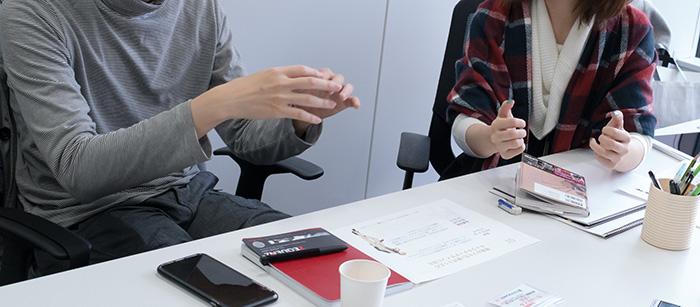 The joy in seeing something coming to life with a chemical reaction
- It's a bit early but this interview is scheduled for release next year, so Happy New Year.
Asagiri I see, Happy New Year!
Harukawa Hope to work with you next year as well!
- First, we have a question for Kafka Asagiri. How did you come up with the character designs for Bungou Stray Dogs?
Asagiri So when I first decided to create this series, and Harukawa 35 decided to join in, I sent the character background information over first. Just like 3 lines or so per character. And then Harukawa did up the rough sketches, and seeing them helped me come up with stories.
- So the characters came first before the plot?
Asagiri Normal stories have the plot first, before characters are created along with the plot lines. However in our case, the restrictions of the plot might cause the characters to become too flat. Seeing the characters gave me inspiration for their pasts, and I was able to come up with really rich characters.
- By the way, can you give us an example of the initial character settings?
Asagiri Ah, it's probably somewhere in my mail history. (Searching...) Here we go. It's really simple. Uhm, "Atsushi Nakajima. Age 24. Simple and witty. Ability: Beast Beneath the Moonlight. Can transform into a tiger"...So Atsushi was initially 24 huh. And also "Osamu Dazai. Slender and humorous, popular among girls but hated for suggesting dying together with the girls he dates. Finding the coolest way to commit suicide. His catchphrase is "Alright, I'm dying". Ability: No Longer Human. Can nullify other abilities by touching the owner" Hmmmm it's pretty different. This is completely different as well. "Akiko Yosano. Japanese-type of beauty. Extreme brother complex. Handles internal affairs in the company, but hates wars and is constantly quarreling with Fukuzawa". Hmmmmm~!
Harukawa What do you mean Hmmmm.
Asagiri It's just interesting to read back now (lol). So yep, this is what it was like at the start.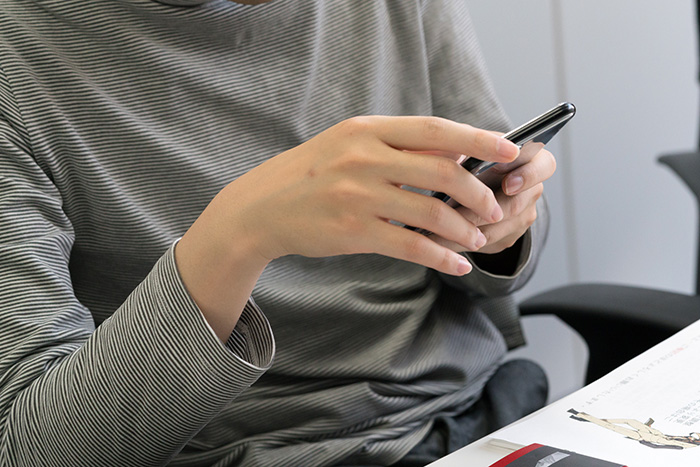 - It was simpler than I expected. How does it feel having your characters come to life?
Asagiri It kinda feels like a chemical reaction. It's something that would never have happened without the help of another party.
I focused on the eyes and silhouette of the character designs
- Harukawa 35, can you tell us more about how you went about doing this?
Harukawa The special thing about this series was that apart from the settings from Asagiri, the characters probably should have certain aspects of the authors they were based on, but I tried to draw them based on the character settings first when doing up the initial drafts. For example with Atsushi, I gave him white hair with the image of a white tiger and a long dangling belt that looks like a tail. For Dazai, I wrapped him up in bandages because of his suicide mania, and took note with other items. I drew what came to mind from the character settings first, before changing the weird parts.
Asagiri He puts it so simply, but I was really surprised by the quality of the first drafts he submitted. From his designs you could tell what kind of character it was immediately. I don't think there are that many people out there who can do that. 
- So it was an illustration that spoke volumes about the character 
Asagiri Yes! He took some words in my head and gave them the depth of life, and suddenly threw them back to me. You can tell a lot from their eyes and their silhouette. Especially the eyes I guess? It feels like the image of the characters I had in mind deepened 5 times. "What kind of trials should I give this character?" or "this character probably worries about this?" Things like these flowed into my mind. 
Harukawa I did pay extra attention to the eyes and the silhouette. I took the highlights of the eyes into my own hands and it was faithfully reproduced in the anime. When drawing the initial members, I had the experience of drawing a whole bunch of characters together at once before, so I made sure they didn't overlap.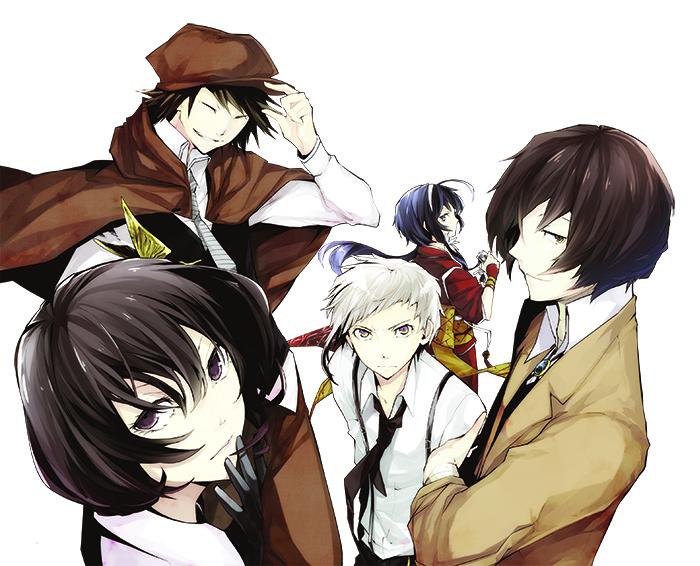 - Director Takuya Igarashi who was in charge of the anime also complimented the silhouettes of the characters.
Harukawa That's an honor. Most of the illustrations on pixiv are in color, which makes a world of difference, but manga is in black and white, making the silhouette all the more important. For example if two characters are always together, I would make sure one of theme didn't have a cliche hairstyle.
- I see. Even with Atsushi and Dazai, or Atsushi and Kyoka, there's a good balance between white and black. 
Harukawa I fit them together like a puzzle. That's why I tend to bring the color settings later in the process.
Asagiri If I'm not wrong, it wasn't decided if Atsushi's hair was going to be white or blonde, But it became a white tiger so white!
Harukawa I always thought that white would be nice. It's easy to draw the main character in white in any scenario. I wanted them to look kinda plain when lining up, as compared to the black, grand, Port Mafia....this brought out a feeling of camaraderie.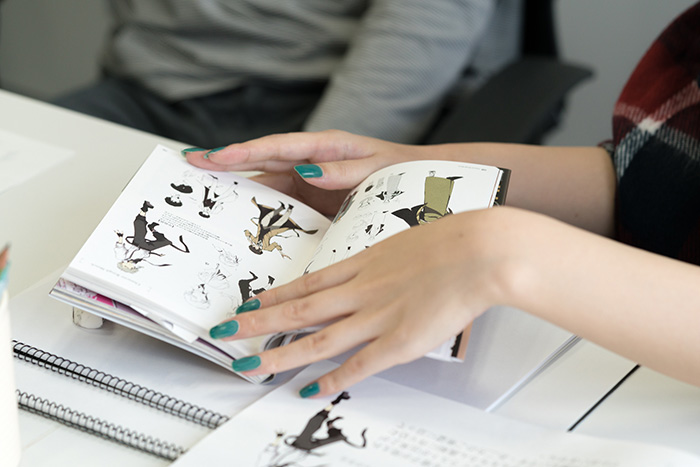 - Was there something that changed significantly from the rough drafts?
Asagiri It's split into designs that passed smoothly and those that were redrawn several times. Speaking of which, the first character design Lovecraft was such a perfect fit. The collar was great (lol) A perfect butler.
Harukawa Ah, for Lovecraft, I might have added a bit of the original author in as well.
Asagiri I didn't really have an image in mind for most of the characters but I did for Lovecraft...
Harukawa You had really specific demands for Lovecraft.
Asagiri (Lol). That's why I told you to "Make him more worn out. He's from the deep seas".
Harukawa You demonstrated the pose where he tilts his neck to the side and counts the bumps on the wood too~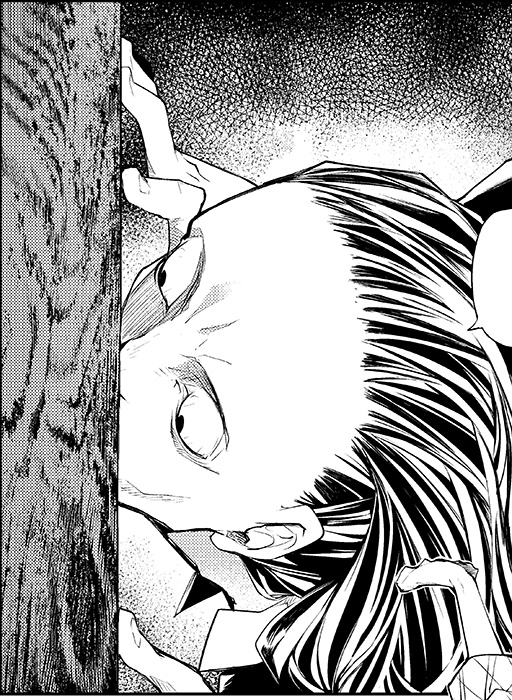 It would be much more convenient if the author did the illustrating?!
- The initial characters had character designs, but were there characters that developed along with the story?
Asagiri Yes yes. For example, Q (Kyusaku Yumeno) and John Steinbeck got their abilities and personalities when I thought of the plot of blowing up Yokohama in flames.
Harukawa The doll Q has was mostly Asagiri's design.
Asagiri I remember just casually drawing something up. I thought it would be nice if an androgynous child were to hold a disgusting doll...
Harukawa I also got several patterns for the expressions of the people under Q's spell. There was also a suggestion for their eyes to become like Q's.
Asagiri Yeah~ We ended up using the tears of blood.
- So Asagiri, you draw too!
Harukawa
Kato from the editorial team often said that
it would be much more convenient if the author drew illustrations too.
It would be easier to understand if Asagiri could draw in some edits as well.
Asagiri I was able to be relieved by the lovely character illustrations from Harukawa.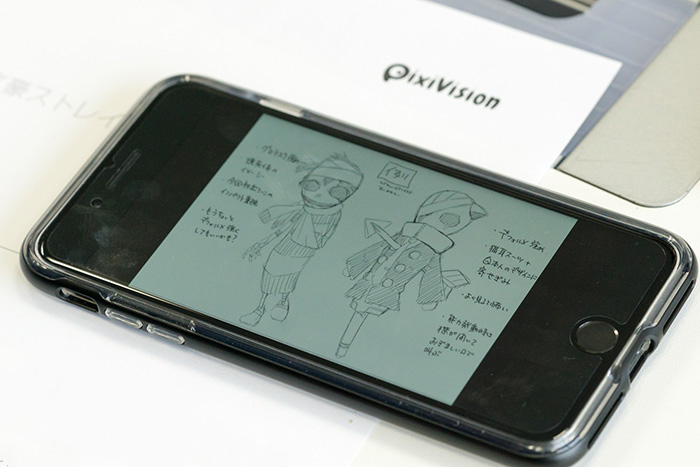 Chuya's character settings took the longest time
- Were there any other memorable characters?
Asagiri Now that I think about it, Chuya was really perfect.
Harukawa I mean, it took such an incredibly long time!
Asagiri We might have spent the most time on Chuya. There were just so many patterns.
Harukawa We couldn't decide on the abilities without deciding on the character designs, and everyone was troubled.... We even sat at a cafe till 4 in the morning without coming to a conclusion and leaving.
Asagiri It was decided that he was going to be Dazai's ex-partner, but the authors had a connection in real life, and we worried over what kind of character to make him into. It was just confirmed that he was short (lol). Thanks to that, Chuya's really popular now. I always felt like he was going to be a popular character, that's why I refused to go easy.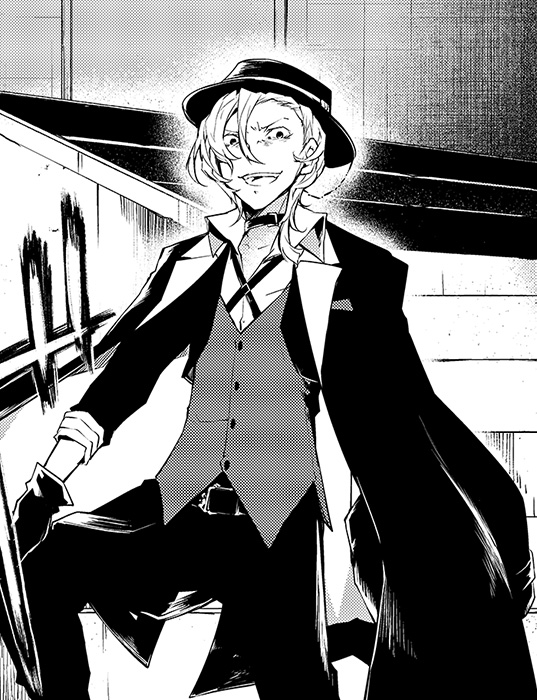 - Lastly, can we get a message for pixiv users, character designers, and illustrators.
Harukawa I haven't really had the time to do so recently, but I take a peek at pixiv once in a while and there're just so many skilled artists there. It stimulates me to work harder. Bungou Stray Dogs is read by many youths, and I'm always afraid my drawings will get too old one day. That's why there's so much for me to learn. It gives me a good idea of what kind of illustrations are considered modern right now. Like the trending colors. Even if I don't use it directly in my work, I think it's very important to be aware, and be stimulated by the things around.
Asagiri Everything starts from zero, and you need to put in bit by bit before something is created. The more time and effort you spend the better the product. Looking back at the character designs made me think so even more. Don't believe that a good idea will just arrive one day. That's our message to you. Please continue supporting Bungou Stray Dogs!
We could see the troubles and the joy that went into the creation of this success from their words. We had them draw a character illustration after the interview.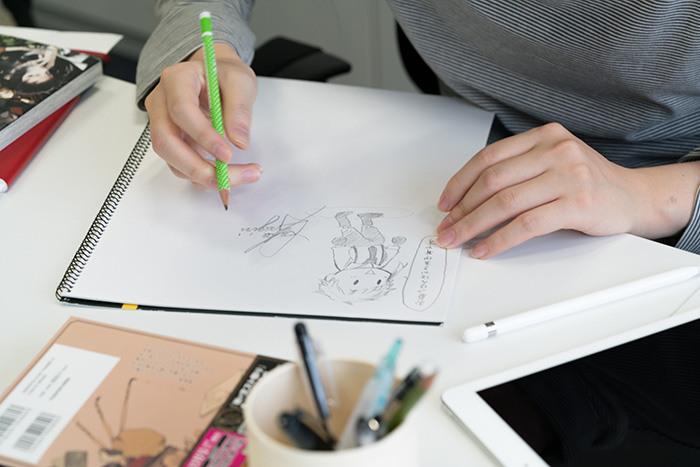 While drawing the illustrations, Asagiri said "I'm really thankful to the people involved in the literary world. I hope more people find an interest in literature with this series".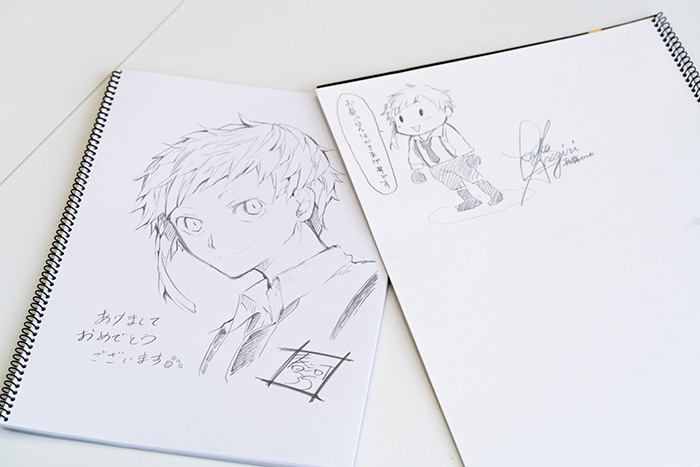 The anime came to an end after the second season, but the manga and novels are just about to heat up! Apart from the official site information, don't forget to check out pixiv Ace!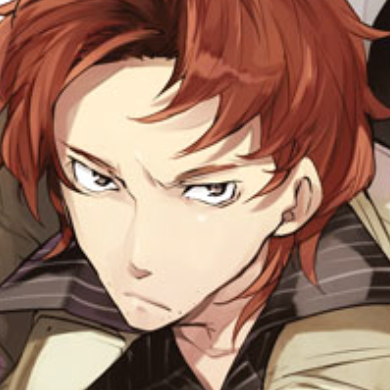 Kafka Asagiri
Scenario writer, novelist.

Debuted as the author of Bungou Stray Dogs in Young Ace (January 2013).

Debuted as a novelist with Bungou Stray Dogs Dazai Osamu no Nyusha Shiken.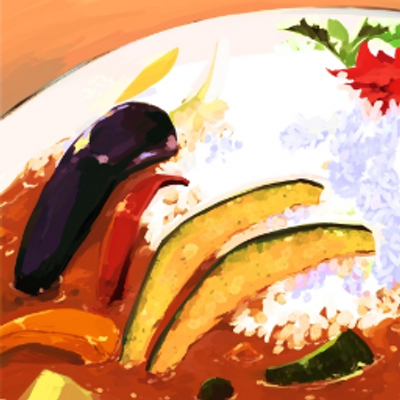 Harukawa 35
Manga artist, illustrator.

Debuted as a manga artist with Bungou Stray Dogs in Young Ace (January 2013).

Also works as an illustrator.