Piclive blurs the line between reality and fiction. Behind The Scenes of Re:CREATORS Art Direction!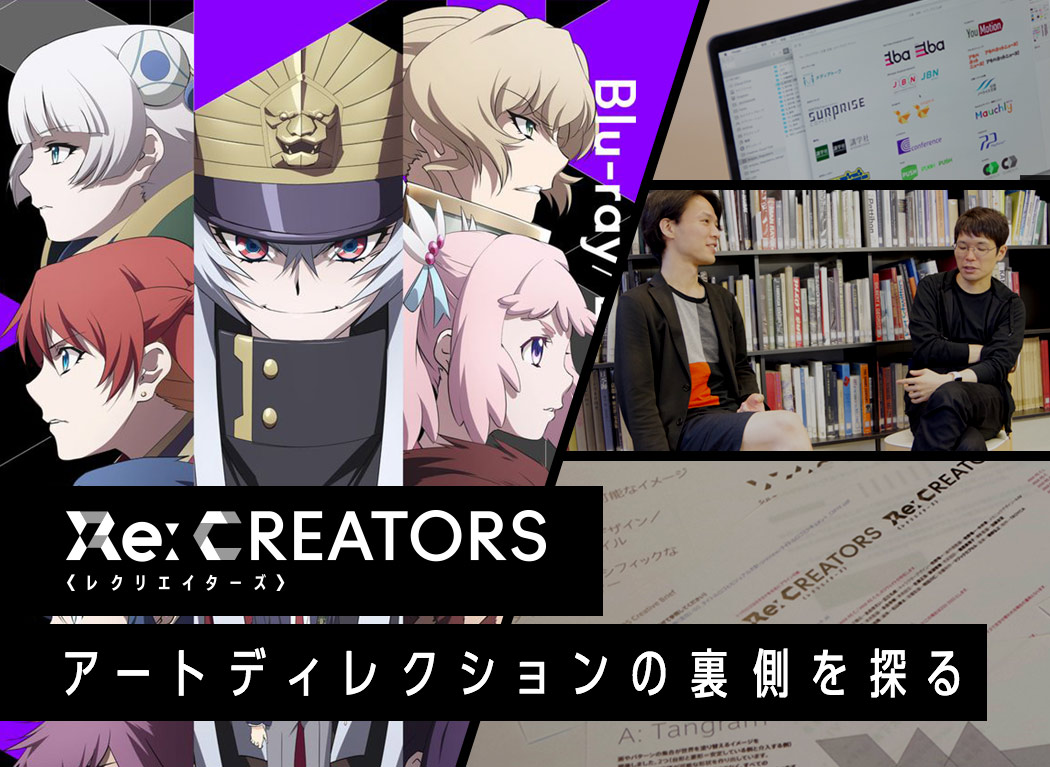 The concept of
story within a story
 plays an important role in the anime
Re:CREATORS. 
Many different stories and settings come together and intertwine, creating the title's narrative.
However, thinking about the concept, logo design and settings of all the anime, light novels and games appearing during this ambitious title is surely a lot of work.

Moreover, a social network called Piclive, that looks a lot like pixiv, makes its appearance in Episode 1. It's one of the unique devices that this anime uses to give the setting a sense of realism. 

We talked with a few members of the art direction team, including Tomoyuki Arima, who takes care of all design aspects of the title.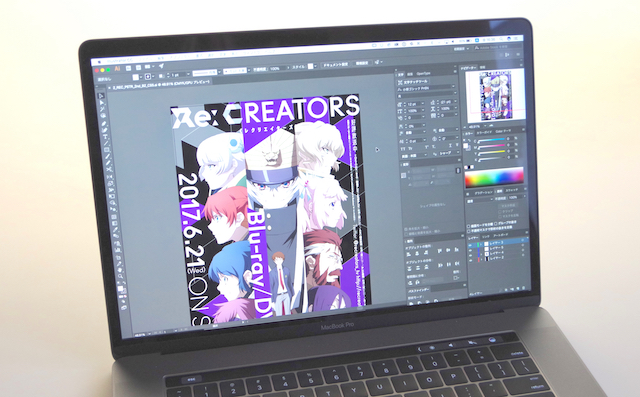 But what does the art direction team do exactly? Arima's team, for example, is in charge of Re:CREATORS logo design, advertisements appearing in the anime and so on.

It's hard to deal with Re:CREATORS. We interviewed two members of the design team, Arima and graphic designer Shinichiro Miyazaki, and asked them about the team activities and about the anime overall design, setting and story.
Article by Yuusuke Yamada
Editing by Tadashi Nagatani
Piclive exists to "blend into reality"
-- Thank you for your time. First, could you tell me something about your role in the anime production?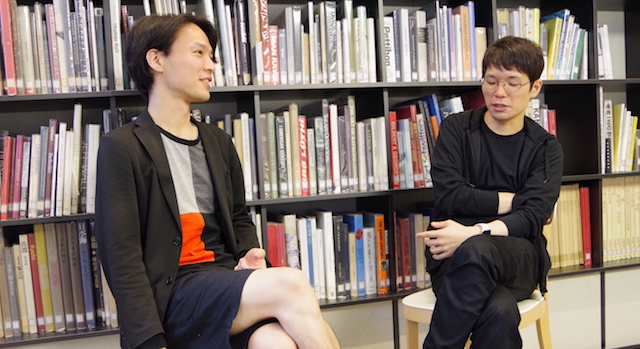 Arima: I work with the art direction for Re:CREATORS. If I had to explain what I do in detail, I work together with Miyazaki for the graphics and design of 2D stick-up materials appearing in the title.
-- A social network called Piclive appears in Episode 1. Did you design it?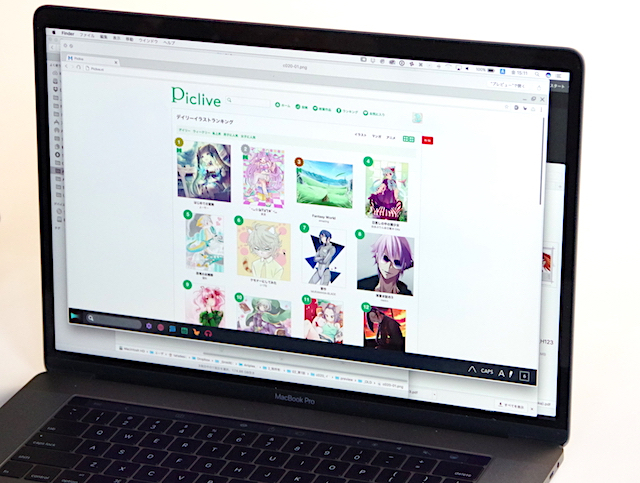 Arima: Exactly. Our job consists in incorporating company logos, anime logos, advertisements and to generally deal with the website design in order to reinforce the anime setting. Well, Piclive is basically pixiv (laughs)
Arima:
The writer Rei Hiroe said that they got the inspiration from the movie
Last Action Hero
 in order to create a title where many worlds and kinds of fiction come together.
However, even though many titles appear in
Re:CREATORS
, the viewers are not properly experiencing them. Let's take
Fate/Grand Order
(FGO)
 as an example. It's an amazing title, right? And that's because we already know the history and backgrounds of the characters appearing in the game. The user understands, and this contributes to making it into a
title that's easy to appreciate
.
Still, in
Re:CREATORS
 there's no such thing. We have to base everything on stereotypes.
Whether it's fantasy or robot animation, we have to start from elements that are easily recognizable. Having to express an illustration social network in a stereotyped way, we choose to make it look like pixiv.

I know it's probably too late to say sorry now, but... Sorry for doing this without telling you!
-- Don't mention it. I'm looking forward to hearing more details about this!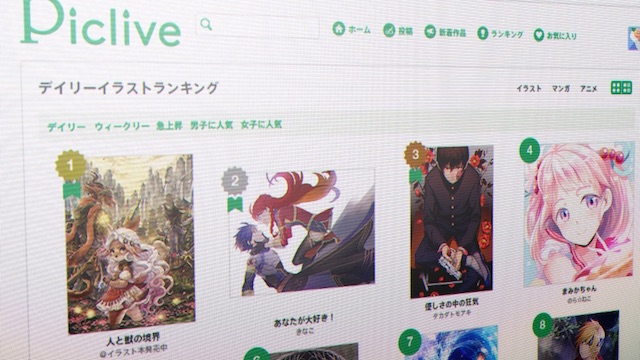 Arima: Not only this social network is in the same standing point as pixiv. We were also inspired by its submission screen, message screen UI and so on. The protagonist Sōta Mizushino draws illustrations himself, and we wanted to make this social network into a mirror reflecting a high school boy's interior conflicts.

I experienced all this myself so I know what I'm talking about, but for a high school boy, receiving even a single like or comment on pixiv is immensely satisfying.
-- I know what you're talking about!
Arima: I think pixiv too succeeded as a creative social network that also works as a mirror to reflect emotions.

Rei Hiroe and the director Ei Aoki were both very conscious of the position of Piclive; they wanted to keep intact and express all those emotions that students feel while using pixiv. 
-- The part about interior conflict is written very well. There's a scene where the protagonist starts drawing an illustration, but then stops before he finishes it. That felt very real.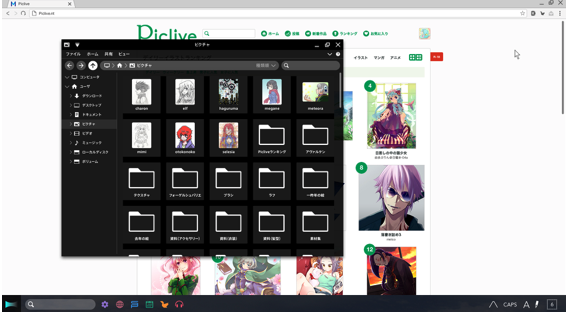 Arima: there are also other scenes where feelings like those come out, for example when Sōta is uncertain whether he should upload an illustration or not.

In that moment, you can see some PC folders, and if you're a young man who draws illustration you'll be able to relate to that scene so much. Your heart will probably hurt, and that's what we were going for when we created this title (laughs)
-- Brush folders, materials folders, WIP folders, background folders... Ugh, my heart hurts!
Arima: There are also some half-painted illustrations, and it was the director orders to add them. He asked the direction team to paint them roughly.
-- By the way, I heard some illustrations that appear on Piclive were actually posted on pixiv. Is it true?
Arima: it's true. We commissioned those pictures in order to add them to Piclive. I don't know much about those commissions, but the original illustrators were allowed to post their work on pixiv, I think.

I think it's a good way to blend into reality.
-- To blend into... reality?
Arima: Yes. Do you remember Chicago becoming Gotham City for The Dark Knight launch campaign?
-- Oh, you're talking about the 2007 ARG (augmented reality game) "Why So Serious?", right?
Arima: They held fake protests in Chicago and they were handing out plastic cards... If you went to the URL on those cards, an evil Harvey Dent would appear... Or you could stand in a library and see a Joker card falling in front of your eyes... Some people even ordered pizza and it came with a cell phone inside!

By dissolving the bond between reality and fiction, you can recreate a very immersive feeling.

In the past, I've been working as a designer for director Ei Aoki's previous title ALDNOAH.ZERO, and I made a 16p booklet that was supposed to be released by the in-anime press. Then we placed them inside real shops.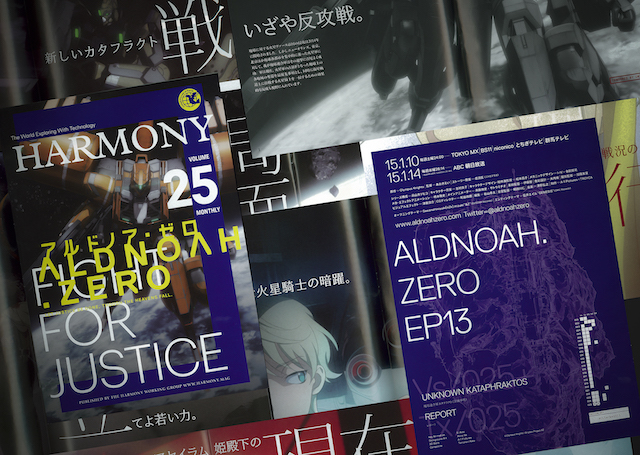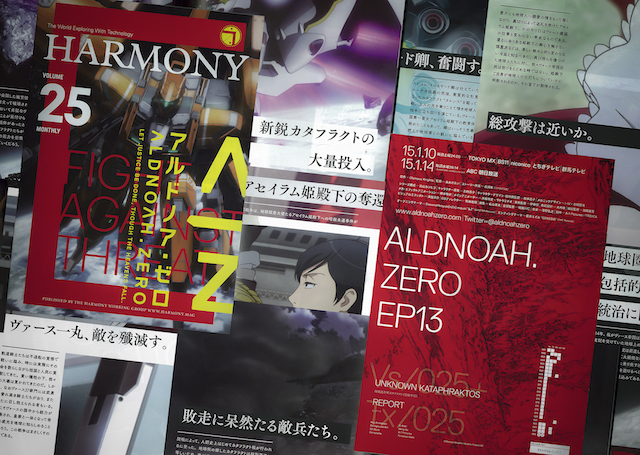 Arima: The story is about a war between Earth and Mars. According to the kind of shop, we either placed an Earth propaganda pamphlet or a Mars propaganda pamphlet. By doing so, when people talk about it, they will think they're talking about the same thing, while the truth is they have very different points of view.
-- And when they realize, they will want to talk about it with friends. I have a feeling that Re:CREATORS is also an extension of that, in the sense that only people who know will actually know what they're seeing.
Arima: Exactly. In the case of Piclive, it's really easy to understand what it's about since pixiv is so well known. However, if we talk about company logos appearing in the anime... There are things that will make spectator say "is it really okay to place that logo there?" (laughs)
-- The magazine Anitype appearing in the anime is basically Newtype!
Arima: You can get a copy by buying the anime Blu-ray/DVD. 40 pages, full color. We got permission from KADOKAWA, don't worry. (laughs)
-- That's an amazing idea, so the viewers will be able to read the same magazine that Sōta was reading in Episode 1.
Arima: this is another example of blending the line between reality and fiction. That's what we aim for, so your reaction makes me really happy! We are also reinforcing stereotypes in order to make our design resemble something else, and this too is a way to blend the anime with reality.

Also, in order not to force those designs on the spectator, we make sure that Sōta uses those materials to look something up, have fun or things like that.

By the way, I have something very interesting to tell you...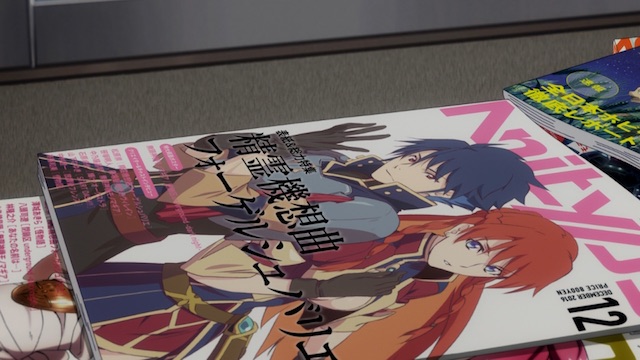 Arima: We have different patterns for the cover of "Anitype", and each features elements that are not imaginary, that exist in reality.


Miyazaki Shinichiro: Some people on Twitter noticed it.


Arima: Actually, we used several images from existing Aniplex titles, that they were kind enough to share with us. And there it is, one more way to blend reality and fiction! We got this proposition from Aniplex producer, and we really wanted to do it as well.

Also, the design for the soundtrack was completed right before this interview. The white part is printed on a transparent material, and when you take it off you'll be able to see an illustration. It's contextually connected to the main title, so you will definitely be surprised if you saw what it portrays.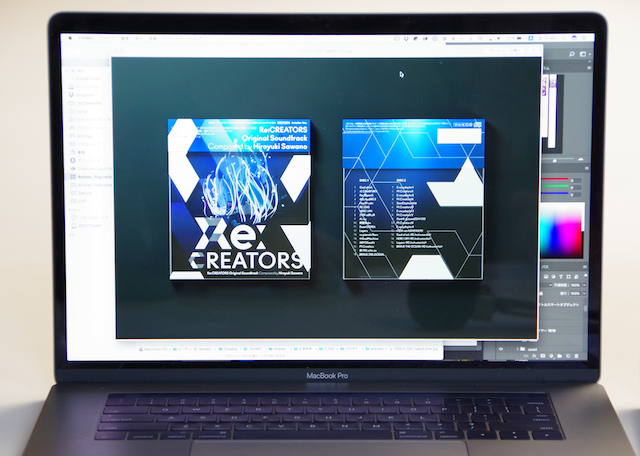 -- Enough! I don't want any spoilers!
Arima: However, at the beginning, we had about three ideas for these visuals. Like using something more abstract, or using the instruments used by composer Hiroyuki Sawano as a motif. Ultimately, we liked the connection between this idea and the main title, and we chose this one.
-- It's nice that you thought of this way for spectators to feel closer to the title.
Arima: Thank you very much. Although we included various works, I want this title to feel like Re:CREATORS. Still, at the beginning, we had to experiment a little in order to recreate the feeling that we were going for.

Nonetheless, we always make our contents by featuring elements that can give the product a sense of coolness, in order to guarantee a certain quality, and only then work out ways to make the product more contextual.
-- Simply put, you're creating designs that go together with contents.
Kurama: It's exactly that. We create a general outline with certain contents, and then modify them in a way that makes them closer to the story setting. For example, if the story was about magical girls, we would make those contents pink... And so on. 
About colors and shapes
-- When I saw Re:CREATORs title logo for the first time, I immediately thought about typography. What was the basic design concept?
Arima: The logo was designed after the storyboard for Episodes 1 & 2 was created. It was the time when we were asked to work on the design of Piclive and of the first graphic materials that were going to appear in the anime.

The reason why Miyazaki and I came together is that we both wanted to take an anime-related experience and turn it into a well-rounded, consistent one. Really good things usually seem like they were thought by a single individual, and that's what we are going for.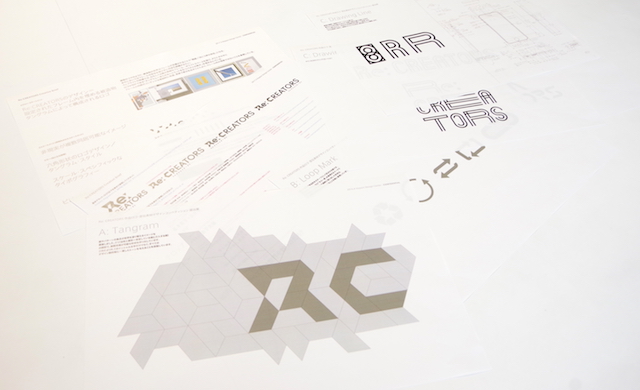 Arima: Re:CREATORS art direction team is made of 8 people, and these are the materials we use to share our ideas with the entire team. Do you know about tangrams? They're wooden puzzles that you can often find when you take trips to hot springs, in the hotel.

They usually have a very simple shape, but it can be rearranged to create a multitude of different silhouettes. Re:CREATORS is the same: we choose the tangram as a motif as a metaphor to express the multitude of titles that come together in the anime.
-- Taking a look at website and ads that the art direction team is in charge for, I couldn't help but notice a peculiar use of color. Are you using particular color schemes?
Arima: We are. A color that often comes out in the anime is purple, but every character has its own defining color as well.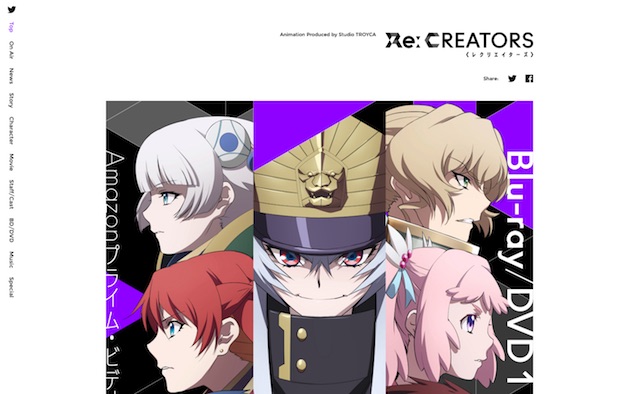 -- Your website has a strong purple component. Why did you choose purple?
Arima: It comes from the concept that the world inside the anime is red, while the real world is blue, so it's a fusion between the two. In the early plan, we suggested that blue should be the theme color when the action was set in the real world, while red should be the theme color when the action is set in the fictional world. When everyone is gathered together, the theme color should be purple.

We decided to use the same colors for ads and when the topic is Re:CREATORS. Implying that there are two powers, we wanted to think about a color that represented neither of them. In the end, we settled for purple.
-- Purple is the color that stands out the most in the website, indeed. The fact that you place so much importance on blank spaces and margins is also very unique! 
Arima: Regarding the website, I can tell you we made it intentionally simple, to make up for the diversity of settings in the anime.

For example, if in a certain illustration there are both the protagonist of a robot anime and the warrior from a fantasy title, we need to make sure that such illustration is still tolerable by adding blank margins and keeping it simple.
About reconstructing creations and history
-- In an interview posted on the official website, Celestia Yupitilia voice actress Mamiko Komatsu said: "Using an anime to portray such a story has a huge meaning to it". What do you think she meant with "such a story"?
Arima: She's talking about a made-in-Japan kind of story. Think about events happening in FGO, and the stir that they cause every time. Isn't it amazing?
Those events are a chance for us to play with reconstructed stories that we already heard of in history and mythology. I feel like elevating things to such a high-level context is a characteristic which is typical of Japanese people.
There are also other examples of titles that have been rewritten and reconstructed - just think about Wonder Woman and Thor. The thing that I reckon is the most important is to introduce a contemporary look while still conserving those titles' spirituality.


I think it's a quite elevated way to enjoy a story. Like looking at Taketori Monogatari and falling in love with the girl because of how hot she is! (laughs)
-- It feels very close to the concept of "fan fiction".
Arima: You're right. I am sure that, in the same way humans haven't physically evolved in the past centuries, the principles of entertainment have not changed as well. Don't you think it's amazing that, centuries ago, Murasaki Shikibu's works had a strong BL (yaoi) component?
Arima: Thank you for understanding (laugh). So ultimately, the reason why I feel that Re:CREATORS came out big is that creators are always questioned about what they're supposed to do. 


Different creators come together, confronting the characters they created and wondering what will happen next. What could happen after this rewriting culture makes its course? I feel this is what we wonder the most.
I think that is a very suggestive thing, but I wouldn't mind if some people focused only on the fact that, for example, Meteora is cute.
-- Those are the big principles or entertainment. I took note of a particular line that the light novel writer Matsubara says in Episode 5. "The reason why I decided to make this my bread and butter came back to haunt me".
Arima: That's a good line.
-- I was very impressed by it. Actually, our surroundings are full of creations, and this world allows us to take one side - whether it's good or bad. Circulation is not a bad thing, I think that it will be sharpened by increasing production.

If that happens, it will be like the battle between punk and pop, a meta viewpoint will come up naturally. I feel like Re:CREATORS has shown this contrast in animation.
Arima: I understand. It is not a bad thing to have lots of things going on, but I think that it is important to know how to choose between them and who should edit them. There is a word, "curator", but I think the process of creating and the process of choosing and expanding should have a 1:1 relationship.
I think pixiv knows better than anyone, but the value of the making process doesn't really get lower because of this. On the contrary, the two processes are close to equivalence. 
Both of them are creative acts, and choosing is as important as creation. There is definitely such thing as artistic editing in the world as well.
-- In other words, it's an expansion of the meaning of the word "creative".
Arima: That's right. There are many things that I can not tell at the present stage of this story, but I think that as the story progresses, what I said just now will come through in an even more realistic way.
-- I'm wondering if we're going to land on something resembling of a human fantasy, where the greatness of a man's delusions is solved by the creating process. This is what I thought after seeing the 5th episode.
Arima: I'm frustrated that there are so many things I can not say yet (laughs), but the only thing I can tell you is that we are sympathizing with this story while working with the art direction. I usually judge whether I will do my job after seeing the script, but in Re:CREATORS case, I thought that I absolutely had to do it.


It is a very suggestive story, to the point that, now that we live in an era when you can edit and revisit the story to your liking, we as creators are able to think once again about what we consider interesting and fun, and create contents consequentially. 
-- As I thought, the concept of "original anime" is very strong.
Arima: For me, the role of handling an original anime is very significative, although I think both original works and anime based on a pre-existing title can be enjoyed in a rich and variegated way. I can't imagine a world where only one of the two exists.
When thinking again about the significance of "original animation", I think there are still a few restrictions. When a title is based on a novel or on a manga, its literary value can be beautifully expressed through animation.
On the other side, thinking about a title starting from zero, like it was a blank canvas, is very motivating and worthwhile.
-- Both growing a field where seeds have already been planted and planting your own seeds are good things, right?
Arima: That's right. Because I am working on an original anime, I think that I would be able to do what I can do, and that is why I think that I can engage deeply as a member of the art direction team.
-- I think that attitude and way of thinking are clearly manifested in the great level of detail in the title.
Arima: We use stereotypical icons in order to avoid creating a stereotypical work (laughs). I think that stories have the power to change people's lives, and even the smallest details can stimulate deep areas of an individual and change their view of things.
-- I think it's possible, from now on, the anime world will be split between before and after Re:CREATORS. I am quite sure that this title will change something not only in the viewers, but also in the anime industry.
Arima: I'd be glad if that happened. If changes really happen, it would be a great victory for both the writer, Hiroe, and the director Aoki.
>> Re:CREATORS Official Website (Japanese)
>> Re:CREATORS Official Twitter (Japanese)

TV anime Re:CREATORS currently broadcasting!
TOKYO MX・BS11・Gunma TV・Tochigi TV: every Sat. 23:30~
ABC Asahi broadcast: every Sat. 26:29~
TV Aichi: every Tue. 26:05~
AT-X: every Thu. 23:30~
※ Transmission schedule might undergo some changes. 
Exclusive distribution via Amazon Prime Video
Blu-ray&DVD "Re:CREATORS 1"
On sale from June 21th 2017 (Wed)
Complete Limited Edition Blu-ray: ¥6,800+tax / ANZX-13351~13352
Complete Limited Edition Blu-ray: ¥5,800+tax/ ANZB-13351~13352
【Featured Episodes】
#01・#02
【Complete Limited Edition Specials】Regular Disc + Bonus Diskc (tot. 2 discs)
Illustrated cover by author Rei Hiroe
Rearrangement bonus CD by Hiroyuki Sawano
"Anitype" magazine
・Cover character design by Ryuuichi Makino
・40p bonus contents including staff/cast interviews
Special features:
・Creditless OP theme "gravityWall"
・Creditless ED theme "NEWLOOK"
PV & CM collection
WEB Trailer
※The contents on the regular disc are a "director's cut" version, and are different from the TV broadcast.
"Re:CREATORS ORIGINAL SOUNDTRACK"
On sale from June 14th 2017 (Wed)
¥3,500+tax SVWC70267~70268
【Contents】
"Re:CREATORS" OST by Hiroyuki Sawano (2 CDs)
・original art
・Booklet featuring Hiroyuki Sayano interview