The heroine has an exclusive animator!? Interview With "Eromanga Sensei" Director Ryohei Takashita and Animator Keisuke Kobayashi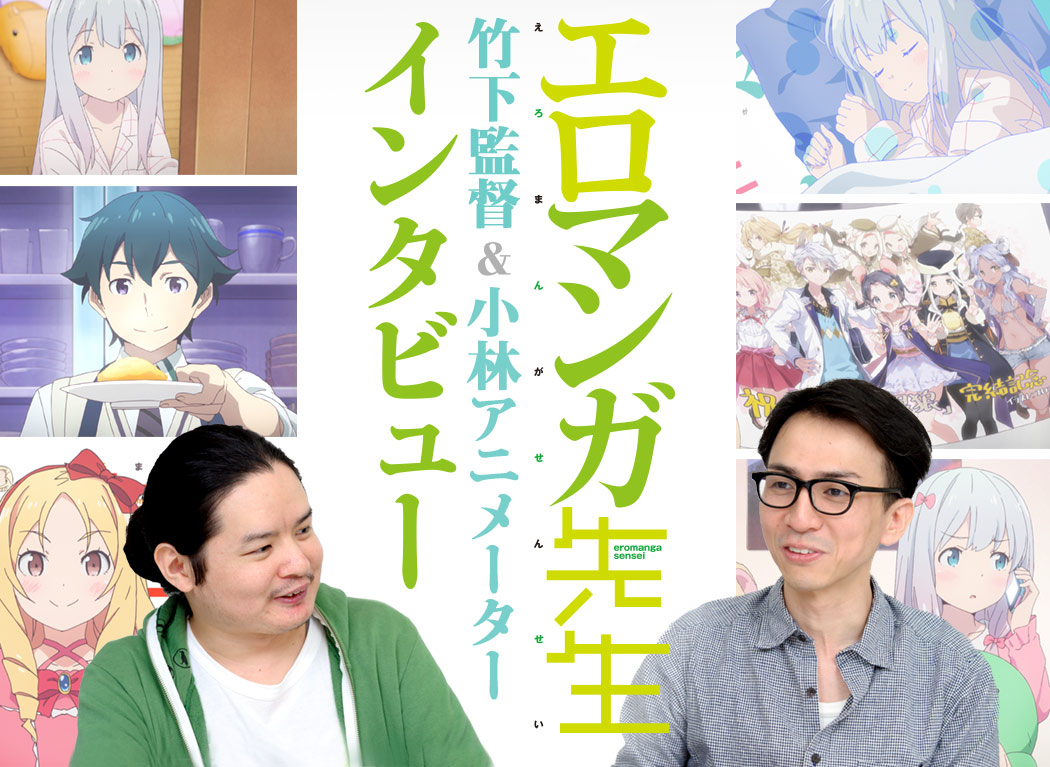 Interview, article by Kazuki Miura
Editing by Hitomi Sakuma
It wouldn't be an overstatement to say that Eromanga Sensei was the most popular anime of Spring 2017 season. The original light novel is written by Tsukasa Fushimi and illustrated by Hiro Kanzaki, the same combination behind Oreimo, which broadcasted between April and June 2013.

In particular, the cuteness of the middle schooler heroine Sagiri Izumi has caused quite a stir. The Sagiri drawn by Hiro Kanzaki in the novel is of course very cute, but how she appears in the anime deserves a separate special mention.

The secret lies in the fact that there's a special "Sagiri exclusive animator" who deals with Sagiri's animation throughout the anime - or, at least, that's what they say. We had the chance to interview Eromanga Sensei director Ryohei Takashita and Sagiri animator Keisuke Kobayashi. By the way, they have a senpai/kohai relationship (Takeshita is one year older), and they seem to get along quite well!
Showing parts you don't usually see is the key to kawaiiness
-- Thank you for meeting us today. First of all, I would like to ask Takeshita how he ended up becoming the director of Eromanga Sensei!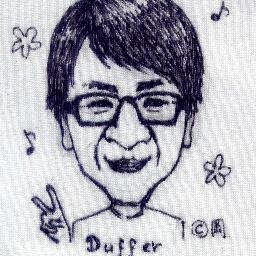 I've always loved anime, and I entered the world of animation after I graduated from university. It's been 12 years. After working as an animation director and assistant director, I was wondering if there was something out there for me as a director... And there was!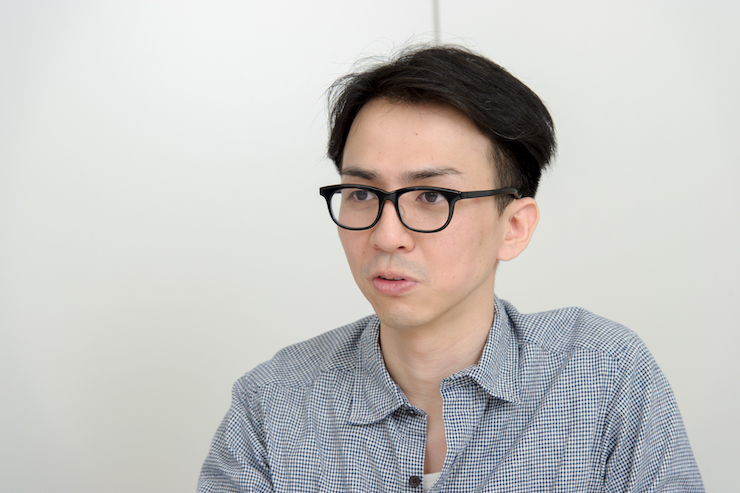 -- Eromanga Sensei was your first experience as a director. What exactly did you focus on?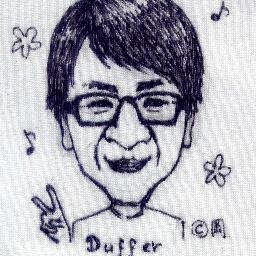 I thought it was absolutely necessary for the heroine to look pretty. I feel like they put great importance on this aspect even in the original novel. As I director, I wanted to portray Sagiri as cute as possible, while also portraying other girls in a charming way, focusing on their unique personalities.
-- Sagiri is very cute in the original novel, but what did you focus on in order to express her cuteness in the anime?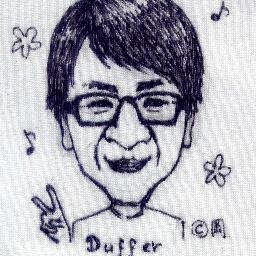 I often use the bird's-eye view to show parts of her body, especially those you cannot usually see like fingers, navel, foot soles and so on. By showing body parts that you don't usually see, I want to bring out her kawaiiness and make the spectators' hearts race.
Also, I think some of her gestures can be pretty cute too. In episode 7, Sagiri is wrapped in her futon - that's such a cute scene.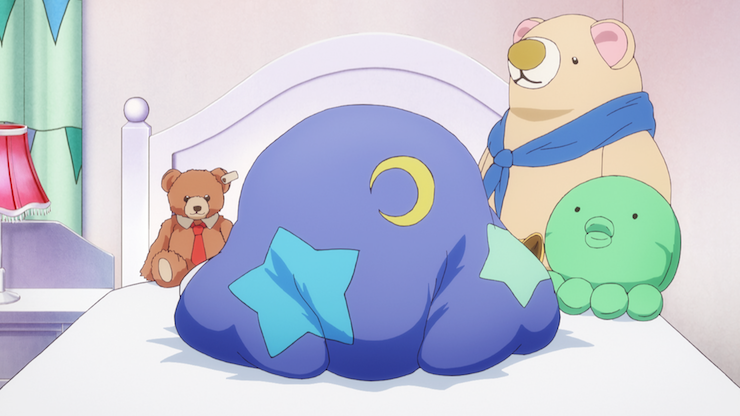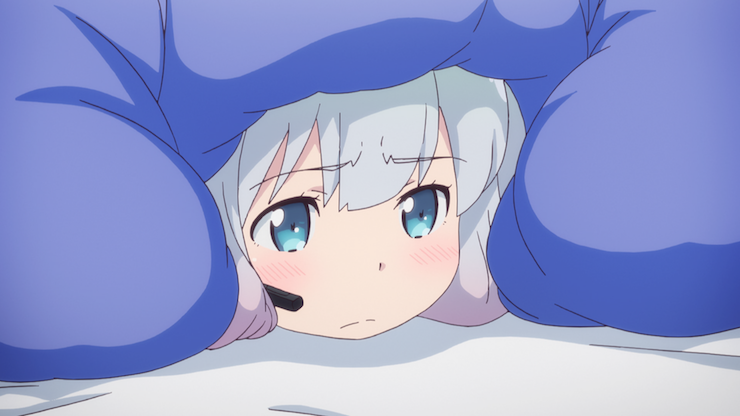 -- I guess sometimes directors write their own contents, but what kind of instructions do you usually dispense?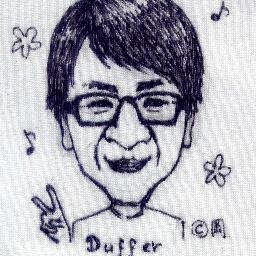 "I want to show this and this in the next cut", or things like that. For example, in episode 1, "in the cut when you show her forehead, you've gotta show both her forehead and her navel".
"Sagiri cuts" between anime style and realism
-- The news that in Eromanga Sensei, there is a special Sagiri animator who only animates Sagiri quickly became a hot topic. Is that animator you, Kobayashi?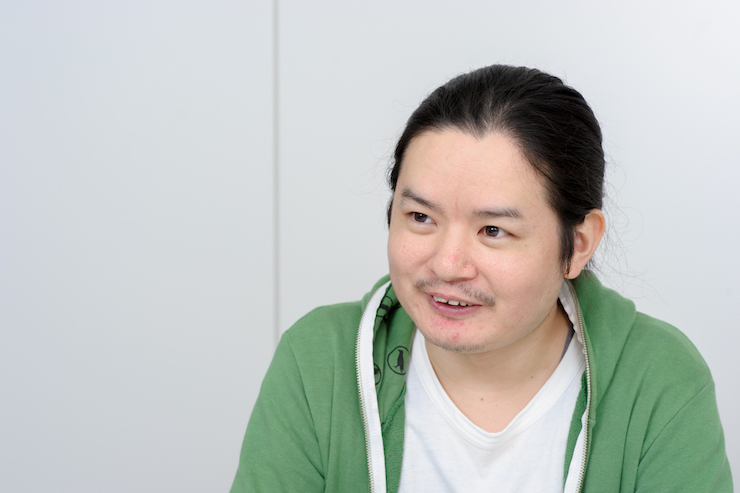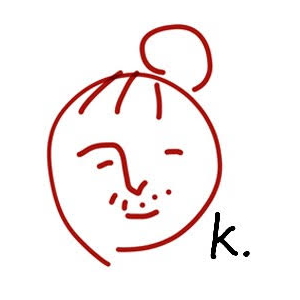 Yes. Although it's not exactly true that I only animate Sagiri.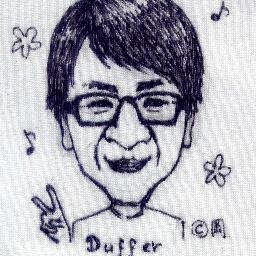 His main occupation is to draw and animate Sagiri, but the point is to bring out the spots that tickle any fetishist's heart. The so called "Sagiri cuts".
-- I see. So he's not an exclusive animator, right? It's just that Sagiri has so many cuts that Kobayashi ended up being in charge of them. However, you don't really tell spectators "this is a Sagiri cut". Do you think it's easy to point them out if you watch the anime carefully?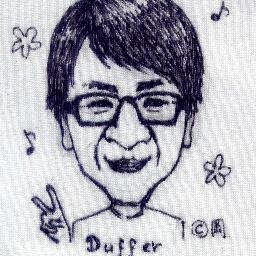 Yes, I think it's clear that we put a lot of work into those cuts.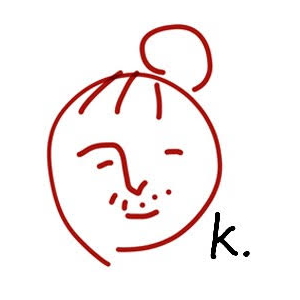 Personally, my goal is to make spectators think "this week too, Sagiri was the cutest". It's enough for me to consider my work successful.
-- What's special about "Sagiri cuts"?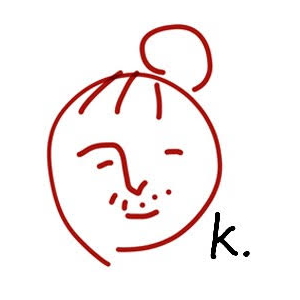 The director requested that they look vivid, alive. Also, I'm careful to draw certain parts in a very realistic way. I think the reason why the director left this role to me is that I like keeping in touch with realism when I draw.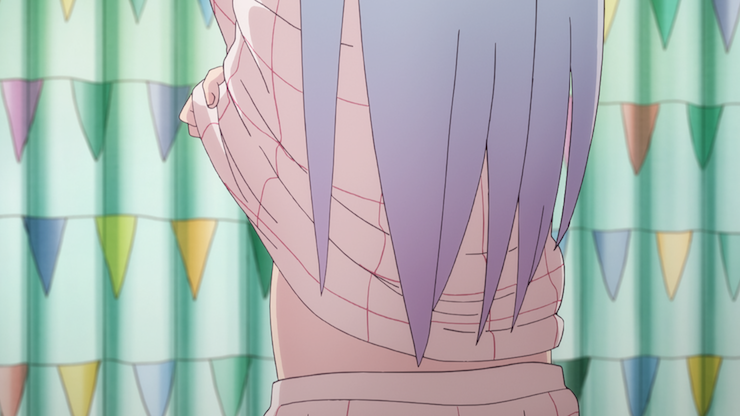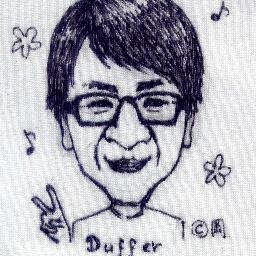 Inserting a realistic movement in the middle of an anime is something that immediately stands out. It's true that Kobayashi focuses on realism, but I think the charm of his work comes out in being right between anime and realism.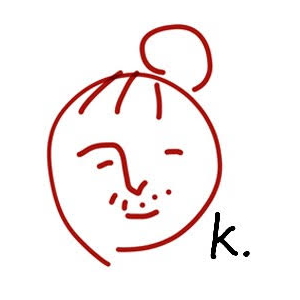 Thank you (laughs)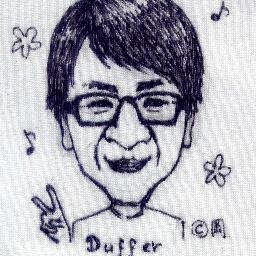 I'm asking him for cuts where his creative power can come out and make this particular anime even better. (laughs) I asked him many times to have a main role in this production before he accepted.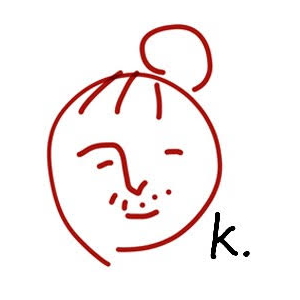 In other anime, I receive the contents and pick up the scenes by myself. However, in Eromanga Sensei, I'm always receiving a lot of directions about what cuts to draw. I'm always excited to find out what scenes will come out in the next episode. (laughs)
About that string bikini scene...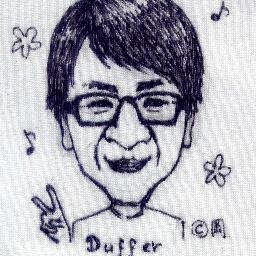 The hardest one to pull off until now was... What? The string bikini scene, maybe?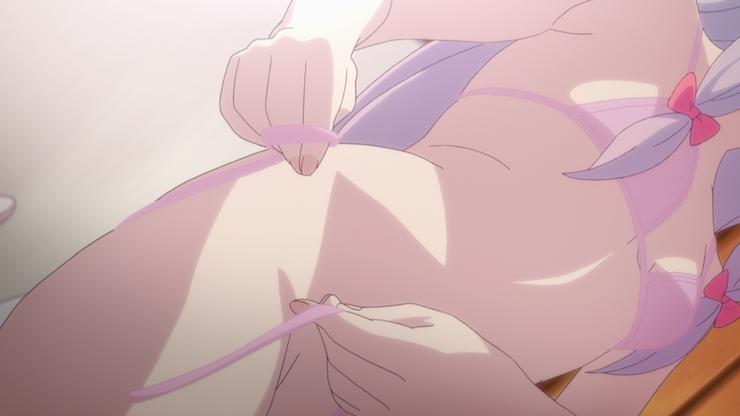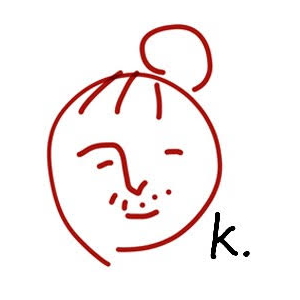 That scene was a lot of work!
(laughs)
 It's really hard to animate a scene like that.
Tying a string is a gesture that most people do unconsciously, right? I had to analyze the movements and replicate them
, and it was so difficult.
In other anime, I think the cut would only portray the final moment when she tightens the strings. However, we decided to recreate the whole action.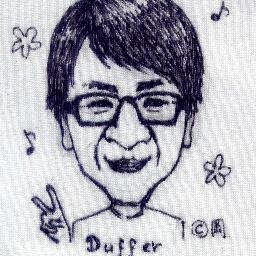 Kobayashi is very good at animating difficult scenes realistically.
-- And that scene was very important, right?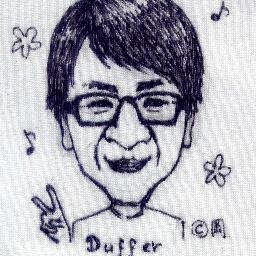 It was vital. After all, her bikini strings were about to unravel - it was drastically important that she tied them back together. (laughs)
-- I see what you mean! I remember having palpitations throughout the whole scene, thinking that maybe I could take a peek at some secret part of her.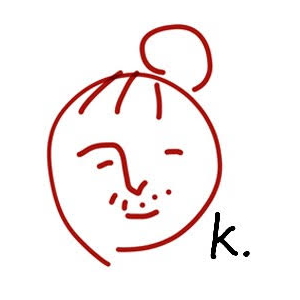 When I tried drawing that scene, the director told me "well played!" (laugh)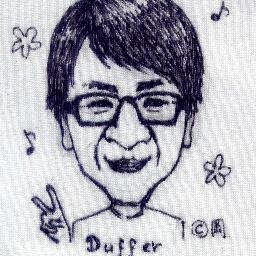 When the cut was complete, I was impressed at the destructive power of that scene. (laughs)
-- What directions did your receive about that specific cut?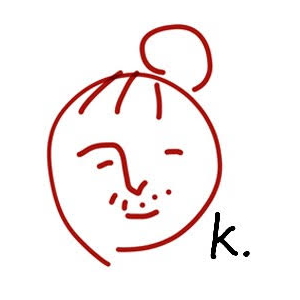 It had to portray the whole action - from the moment when the strings were about to unravel to the moment when she tied them firmly back in place. However, the director trusts me, so I'm basically free to do what I feel like.
In Sagiri cuts, "loops" are important
-- What's the Sagiri cut you want to be seen more than any other?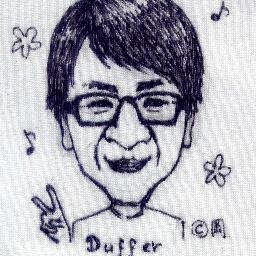 Personally, I like the one when she takes a picture of her butt in Episode 1. That scene doesn't exist in the original work, so it became a hot topic around the internet. I'm glad people liked that!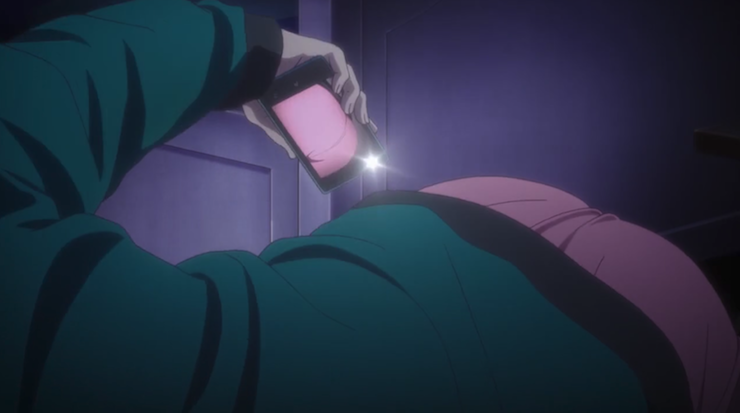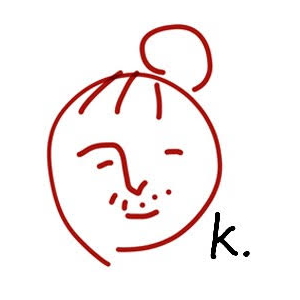 For me, it's when she throws a tantrum in Episode 2.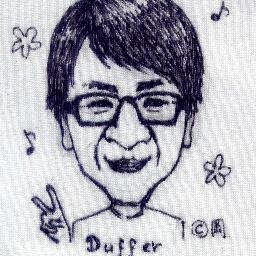 Oh, that loop? The one that goes "I won't come out! I won't I won't I won't!", right?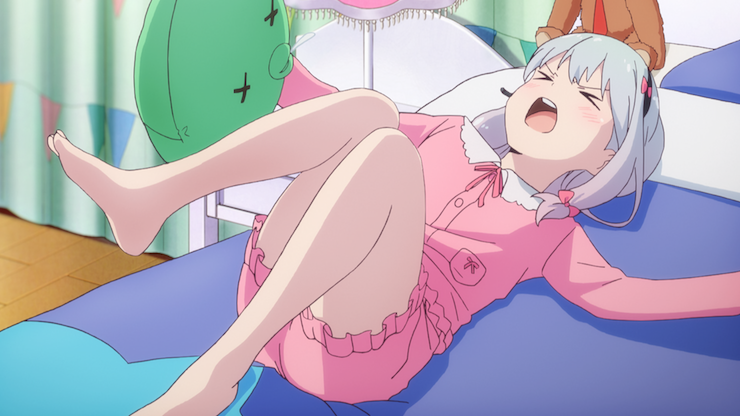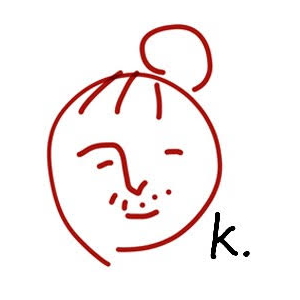 Exactly. I think that scene came out pretty interesting.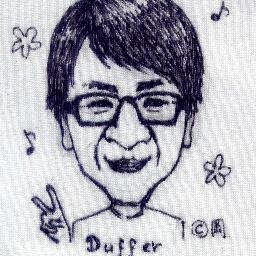 Personally, I think the focal point for Sagiri cuts is the looping. By repeating the same actions or words, they get stuck in the heads of the viewers.
Do animators observe women's body in order to draw them just like it happens in Eromanga Sensei?
-- Takeshita and Kobayashi, do you observe women's bodies in order to draw them, just like it happens in Eromanga Sensei?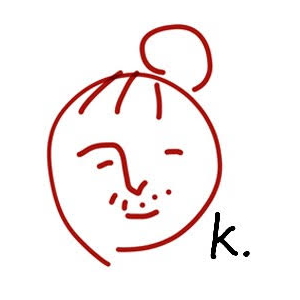 I would do that if I could (laughs)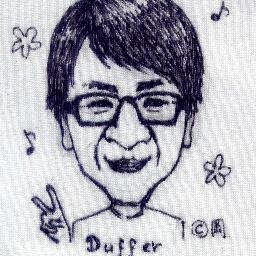 I think skilled animators necessarily observe reality or photos. I think it's quite common for them to pose in front of a mirror, trying to replicate the character's actions.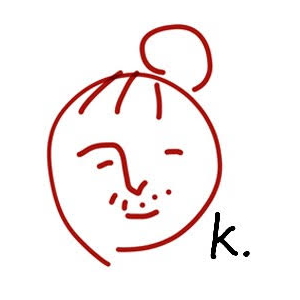 Besides that, I often use idols image videos as a reference. It's hard to take a man's body as an example, after all (laughs). I'm watching them as reference materials, but the truth is I'm also enjoying them quite a lot. (laughs)
-- How do your deal with scene and cuts that don't often happen in real life?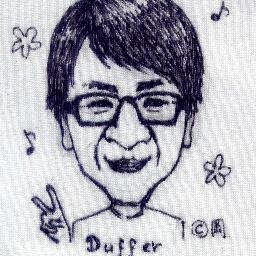 Anime production is a creative work, so I need to use my experiences as a reference. Even though I cannot observe real motifs, I do my best to fish from my pool of experience and depict such scenes as well as I can.
I wanted to create charming OP & ED credits
-- Sagiri's dance in the opening is extremely cute. How did you come up with that?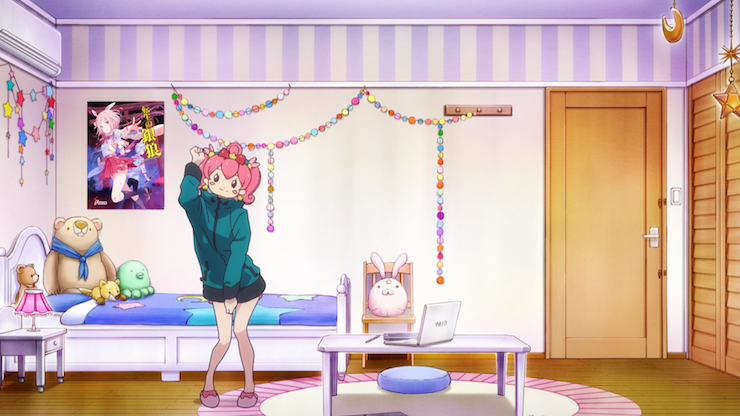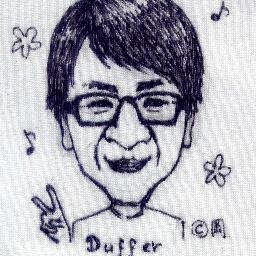 Sagiri tends to get really enthusiastic while broadcasting, so in the OP credits, she's dancing during one of her broadcasts. It's pretty common to portray dancing scenes during the opening credits of an anime. It's a cliche, but I still wanted to try it.
-- On the other side, in the ED credits Sagiri is dancing outside of her room. Sagiri is a hikikomori, so what is she doing out of her room?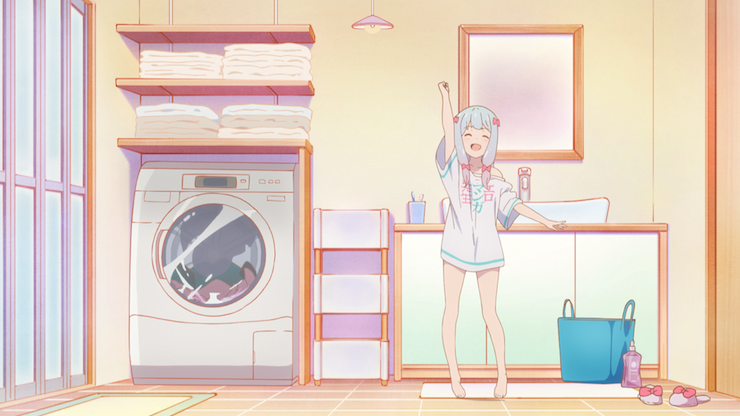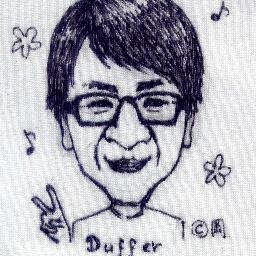 In my head, I had a concept in mind where in the end Sagiri travels the world with Masamune, and Masamune shows her the outside world. However, it's not something that we can do in the anime, so I created this ED credits.
In the last part of Episode 2, Sagiri says "I'm gonna wash my own panties from now on", so the ending is somehow connected to that scene as well.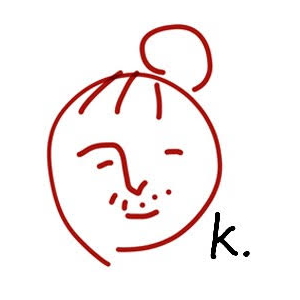 To some extent, the ED credits come from Episode 2.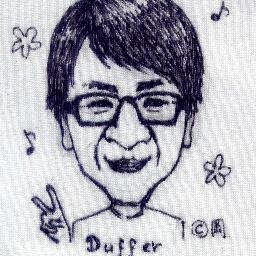 Also, Sagiri walks around her house freely when Masamune is not there. You can see it in Episode 8.
It's not only about kawaii characters. A story about two characters creating a light novel together
-- Judging from people's reaction on social media, Sagiri is thought to be much cuter in the anime rather than in the light novel. What do you think is the reason behind it?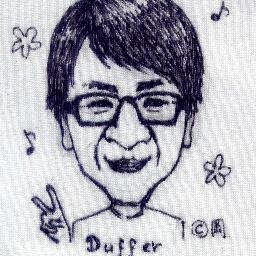 I think it's because facial expressions keep changing in the anime. Blinking is enough to make a character look way more kawaii. And colors. Sagiri's color scheme is pretty delicate. Pastel colors clash with her bossy way to talk, creating an amazing gap.
-- Tomoe (Masamune's friend and Takasago Bookstore attendant) is also very popular.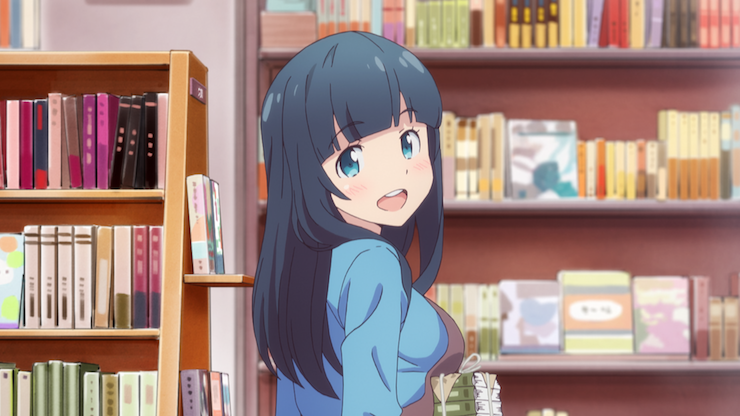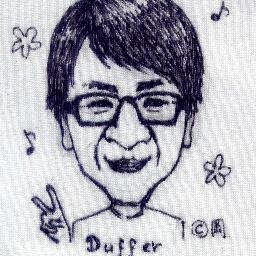 It's maybe because she's the most authentic between the protagonists.
-- The way she moves while arranging the books on the shelves is quite fascinating! (laughs) Since it's an anime, the characters' movements have to be cute as well.
-- In the end, what's the thing that the director has to keep in mind more than anything else when creating Eromanga Sensei?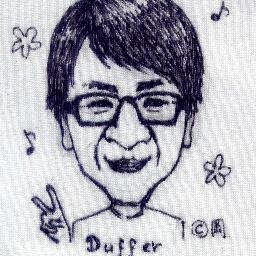 In the original novel, all the heroines (starting from Sagiri, of course) are extremely cute so I needed to portray them in the same way even in the anime. However, the linchpin of the story is Masamune and Sagiri wanting to create a light novel together.

That's why, although Sagiri is really cute, the theme of the series is two characters putting their forces together to make a light novel. Without that story, it would be only an anime about cute girls. The message that the two of them will move forward and fight together is also included in the OP credits.
I hope "Eromanga Sensei" headquarters will stay in the staff's hearts
-- You often post relay illustrations on Twitter. Members of the staff seem really good at teamwork! What's the atmosphere at your workplace?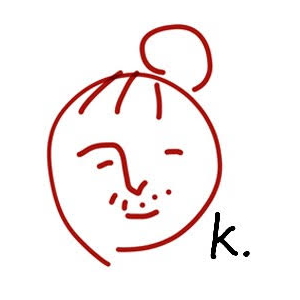 Most people of the staff are very young. Takeshita himself is very friendly, so the whole team is quite harmonious.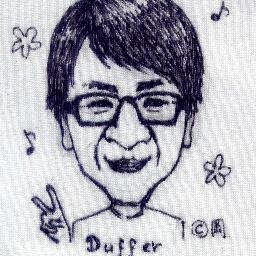 If work is fun, I'll be able to enjoy myself as well.  I hope our workplace will remain in the memories of all members of the staff. Most of them are freelancers, so today it could be the last day that we all meet.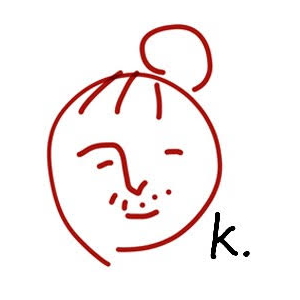 Also, it was the director himself to gather all these members. When it comes to creative work, the director doesn't often move himself, but in our case it was him who requested the presence of many of us. That's why many people agreed to work on this anime. I really respect him for sucking in even people that he met elsewhere.
I want all fans to be happy!
-- We're about to welcome the last episode. Is there a particular part in the anime that you want all fans to see?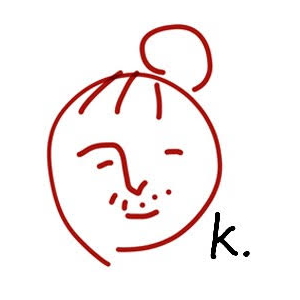 Personally, I like Episode 8. The person in charge of the scenario for that episode is Tsukasa Fushimi, the author of the light novel. It has a slightly different taste compared to all other episodes.
-- I think there are many fans out there who pay great attention to who the screenwriter is.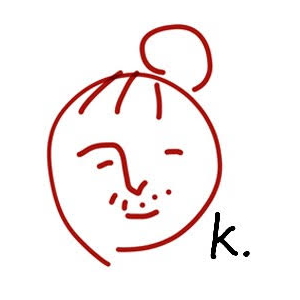 I'm one of those people too, so I understand that feeling. Basically, I'm glad when people appreciate the overall work... But when they also pay attention to members of the staff, I'm even happier.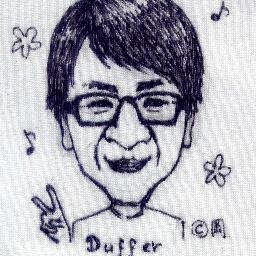 We're putting a lot of effort into showing Sagiri's kawaiiness, but other characters like Elf and Muramasa are also important to us. We want fans of every character to be happy and satisfied with the work we do. Please look forward to future developments
-- I can't wait! Thank you for your time!
In the next Eromanga Sensei feature, we will interview Sagiri's voice actress Akane Fujita. There will also be a special present for you, so please look forward to it!