An interview with Virtual Kitsune Musume YouTuber Ojisan! At pixiv office, with Nyalra!
Have you heard of Virtual Kitsune Musume YouTuber Ojisan, who made her appearance in the virtual YouTubers' world just like a meteor? What stands out the most is surely her cute fox ears combined with her kawaii visuals, that clash obnoxiously with her ojisan ("old man") inflection on screen. Today we expose Nekomasu, the person behind this virtual YouTuber, and will talk about his current job at a convenience store and much more in this interview! Are you ready for some surprises?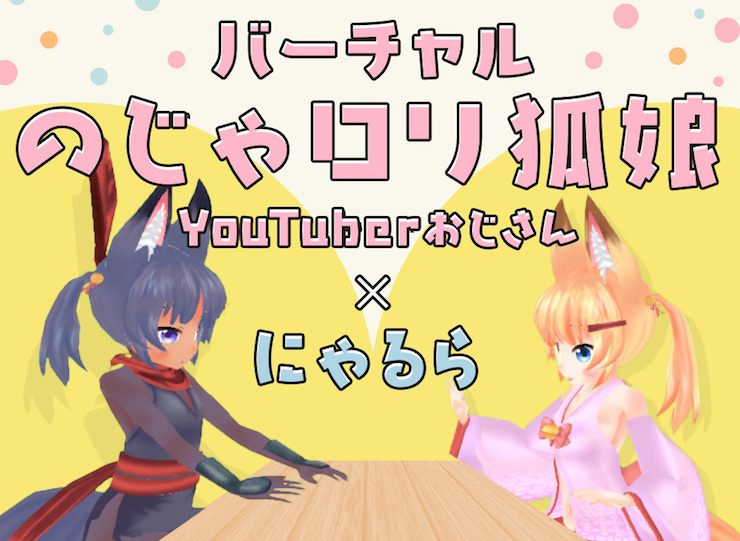 It was writer Nyalra to trigger the explosive increase in the number of subscribers to "Kemomimi VR Channel", which went from 300 to over 150,000. Nekomasu's dream conversation with Nyalra finally became reality here at our pixiv office! Nyalra said she was "impressed by this beautiful girl made with state-of-the-art 3D technology through Pretty Rhythm's Kaname Kurisu. There are so many possibilities when it comes to virtual idols!"

For this particular interview, "VR Kitsune Musume YouTuber Ojisan" created a VR Kitsune Musume model based on Nyalra! What does Nekomasu think about all the buzz he's getting? How can one become a VR YouTuber? This and much more in this interview!

Let's get started!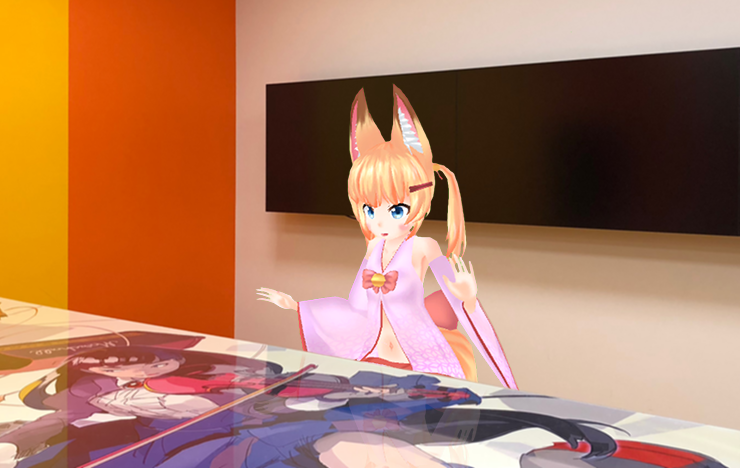 Nyalra:
It's the first time we meet in real life like this! Nice to meet you!
Nekomasu: Nice to meet you too!! I am... Virtual... Kitsune Musume... YouTuber Ojisan!!
ねこますさんに顔合わせして「現実では初めまして」と挨拶した瞬間、突然両手を忙しく振り回しながら「はい、どうも! バーチャル……のじゃロリ〜〜〜……youtuberおじさんです!!」と大声で叫んでくれてかわいかった

— に (@nyalra) 2017年12月27日
Nyalra: Wow, you're so energetic! Just like one would expect from a real YouTuber Ojisan!


Nekomasu: Alright!

Nyalra:I told pixiv staff that we would be seriously talking about VR, but since it's just the two of us in this room let's just talk about the most random things!
*At this time, other members of the pixiv staff were busy with an emergency meeting on another floor.


Nekomasu: Let's start!

Nyalra: Since you've suddenly gotten very popular you must have become quite busy. Of course, it's weird for me to mention the fact that you've "suddenly gotten very popular" since I was the one to introduce you on my blog.

Nekomasu: Well, I fiercely agree with what you're saying. I almost can't believe it and I totally can't keep up with the sudden fame. It's been like this since you introduced me on your blog; before then, I just had about 200 people following me.

Nyalra: That's right. When I found you, you had about 300 subscribers.

Nekomasu: Yep. And then everything changed. I've been asked this so many times, but I actually had no intention of selling, like, at all.

Nyalra: I totally get that you're doing whatever you feel like doing. And it's kind of insane that you're still working as a part-timer at convenience store despite being so successful.
Nekomasu: If I really intended to sell, I'd produce more works or hire a female actress to do some dubbing although it might cost me some money. I'm talking about creating videos in which a girl lends her voice for my acting. I think that's a fairly inexpensive and realistic method, so if I plan to make more money, I'll choose that method.
Nyalra: And yet you didn't do it. That's also why someone like me was able to discover you. It was a miraculous encounter, if you think about it.
Nekomasu: And because I didn't do it, I've become an existence so strange it's unlike anything anyone has ever seen before. Moreover, since my popularity rose along with some impactful buzzwords, many people think my dialogs are interesting.
Nyalra: They think so because you're the one and only Virtual Kitsune Musume YouTuber Ojisan. If it were some normal person, I think people would have their head.
Nekomasu: Thanks to everyone now I'm known for the dialogs in my videos as well.
Nyalra: Of course people will find the words in your videos interesting.
Nekomasu: The dialogs of my videos are popular right now, but the visuals are also ready to attract people. When I search the internet for some illustrations, I'd sometimes come across people who are discussing my dialogs although they don't watch my videos. And I find this whole thing interesting. I mean, it's not like I possess some special skills.
Nyalra: You're pretty bold for someone without any special skills.
Nekomasu: Oh! You're right! But I actually do have shame. I guess the 'mental' wall that one has to overcome before they can show the world videos like mine is taller than the wall they need to climb before they decide to become a virtual Youtuber. Meanwhile, I practically sprinted and jumped over those walls.
Nyalra: I think more people will try to overcome those walls. Inspired by you, Nekomasu, there will be men who use beautiful girl avatars.
Nekomasu: Yes, because that's easier to do.
Nyalra: Nevertheless, I think you're amazing for being the pioneer; the first one to jump over those walls. And you can be proud of that.
Nekomasu: I was a bit calculating about that. I began making videos as the result of learning Unity, and I planned to use the experience to expand my portfolio and find a job, so I wouldn't mind if the number of my subscribers stopped at 500. But there was one thing that I had to consider; it's that if I were to become a virtual Youtuber, I would come out sooner or later as the man behind that beautiful girl avatar.
Nyalra: I also thought that you would come clean about it someday, but it really was too soon.
Nekomasu: Well, it's just like how proposals submitted by employees don't always get approved.
Nyalra: I think you mean 'never'.
Nekomasu: Speaking in terms of companies, it simply means that the quality of my proposal is too low and not worth the budget. That's why I decided to go ahead and admit that 'I am the man behind this beautiful girl avatar' because I figure that's the extent of what I'm capable of doing. I don't want to act too late and wind up being 'the next one'.
Nyalra: I'm glad I got to find you, who had braced yourself to venture into that region. My first impression of you was intense.
Nekomasu: That kind of feeling when you get to see real pirates?
Nyalra: At that time I had blogged maybe 6 posts about you, but I began to actually pay attention after blogging the second post. I don't remember what brought me to your videos, but I have a feeling that I got there after jumping through several videos from what originally was a Kizuna Ai's video.
Nekomasu: I see. You really like virtual Youtubers.
Nyalra: Honestly, after watching your first and second videos I thought it'd be a long and winding road for you. I wondered if you'd be another overnight hit or if you'd last. I'm talking about the first wall all YouTubers eventually face.
Nekomasu: And you're probably shocked that I actually survived! (laughs)
Nyalra: That's right. Before I realized it I was playing your fourth and fifth videos, then I got to that part about making an onigiri ("riceball") using the armpit and I was convinced that "Oh! This is going to be interesting!" But I still think that most people will find it hard to like your videos right off the bat.
Nekomasu: I am aware that the sort of content I do is not for everyone, so if people can't grow to appreciate my videos they really don't have to.
Nyalra: And that's why I'm planning to write a post to promote the idea that "If we're looking for a male VR YouTuber who talks about how tough the world is, then it's gotta be that funny lolita girl, Kitsune Musume!" and then it'll make it easier for more people to come to your channel. I want to introduce your interesting sides.
Nekomasu: Oh, I get it. You're going to write a post about how I'm not a strange person but an interesting one, and so people should watch my videos because there's no reason for them to be concerned over the male voice in the videos...
Nyalra: Exactly! Although, it's less about telling people not to be concerned over the male voice. Instead, I want to tell people that your strong point is how you, a man, ceaselessly talk about realistic matters and once it gets across, I think people will grow to not only look forward to your videos but also understand you.
Nekomasu: Like telling them my videos may taste 'bitter', but that's just its true flavor... And it's delicious.
Nyalra: Even without me, I think you'll grow even more popular at this rate.
Nekomasu: No, I think that telling people how to digest and enjoy a specific content is a writer's true occupation and a core part of their job. I feel like articles about a certain topic written by people with relevant knowledge and experience and those who aren't as knowledgeable will give people completely different ideas. I've read your articles too and in my opinion, you really understand how to appraise stuff.
Nyalra: Thank you very much.
Nekomasu: I might have sounded a little haughty there, but that's what I truly felt.
Nyalra: Please don't worry about it. I should be the one feeling sorry because you complimented me during an interview about you.
Nekomasu: Yes, so please proceed and write your post using that keyboard. (laughs)
Nyalra: This keyboard is really cool.
Nekomasu: But I'm sure it's hard to use!
Nyalra: That's just how it is with typewriters, so I don't mind. It doesn't show well on photos but this keyboard really shines. I use this keyboard every day, thinking that shining keyboards are just so otaku... I really want to show it to you someday.
Nekomasu: I gave it to you so that you'd feel hyped and write anything I want you to write.
Nyalra: A day after I got this keyboard, I saw your tweet, "It means a lot when someone gives something that's on their own wishlist to someone else as a present." And that really made me realize that this keyboard has a lot of meaning.
Nekomasu: And it's true that I don't deal well when people bring me presents, but I like giving presents to my favorite people.
Nyalra: I think people do like giving presents. And this, I think, is a positive tradition brought by the internet. But really, the original purpose of my writing that post was to make you happy, even just for a bit.
Nekomasu: Thank you sooooo much! You've indeed made me happy! Thank you so much!
Nyalra: And then I started seeing people give you various presents, such as MONA, and I felt relief knowing that maybe I had something to do with that--maybe I had indeed made you happy even for a bit. To be honest, I never thought your content would spread so much.
Nekomasu: It's more than just 'a bit'. Although it's likely that one way or another my life would have reached this point anyway, you're undeniably a person that has helped my life advance at a super high speed. To me, you're an amazing key person.
Nyalra: And so are you to me.
Nekomasu: You were the one to change my world line.
Nyalra: Ooh, you just said something every otaku would deem cool. Now that I think about it, I really did something awesome by changing the world line of a non-otaku old man.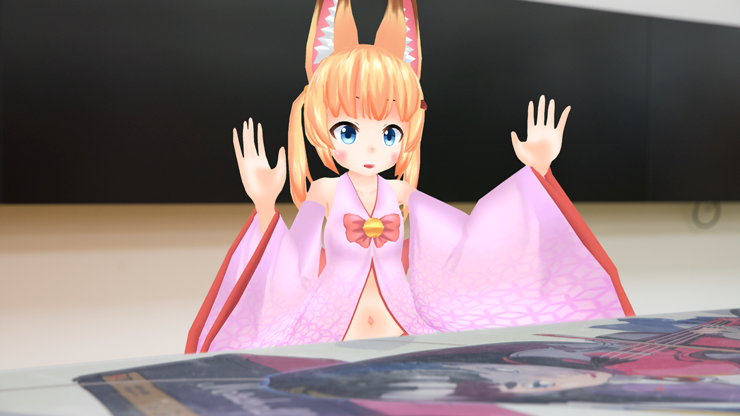 Nyalra: But it's all because of your performance. If you only had guts without skills then nothing would change, and I believe you have both guts and skills. There must be people out there who admire you. Excuse my frankness, but why did you always fail at job searching?
Nekomasu: Um, well... I couldn't seem to pass document screening... Especially when I applied for creative jobs, my lack of drawing skill was always the bottleneck. Plus I'm not exactly young, I don't have any employment history, and I didn't go to any creative-related vocational school... When I first began searching for jobs, they'd ask me whether or not I went to a vocational school.
Nyalra: And so you started talking about how tough the world is.
Nekomasu: I've had many people tell me that I should study more because I'm just that bad. If I didn't get this popular, then we would be talking about real-life problems, which includes the fact that I am still going to have a hard time finding a job as a proper technical artist. I'm able to say all's well in the end because I'm gaining popularity as a virtual YouTuber, but I feel like I'm still leagues away from being skillful...
Nyalra: You're so servile and that's why I like you. However, people say you have potential, so don't you think your job searching will go much smoother now?
Nekomasu: How nice it'd be if companies actually recruited people with 'potential'... I'm planning to continue making 3D works or anything related to creating original work in case 3D falls out of date, so I guess I'm at that point where I have to make my choice.
Nyalra: Speaking of original work, I really liked the gameplay video of that visual novel you created in the past.
Nekomasu: Oh, that video...
Nyalra: I really like that video. You manage to screen your fans with that video; just what one would expect from you. Of course, I think that was the perfect timing for you to eliminate some of your fans.
Nekomasu: Personally I think I was plenty satisfied with having more than 10,000 subscribers at that point, so it didn't really matter if they came to grow tired of me because so many people already appreciated what I do. That's the kind of mindset that I have every time I make a video. And so I will accept it if people think that I'm overrated or that I'm boring and unbelievable.
Nyalra: Even when your journey ends up like that, you'll forever be remembered as the first popular virtual YouTuber. I want you to be proud of yourself for that.
Nekomasu: I'd love to see myself occupy some space on Wikipedia, no matter how small.
Nyalra: When that time comes you'll be there not as a virtual YouTuber but as a big-shot engineer.
Nekomasu: I sure hope so. I don't really find myself obsessing over the dawn of virtual YouTuber era. Rather I'm more interested in AI now.
Nyalra: I've heard DWANGO Co.,Ltd. is putting their effort into developing AI right now. That aside, what about your obsession with kemomimi ("animal ears")?
Nekomasu: Oh, that's it!!! I really like nekomimi ("cat ears")! Of course, I also like fox ears.
Nyalra: You even have "Nekomimi Master" written on your name card. And that abbreviation is your name "Nekomasu".
Nekomasu: I'm a nekomimi master who's advancing toward the path of fox ears, because I kind of have already mastered nekomimi... The avatar that I designed for you this time also has fox ears. I couldn't make time for it so I designed the texture until 5 in the morning. That's another "real-life point", which is really an example of how tough the world is.
Nyalra: Did you just coin a new word...? Thank you so much for making the avatar after me. I will show it in the second-half of this article and I'm really looking forward to it. Thank you.
Nekomasu: I'm so glad that things are working out for me and that I can be here at pixiv, having a good time! Thank you for talking about fun and casual things with me.
Nyalra: That's probably because I'm here completely treating you as a friend. Although it may be presumptuous of me to treat you as a friend.
Nekomasu: No, no, no! We are friends!
Nyalra: Thank you... I also never expected you to accept my invitation to go out and have a drink after this (*We really did go.) And that's what friends do, so I think because we're close we're having fun.
Nekomasu: I'm just an old man working at a convenience store so I'm really no one special.
Nyalra: That's why I like you: you're a run-of-the-mill old man working at a convenience store, but on the VR world you're a mature, good-looking fox lady.
Nekomasu: I think that contrast is easier to sell because it lets people dream.
Nyalra: Including myself, all otaku want to be beautiful ladies. And it's like living the dream if we actually get to do that.
Nekomasu: I may be no one special in real life but I was able to act as a bubbly girl. I want everyone to think that it's also possible for them.
Nyalra: Oops, pixiv staff have returned. Okay, so let's talk about more serious stuff now. Could you tell us the most basic tools and how much cost is required in order to do what you do?
Nekomasu: For starters, you need to have game engines such as Unity or Unreal Engine.
Next, to create characters you need 3D's DCC tool, which is a software that allows you to adjust modeling software and movements. But you can't do much if you only have modeling software because you need Photoshop, Clip Studio, or Paint to color your character's clothes and skin. So really, the most basic tools needed if you want to create a character on VRChat are Blender or a modeling tool and a painting tool.
And then, if you want to proceed and become a virtual YouTuber, there are software like Bandicam and the likes. But since you need to record videos and clips that are playing on your computer screen, as well as taking videos you'll use as a virtual YouTuber with Unity, you need to set up a project.
Blender is a free software. As for painting tools, FireAlpaca is also free and has quite a number of good stuff. Also, Bandicam is a paid software but it really only costs you 4,000 yen. You might want to own a computer with good functions and a HMD, and if you already have that equipment then the cost of necessary tools to become a virtual Youtuber is less than 5,000 yen.
Nyalra: Aside from computer and that equipment, how much money does it cost?
Nekomasu: If you want to use head-mount display like Oculus and VIVE, then it probably costs around 80,000 to 100,000 yen. But if you only need a motion capture tool, then there's always Kinect. There's also FaceRig, that makes use of the movements of your face through your webcam.
If you work in a company, you obviously have access to better material... But I can't.

Nyalra: In other words, you can get started with about 100,000 yen.

Nekomasu: Basically, you need about 100,000 yen for a computer and 4,000 yen for a software.
Nyalra: That's nice! Only 100,000 yen to create a beautiful girl... One of the good things about you is that you can talk about these topics so light-heartedly.
Nekomasu: I know that people think convenience stores are cheap places... I mean, convenience stores are... Look, Seven & I Holdings is a beautiful retail group. What I meant was... The life of people working at convenience stores has to be kind of cheap. (laugh)
Nyalra: 7/11 is basically your sponsor, isn't it?
Nekomasu: I heard you also have some experience working in convenience stores. We should challenge each other to see who has the craziest client stories.
Nyalra: We totally should! Let's talk about it!
(*Our stories were so extreme and stupid that I decided to omit them)
Nyalra: It's incredible to think that even people like that have the common sense to purchase goods using real money. Some of them are so crazy that they actually look even crazier when they're just performing regular acts. But that's not even the worst part of working at a convenience store: that has to be the recurring depression...

Nekomasu: You find yourself thinking "will my days always be the same from now on?"... It's psychologically hard, and sometimes it's quite challenging to see a future before you.

Nyalra: It's amazing that you could use that in your videos.
Nekomasu: Yeah, I showed them!
Nyalra: I wouldn't be able to do it myself. 

Nekomasu:Since I didn't expect to sell at the beginning, I prioritized modeling and programming and decided to talk about my everyday life instead.
Nyalra: Thinking about it, one couldn't talk about these topics if they were working in a company.

Nekomasu:It's super casual. Random, everyday conversation!
Nyalra: When I checked your home address on Google Maps after receiving that keyboard, I discovered that there's a 7/11 very close to your place. I remember thinking, "he must be working there!"
Nekomasu: The best thing about that 7/11 is its proximity to me.
Nyalra: It's like a secret place that only I know of.  Talking about secrets, let's hope your boss never finds out what you do.

Nekomasu: For a while, I was afraid that if I wanted to quit he would ask me "is it because of YouTube?", but then I remembered that on the internet I'm nothing but a virtual existence. If I continue to deny, any lie can become the truth and any truth can become a lie.

Nyalra: I think your boss already found out what you do.
(both laugh)

Nekomasu:So, do you wanna see it? The model I made for you.
Nyalra: Absolutely! It's like a second me. I'm so nervous...