The girls of the "SHE" collection fight back in the face of adversity! - We get the scoop on Mai Yoneyama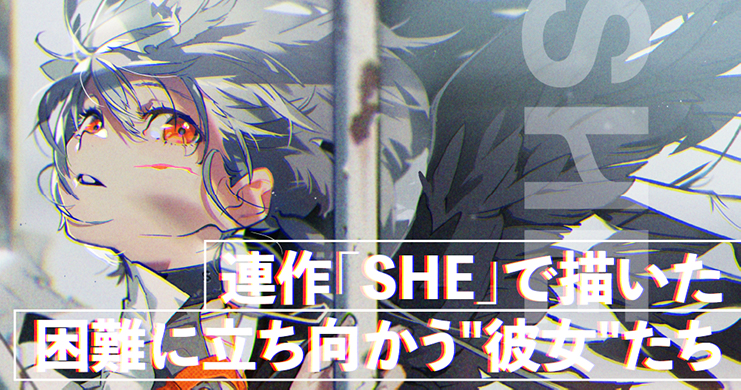 Interview: Torako
Editor: Hitomi Sakuma

A solo exhibition entitled "SHE" by the illustrator Mai Yoneyama is currently being held at the pixiv WAEN GALLERY. The event is attracting a lot of attention from people in the industry, with many fans and other well-known creators visiting the exhibition every day. Yoneyama began her career as an illustrator in 2018, having worked as a main animator for a number of big titles such as "Kill la Kill", "Kiznaiver", and "Promare".
We sat down with Yoneyama to ask her all about her solo exhibition, from the 9 newly-unveiled illustrations to the title of the exhibition itself - SHE, to her plans for the future as an artist.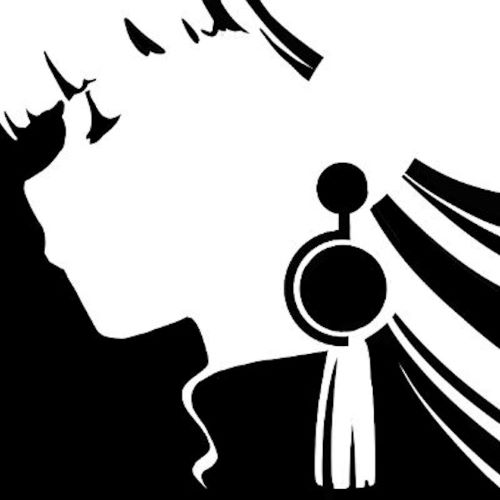 Mai Yoneyama

Illustrator, animator

Produces emotive expressions with consistent skill and outstanding sense. Worked on projects such as the "Racing Miku 2016" and the Evangelion apparel brand "RADIOEVA". She has also been involved in many animation projects, including character design for the anime "Kiznaiver", and the ending animation for "Darling in the Francis" and "Promare".




Click here for her past interviews.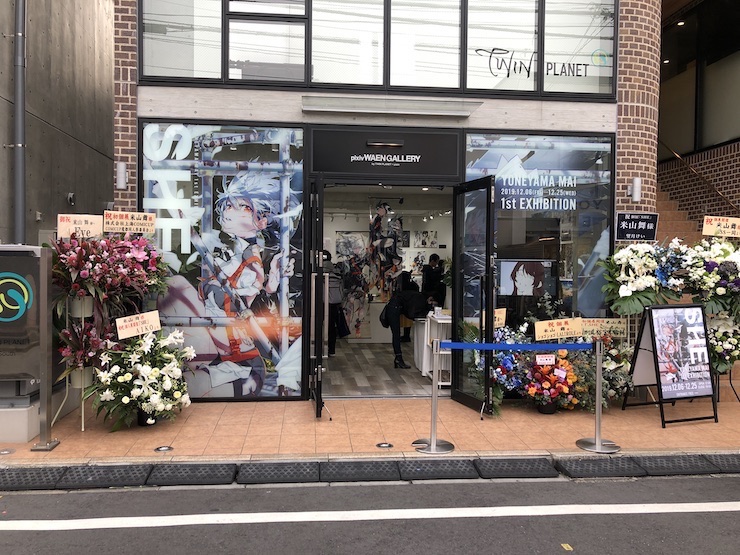 ── Once again, congratulations on your solo exhibition! It's the final exhibition of the year for the pixiv WAEN GALLERY, which opened back at the start of 2019. Does the timing of this exhibition mean anything in particular to you?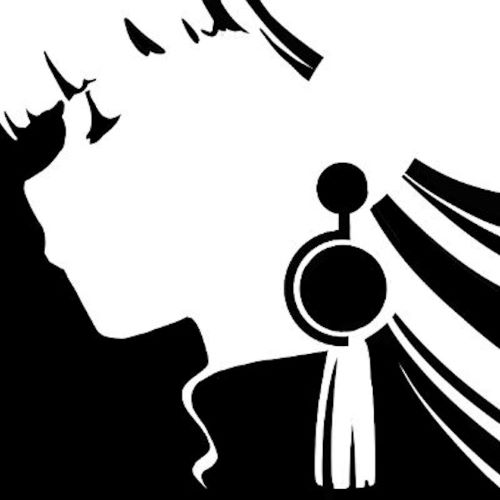 Thank you very much. I think this exhibition is a "new start" for me. It's been a year since I changed jobs from an animator to an illustrator. It feels like I'm re-introducing myself while putting together all of the skills I've learned up until now.
── You unveiled a lot of new illustrations for this exhibition. Was this all part of your plan?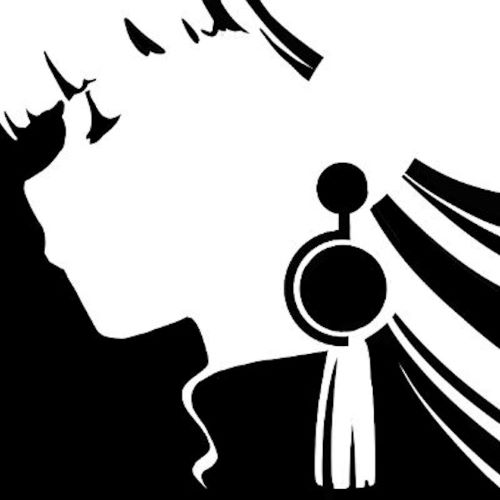 I guess we started talking about it around spring, but I had already planned for it to be this way from the start. If I put together all of the illustrations I'd drawn up until now it would still be quite a lot, but I was determined that I wanted to be recognized for a particular type of illustration. As a result, I ended up drawing 9 new illustrations. I guess you could say it's a testament to my confidence.
── Illustrators don't usually get the chance to talk about their own works, but this time we'd like to go over the themes of each of the 9 illustrations in detail.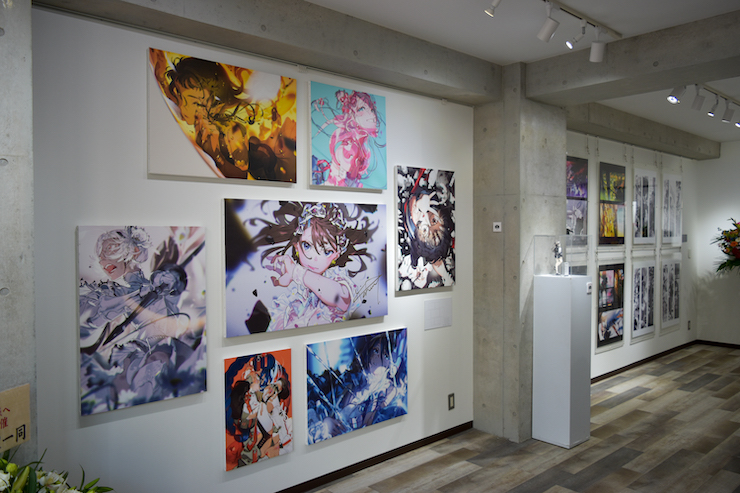 These girls are ready to counter attack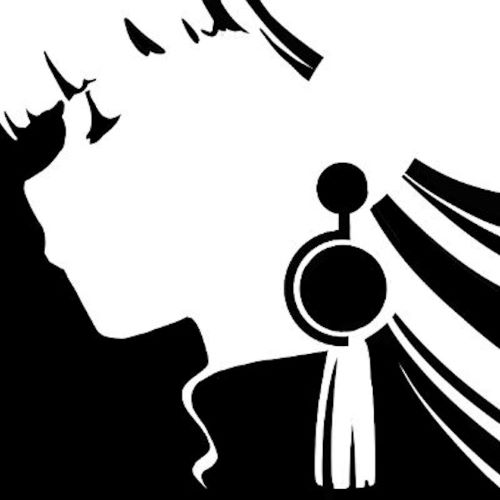 In May of this year, I drew a picture called "THE ONE" and with that picture as the starting point, I began to make a series of images that were all connected together.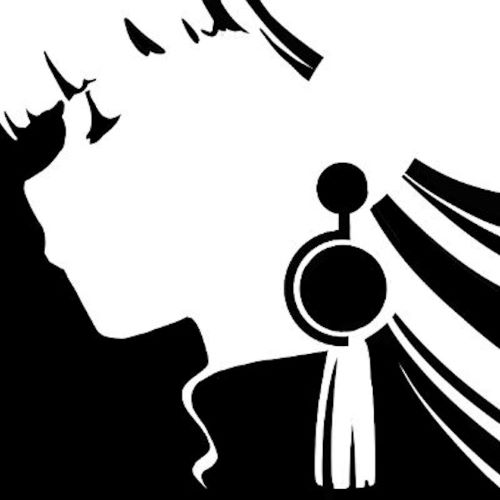 I challenged myself to see how much I could do with close-up face art and an intense gaze. The theme of this picture is like the subject is just about to make their counter-attack. It might be a bit strange that the clothes are transparent, but I hope that adds to their charm. Adult women wearing child-like clothing isn't everyone's cup of tea, so that's a bit unorthodox.
── Your style really comes out in these pictures. You've always been an incredibly talented artist, and been recognized for that, but these pictures really bring out the strength of your originality as an artist.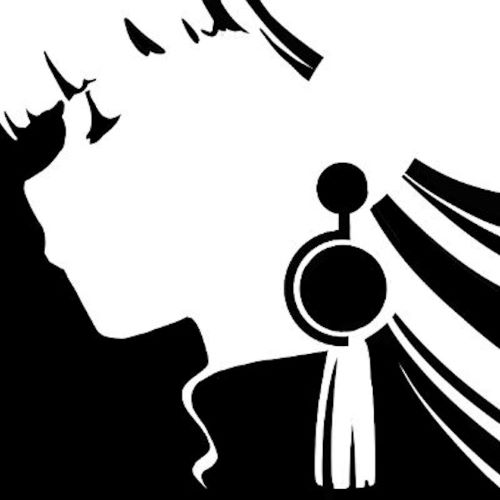 To be honest, I wanted to draw even more extreme close-ups of her face, something similar to what you'd see in a cosmetic advertisement. The illustrations in the SHE series convey themes of "adversity", "confronting difficulties", and "diversity". Even though the basic situation in each picture is the same they show many different types of people, and at first I wanted to express that using different make-up, skin color, and clothing. The whole concept behind "SHE" is that there are many different types of girls.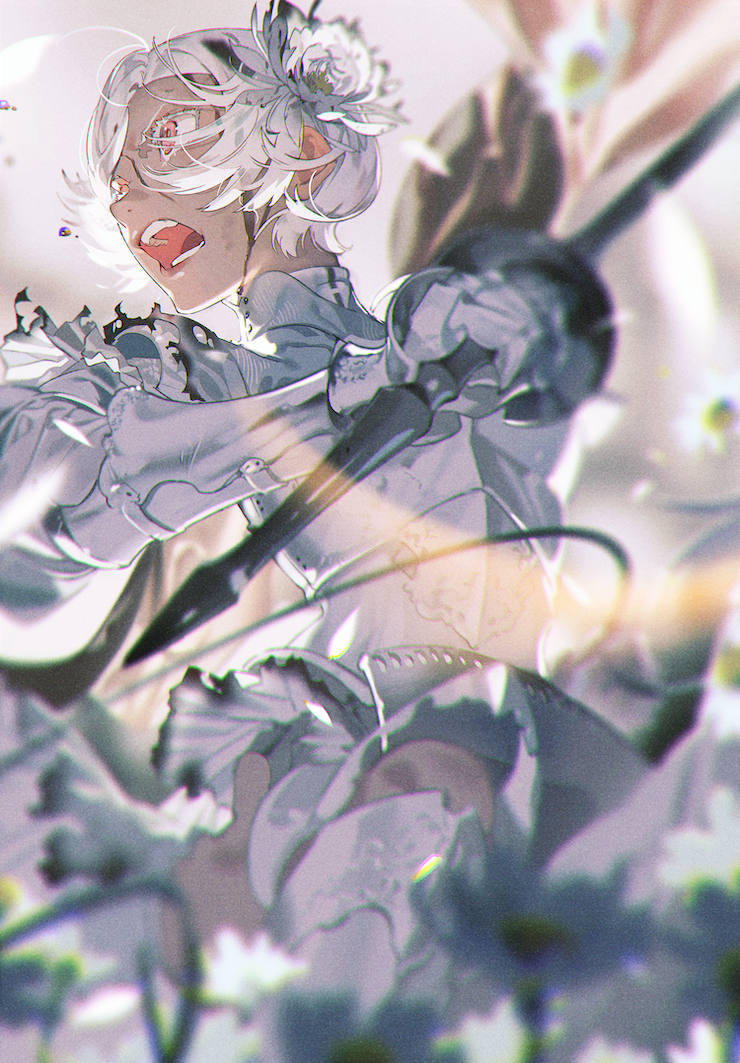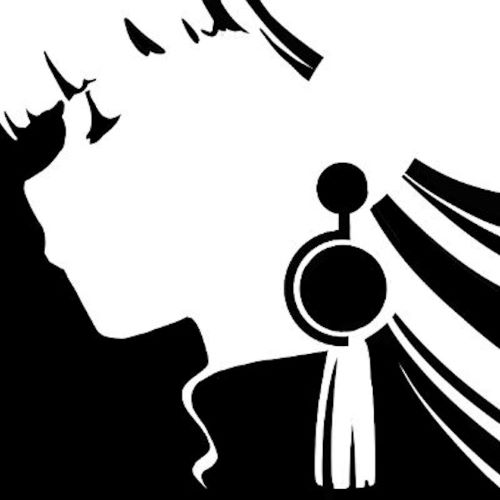 The theme of this picture is probably easy to understand. It's a fighting scene. I remember watching a scene from the last episode of "Sailor Moon", where all the Sailor Guardians died, and being moved emotionally. Even as a child, I found that scene breathtaking. I wanted to recreate that scene in my own way in my illustration. That's why even though her hair and such is disheveled, she still looks beautiful that way. Since it's part of a series, it's hard to find the balance between the color of the wall it's going to be displayed on, so I balanced it with white.
I want pictures to be like a song inside of me. By song I mean that no matter which part of the song you sing, it will still be part of that song, and you can still get an idea of the song even from those small snippets. In some ways it's quite ambiguous. Since illustrations themselves are more concrete, I want to blur the outline of such an image and try various ways to show it.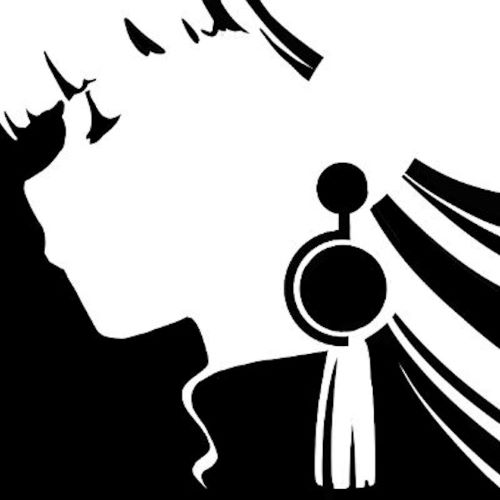 This picture has a theme I've always wanted to draw for the past 2 years. There were accounts on social networking sites that disclosed the process of full-body plastic surgery in detail, and I was inspired by that. These people will post pictures of the surgery, and in the case of liposuction, depending on the progress, the fluid will seep out of the body and dye the bandages red. It both looks painful and is painful, but these people seem happy enough to expose themselves. They look like they're telling themselves something like, soon I'll be beautiful! I feel like that's a positive thing. Trying to actively change yourself is a big step - a self-imposed challenge - and some people might say something negative about your attempts to change yourself in response, but it's important to remain confident in your decision. I myself have had orthodontic work done to fix my teeth.
── The first time I saw this picture I thought, only Yoneyama could have drawn something like this. There's a sense of slight fear, but also the subject being 'saved'.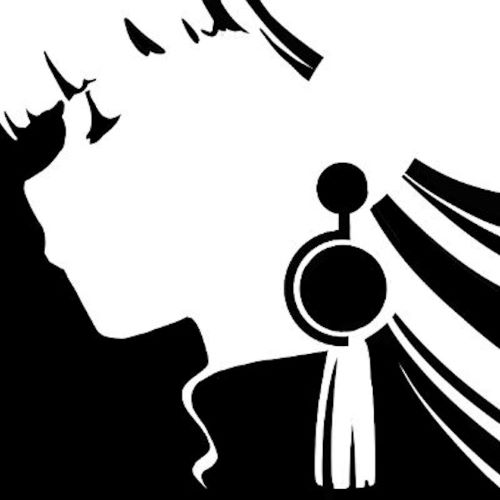 The title of this picture is "S(HE)". There's a nuance behind it that the subject could also be a boy. But gender doesn't matter. Whether it's a boy or a girl, they just want to become cuter, like a doll. That's their deepest desire, so even if they're in pain they're still extremely happy. That's the simple emotion I wanted to convey with this picture.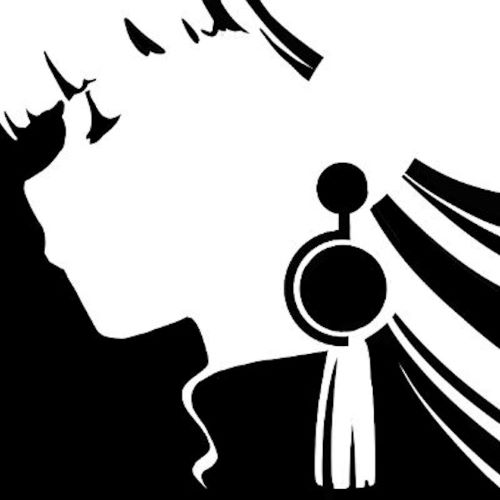 I wanted to draw girls from various time periods, so I paused time. The motif is the insects that are trapped in ancient amber, and since it's based on the past the title includes the word "was". She's a little different from typical beauties and I wanted to give her 'oriental' vibes, so she's the one whose make-up I worked the hardest on. I love ambers and I collected a lot of them when I was little. They're really stunning at a glance, but the longer you look at them, the harsher they become. There might be bits of dirt or small insects trapped inside of them. I wanted to convey the thrill of that in this image.
── The composition is really incredible. You wouldn't believe it's a commercial illustration.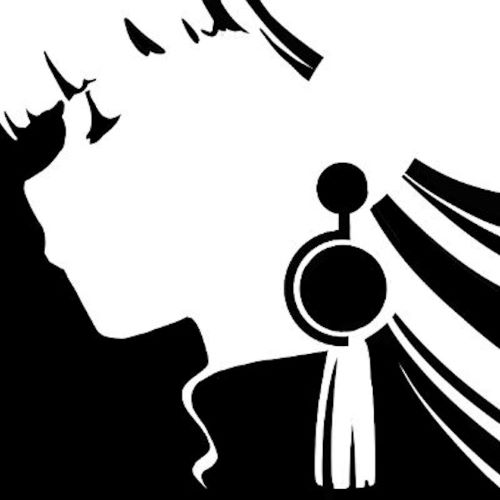 I picked a layout I ordinarily never would have chosen to draw.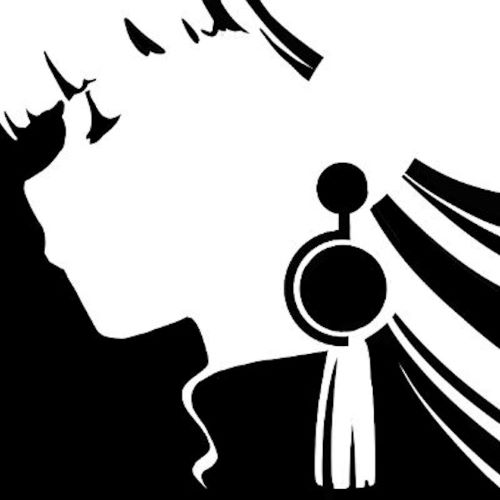 This one is the art of creation vs oneself. I think it's also pretty easy to understand. We all fall into art slumps sometimes. The hands surrounding her are plaster casts.
── But her expression doesn't feel tragic. And the composition is incredible.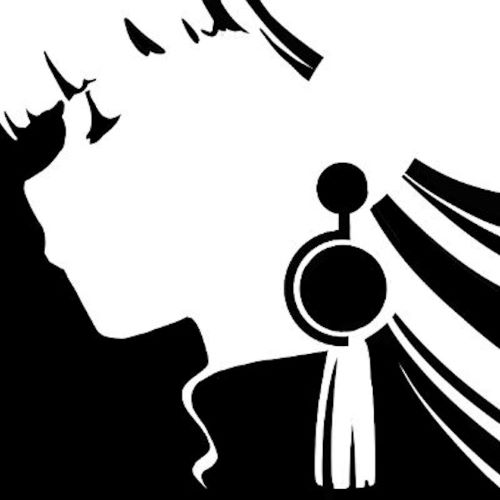 I agree. It doesn't feel tragic, it feels like she's making a statement. "I'm going to break out of this slump!" I also found this composition interesting. Although this isn't limited to this collection alone, I really don't want the composition of any of my illustrations to overlap. In this case, I wanted the subject to express herself with her hands, so I drew her face upside-down and used dramatic shadows to separate it from the rest of the collection. The spotlight is hitting her from upside-down, and the composition itself becomes a stage.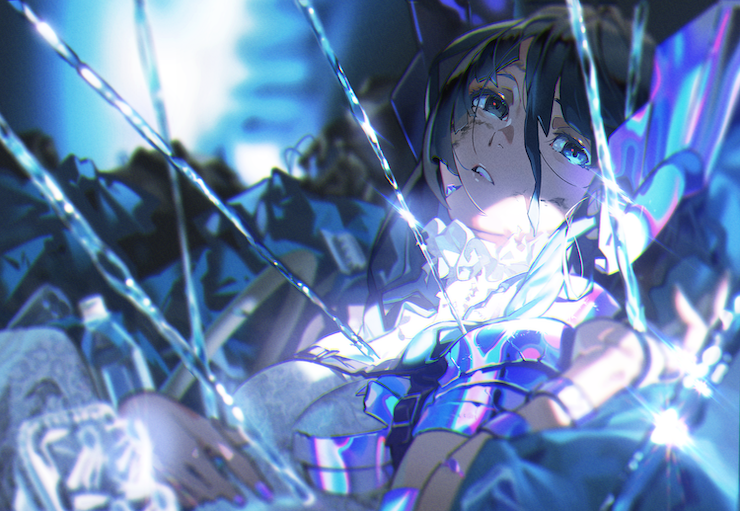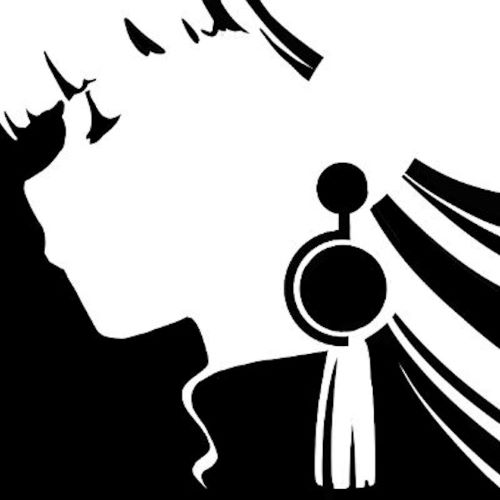 This piece was born from my joy at entering
SSS
(a game studio Yoneyama belongs to)! There's a story behind this girl, and there's a garbage bag wrapped around her body. She's like a girl who escaped from another world and fell into a trash can in modern Shibuya. I don't think she knows that the things surrounding her are garbage bags. It feels like she's just wearing the objects that were surrounding her. Like milk cartons or plastic bottles and fluorescent lamps around her head.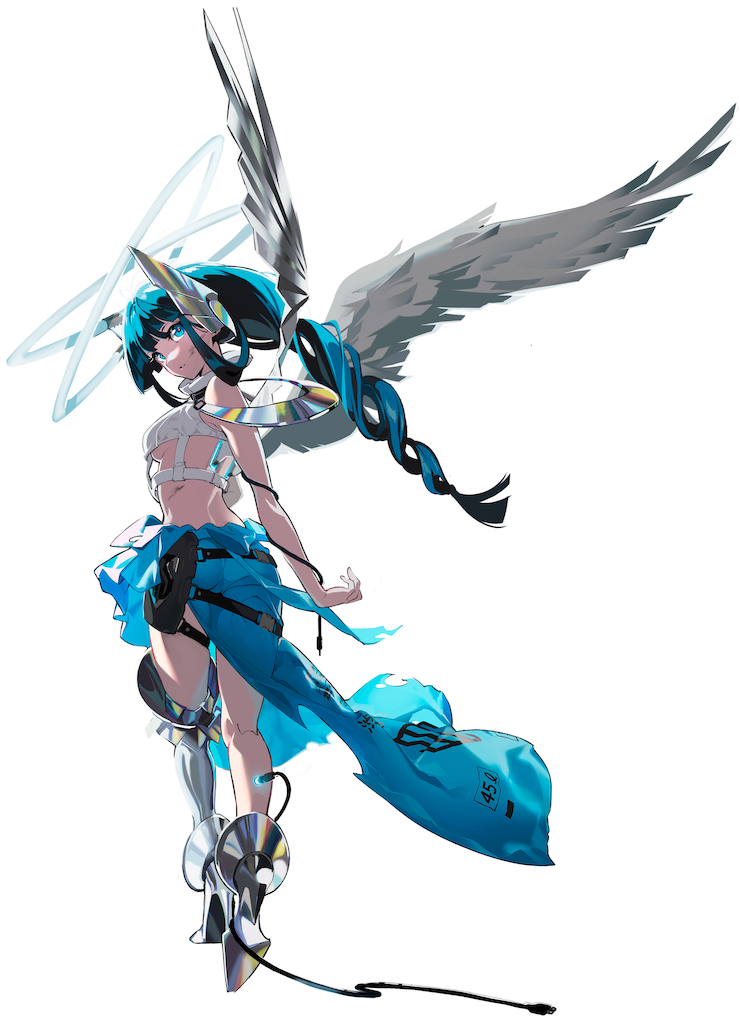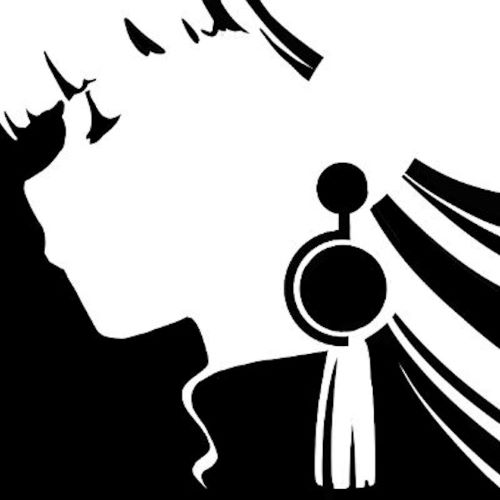 When you draw bags under the eyes, the subject tends to lose some of its cuteness, but I think they work unexpectedly well here.
── You already received a lot of attention for you talent before showcasing "THE ONE", but I feel like your unique creativity has become even more prominent.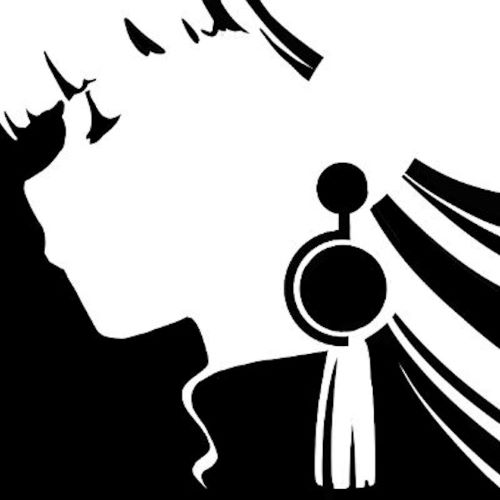 I've taken on a lot of art jobs up until now, and I'm proud of what I've achieved as an artist so far. But I always slightly resented the fact that the impression I give from my art really depends on the job I take on. It feels like I can't really decide what I want for myself. I've been working all this time and, of course, I want to continue as an artist from here on, but I thought that it was finally time to truly express myself. These illustrations are like my diary. They represent how I feel at the time I draw them.
I never want to quit either animation or illustration
── It's a huge deal to hear what an artist has to say about their own work. The theme of this collection is based around overcoming tough situations and standing back up, and I think they also strongly convey your own determination.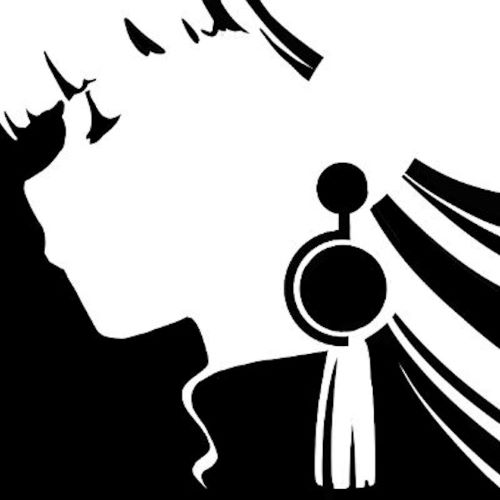 Especially in animation work, there are a lot of men, but I didn't want to be taken lightly just because of my gender. A lot of people are watching the shows as they air, and sometimes there will be negative comments. But I don't want to be angry either myself or the person criticizing me. I want to make a statement about what I'm capable of. If I'm not in that mindset when I draw, I feel like I've lost against myself. I wonder if I feel defeat more intensely than other people. Maybe because I'm the youngest in my family. My sister accomplished a lot, and my parents were always praising her.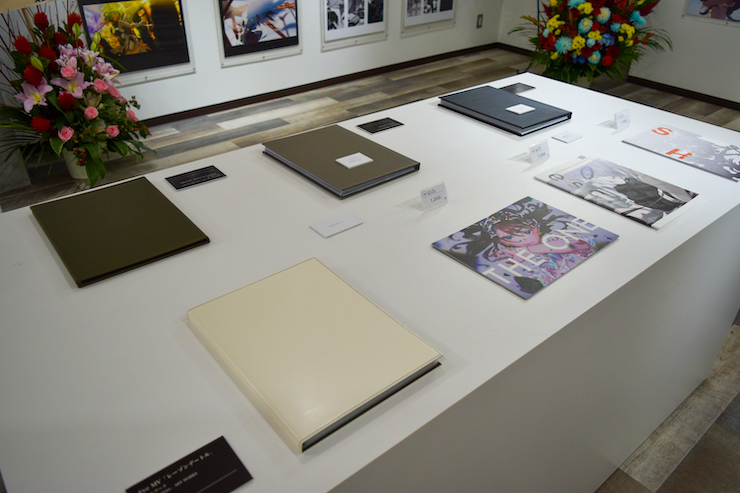 ── You've also had a long and successful history as an animation director, which must have definitely come with its own set of challenges. In the past year alone you've been enthusiastically unveiled doujinshi. It feels like you're really gearing up for attack.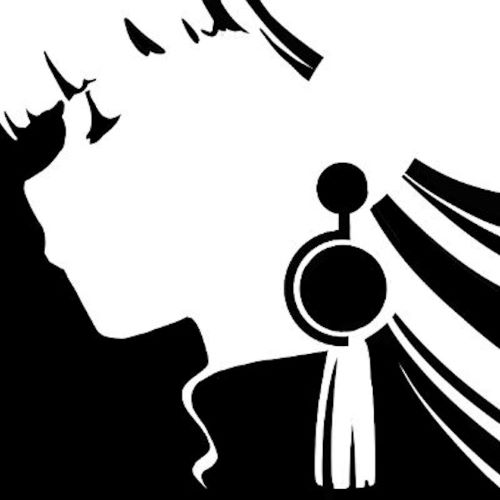 Right. Well, it's more like my "retaliation". I created a book last year entitled "esc." and as you can probably tell by the title, the theme was all about escaping. It happened exactly around the time I was moving over from animation into illustration. I really did feel lost back then. "Is it really okay to walk away from animation when my skills are still so unpolished?", I wondered. But I don't think it's possible to reach perfection in just one lifetime. So I thought that I might as well just do what I want to do, and in the end I think I made the right choice. Changing jobs isn't such a big deal. If someone is so worried that they've come to a complete standstill, I hope my series can inspire them to not be afraid any longer.
── If you think about it in another way, anime will always be a really big part of you.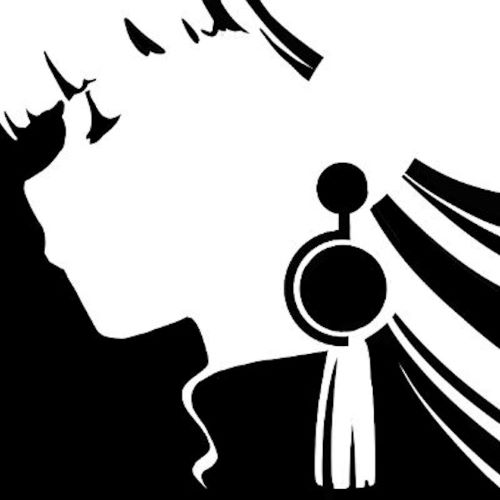 Of course. I think my illustrations would be very different if I'd never been involved in animation, and I wouldn't have earned the trust that I have today. I would never throw away everything I've done so far, and I'm going to continue on in a way that doesn't betray my roots. I'm not as involved in anime as I used to be, but I could never completely throw it away. I want to do both, instead of narrowing the scope of what I do by choosing one or the other. I'd really hate to be forced to make the choice to give up one. I want to do it all.
The main piece trilogy born from the essence of Shibuya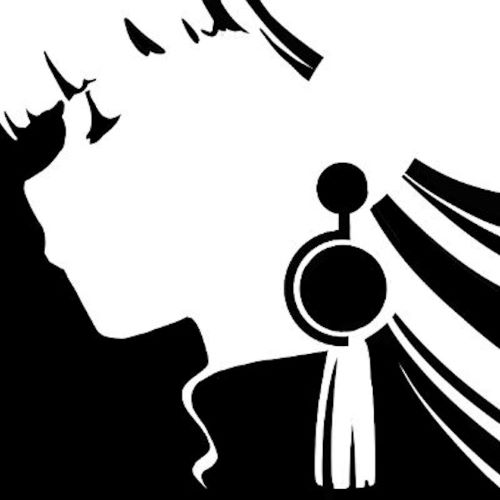 This is the first picture I drew for my solo exhibition. I planned to use it to decorate the exterior of the gallery, so I was conscious about making it keep in balance with the building. The "Main Visual Trilogy" is a series about living things in the city. Recently I've been working in Shibuya and sometimes go home in the early morning when there are lots of crows and rats everywhere. It really makes them feel alive when I see them scavenging through garbage for food. I chose this theme because I feel a strong sense of vitality in Shibuya. This is the essence of the city anthropomorphized.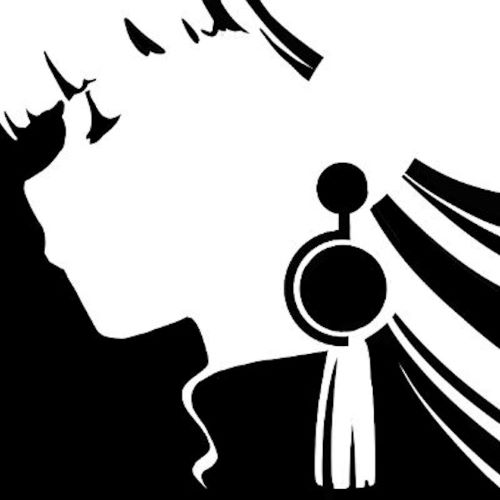 This girl is based on a city rat. Inspired by the artist Kei Mochizuki, I wanted to draw a girl with big eyes, an intense gaze, and a big, frilly dress. Her dress looks like it was made out of garbage bags. I also quite like the steel frames and building materials present in the picture. If you look closely, you'll see she also has a tail. And there are thin cords that have been gnawed on. But I don't necessarily need to tell you any of this. The person looking at the picture is free to have their own interpretation.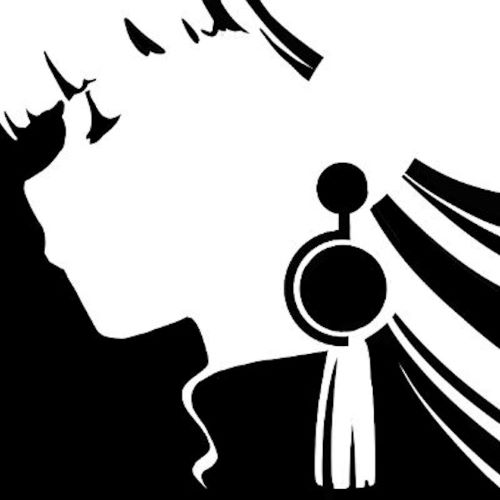 These two are crows. I wanted to portray them with quite a sad expression. But if their sadness and loneliness came across too strongly, it would overshadow the theme of this trilogy of illustrations, which is all about the essence and life of the city. So I thought that two people would make the picture more lively. Their outfits are also made of garbage bags, but they ended up becoming more stylish than I originally intended.
── Your design skills really are incredible. I was shocked to learn that you designed the doujinshi you published a while back completely by yourself.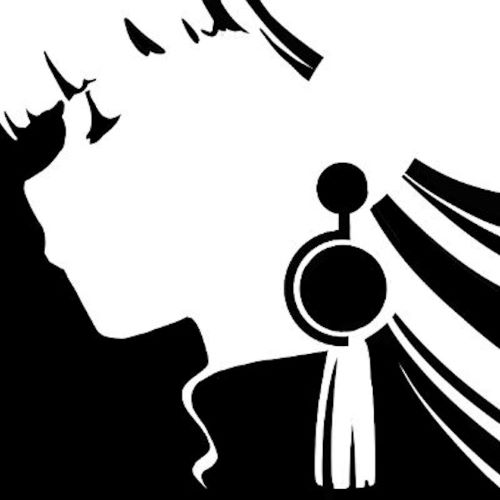 It's my dream to be able to do everything by myself. I'm like a kid who watches someone eat a snack and thinks "That looks good! I want me some of that too!". (laughs)
── It's a really positive to see you running at all of your dreams so full-force. That kind of strength is both really admirable and inspirational.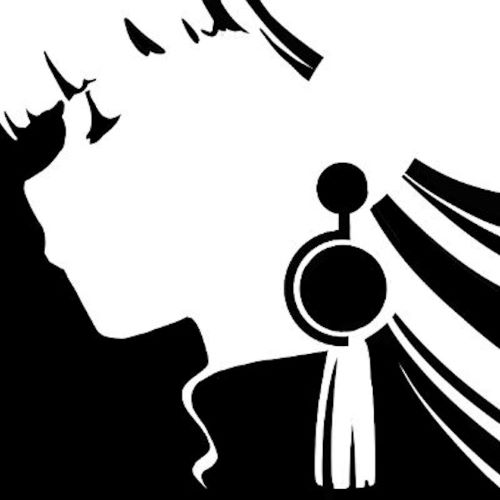 It's also a little silly. (laughs) It's like the way two girls having a conversation and end up agreeing on everything. "Same!" "Me too, I get it!". To me, illustration is a communication tool. So I think it's easy to understand.