The Author of "Koisuru (Otome) no Tsukurikata" Tells the Secrets To Making Things Cute - When the love for your characters inspires you.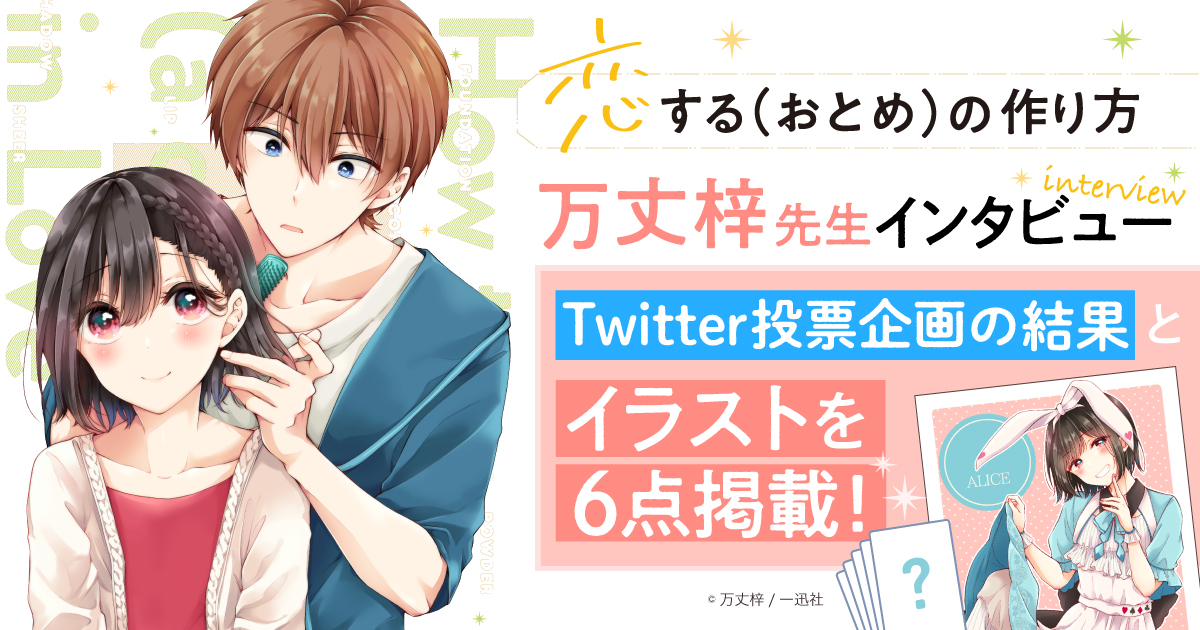 This bubbly heroine that anyone could fall in love with is actually an introvert... and a high school boy! The manga Koisuru (Otome) no Tsukurikata (a.k.a. Ototsuku) is currently being serialized on pixiv Comic and depicts the slow-burn love story between a boy named Kenshiro Midou who loves applying make-up to his male friend Mihate Hiura, who in turn starts to enjoy presenting himself femininely.
To celebrate the release of the second volume of the manga, pixiv Comic held a poll to decide on some new costumes for the heroine* Hiura to wear. We already knew Hiura is the cutest, but we didn't expect him to become even cuter by simply putting on these new outfits! The winning illustrations premiere today on pixivision!
We asked the author, Azusa Banjo, and the editor in charge, Suzuki, to tell us about Koisuru (Otome) no Tsukurikata.
Enjoy the interview and the exclusive illustrations!

(* Translator's Note: While Hiura is affectionately called a "heroine" as a reference to his crossdressing, he clearly identifies as male in the Japanese text, even while wearing stereotypically female clothing. As such, he/him pronouns are used in this article.)
A miraculous balance of male and female readers
── Ototsuku was originally released on Twitter from the end of 2019 as the short manga Osananajimi (♂) o Onnanoko ni Shiteshimatta Hanashi.
Banjo: Back then I was having a hard time turning my projects into a series. One day, I uploaded the manga on Twitter as a test and, as luck would have it, the response was great. That's when Suzuki contacted me.
── Suzuki, what did you like about Osananajimi (♂) o Onnanoko ni Shiteshimatta Hanashi?
Suzuki: Recently there have been more and more works about make-up and featuring the romance between a man and an otokonoko (男の娘, a Japanese term for men who adopt a culturally feminine gender expression, usually through cross-dressing or crossplay), but at the end of 2019, these kinds of works still felt fresh. Readers of Ototsuku are nicely split between male and female, almost fifty-fifty.
Banjo: Boy's love is mainly aimed towards the female public, while otokonoko characters are usually targeted at a predominantly male audience, right?
Suzuki: Yes. That's why I wondered which of the two parties would end up supporting Ototsuku the most. After the first volume came out and I had a look at some data, I still couldn't figure out which side it leaned towards. (laughs) Many works out there are loved by both men and women, but it's rare to have such a clean fifty-fifty ratio. That's definitely one of Ototsuku's strengths.
Banjo: I shouldn't really say this myself, but this is one of those cases when a miraculous balance just happens to be in place. Ototsuku can be seen as a BL story between high school students, but Hiura is a character that is drawn in a very feminine way, so male readers enjoy it too. I think that if I had expressed Hiura's cross-dressing in a different way, the readers' gender ratio would be skewed differently.
Hiura, the author's ideal cross-dressing heroine
── No one can deny that Hiura has a certain charm that makes him cute both inside and out.
Suzuki: There are various ways to portray male characters cross-dressing as girls. If the manga had been written exclusively for a male audience, the character would probably have looked sexier, while if it had been written exclusively for a female audience, he would have come with an edgier side. But Hiura has a classic-heroine feel to him, while he's also a bit different from other similar characters. I think that's what made readers feel like they were getting a breath of fresh air. I'd like to ask the author once more: how was Hiura born as a character?
Banjo: At the time, I had the impression that most otokonoko characters were being portrayed as proactive and a bit aggressive. I personally prefer characters who are a little shy and defiant, so I combined these traits within an otokonoko character... and Hiura was born. You can say that Hiura is my ideal character. (laughs) While I was working on the concept of an otokonoko who is also a little grumpy, I came up with the idea that he would start cross-dressing not out of his own will, but for his partner's sake. So Midou comes in, as a man who loves make-up.
── The reason why Hiura started dressing up as a woman was to get Midou to notice him, wasn't it?
Banjo: Most otokonoko characters choose to cross-dress just because they like the clothes, so I wondered how Hiura would be received. But it seems like the readers like the fact that he started cross-dressing to get his crush to like him.
── Do you maybe have a thing for otokonoko characters yourself?
Banjo: I do! Back in the old days of shoujo manga, when works such as Sailor Moon and Card Captor Sakura came out, the boundaries between genders were quite liberal. I grew up reading works where people of the same sex fell in love with each other or changed their genders when they transformed, and that was probably where my own work comes from.
── In the looks department, Hiura is 100% bishoujo (美少女, a Japanese term for a beautiful young girl, usually an adolescent), but if you look closely, his body is still boyish in its own way, which is something that you seem to be very particular about.
Banjo: Achieving the right balance is quite hard, isn't it? There have been times when my work has been turned down for being too boyish.
(laughs)
Suzuki: Yeah, I would tell her that Hiura looked too much like a boy and also a bit stiff. (laughs)
Ideas are born out of love for the characters
── Hiura always looks cute, but there's always a panel where he's even cuter, right? Almost like a highlight.
Banjo: By now, that's the norm for me. (laughs)
── Do you think about the story first and then decide on a highlight later?
Banjo: There are many times when I start from the highlight panel. I decide what kind of expression I'm going to feature and build the story from there.
── Character expressions in Ototsuku stick with you. How do you learn to draw such captivating expressions?
Banjo: I don't think I'm that good at drawing facial expressions, but I have a strong desire to draw Hiura in many different shapes, so I'm always thinking, "I can still draw more! I still have ideas!"
I look at other works and admire some of the expressions I find, but I don't really use them as references in my day-to-day work. So I guess I'm pretty reckless, or maybe my love for Hiura is the driving force behind it all. (laughs)
Suzuki: As the editor in charge, I was a little worried that you'd burn out because you go full throttle all the time... It's reassuring to hear you talk like this.
Banjo: There's still so much I want to draw!
── What do you think is the cutest thing about Hiura?
Banjo: I'm not sure it's fair to me to say this since I'm the author, but... isn't Hiura's existence a cute thing in itself? I love it when a defiant girl character gets embarrassed, so I think blushing Hiura is just the cutest. But I really like everything about him. (laughs) I try to draw characters that male readers will enjoy. Of course, I want female readers to enjoy my characters too, but I think most girls are already in it for same-sex romance. On the other hand, most male readers have never read such a story before; in order for them to enjoy Ototsuku as a romantic comedy, they need to like the characters first.
── I think it's a blessing for creators to be able to love their own characters. What is the secret behind this kind of love?
Banjo: I think it's a good idea to think of something for each character that will be particularly fun to draw. That way, you can enjoy drawing them effortlessly. I think I got lucky this time. I developed a character who is the embodiment of my personal preferences and that character has sparked the interest of the readers too, which makes me love him even more.
Suzuki: Readers understand it when a writer really loves their characters.
What looks good in real life doesn't always translate well in drawings
── Ototsuku talks about fashion and make-up. Are you a make-up lover yourself?
Banjo: It's a bit hard for me to admit this, but... While I obviously like make-up, I'm not an expert by any means. My job as a mangaka doesn't really involve going out much. (laughs) Working on Ototsuku allows me to relearn some things myself. There are a lot of make-up courses available online now, so I've been checking them out. However, since the premise of this work is that make-up is to be used on Hiura, I have to consider what will look good on him.
── Thinking about it, Hiura doesn't care much about fashion... in a good way. I think you're choosing the best items for him!
Banjo: Fashion goes in and out of style really fast, so if you keep to the current trends, readers may have a hard time relating with your work in the future. Also, simple fashion is popular these days, but it's difficult to incorporate that into a manga in a cute way. So, rather than including all the current trends at all costs, I try to keep a balance and try a little bit of everything. No matter how trendy an item is, if it doesn't look good on Hiura, then it's useless. Even if a particular item calls for coordinating it with another item, I always prioritize how Hiura would wear it.
── I think a lot of artists have a hard time deciding what kind of clothes to put on their characters.
Banjo: This is something that I still struggle with: what looks good in real life doesn't always translate well in drawings. Oversized T-shirts are cute in real life, but in a manga, they end up looking kind of plain. It goes without saying that it may not be the best idea to just copy everything you see in a fashion magazine. In the end, I think artists need to use various references and then arrange them to suit their characters.
Suzuki: There have been times when I have looked at copyrighted illustrations of collaborations with apparel brands and wondered if that character would really wear that type of clothing. It's crucial to think about fashion while still keeping an eye on your characters. Don't get caught up in the trends, but rather ask yourself, "What would this character wear? What would look good on them?"
── What kind of references do you use for fashion?
Banjo: I mostly reference influencers and fashion magazines.
I'm not familiar with fashion jargon, so I make up my own categories (e.g. "XYZ-style fashion") and then look up items that would fit. That way, when I have to decide what kind of outfit I want my characters to wear, I have a clearer picture of the overall direction to follow. Once I have chosen a specific style or category, I search for more items that would make a good outfit, and so on. It's quite a simple process.
── Sounds like having clear categories in mind also helps when it comes to deciding whether a fashionable item matches a certain character or not.
Banjo: That's right. Still, Suzuki once pointed out something to me: did I really think that Midou would let Hiura wear those clothes?
Suzuki: If we choose outfits that are really cool and perfectly coordinated, the readers may have trouble finding the characters approachable. So we have to be careful to keep a good balance between being fashionable while remaining approachable.
I push myself so that the delays don't carry over to the next day
── As part of the campaign to celebrate the release of the second volume of Ototsuku (learn more at the end of this article), we held a poll asking readers which costume they would like Hiura to wear. Now that the results are in, please tell us what you think.
Banjo: The number of votes for a jiangshi (a Chinese hopping vampire or hopping zombie) costume was much lower than expected. (laughs) Maybe a lot of younger people don't know what a jiangshi is. Also, it seems that streetwear remains a very popular theme! Many people were requesting it when I was taking personal commissions. Perhaps street fashion is the most 'current' type of fashion for young readers.
── We'll be releasing some brand new illustrations of Hiura wearing the outfits chosen in the poll. Are there any outfits that you are particularly looking forward to drawing?
Banjo: I'm looking forward to drawing Alice, because I think the theme lends itself to many different interpretations. Also, the police officer! The main story of Ototsuku is based on everyday, real-life fashion, so I thought I'd take this rare opportunity to have Hiura wear a cosplay-type costume. (laughs)
── Still, drawing six different illustrations just for this occasion is quite a task, isn't it? Do you consider yourself a fast artist?
Banjo: No, not at all.
Suzuki: Lies. As your editor in charge, I can say that you strike me as quite the speedy creator! Banjo always provides a very clear schedule, which makes it easier for me to consult her about promotional illustrations for bookstores and other work.
Banjo: I always try to leave enough time to face any problems that may arise. Meeting deadlines is what matters the most... I don't want my reputation as an artist to suffer because of something other than the quality of my work.
── How admirable! However, many people have trouble meeting their deadlines although it should be a must. What is the secret to your excellent time management?
Banjo: The moment I decide on the number of pages I have to draw, I make a schedule and set a quota for each day. I don't go to bed until I've met my daily quota! (laughs) I push myself so that the delays in my work don't carry over to the next day or even later.
Happy events alone can move a story
── Banjo, your previous works had a very serious flavor, didn't they? Isn't it difficult for you to draw a gentle romantic comedy like Ototsuku?
Banjo: It's indeed quite difficult. When I started working on the series, I was worried that I wouldn't be able to get the story rolling without adding some serious drama. But once I started drawing, I realized that
I could move the story along even with happy events alone.
But I need to be careful that we don't get stuck in a rut.
(laughs)
Suzuki: We discussed a lot about the episode where the rival character Hayakawa senpai appears, didn't we?

Banjo: I didn't want either character to be the villain and make the readers uncomfortable. I myself like to draw and read serious stories, but I know there are many readers who don't. I talked with Suzuki to find a balance that would make everyone happy.

── Will the world of Ototsuku continue its happy, carefree course?
Banjo: Talking with Suzuki, I realized that mainstream romantic comedies tend to have a gentle touch. There is no 'bad guy' to get rid of in order for the characters to be happy. Rather,
Ototsuku aims to be a work that can be enjoyed with a jolly mindset, positively, from the very beginning.
Suzuki: I think the theme of boys cross-dressing as girls could be portrayed in a very serious way if we wanted to, but for Ototsuku we're discussing whether we should choose a different direction.
Banjo: Ototsuku is gonna be like: "This is the story of how my days became so much more fun when I started dressing up in cute outfits!" (laughs)
── What are your plans for the future, if you don't mind me asking?
Banjo: Up until now, I've been busy drawing cute Hiura, but I'm planning to put the boy version of Hiura under the spotlight as well. Also, I'd like to do a summer festival episode and a swimsuit episode! The swimsuit episode, in particular, could be a significant one in the story...
I hope you'll be looking forward to it!
Announcing the results of the Twitter campaign to celebrate the release of vol.2!
For six days, people voted on which costume they would like to see on Hiura.
Here are the illustrations of the six outfits chosen among the following 12 themes!
1. Alice or Snow White
2. Cabin attendant or Police officer
3. Áo dài or Sari
4. Military or Streetwear
5. Museum date or Camping date
6. Jiangshi or Vampire

1. Alice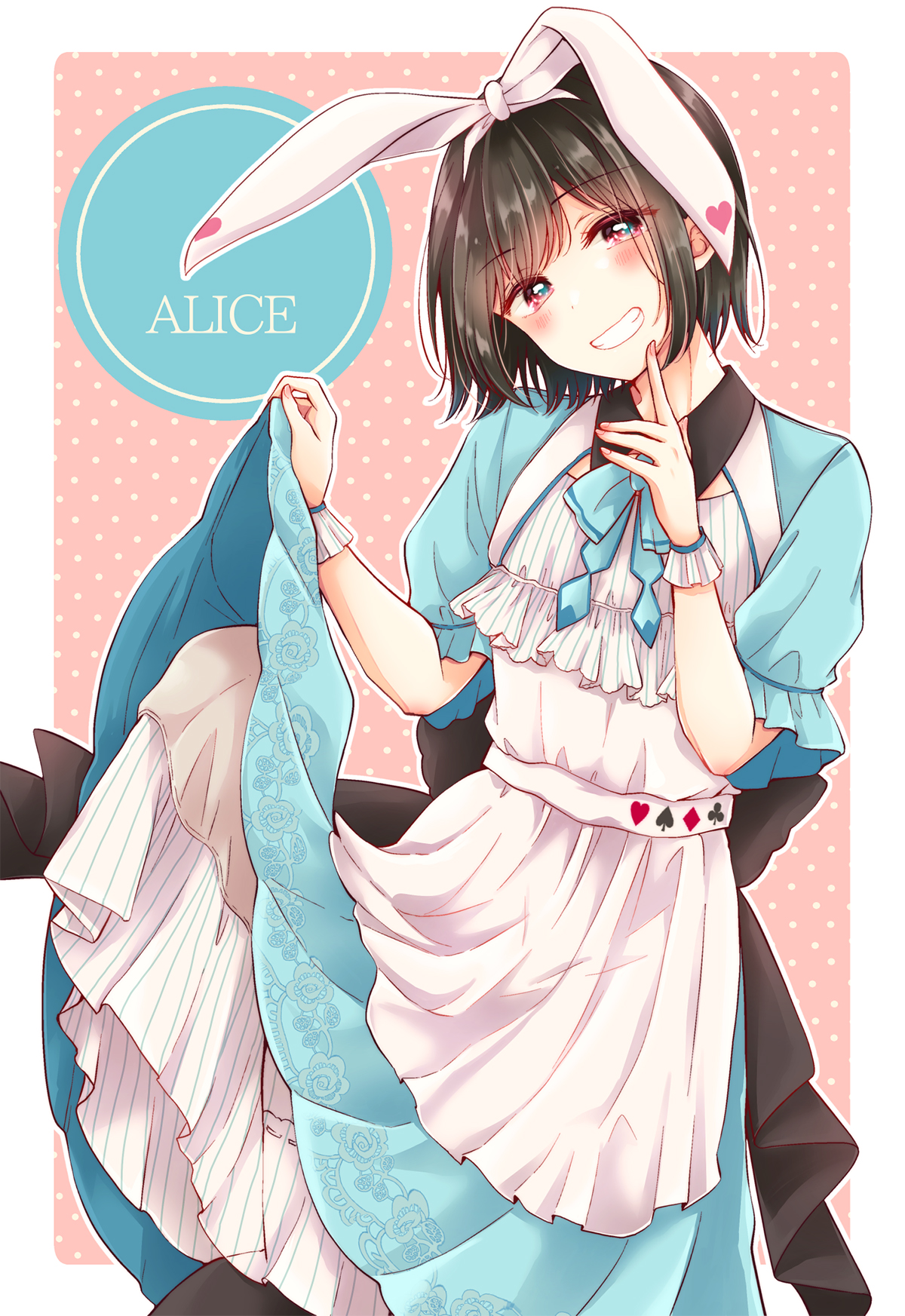 2. Police officer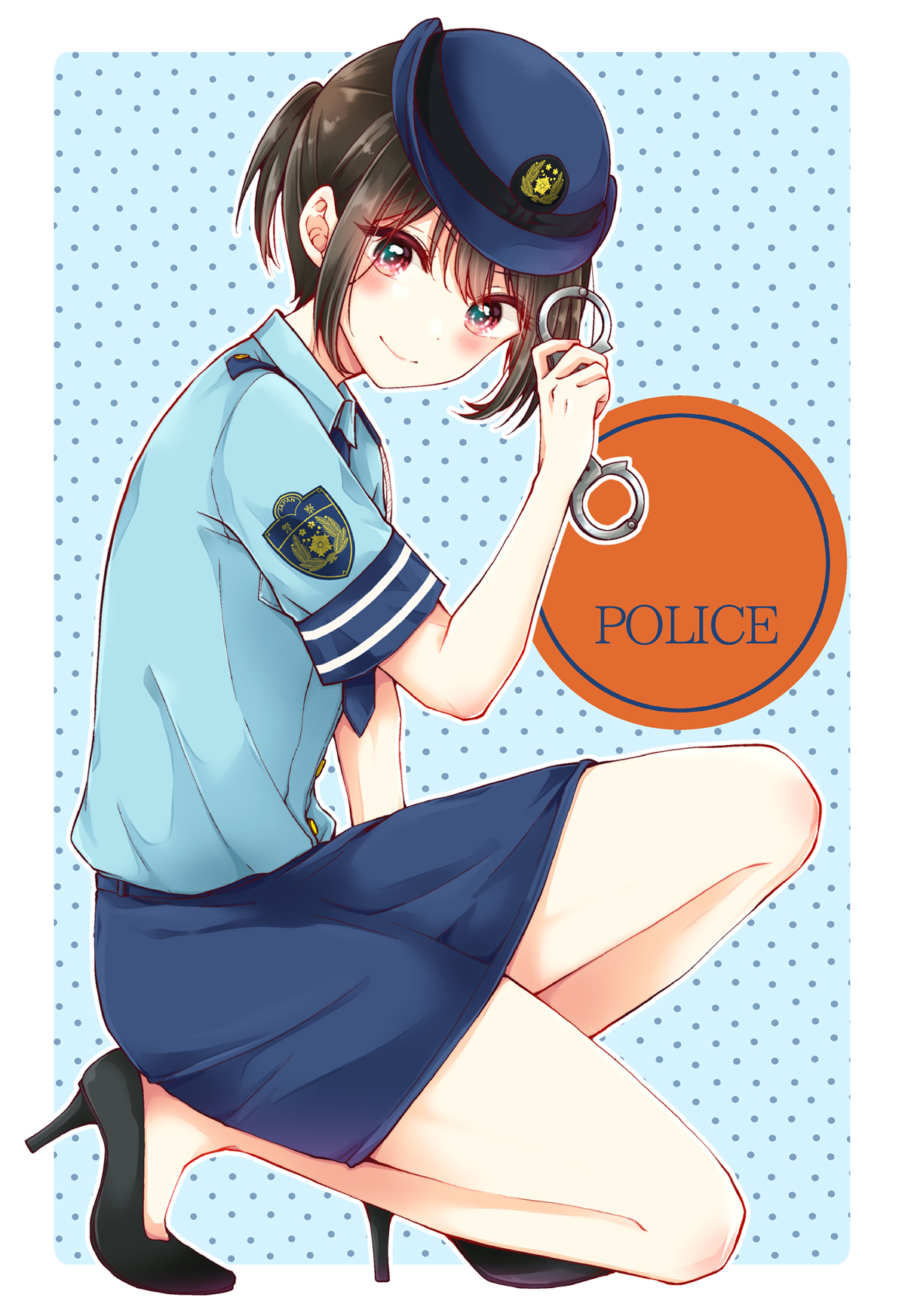 3. Áo dài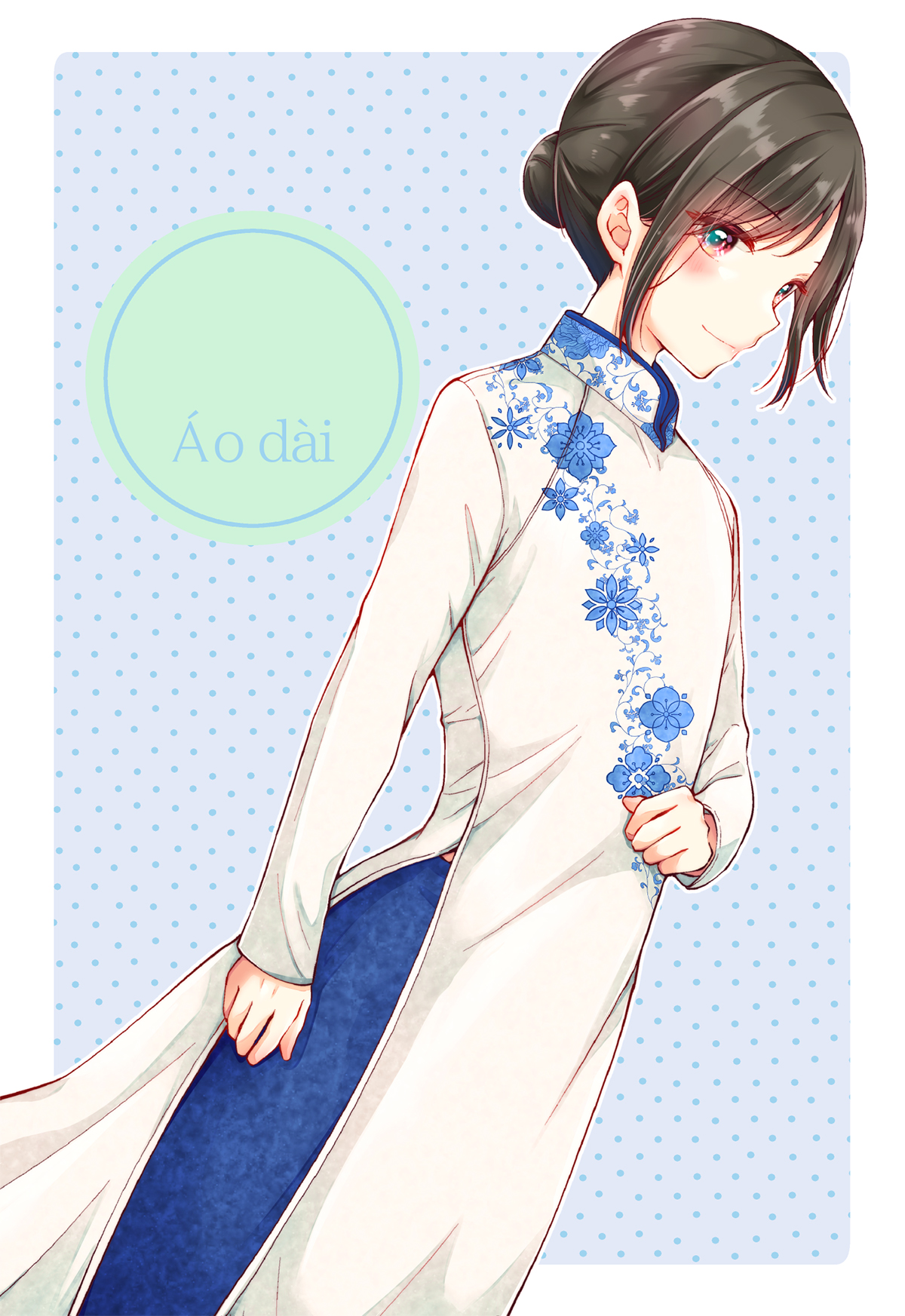 4. Streetwear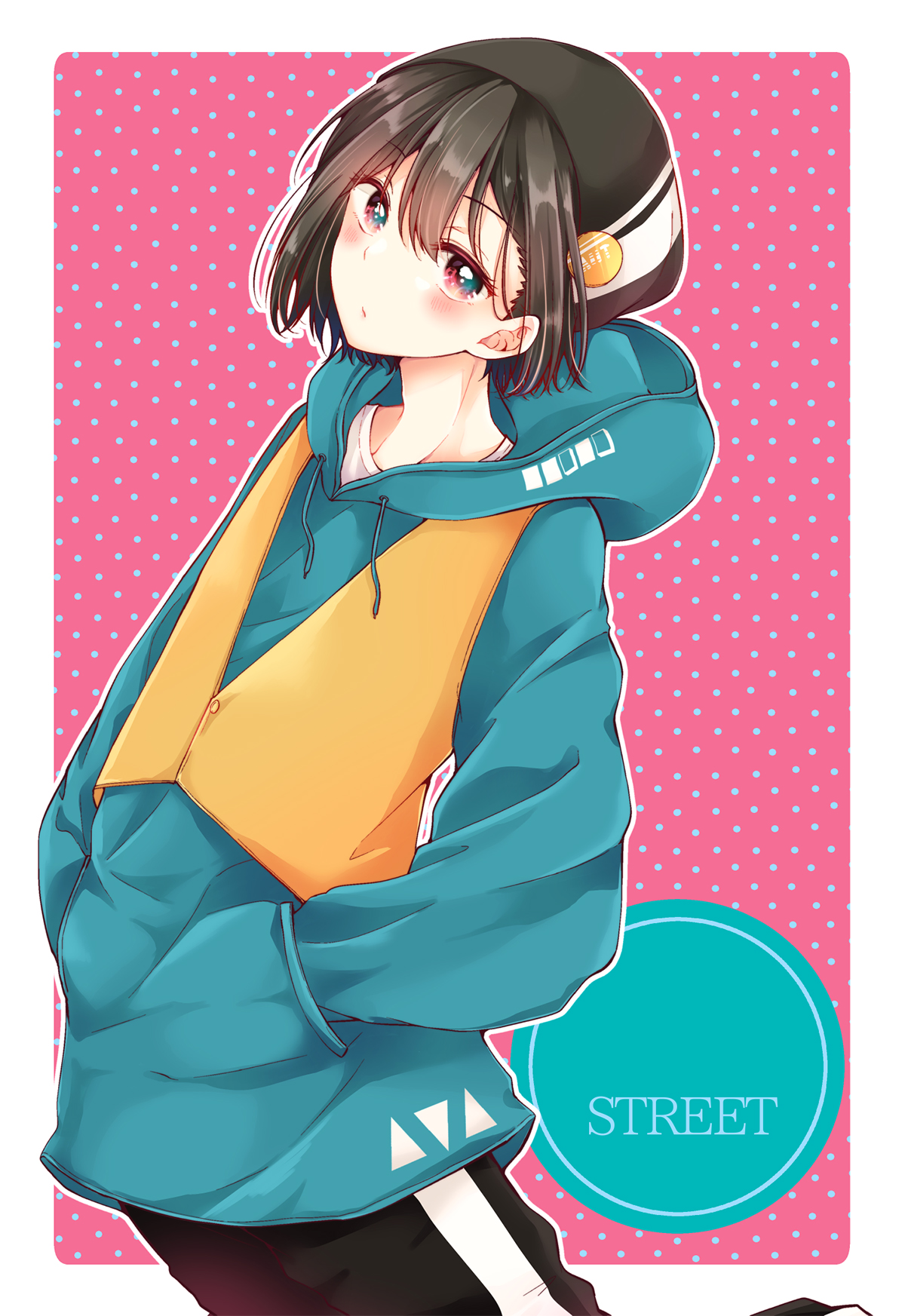 5. Museum date
6. Vampire