Genepixiv Special interview with Mr. Rinnedou, creator of the free game Gokuto Jihen! - 【Genepixiv】
The creator of the free game Gokuto Jihen, Mr. Rinnedou. He talks about the inside working of the game and the activities performed by the varied characters.

ーーLet's begin the interview. Please give us a brief self-introduction.
My name is Rinnedou. I am the author of the horror adventure game Gokuto Jihen
ーーPlease tell us where your name Rinnedou came from.
My name has the vibe of a "shop". Since that is the theme I went with, it turned into "Rinne" (samsara, the endless cycle of death and rebirth) once I've added the sound "dou" (shrine) to it. Since Shrine of Samsara has a heavy impression I changed it to Katakana (Japanese alphabet).
"Rinne" sounds like a shady shop that deals with strange things.
ーー-What kind of game is Gokuto Jihen?
The game tells the story of prison guard Kirishima, the protagonist, who in order to arrest the dead breaks into a closed down school inhabited by runaway spirits. 
ーーWhen did you come up with the idea of the plot of Gokuto Jihen?
It was quite a while ago that this idea came to me absent-mindedly. Since I've loved demons and ghost stories for a long time I've always wanted to create a work centered around that theme. Then the idea for a protagonist who works as a prison guard came to me about 4-5 years ago. At that time I was still unsure that the setting would revolve around a prison guard protagonist and demons and spirits. However, I really started getting into it when I finally decided on the individual roles of the characters and setting.
ーーPlease tell us briefly about the work environment and work process.
I draw the pictures on Photoshop using a mouse. As I don't have a particular fixation, I'm satisfied enough by even just hitting the dots. This game was created using RPG-Maker. I think about it in rough terms while in the process of creating it. Since I make many big changes in the process of creating my works, many times there is a significant difference between the onset idea and the final product. 
ーーThis work is filled with charming characters. Please give us a brief impression of each of the prison guards.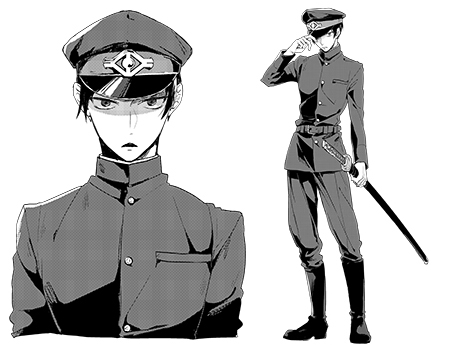 Kirishima
He is always serious and honest. Eat well and work well, and please keep doing your best.
Calm and collected. Possesses a strong, straightforward resilience towards both good and bad. His eye color is blue. His height is 178 cm. He wields a sword engraved with the word Kanakiri.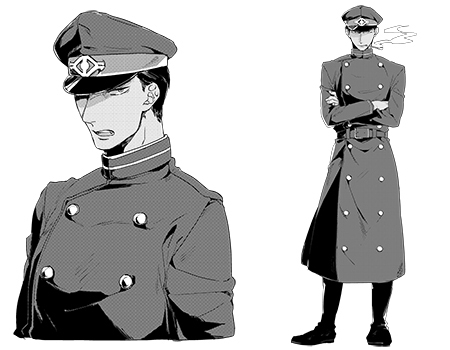 Rokkaku
Always lenient. Everyone admires your strength, so please keep leading us from now on.
The boss of Kirishima and the others. He's scary when angered but great at taking care of his subordinates. A heavy smoker. His eye color is red. His height is 198 cm. He is so strong that even if all the other prison guards came together they could not defeat him. 
Saeki
Immensely reliable. Be careful not to be led around by the nose.
Kirishima's close friend. Kind, gentle and clever, he is the very picture of an honor student and the most talented person in the special duties division. His eye color is light blue. His height is 177 cm. He summons various small arms from inside his overcoat. 
Tagami
It would be great if you used of your cleverness more often. Please do your best until the intermission.
Easily irritable and always laid-back. A clever man, he avoids inconveniences while demonstrating his intelligence. His eye color is orange. His height is 176 cm. He wields a pickaxe as well as retractable chains pulled out of his sleeves.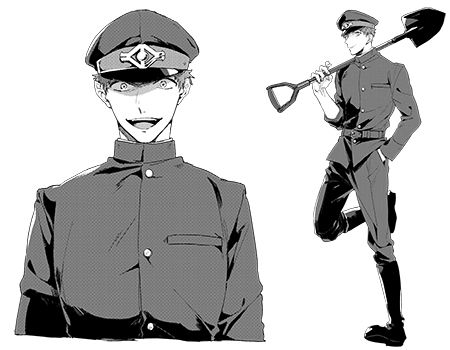 Hirahara
A very cheerful person. Before you rush off, look in both directions and please pay more attention to your surroundings.
A violent-tempered man who gets carried away easily and whose emotions change rapidly from one extreme to the other. He loves manga and games. His eye color is yellow. His height is 179 cm. He wields a shovel but is also the type who can fight well enough bare-handed.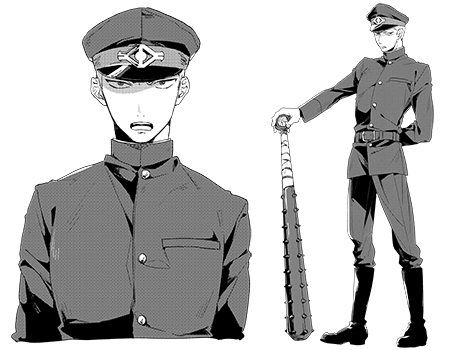 Tanizaki
His attitude may suggest that he's an laid-back guy who worries about nothing, however, he's extremely reliable.
A stoic, stubborn person who uses his free time for weight-training and sword practices. He considers Kirishima to be his rival. His eye color is purple. His height is 182 cm. He wields a dark red iron club.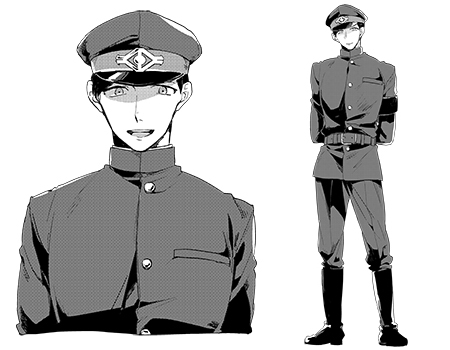 Kinoshita
A person who greatly values kindness. It would probably be better if you felt just a little bit of nervousness sometimes.
A happy-go-lucky person who hasn't a care in the world. He doesn't get nervous and can laugh at just about anything. He loves alcohol. His eye color is blue-green. His height is 188 cm. He wields a large axe.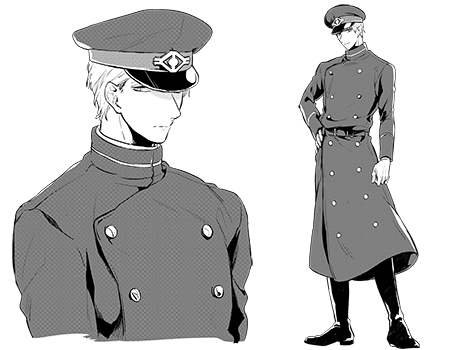 Saitou
Though you have many things to think about, please keep watching over your fellow guards in the future.
?????
ーーIn the first volume of the official anthology that was released, various creators drew the daily lives of the prison guards. If you had the chance to spend a holiday with them, what would you like to do?
No matter what we did I bet it would be a lot of fun. Since I'd love to see the big house where they all live and play together with them… maybe playing a game of tag in their house. I would probably end up running for my life considering my opponents are prison guards.
ーーPlease give a final message to the readers.
Thank you for reading this far. There are still many unpolished portions but I think there are at least some parts that you will be able to enjoy. Please keep supporting Gokuto Jihen in the future as well.
Thank you very much, Mr. Rinnedou! The first volume of the comic Gokuto Jihen, titled Gokuto Jihen Official Comic Anthology -Blue- will be released on December 26th. Please check it out!