"100 Internet Buzzwords" - Throwback to 2019: Interview with "Demon Slayer" Producer Yuuma Takahashi - Expectations high for this year too!
"100 Internet Buzzwords" is a project powered by pixiv Encyclopedia, in collaboration with Nico Nico Pedia. The two websites have joined forces to analyze the number of visits to each entry page in 2020 in order to determine the most popular buzzwords of the year. Before the winners are announced on December 15th, let's hear from last year's winner of the pixiv Award!
Here is an interview with Yuuma Takahashi, producer of Demon Slayer: Kimetsu no Yaiba.
What is Demon Slayer: Kimetsu no Yaiba?
Originally a manga serialized in Weekly Shonen Jump, the series gained even more popularity with the anime of the same name. The story follows the adventure of Tanjiro Kamado, a young boy who joins the Demon Slayer Corps for the sake of hunting down the demon responsible for his family's murder and his sister's transformation into a demon.

2019's "100 Internet Buzzwords"
A Throwback to Last Year...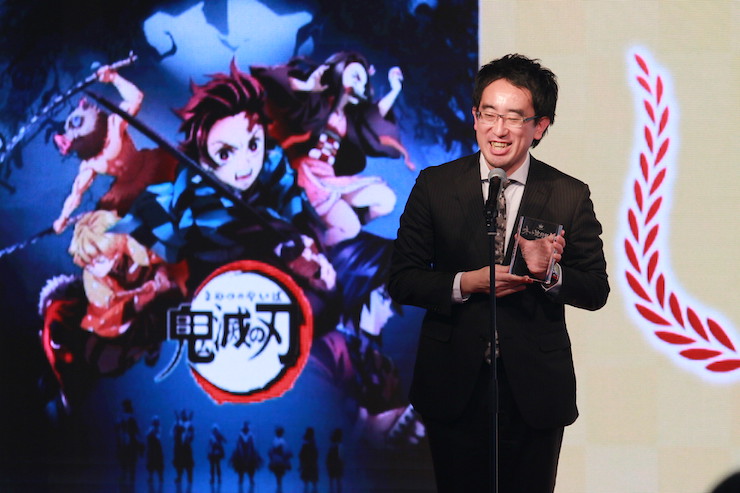 ── How did you react when you heard you were nominated last year?
Takahashi: I was literally over the moon. We're talking about "100 Internet Buzzwords" - just receiving a nomination means that this series I've been working on actually ranked among the most-searched words of the year!
── With 7 nominations in the TOP 20, and the pixiv Award for Growth in Popularity over 2019, you definitely stood out last year. How did you feel about the result?
Takahashi: I am really happy and forever grateful to the staff and cast behind this series. It's thanks to everyone's hard work that fans are falling in love with the story and its characters, and the continued success is proof of it.
── The pixiv Award is usually given taking into consideration the international fandom too. Have you felt particular support from fans outside of Japan as well?
Takahashi: Yes, definitely. We are very lucky to live in this era where we're able to have the anime broadcast simultaneously both in Japan and abroad. This definitely allowed us to reach so many fans and we are forever grateful. International fans have been very responsive and are continuously showing support, both on the internet and at various events. I, myself, had the pleasure to witness their passion first-hand at event venues.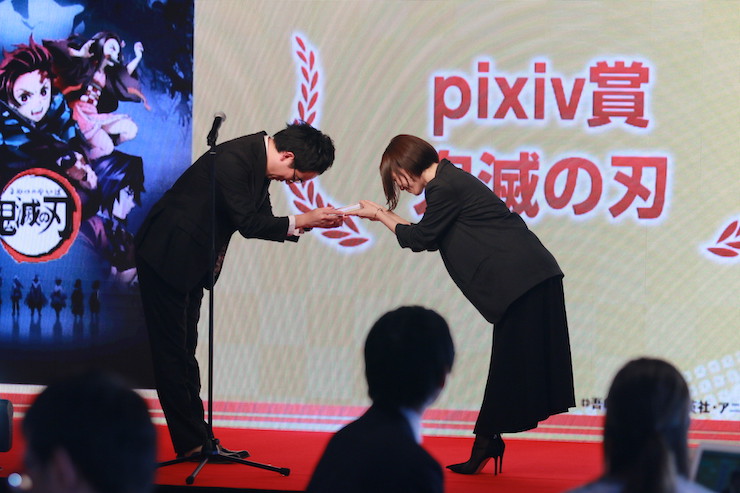 ── How about the real-time reactions from the fans during the live broadcast?
Takahashi: We were all overwhelmed with the variety of our fans! It's not only young actors or creators, but also white collar business folks and people of all sorts! Niconico is the perfect platform when it comes to live events and monitoring the fans' reactions in real-time, so we were extremely lucky to collaborate with them.
── What is your most vivid memory from last year's event?
Takahashi: I'll never forget feeling the weight of the trophies I was handed on stage. They were heavier than I thought they'd be and definitely played a part in making me realize it was all happening for real. They were quite sturdy, so I thought I'd pile them on top of each other at my table at the venue. Seeing the tower that came out of that was very moving.
A Word on 2020's "100 Internet Buzzwords"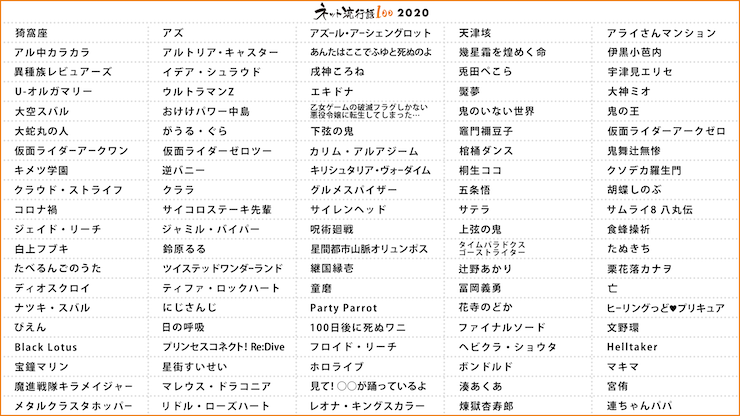 ── This year's nominations are taking the popularity growth of each nominee from last year into consideration, putting the stress on the trends of 2020. What did you think of the nominations?
Takahashi: By looking at the list, I see many words that owe their value to creators and fans equally, this year more than ever. The way information is shared, the way it's received and redone by the fandom... This process is ever-evolving and creating many new opportunities day by day.
── Last year's nominees for Japan's traditional "Buzzword Awards" covered many fields of interest. Do you feel a gap between buzzwords trending online and the ones actually being used in real life?
Takahashi: Buzzwords on the internet are usually born from someone's burning passion for something. You see something you like, you study it, and you'll naturally want to share your love for it with the rest of the world. Showing support for something you like is the more genuine way to "spread the love", and I can't help but endorse it. I'm looking forward to learning something new or finding revived interest with some of this year's nominees.
── On this 3rd edition of the Awards, what are your expectations for the ceremony?
Takahashi: I hope that the viewers will get the best experience out of this year's event, and that they can find new passions. I'm sorry they'll have to witness "regular" white collars being handed trophies on stage, but I'm positive that everyone will contribute to making it a great event by creating a comfortable atmosphere.
Join the campaign with #年末だしネット流行語予想しようぜ
Can you guess what buzzwords will be awarded this year? Tweet your guess from the "100 Internet Buzzwords" website and get the chance to be among the 10 lucky winners of a 2,020 JPY Amazon Gift Card! Moreover, if you can guess the winner, you might also receive "something" related to the winning buzzword...!
More details here (Japanese only)
(Tweet using the #年末だしネット流行語予想しようぜ hashtag)
Entries accepted between November 26th (Thu) to December 15th, 2020 (Tue) 19:00 JST.