Dive into the World of Shirow Miwa, and His Character Designs for Kiznaiver (with Videos of Him Drawing) - Second Half
Find out your niche market
- Do you see yourself as a manga artist?
I generally do. Manga drawing also has aspects of character designing and illustrating, so I'm helping animes out in that area.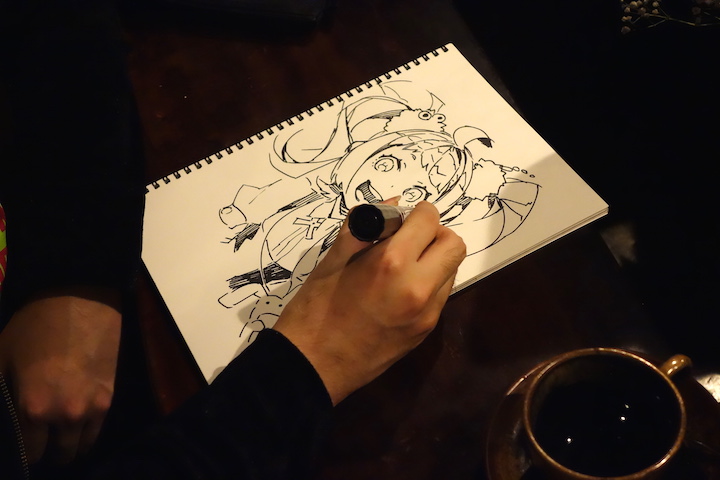 ▲Miwa drawing speedily despite claiming that he draws slowly.
- You've talked about your inspirations for anime work, but were there manga artists that influenced you before your debut?
So many it troubles me (lol). It was Fujiko Fujio when I was younger. And then Katsuhiro Otomo. My dad had a collection of AKIRA volumes, and I had them before being able to buy any myself, so it left a strong impression.

I started reading Hiroyuki Asada's Mint: Sleeping Rabbit in middle school, and became his devoted fan with Renka. Things from back then appear in my work even today.
And after that, manga artists like Sho-U Tajima, and Atsushi Kamijo. I was impressed by their cliche, yet unique art.

And of course, Kazushi Hagiwara. I enjoyed his art with gorgeous tones. It's even said that he has so many layers of tones his drafts can stand on the table (lol). I once tried a doujin for Final Fantasy, and sort of got satisfied, and decided that this would be the last time I'd do something like that (lol). It's not something that can be done alone.

I've been reading Yukito Kishiro's Battle Angel Alita since it was serialized in BUSINESS JUMP, and never would I have expected it to show up in Ultra Jump…...artists like Kazushi Hagiwara and Hirohiko Araki came up after that, and I knew that I had found something amazing (lol).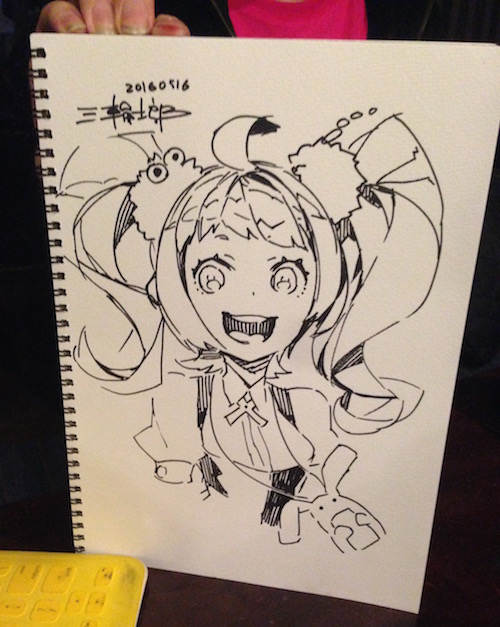 - You managed to climb your way up to the same stage as the manga artists you admired, and are even engaging in various forms of work. Can we have a message from you to the readers who dream of drawing for a living?
Hmmn, to put it bluntly, aiming to be a manga artist, rather than an illustrator at the start will help you gain a variety of skills…...which will help you out in the future. It's very important to be able to create your own contents! Royalties from your work are important too (lol).

Of course, character designing is interesting, but thinking about how to animate them, or how to create scenarios to breathe life into your characters, taking into consideration what comes after designing your characters, is very important as well.

Just designing the external appearance of characters and reusing templates from his/her personality and story will still make the characters appear reused. Your feelings towards the characters will deepen if you invent their stories too, and you will be able to truly understand this if you draw your own mangas.

Even as an illustrator, you have to think of the most appropriate compositions of mangas, and it will train you to think amidst the overwhelming amount of work.
That's why, try drawing manga if you're at a loss at what to do! There are so many things to do you might feel overwhelmed, but don't you think it's better to get the hardest parts done at the start?

And when you draw mangas, apart from reading mangas, you should try reading, and experiencing, and having an interest in everything possible, from novels, to movies, to music. Having an interest in fields other than manga can give you inspiration, and good ideas. You may forge new relationships, and thus find new work from your interests as well.

It may be hard to develop an interest in everything, but perhaps you could look at what's popular now? It's important to take a step back like that. Maybe try thinking along the lines of "there's a lot of gourmet-related mangas recently, so I'll look up food-related things", or "this is popular on pixiv and Twitter now so I'll try it".

It's easy to promote yourself on social media platforms now as well, so go out there and make yourself heard, and find your niche market.
A complete, un-edited video of Shirow Miwa drawing Nico!
Enjoy a complete video of Miwa drawing an illustration of Nico!
Shirow Miwa
Manga Artist cum Illustrator.
Debut work, Ultra Jump in 1999. Following the success of manga, DOGS, his sequel, DONGS/BULLETS&CARNAGE is currently being serialized.
Worked as an illustrator for music group supercell in 2008, and was in charge of the CD jacket covers of their major debut single, Kimi no Shiranai Monogatari. Designed character drafts for animes airing April 2016, Kiznaiver and Joker Game, and has climbed up to become one of the top creators.