"Sushidarake:" Exhibition Celebrating 20 Years as a Professional Animator + Interview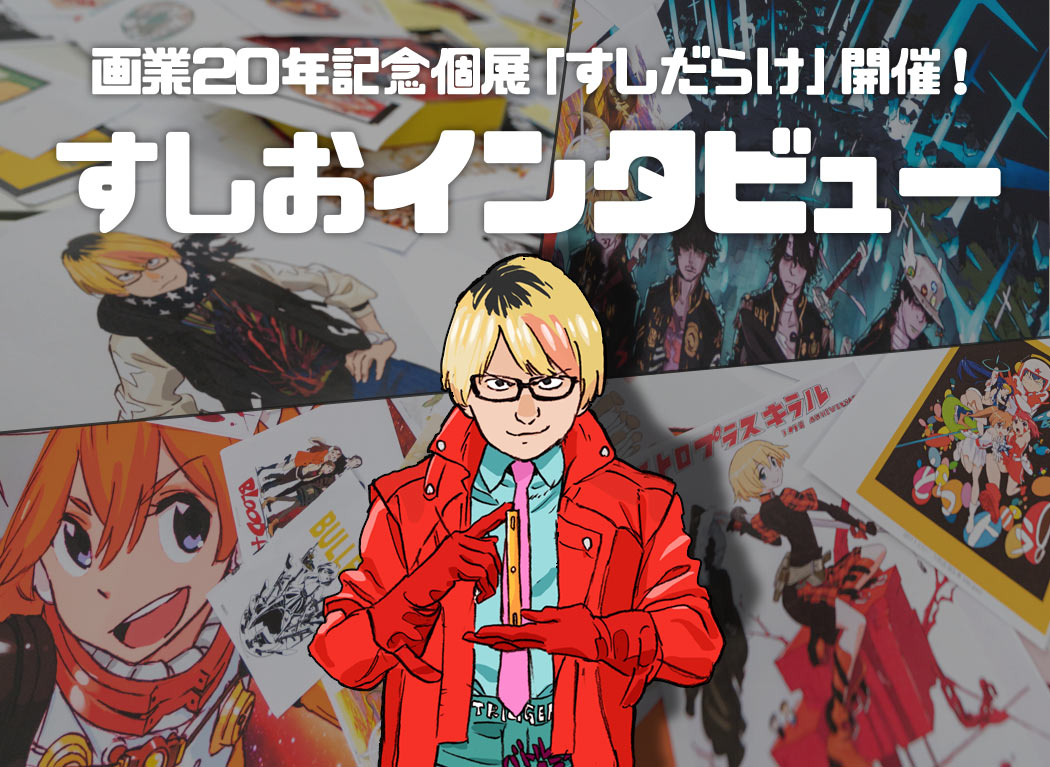 Interviewer: Pon Satou
Photography, Editing by Takafumi Sekiguchi
"Sushidarake," the exhibition featuring art from Sushio of
Kill La Kill
and
Gurren Lagann
fame, is currently ongoing, and can be seen at pixiv Zingaro (located on the second floor at the Nakano Broadway mall).
The exhibition, celebrating 20 years since the artist's debut, features over 100 of his creations. The event was filled with artwork; in addition, visitors received a specially illustrated "Sushio Umaibo," as well as a stamp card being given out in order of arrival to those who attended a signing event.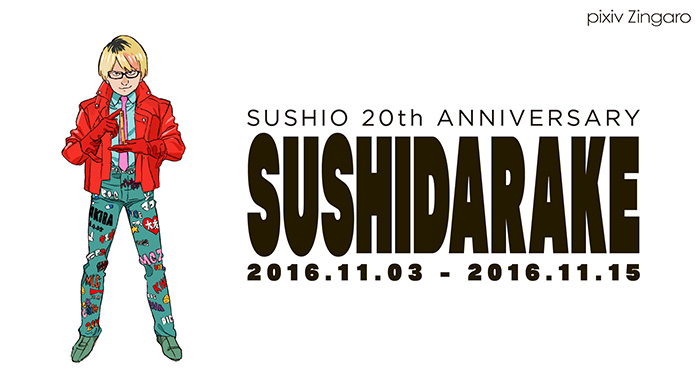 Today, we'll be bringing you the interview we caught with Sushio before the exhibition, where he gave his thoughts on the event as well as on his time as an animator--to anyone who's interested in such as a hobby, or even a career, read on!
"Sushidarake" - Celebrating 20 Years of Sushio
-How did the idea for the "Sushidarake" exhibition come about?
Sushio: I have no idea, actually. (Laughs)
- (Laugh) Then whose idea was it?
Tachikawa (Marketing Designer at Trigger Inc.): When we were on the subject of Trigger's 5th year since founding, we got onto something like "Oh, well, it's been 20 years for you, hasn't it?" And it sort of started from there.
Sushio: Was that how it happened?
-What did you think when you first heard about it?
Sushio: It was like, "Eh? We're really doing this?"
Sushio: It just happened all of a sudden, and then we were doing it.
Tachikawa: We were picking out things here and there, and it eventually turned into an exhibition. (Laughs)
-Sounds like it's an awkward topic for you all (laugh). So then, with the upcoming exhibition, what are you thinking about it?
Sushio: "Nothing," I think.
-Er, normally say you're looking forward to it here……
Sushio: Oh, yes, I am looking forward to it.
(Everyone erupts in laughter)
-Joking aside, over a hundred pieces will be featured, but are there any that particularly stand out for you?
Sushio: The piece that'll be on the most prominent display--the illustration for Bump of Chicken's 20th anniversary T-shirt--is pretty memorable for me right now after having worked on it.
Sushio: Bump of Chicken has all these hundreds of thousands of fans, and they're wearing T-shirts with The Living Dead cover on it, which I worked on the art for. Even though everyone was happy because they were Bump of Chicken T-shirts, it was still moving that so many people were excited to wear shirts with something I worked on, especially when I think of how no one knew who I was, a long time ago.
-Oh no, I'm sure no one would have bought it if the art wasn't good (laugh). How was it actually seeing the live event where everyone was wearing T-shirts with your illustrations on them?
Sushio: Seeing so many thousands of people were all wearing it, it made me super happy and all tingly.
-It must have been quite the experience seeing that many people wear it.
Sushio: It really was. I even thought of going around to all the girls there and saying "I drew that!" (Laughs)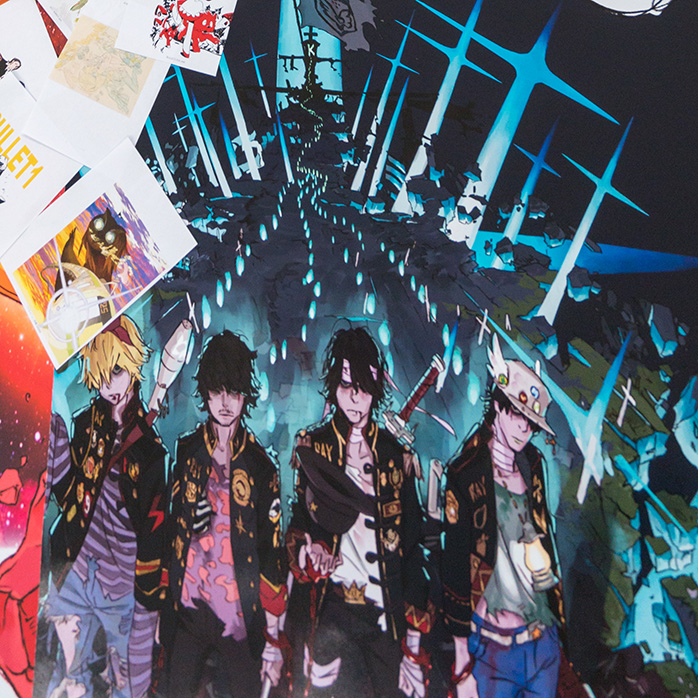 -With over a hundred pieces in your exhibition, what kind of people do you think should come see them?
Sushio: Just about anyone who likes art, I suppose. There's a variety of genres it covers; there are works that are well-drawn, and some works that are actually not conventionally well-drawn, going for a non-traditional feel for those that like that sort of thing--a ton of detail is conveyed through a lot of the art. So I guess the kind of people I'd like to come would be people who'd think that Sushio is the greatest artist ever after seeing the show.
(Everyone erupts in laughter)
-On November 5th, there's going to be the "Sushio-Tan" event to celebrate your 40th birthday. There's supposedly an "under 1000 yen" limit to presents that people can bring--what would you actually want people to bring?
Sushio: It can really be anything. You don't actually have to buy anything--you can write a letter, or even draw me something. If anything, I would be happier to receive people's drawings.
-You don't think that's intimidating, for people to give their art to you?
Sushio: Art isn't about good or bad. It's about the feelings that go into the work. If anything, if somebody hands me something really good, it might make me self-conscious about my own art, thinking I'd like to draw like that.
-Looking back, what works would you say influenced you the most?
Sushio: I think it'll be very apparent when you see what's on display at the exhibition. I encourage people to come take a look, since every piece has influences from other works in some way.
-Will there be any private works on display, that weren't part of some commercial project?
Sushio: There's actually more private pieces and sketches than not. That's why getting authorization to do this exhibit was tricky (laugh). Thank you Tachikawa for that, by the way! I'm actually kind of worried what guests are going to think because just so many of the works are sketches.
Sushio: Well, it's supposed to be celebrating 20 years of me being an animator, and there's hardly anything to do with anime in the exhibition. I'm worried somebody might be excited to see drafts from Kill La Kill, let's say, and they'll be like, "Huh? Where are they?"
-Were you not able to get permission for those?
Sushio: If anything, space was probably the biggest factor. There were just so many to choose from, so when I whittled the list down, it was mostly individual pieces. So there was another stage of selections and replacements.
-But the pieces on display must be the really good ones, for you to have selected them through all that?
Sushio: I believe "Sushidarake" as the title for the exhibit fits it perfectly now.
Gurren Lagann: Changes to Sushio's design process
-Among your works, are there any that made you re-evaluate your process?
Sushio: Gurren Lagann, for sure. Until that point, I only drew original artwork for my own sense of self-satisfaction. But after meeting and interacting with several fans at a Gurren Lagann event, I realized just how intently all the fans were looking at the characters. That's when it stopped being about myself. I began to think differently, and about how I wanted to capture and convey movements that were realistic to the characters.
-So how did you create original artwork after that?
Sushio: I chose to create simple art that's easily identifiable. Before that, I thought as long as the character was cool, then their actions will be conveyed no matter how complicated the movements are in action scenes.
-Was it a difficult switch?
Sushio: No, it was quite easy. When I was drawing selfishly, I drew elaborate scenes in order to make it eye-catching. The original artwork was full of what I wanted to see. But once I changed my way of thinking, I could focus on how to show the character's movements, and it became easier in that I didn't have to show unnecessary actions. Manga illustrators often say "the character moves and comes to life on their own," but I think it's really true. Original artwork is about drawing the life of the character itself. Fans want to see their favorite character come to life; no one's there to see just what I like to draw.
-Has anything good come about since you stopped drawing for self-satisfaction?
Sushio: I've been really able to feel like everyone can properly see and feel the "movement" of the character.
If you can't draw it, record yourself doing the action?
-What can you do to draw character movements better? Is there any lessons you can give on that?
Sushio: If you have trouble, you can try actually acting out the movement and pose yourself. Some movements I already have down in my head from drawing them so often, but there are times when I just have to try doing them myself. Actually, a lot of times.
-Like knowing the limits of range of motion, and such?
Sushio: Exactly, and there's also how center of gravity shifts and such. Like when there's a scene with swinging a sword, weight has to shift from the leg, then to the sword and the hand that's swing it, something like that.
-For illustrations, you can look at photographs as a model, but what references do you have for animation?
Sushio: I take pictures, and I also record. I'll have someone in the studio stop what they're doing and act out the motion for me, so I can film it and go back to it later.
-Sounds like a lot of work!
Sushio: It is, but breaking it down and coming up with solutions is part of the joy of an animator's work.
-In anime, there's also many motions that are impossible in real life, like jumping dozens of meters in the air.
Sushio: In those cases, you have to take your own motions and exaggerate them, I suppose.
-What are you most conscious about when you're drawing?
Sushio: It's to not be overly caught up in realism. I try to mix up some exaggeration into realistic motions. This only applies to anime that I've worked on, of course, but I believe that while fully realistic motions are nice, too much detail makes the picture busy and hard to follow. So I try and limit the amount of detail and create balanced, "like real" movements.
-It must be difficult to decide what details to trim out.
Sushio: That just comes down to feel. Heh heh.
-It feels like there's a recent trend to use CG in anime for more realistic movements.
Sushio: It might come down to preferences, but I feel like "maybe you don't have to apply texture to everything?" when I look at it.
-Lastly, are there any products to be at the show you'd like to highlight for us?
Sushio: There is a poster of me on a Honda Monkey motorbike. That one I really like.
-Do you like motorcycles?
Sushio: I like to draw them. The bike in the picture is one that I rode a long time ago… but it was stolen a year after I bought it. It was rare too: a 30th anniversary Monkey. So the poster is titled 20th Anniversary Me on the (Stolen) Rare 30th Anniversary Monkey; my tearful illustration.
(Everyone erupts in laughter)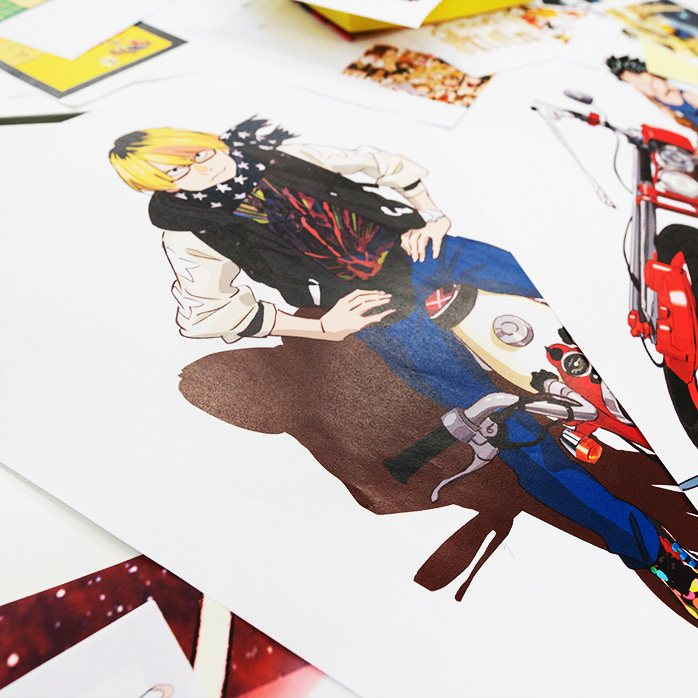 We hoped you enjoyed Sushio's tales of being an animator! It was surprising for us as well to hear about his sad bike tale, but we hope you'll check out the actual piece in question, along with his other works at the "Sushidarake" exhibition!